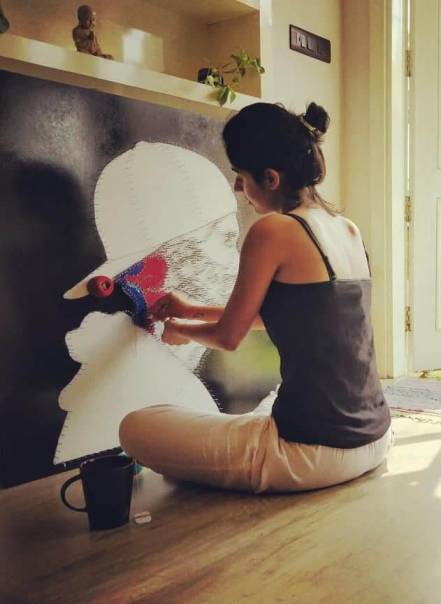 12 String Art Ideas We Can Vouch For!
Imagine that 10 years from now, your loved ones still cherish the gift you gave them on their special occasion. Well, consider an art made solely for your loved one only using boards, colorful strings and hammers, a unique concept gifting in itself.  String art is one of the hidden gems, which is sure to share joy through something unique and personalized that you design. 
So be ready to take your personalized gifting experience to a new level! This article will take you through some ideas for one such unique personalized gifting option – string art!
A snippet of a Work in Progress of a Custom String Art Portrait by a Stoned Santa String Artist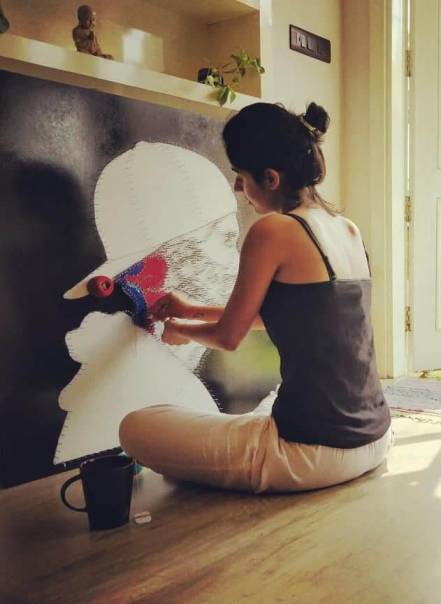 What is String Art?
String art is an art form that is characterized by an arrangement of colored threads strung between pins which are hammered onto a surface to form geometrical patterns or representational designs.
Our experience of successfully serving thousands of clients, with the help of a talented team of string artists, has enabled us to compile many string art gift ideas for you! These are trending yet evergreen ideas to make the gifting experience more memorable for your loved ones. Let's take a look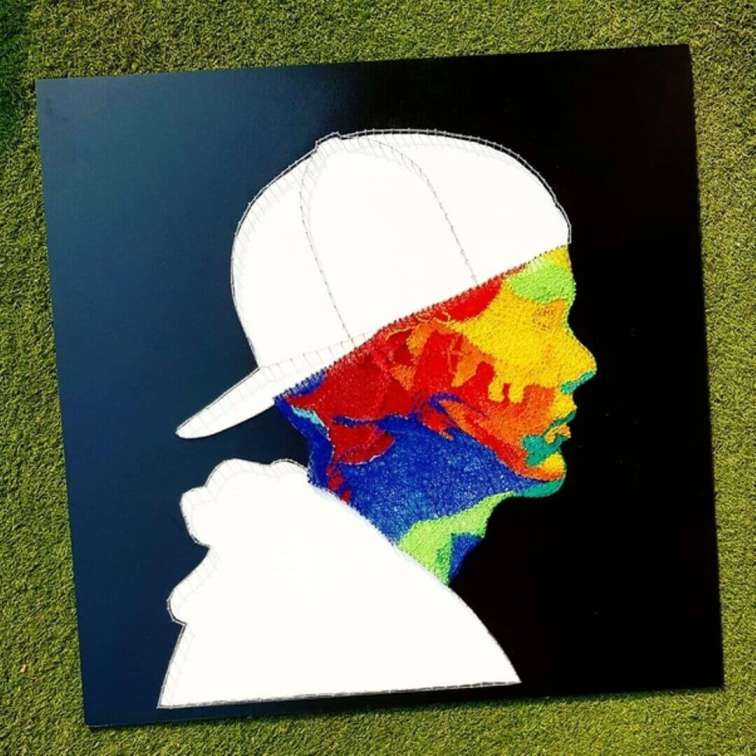 Nameplate String Art 
You would have seen those metal or wooden engraved nameplate sign boards outside homes and offices. But what if we tell you these can be creatively and artistically customized for you? Our nameplate string art has been a trending gift for all those housewarming occasions. When we say it has been trending, it is for all the right reasons – 
From stringing your names, and adding personalized doodle background elements, to choosing an ideal size of the board that fits your wall or space, we can tailor-make a nameplate you imagine!  All you have to do is tell us your idea and requirements, and we will create personalized name-plate string art ready to hang in your space.
One of our clients wanted to gift his newly married friend a name-plate string art. And voila, these happy faces say it all!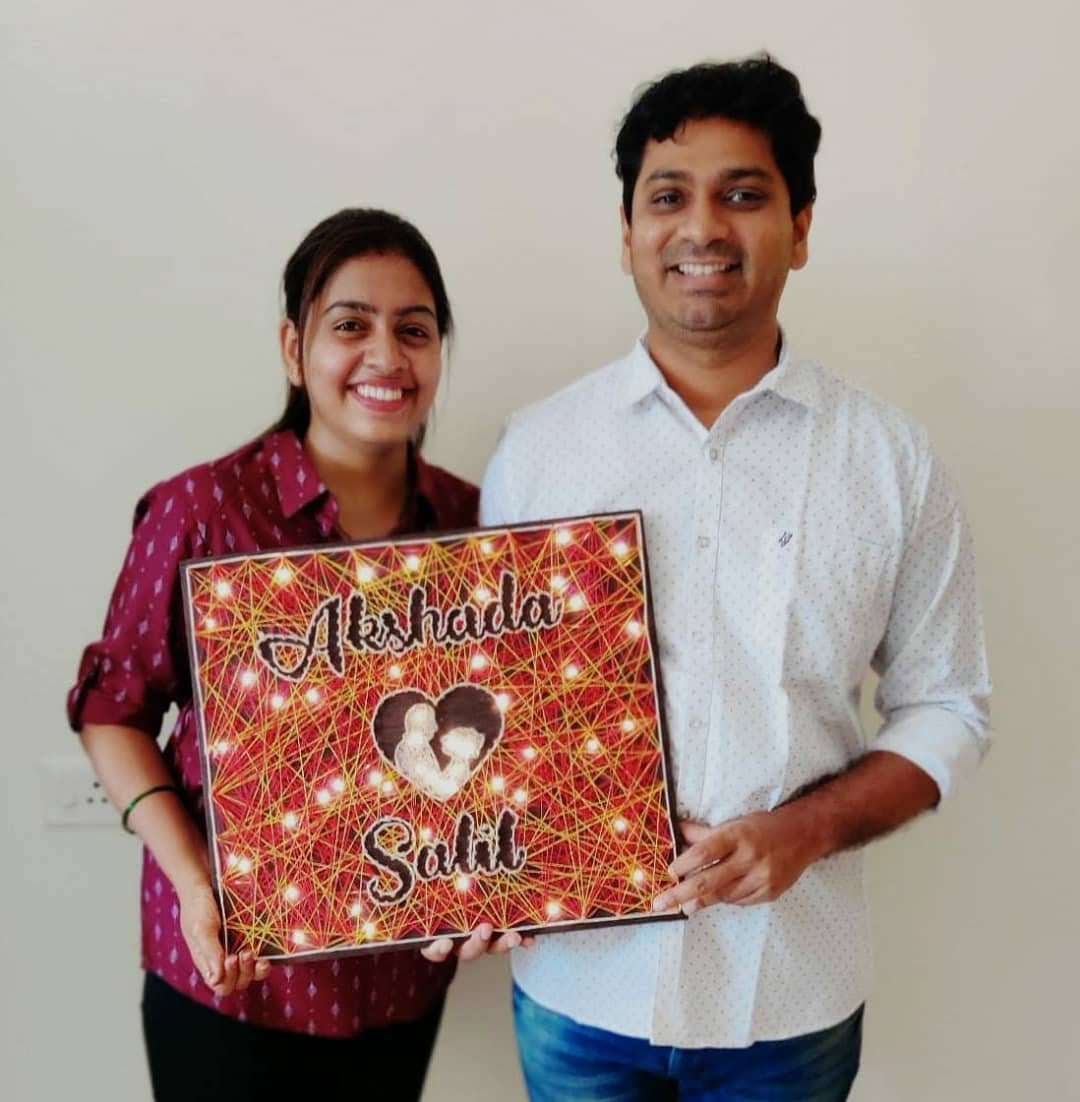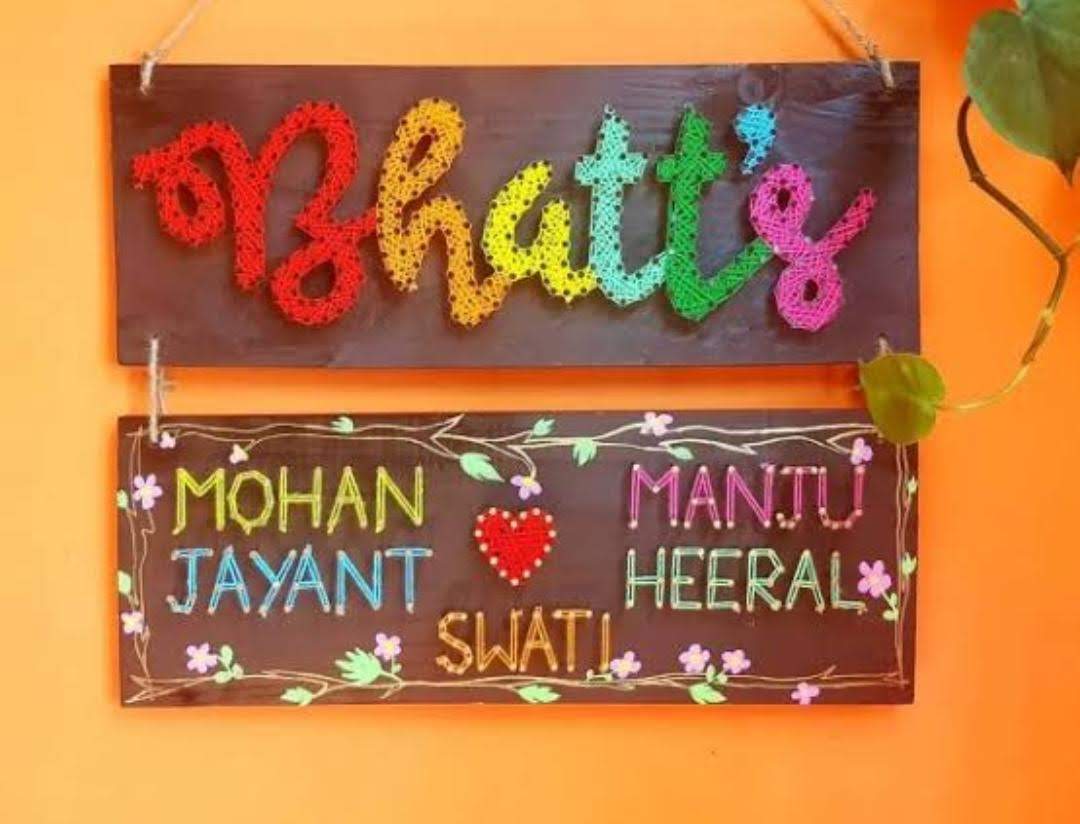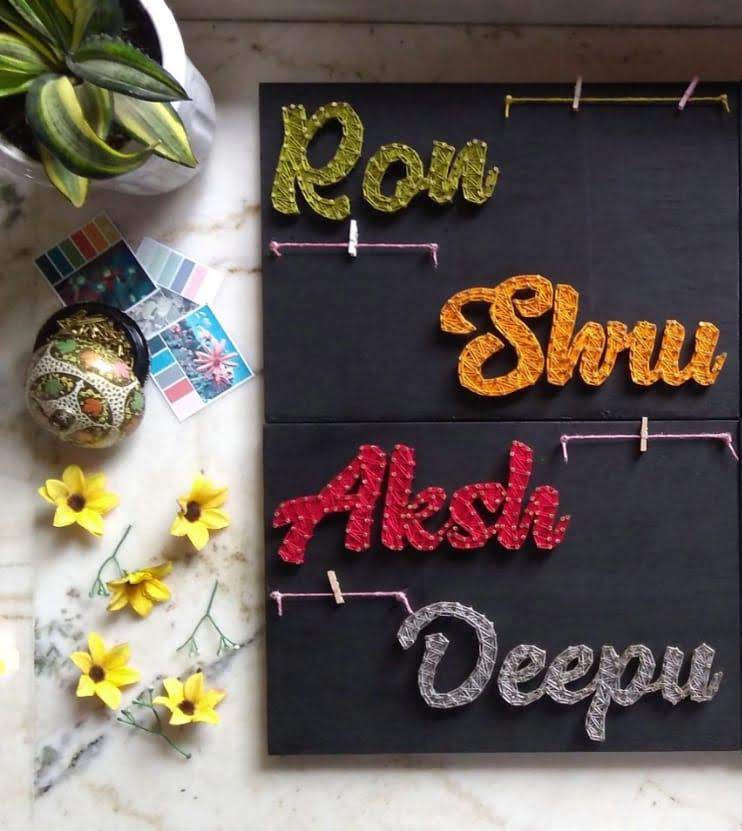 Wedding-themed Caricatures String Art
A wedding is a joyous occasion which calls for a celebration. And what better token of showering blessings and exchanging heartfelt messages than a personalized wedding couple string art? Digital caricatures have been in trend for a while, so why not add a fun twist and make it into string art! These make for a unique souvenir for the married couple. 
Take a look at some of the wedding-themed caricature string art by Stoned Santa
One of our clients wanted to gift his better half a personalized gift to capture the essence of their long-distance relationship. And with the creativity of our artist and inputs from our client, here is the final look of the masterpiece!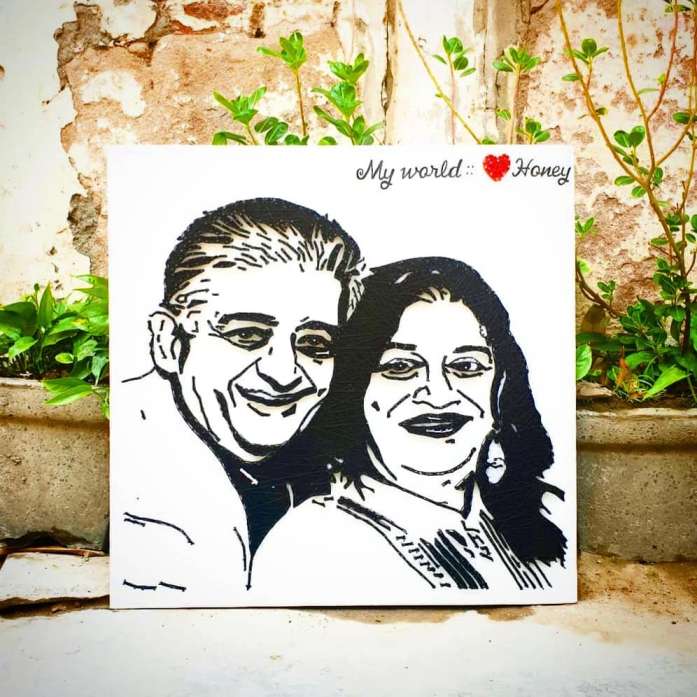 Looking For the Perfect Wedding Keepsake?
Portrait String Art
Handmade portraits have a historical past. They have served as valuable state and family records and as a way to capture important life events of the kings and queens. However, handmade portraits only meant capturing the subject in oil paints or acrylics. 
However, with string art coming into play, the scope of creating handmade portraits has widened, and so has the choice of gifting. You can now get customized portrait string art from a Stoned Santa artist! However, do you know the process that goes behind making one?
Well, it involves hammering the reference photograph of the subject shared by you on the board size you chose. Further, high-quality woolen threads are intricately strung together to make the final piece. We can customize the background by adding doodles or quotes of your choice!
Handmade portraits top the list of personalized gifting for all the right reasons! So add a unique twist to the handmade portraits with our custom string art portrait. All you have to do is send us your reference photograph, and our artists will convert it into a beautiful custom string art piece for you!
Our client wanted to gift her parents a handmade portrait made out of strings, But she wanted to give it a vintage look. We chose stencil-based (black and white) portrait string art!
Corporate Logo String Art 
Corporate gifting creates a strong connection with colleagues and bosses with a physical gift. And what better way to invoke a sense of appreciation and acknowledgment than by giving a personalized gift? So, if you want a unique yet, personalized corporate gift, this is it! Our corporate logo string art is the perfect office space addition.
At Stoned Santa, we have partnered with companies like Mercedes, Redbull, PayTm, and multiple chains of cafes and offices to create custom corporate string art logos for them! From the type of board to the size and the color theme, it can be customized to suit your wants!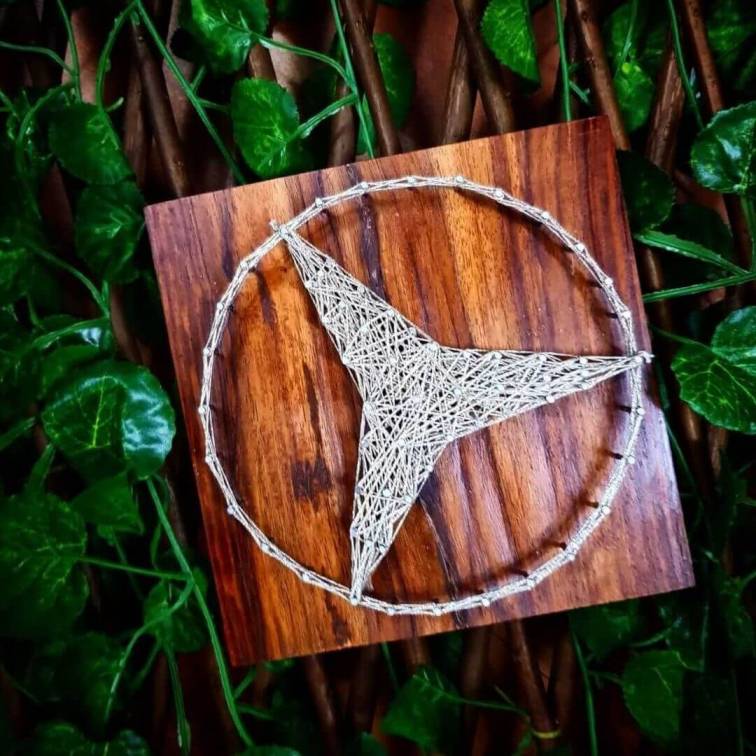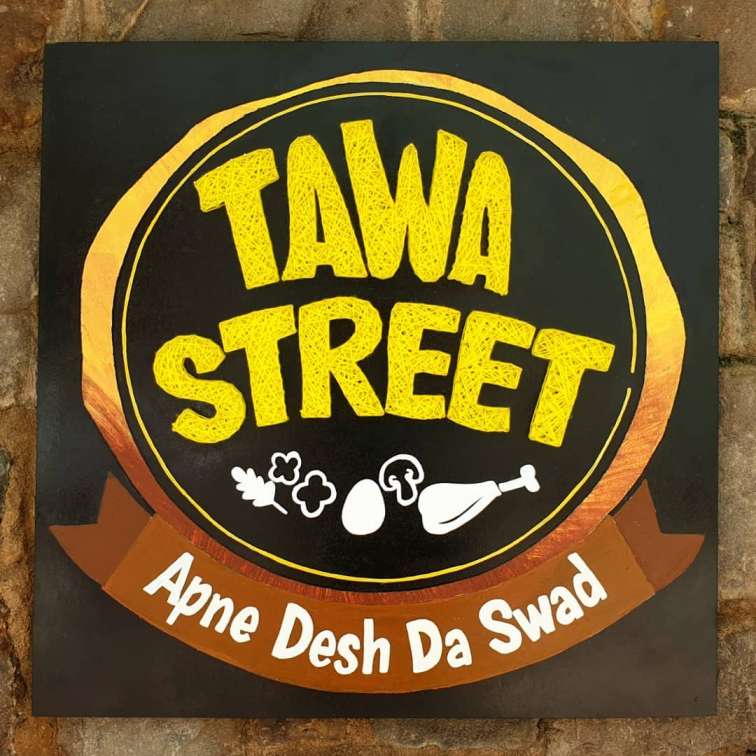 Music String Art
When words fail, music speaks. And just like that, when words fall short, art comes to the rescue as a form of self-expression. So, what better gift to give to a music-lover than a custom piece of art, stringing together a melody of memories? So, a custom string art inspired by music will surely make a special place in the heart of your loved one!
When we say custom string art, you can go wild with the ideas, and our artists can breathe them into life! Our artists can do everything from personalizing musical notes to creating a musical instrument with strings!
One of our clients wanted to gift her friend, a huge band fan, "Coldplay" with customized string art. We strung the band's name and added some of her favorite songs in the background.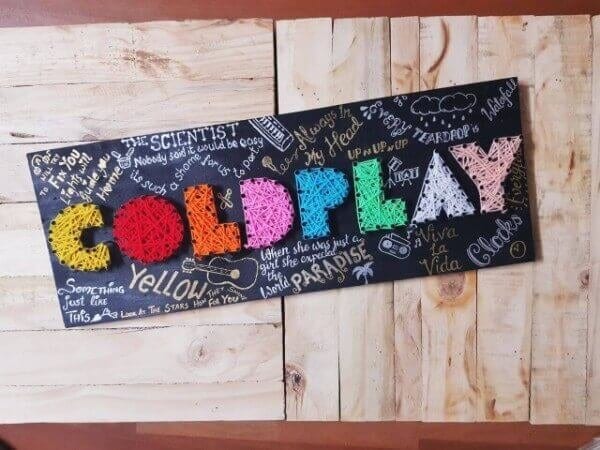 Travel-Themed String Art 
A custom string art quote inspired by travel makes for the perfect gifting option for all the wanderlust souls. We have created a lot of string art pieces for travel enthusiasts. These range from travel quotes, and atlas map bits, to globe-trotter string art!
Snippets of travel-inspired string art by Stoned Santa
One of our clients wanted to gift her photographer friend, a travel enthusiast, a party animal with a customized gift. So, our string artist merged the defining elements into a beautiful string art as below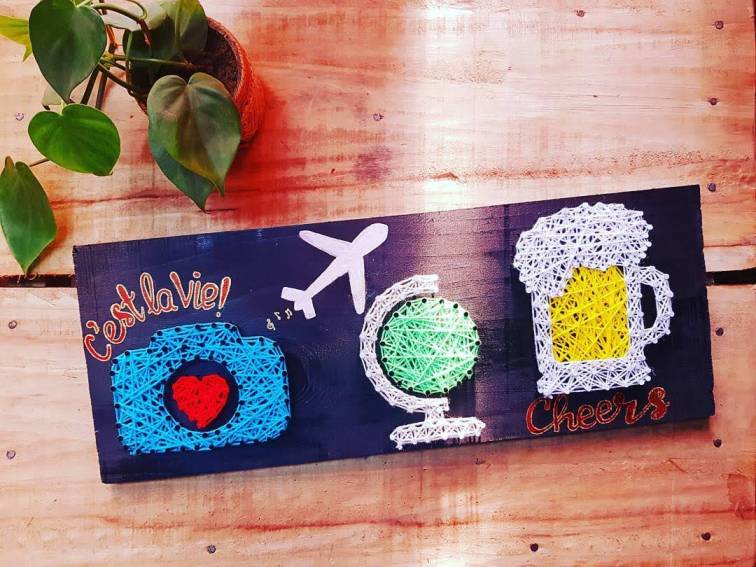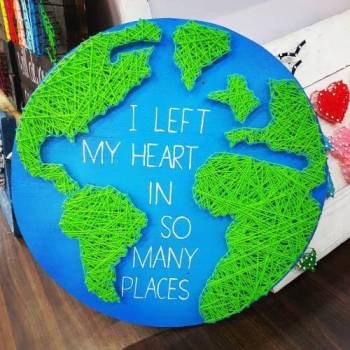 Looking For the Perfect Gift?
Religious String Art 
An auspicious occasion calls for a unique gift that truly encapsulates positive energy and good vibes. And what better than Lord Ganesha strung together to make a perfect gift? Take a look at some of the string art gifts for auspicious occasions that we curated for our clients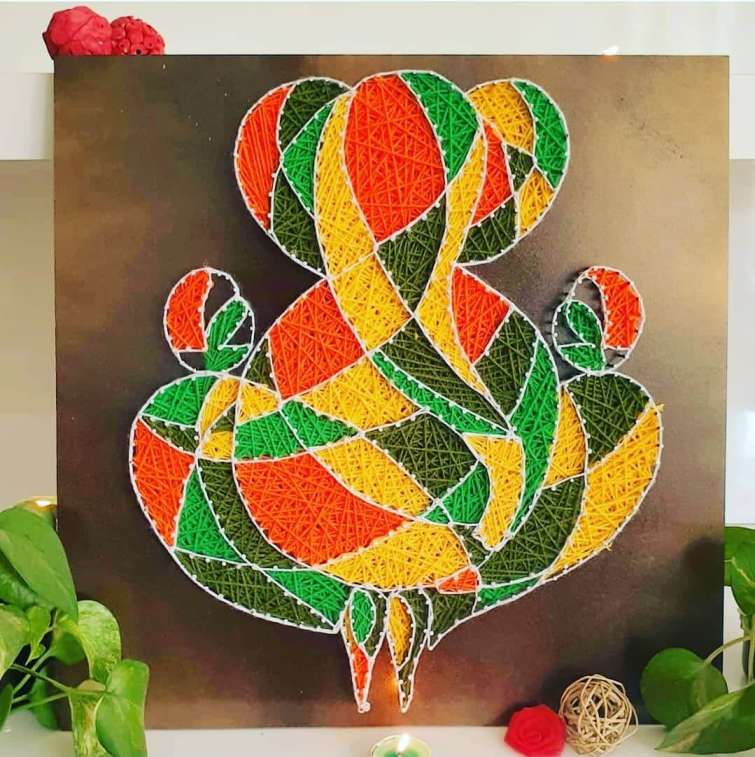 Personality-based String Art 
Know of some specific traits of your loved ones that you want to appreciate or maybe just acknowledge. Well, gifting them custom string art inspired by their personality will strike the right chord! It will leave them surprised and in awe of the tiny details you love about them!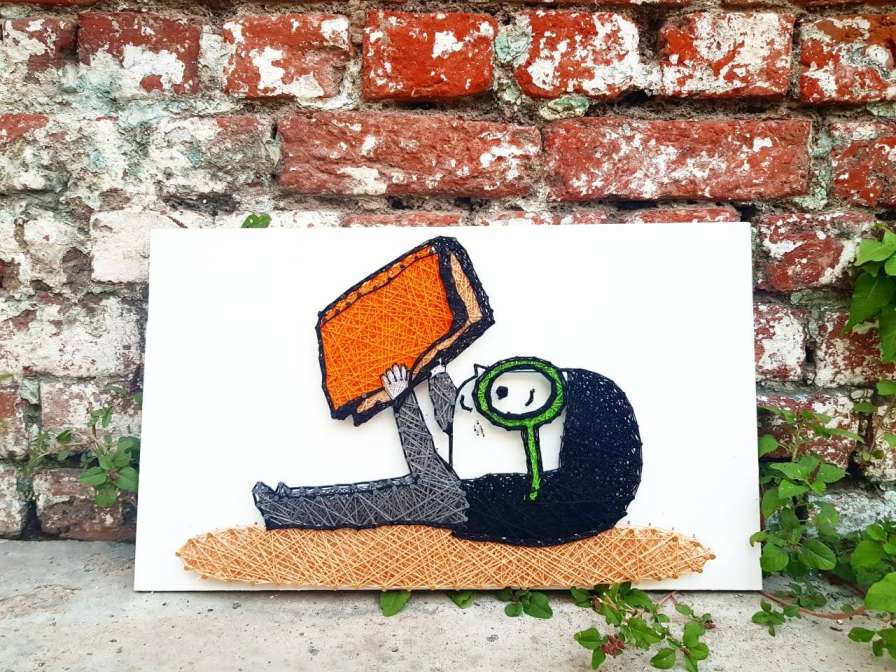 Football-themed String Art 
At Stoned Santa, we have a custom gift to suit everyone's needs. So how can we miss out on curating a range of string art ideas for football fanatics?  From football club logos to stringing your favorite football player, there is an option for one and all. You can also add doodles of favorite slogans or quotes in the background to enhance the personalization.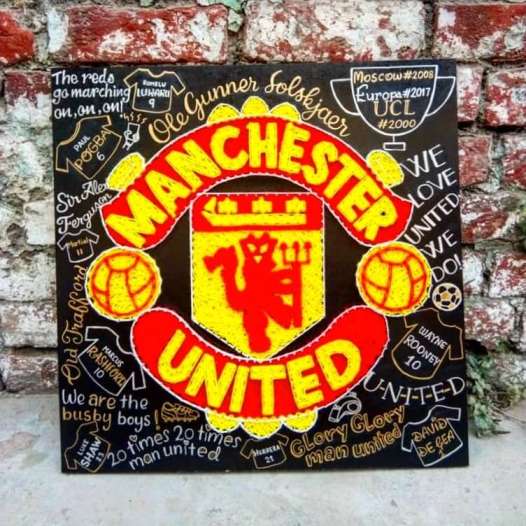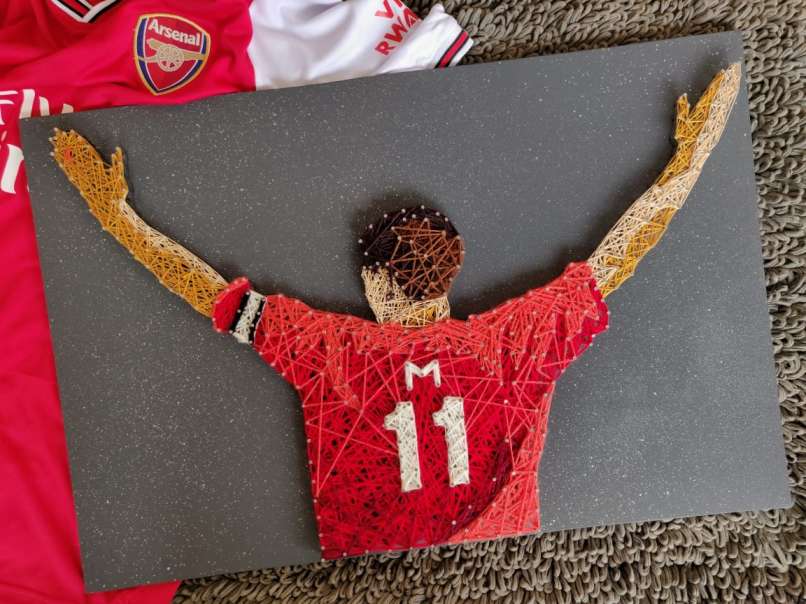 Home Decor String Art
Quirky pieces of home decor or wall hangings often catch the eye and leave a lasting impression on visitors. So why not gift a piece of art that adorns the wall of your loved ones' home? 
Our home decor string art collection ranges from small pieces of two to three wooden boards to massive wall fittings that make for a perfect room backdrop!
Take a look at some ideas for the home decor string art gifts
Our clients wanted a giant backdrop in their bedroom, which was unique and quirky. And hence this string art of a short quote with some quirky elements to match the theme.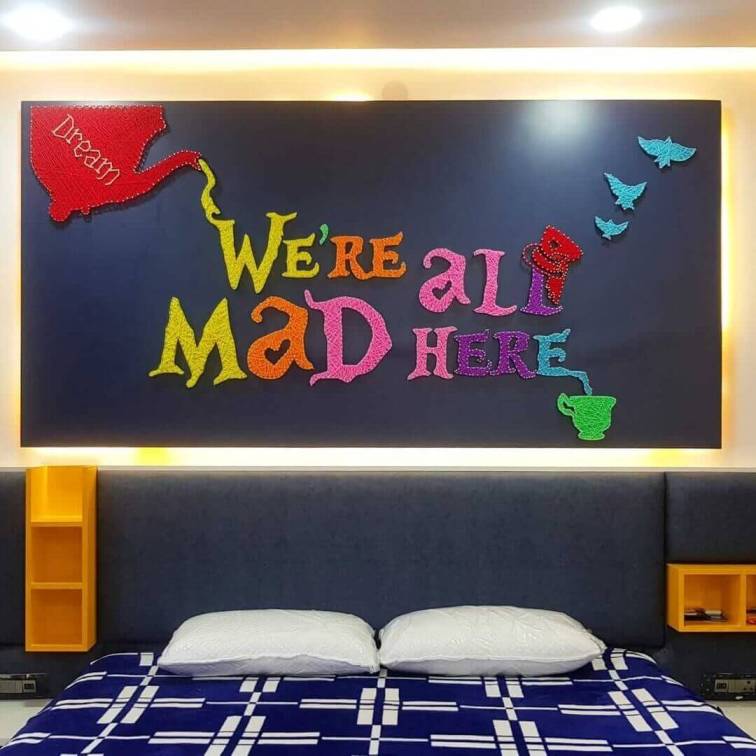 Party String Art
Work hard, party harder! Have any friend or loved one who believes in this mantra? Well, you have found the perfect gifting option for them! Party-themed string art is so unique, quirky, and something that would surely tickle the funny bone and yet be a memorable souvenir to cherish lifelong!
A client wanted to gift her better half, who loves partying, with a punny quote! And here's what we came up with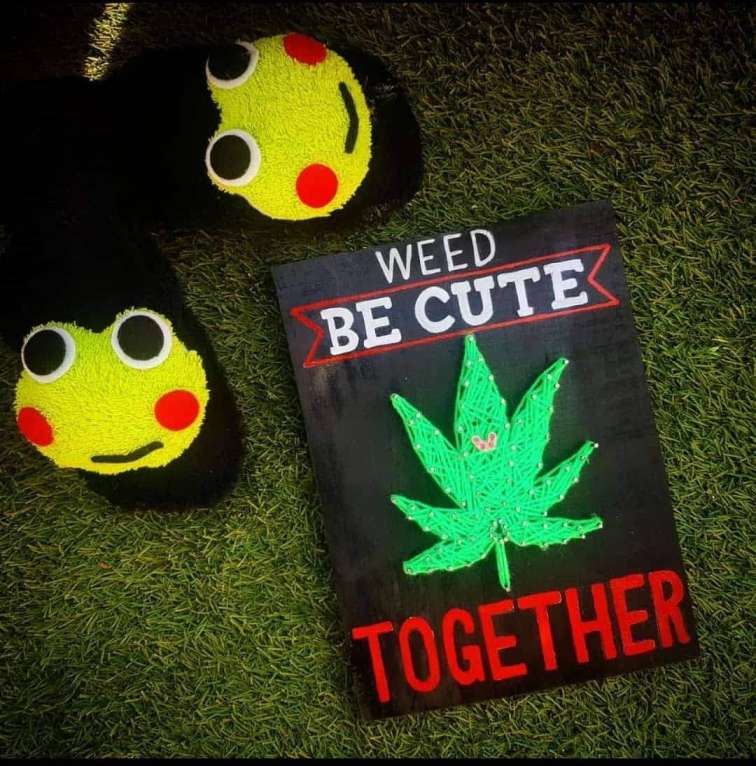 Looking For the Custom-Themed Gift?
Fan Art 
Have loved ones who are crazy fans of a movie or a series? Well, surprise them with a gift in the form of string art from their favorite show or movie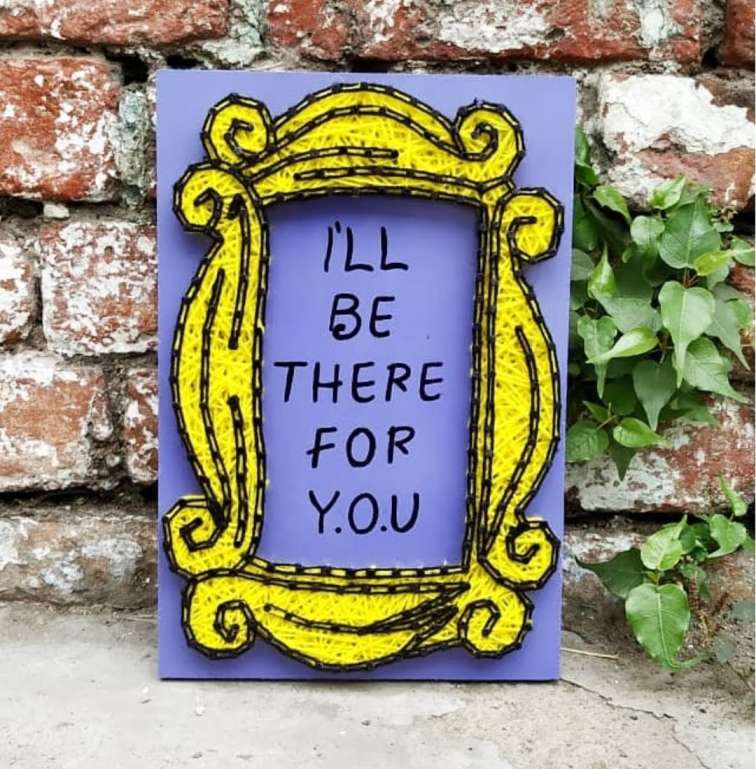 Why buy Customized String Art From StonedSanta?
At Stoned Santa, we believe in creating masterpieces with a personalized touch to give gifting an emotional experience rather than just an exchange of materialistic possessions. This is because art is the focal point of everything we curate. Our gifting process is two-way, requiring ideas from our clients and creative inputs from our artists to breathe those ideas to life. 
Thus, our artists' creativity and clients' thoughts are beautifully encapsulated in each of our creations, making it more than just a gift. We bring your idea and imagination to life. So, if you order from Stoned Santa, be assured of –
Timely Delivery –

Our standard delivery timeline is 8-10 days, and we make sure that our orders are dispatched in time to fulfill the commitment. We are also happy to honor shorter delivery timelines (available at an additional cost) subject to the availability of our artist

100% Handmade –

We have a team of experienced and talented artists who leverage their artistic skills to create wonderful handmade pieces of art for you.
End-to-End Assistance –

Our gifting experts guide you through the buying process right from ideation to the final product!
Buying string art online has never been this easy, simply get in touch with Stoned Santa gifting expert here!
Looking for the perfect gift?
Look no more, our gift experts will get in touch with you and help you with all your requirements.