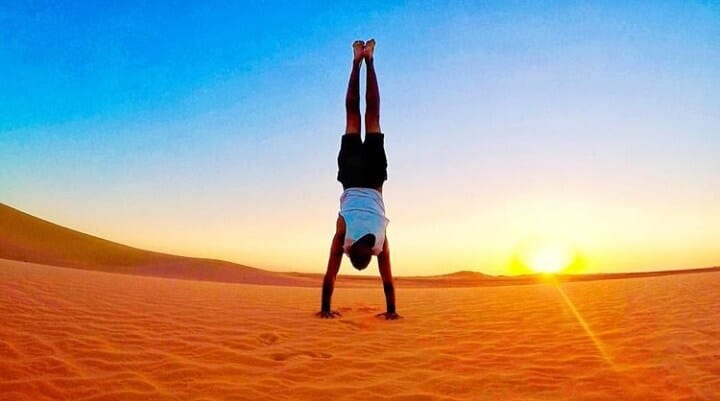 An upside down journey – Cavemangram aka Fahad Al Abri
Art should be a priority because there is nothing more valuable than humanity and art is an expression of our humanity. You can't buy humanity with money or success.
~ Fahad Al Abri aka Cavemangram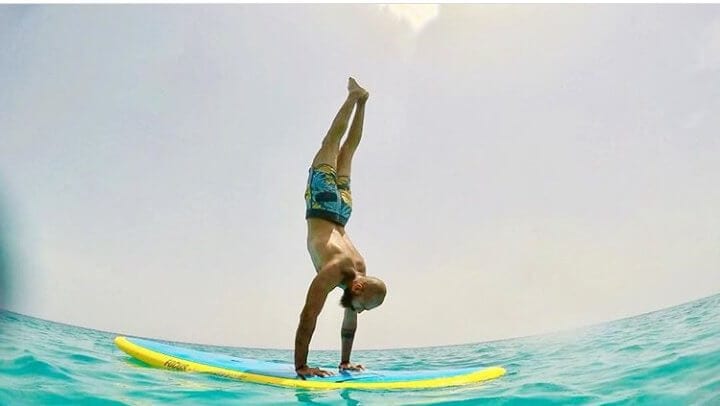 There are many ways to look at life and this world, whether it's through technology, art spiritualism or more. But here's one way you might not have heard of before- upside down. That's right, there is one happy soul out in this world who is introducing the way of the handstand!
The handstand and how it all began.
Fahad Al Abri, an Omani fitness coach, discovered the beauty of the handstand when he realised 
that it gave him a different perspective on everything around him. To him, the pose not only symbolises the physical and 
mental strength required to hold it but it also represents standing out of one's comfort zone. Always one to push the boundaries, Fahad has taken on the mission of performing the iconic handstand pose in every city across the world as a way of bringing different cultures together through one common expression- that of viewing upside down.
Having covered an impressive 43 cities so far, one of his favourite views was when he did the handstand in Delhi.
His journey takes him not only across countries but also to some diverse terrains. But the handstand master conquers them all.
"The most difficult terrain was when I went to handstand on the highest sand dune in the world. Balancing on sand is tricky because the sand is soft, shaky and you can't get a good grip, making it really challenging! It's important because it helps us to understand how to stand and adjust in different environments, it's a life lesson."
When walking upside down became about world peace
What started as a personal journey then became a platform for international peace when Fahad faced difficulty with entering other countries on his travels. These restrictions and divides propelled him to promote world peace and harmony throughout his handstand journey. This led him to share his message on one of the world's biggest and most inspirational platforms- TEDx. A two-time TEDx speaker, Fahad has inspired many through the symbolism of his upside down
 approach.
"Delhi having one of the highest populations in this world, I find it incredible that everyone and all these different religions can live together in peace. They manage to stand for what they believe in and realize that strength is in their differences."
Art in the life of a traveling soul.
When he's not promoting world peace on his hands, Fahad enjoys spreading musical hoy with his ukelele which he thinks of as a "happy" instrument. To him, the art of music is another way of expression in his daily life.
"Art should be a priority because there is nothing more valuable than humanity and art is an expression of our humanity. You can't buy humanity with money or success."
When it comes to the finer things in life, Fahad firmly believes that traditional and handmade art forms should be preserved as it is a part of our culture and a way of honoring our ancestors and our past. He enjoys gifting people with mementos on random days just to spread joy. When asked about the intimacy of personalizing a gift and how it ceases to exist today, he said:
That's funny that you ask because my girlfriend just said that she would like to bring back the art of giving actual birthday/celebration cards to our friends and family as it makes the gesture more personal and meaningful. It shows that you spent time picking something and nothing can replace a handwritten message of love. Obviously I agree with her.
TEDx SRMNCR and Cavemangram
In fact, Fahad's memento at the TEDxSRMNCR was a personalized S
tring art gift that was created by the artists at Stoned Santa and he simply loved the fact that it was handmade.
"I thinks its great and I loved my gift. I loved the fact that it was handmade and personalized for me. It's important for artists to have a platform like Stoned Santa in order to reach a wider range of people."
In today's world of differences, it amazes me that Fahad could turn something as simple as a handstand into a window to a whole new world. Of course, if you think about it, the handstand is only simple to look at. An act that is challenging both physically and mentally, this one pose gives us so much to learn from whether it's pushing our boundaries, stepping out of our comfort zones or being one with the world around us. It's a beautiful language that can speak across religions, nationalities, and cultures and maybe that's what the world needs today. Here's to seeing Fahad upside down in more countries in the years to come!
Are you an artist and want to work with us?
Click here
At Stoned Santa, artists associated with us have the complete creative freedom to work on their projects. Join us and let's make art great again.