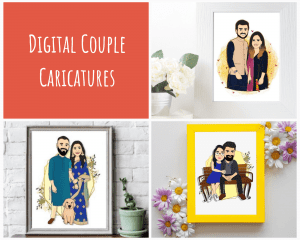 What is Digital art?
Today, the world is defined through technology, and Digital art is a part of it. Digital artwork can be defined as any artistic creation that incorporates technology and digital media as an integral part of its creative process. 
Anything produced using digital media and devices like animations, illustrations, video animations, portraits, caricatures, and many more can be classified as Digital artwork. 
People who create these magnificent pieces of art are known as Digital Artists. Everything goes in the spectrum of Digital Artworks and Digital paintings, from AI-generated art to digital photography, computer graphics and pixel art.
Typically, digitally created art can be used to create advertisements, Graphic designs, animations, videos, movies and much more.  But digital art is not limited to high-end commercial use; we can use digital illustrators and software to produce personalised art, digital portraits, caricatures, and e-invites to weddings and other events.
Stoned Santa brings you a network of incredibly talented digital artists to take your pick from. Every artist with Stoned Santa is a master of their craft and can help you cherish your memories forever.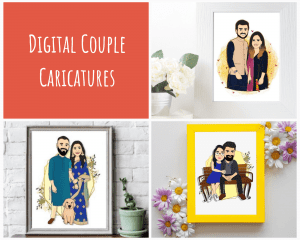 Neha Sharma- Digital artist, animator and story-teller 
Neha Sharma, famously known as Neha Doodles, is a freelance digital artist, animator and storyteller. She gave up her studies in CA to pursue her creative dreams. She boasts a following of over 3 Lakh followers on her Instagram page.
As a digital artist, she has been published on various digital platforms like Huffington Post, The Delhi Times, Times of India, Cosmopolitan etc. Her digital paintings are in the form of doodles, animations and intricate illustrations. 
She uses bold colours throughout her designs and has collaborated with brands like Dunkin Donuts, The Body Shop, Costa Coffee and many others. 
 Her speciality lies in the ability to illustrate real-life stories and characters in digital art, which makes her work stand out!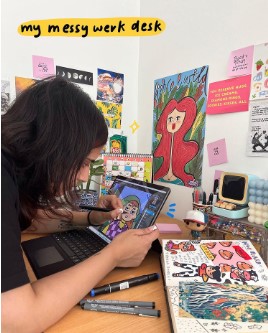 Akanksha Agnihotri- Illustrator, Animator and Digital artist
Akanksha Agnihotri is a Delhi-based freelance artist with a following of over 1 Lakh on Instagram. She has worked with companies like Google, Amazon, Times of India and many more.
 Her work has been published in various children's books as well. Her Digital art is mainly in the form of cartoon illustrations and involves drawing cartoon portraits of real-life people and mythological deities as babies. She also creates motivational digital illustrations on topics like Monday motivation, friendship etc. 
She creates beautiful wedding cartoon caricatures of people to use as wedding gifts or wedding mementoes. Her art is a reminiscence of youth, happiness and motivation, making her Instagram page enticing and engaging.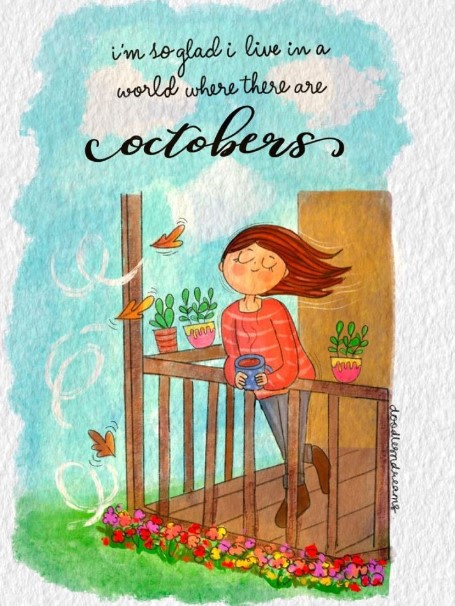 Chetan- Caricature artist, illustrator, and animator
Chetan is a Yogi and an outstanding digital artist specialising in caricatures and animations. His digital illustrations revolve around creating animations or caricatures of famous movie characters, both Hollywood and Bollywood. and anime characters. He also shows his Digital art skills by creating animated versions of Hindu mythological gods and scenes from Hindu Festivals. 
His artwork is perfect to put on personalised cards and invitations. His digital caricatures can be made into posters to hang on our walls or to gift someone a digitally made personalised piece of art they will love.

He has been working with Stoned Santa for the past 4 years and has created some fantastic digital personalised and fan art pieces. 
Shailly Gajjar- Illustrator, Comic Artist and digital invites
Shailly Gajjar, a digital artist who initially set out to become an engineer, decided to give it up and follow her dream path in graphic design. She was introduced to the field when she decided to design her wedding card, which has now become her full-time job. 
She has been able to form her own niche and style amongst all digital artists. Her artwork concentrates on Digital invites for weddings, family events and any other occasion. She also specialises in creating personalised portraits, which are guaranteed to put a massive smile on the person who receives her artwork.
Since her start, she has collaborated with various big-name brands like Snickers, Google India and many more.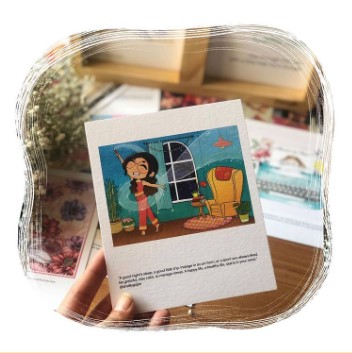 Abhishek Samal- Digital Portraits
Abhishek Samal is a digital creator who is brilliant at creating not only Hyper-realistic Portraits and artwork but also breathtaking Digital art pieces and illustrations. He uses digital art software known as Procreate, to develop such enigmatic art pieces. 

His digital artwork mainly consists of portraits of famous movie stars, sportspeople, singers etc. He takes his inspiration from Hollywood and Bollywood and draws the character as he sees them.

His Digital portraits bring out the character's inner emotions on their face. He has created his niche in the market by appealing to the various fandoms of movies, famous people and comics. 
He also creates personalised hyper-realistic portraits of real-life people on commissions. His artwork will leave your mouth wide open in amazement and surprise. His Instagram page and Youtube channel are a testament to his unique digital artwork.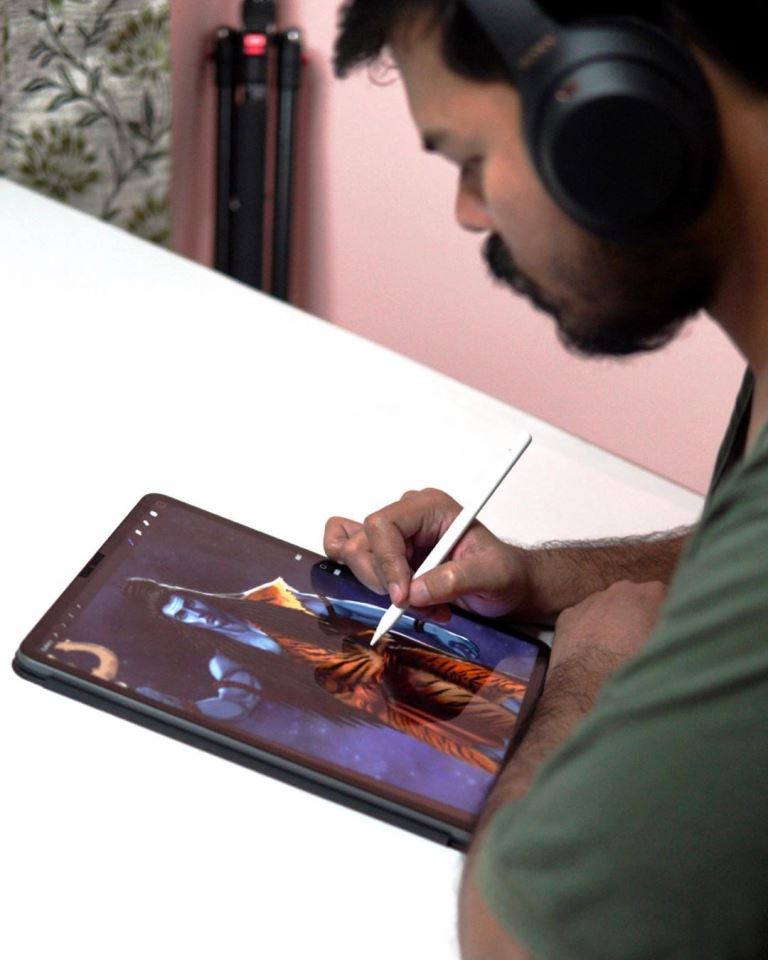 Priyanshi Dhawan- Personalised portraits & E-invites
Priyanshi Dhawan is a Lucknow-based artist who started her design studio, "Designs by Inaara," with her elder sister Divi Dhawan. They decided to pursue their dreams of creating digital art during the Pandemic and saw a need for digital wedding invites. Since then, they have been growing rapidly in their niche.

They specialise in personalised wedding invitations and e-invites for all occasions, from birthdays to formal events. They also create personalised digital portraits with bespoke backgrounds and clothes. Clients can order their invitations as static, video, or animated invitations.

Their artwork celebrates their clients and helps them to cherish their memories.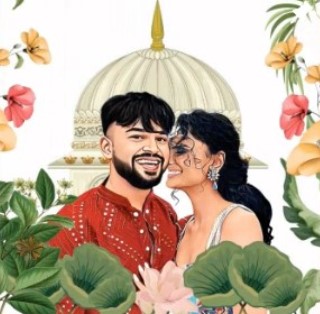 Anirudha Lele- Illustrator and concept and caricature artist
Anirudha Lele is a freelance caricature digital artist based in Ahmedabad, Gujrat. As a digital caricature artist, his artwork revolves around his clients' requirements. He creates intricate pieces of exaggerated personalised caricatures, and he can also create an illustration or caricature that is simple and cartoonish.
He makes digital caricatures of Hindu mythological deities, famous movie characters and representations of various favourite shows etc. He is also a published Children's books illustrator.
His Instagram page will leave you wanting more with his realistic, intricate pieces or artwork.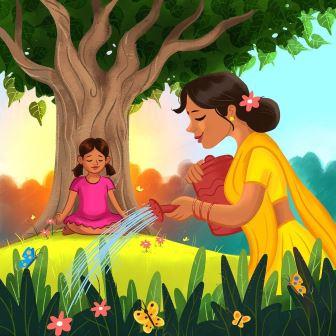 Niharika Singh- Illustrator, Digital Artist and Educator
Niharika Singh is a freelance digital artist who specialises in Personalised Digital portraits, Invitations and is also a Children's books illustrator. Niharika Singh is not only an artist but also an educator. 

She comes up with intensive courses on how to make personalised digital art like her. In her workshops, she also teaches the use of various digital art software like Procreate and trains students in concept design and character development. 
Looking at her Instagram page, anyone can tell that nobody captures a moment like she does through her artwork. She creates pieces based on movies, shows and real people.
Shweta Singh- Wedding Card Specialist and Educator
Shweta Singh is a freelance Digital artist specialising in Digital Wedding Invites and invitations for other occasions. Her artworks are incredibly intricate and full of minute details. Every piece she creates is unique and moulded to suit her client's requirements. She is known for her realism and minute detailing in clothes and backgrounds.
She is also an educator and releases tutorial videos and workshop classes to teach people how to create digital art pieces. The scope of her artworks ranges from subtle to absolutely extravagant.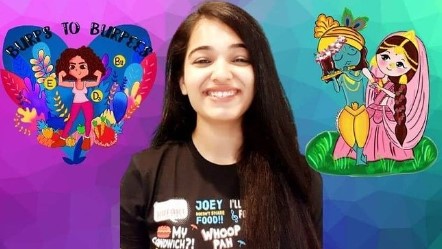 Ankita J Mehta- Digital illustrator
 Ankita is an exquisite freelance Digital artist, well known for her powerful works displaying femininity and women. Her art revolves around celebrating Indian culture and women. Beyond this, she also specialises in wedding illustrations and digital fan art. 
Her digitally created art stands out because her illustrations of women are as powerful as they are delicate and as enchanting as they are enigmatic. She can capture the essence of a strong Indian woman in all her digital illustrations and paintings.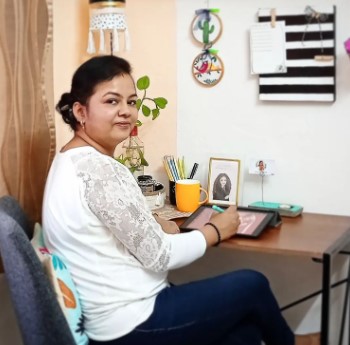 Are you considering obtaining a custom Digital art for a friend, colleague or your family?  
Look no further; Stoned Santa brings you a vast network of incredibly talented Digital artists in India. We are here to string together your memories and dreams so you can cherish them forever. 
Stoned Santa has been a quintessential part of the handmade personalised gift, art and decor industry for over 5 years. The artists with Stoned Santa have successfully created over thousands of Digital Art paintings for wedding gifts, corporate events, home decor and much more and have delivered them on time all over the world.
Through Stoned Santa, You may discover various artists who are proficient and connoisseurs of different art forms who will meet your needs and budget and deliver your Digital portraits and paintings within your time frame.
 Stoned Santa makes it incredibly simple to find a trustworthy and professional artist for you according to your specifications!
Looking for the perfect gift?
Look no more, our gift experts will get in touch with you and help you with all your requirements.