11 String Art gift ideas for Couples
There is only one happiness in this life, to love and be loved.
– George Sand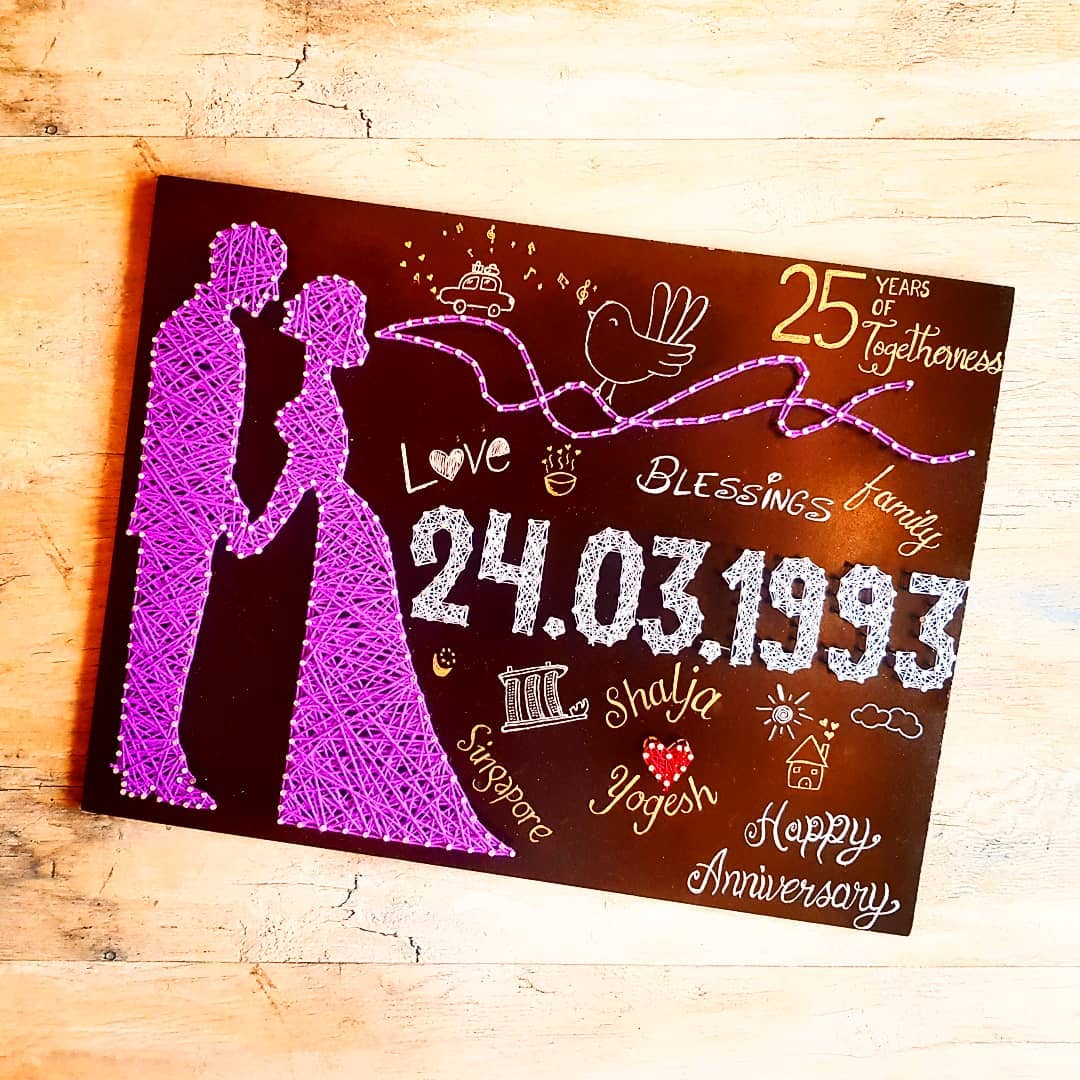 String Art, simply put, involves the use of string, thread, wool as an art medium. The brilliance of the art shines through when a delicate balance is achieved between the simplicity of the design and the intricate elaborateness of the thread configurations that form the body of the art. Another delightful characteristic of the art is the smooth flowing texture that is achieved by the spools of thread against the rugged rustic feel of the wood on which it takes form.
1. String art for weddings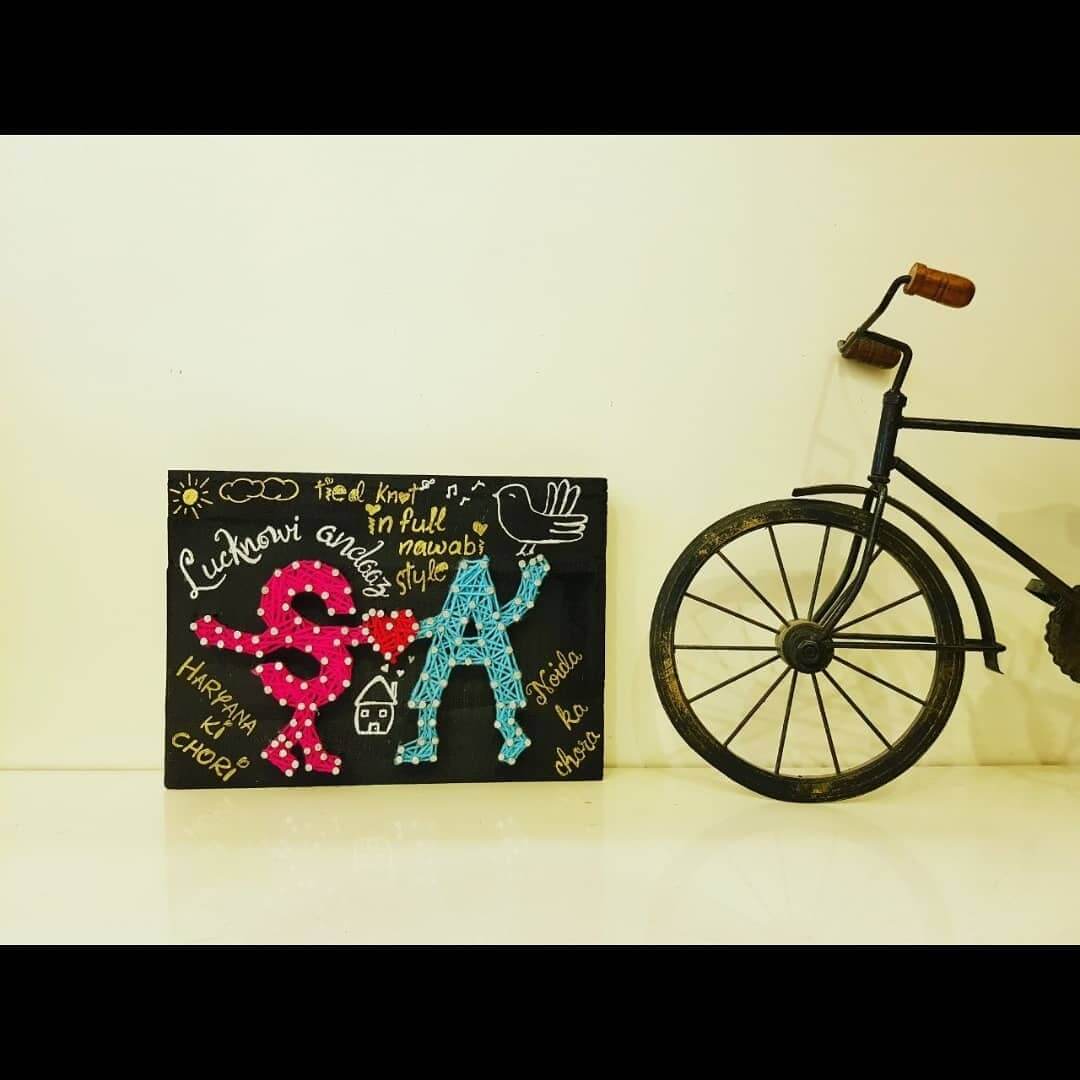 Wedding is a celebration, wedding is a festival, and wedding brings people close. Get something amazing done for your loved ones who are about to get married. Get a personalized handmade gift that contains all the phrases you wanna mention to the couples and make their wedding day a great memory. Presenting before you – personalized string art done with lots of love at Stoned Santa!
"Love is not just something you feel, it's something that you do."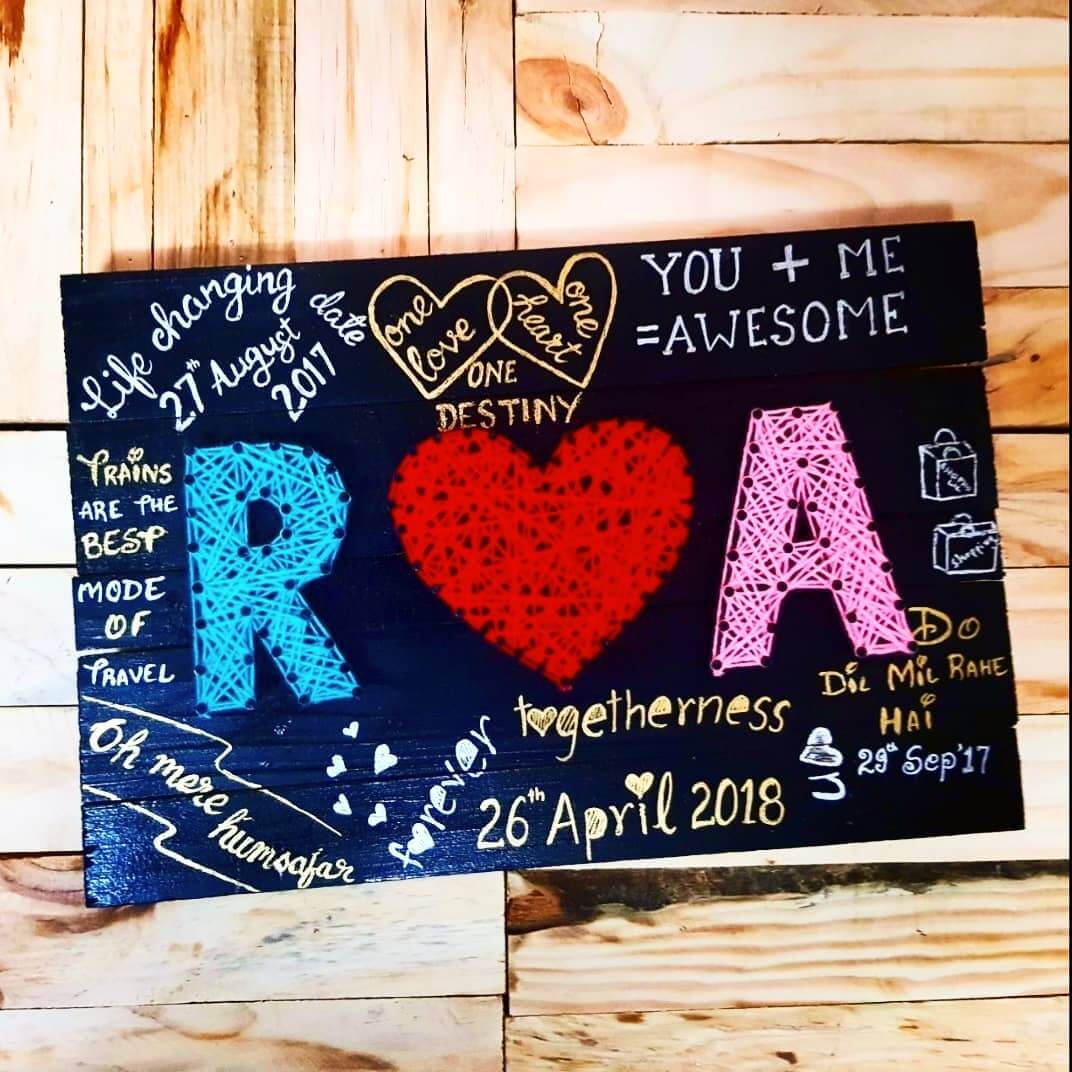 Jotting down memories about loved ones is a best thing that you could do! Get all the memories to us, and we would build your castle of memories. Our string art is no less than a castle of memories. It's handmade and colorful. Look upon our string art to keep your memories colorful.
3. String art – Anniversary gift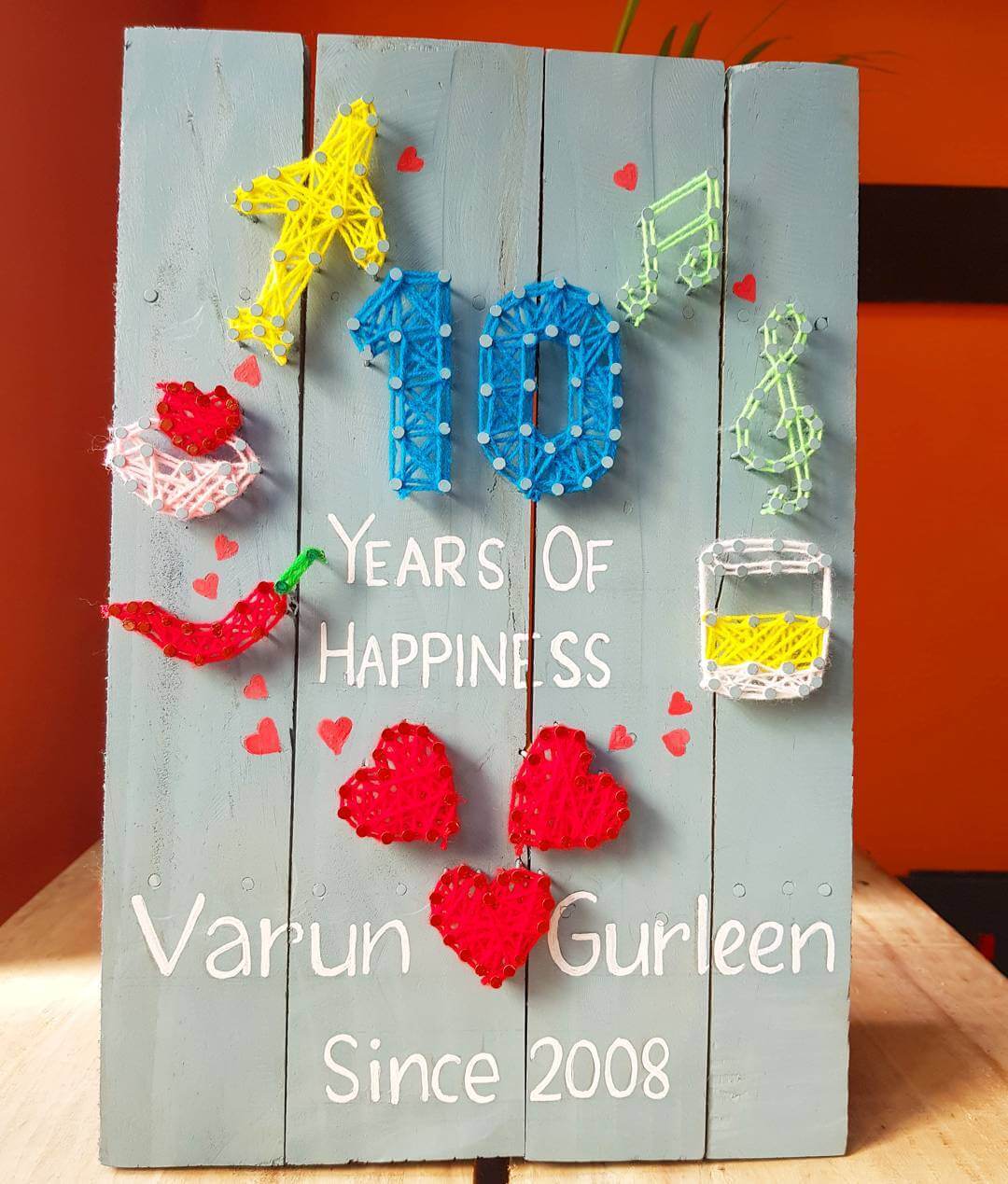 Being in a relationship is a responsibility! Make your beloved know that you love him/her more as the time passes. Remind them all that you've done and made each other smile by gifting a specialized handmade customized string art this anniversary.
A successful marriage requires falling in love many times, always with the same person.
4. String arts to gift couples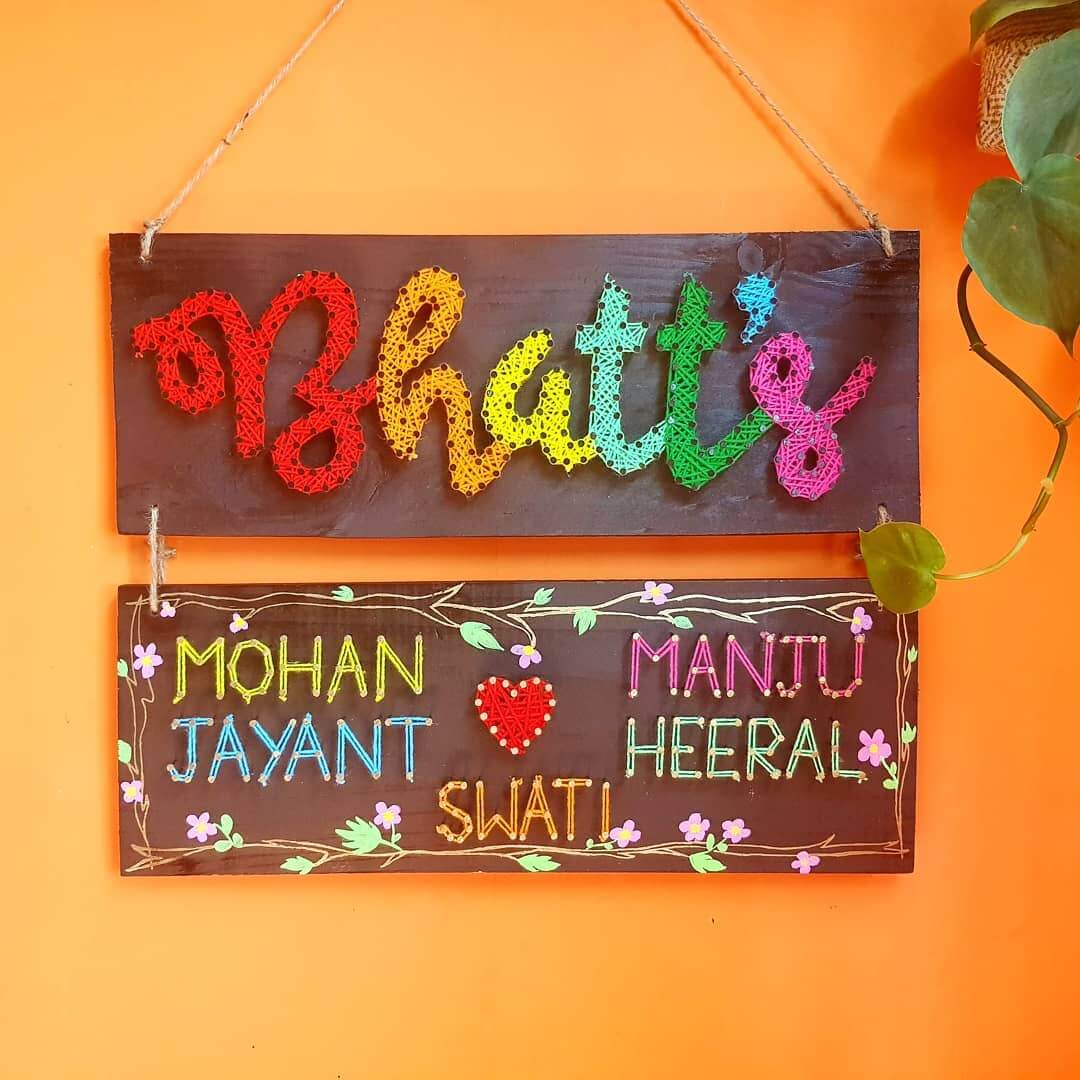 It's a wonderful feeling when your friends with whom you've spent a lot of time are finally getting married. Of course they are gonna step into a new phase of life. Let them start a new beginning with a colorful everlasting handmade string art. Let their bonds be strongest just like how the string holds nails and nail holds wood on a string art. Let this art personify their relationship.
Expressing love doesn't make you weak, but it makes the bond more stronger. Let your loved ones know how much you love them. This monsoon, buy your beloved a valuable memory and let them know how much value they've got in your life. Get your own designs done with a string on a wood supported by nails. Handmade string art – made with love at Stoned Santa.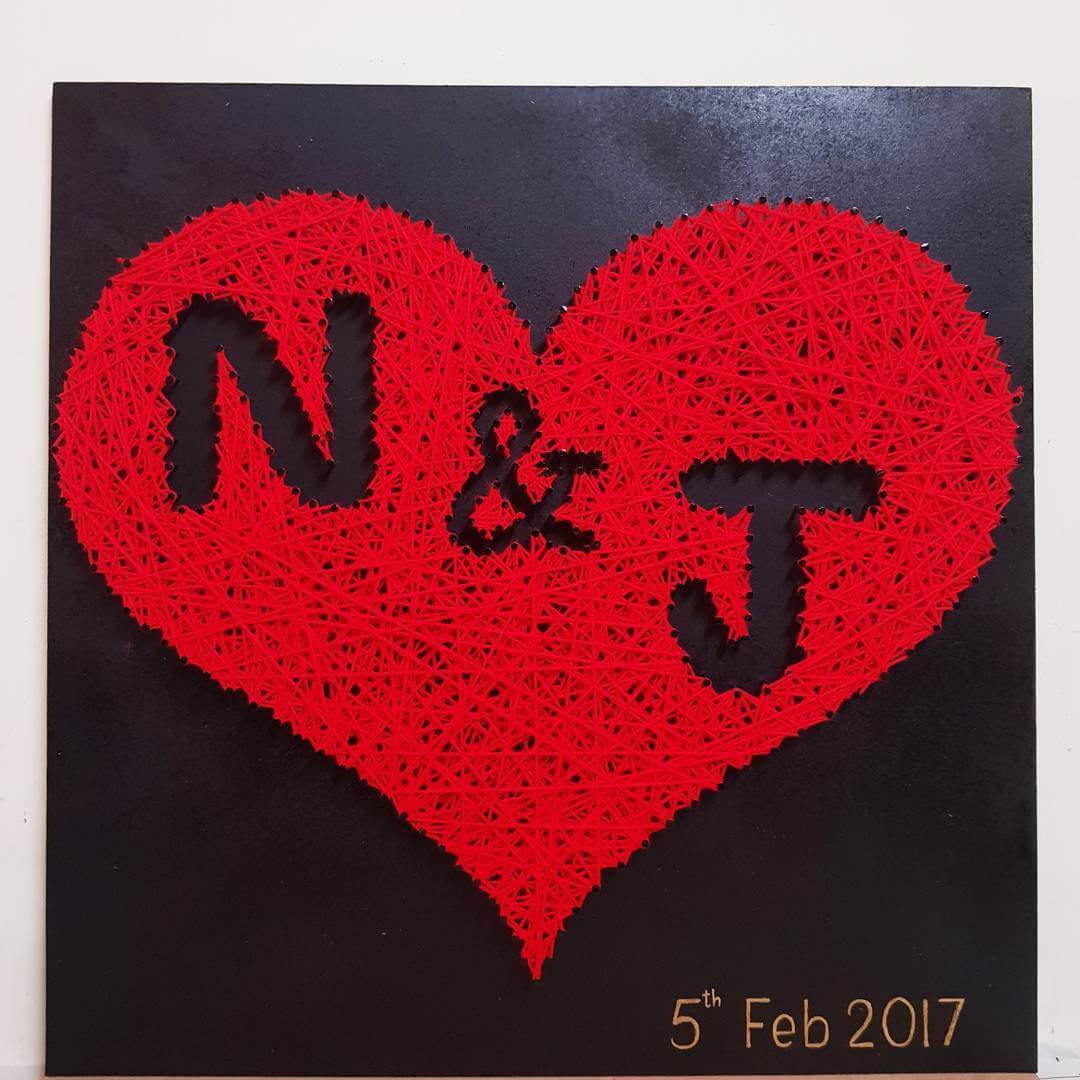 Gift your newly married friends an amazing home decor with their symbol of love. Get your string art done with any alphabets and colors only at Stoned Santa
7. Wedding gift – Couple string art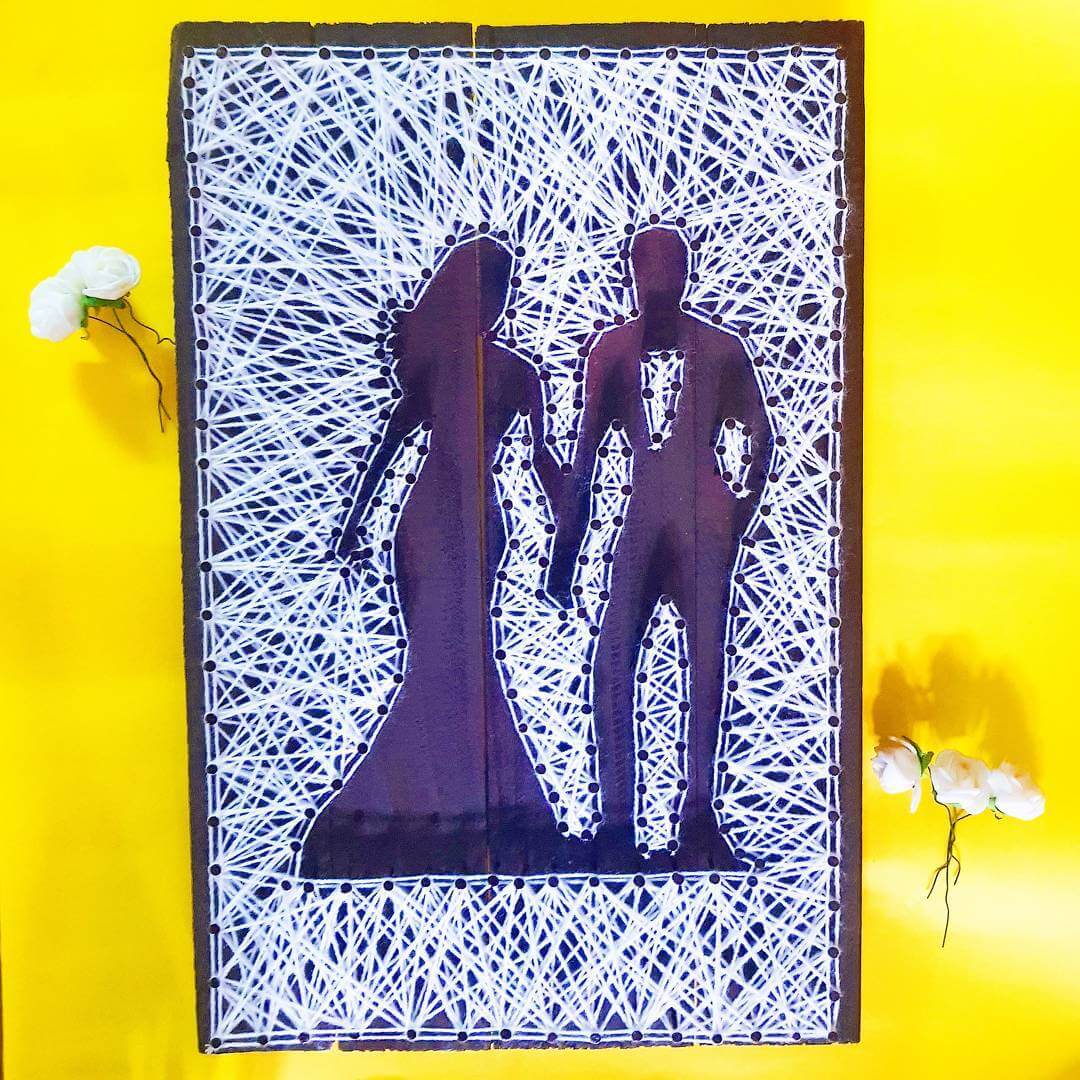 Tired of buys same boring gifts online to your friends and loved ones? Why not try this amazing handmade couple string art to gift your friends or family? It's carefully designed according to your specifications with utmost love and care from Stoned Santa. Available with various sizes, shapes and colors.
The secret of a happy marriage is finding the right person.
8. String arts to capture your best moments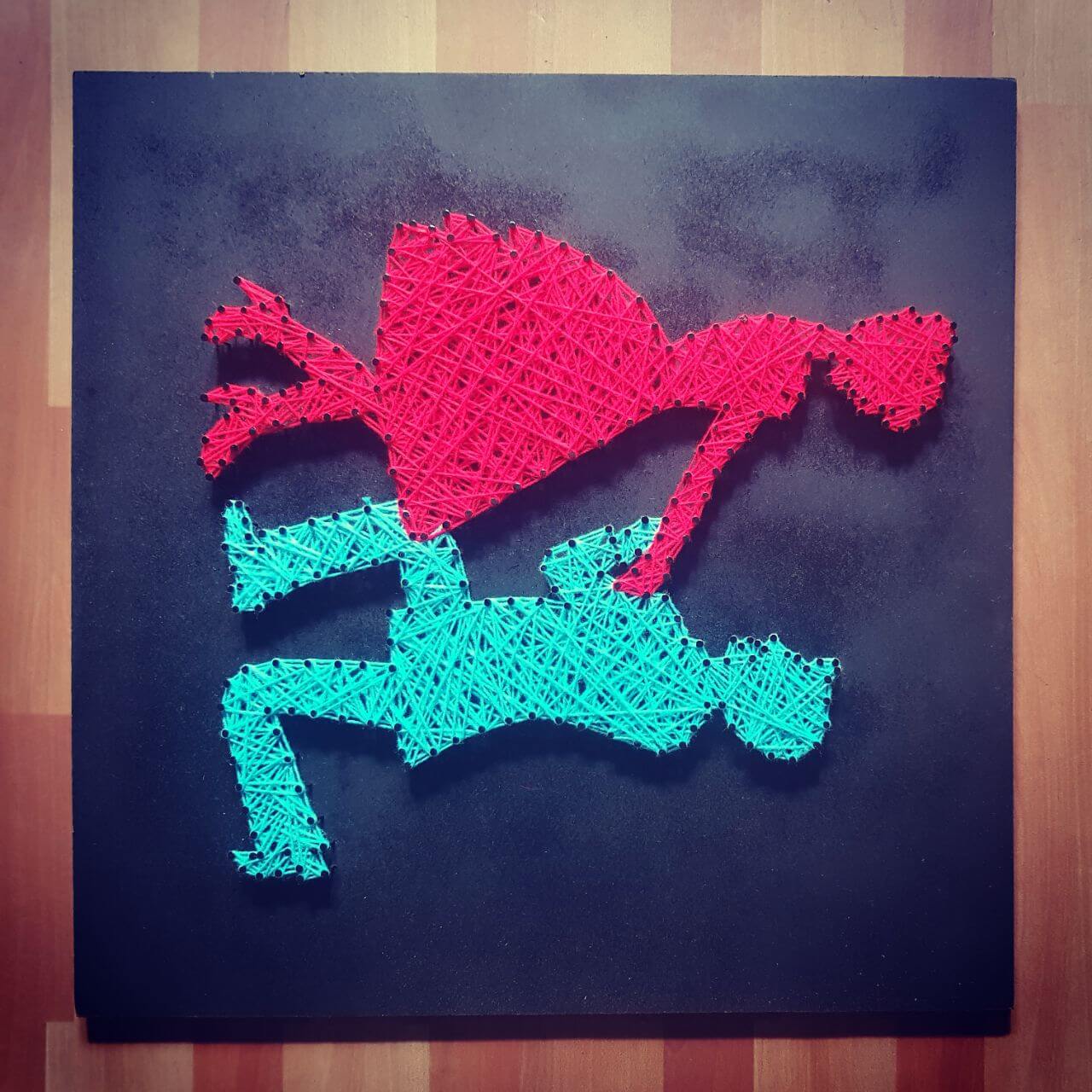 There are certain things that a camera cannot capture. They are captures by our eyes, felt at that moment and saved in our minds. Get out those beautiful memories to reality by getting a handmade string art done at Stoned Santa. Tell us how you want to get the memories displayed, and we'd get it done for you on wood with strings. Make your memories stay fresh always with our string art done with lots of love.
9. Home is where heart is..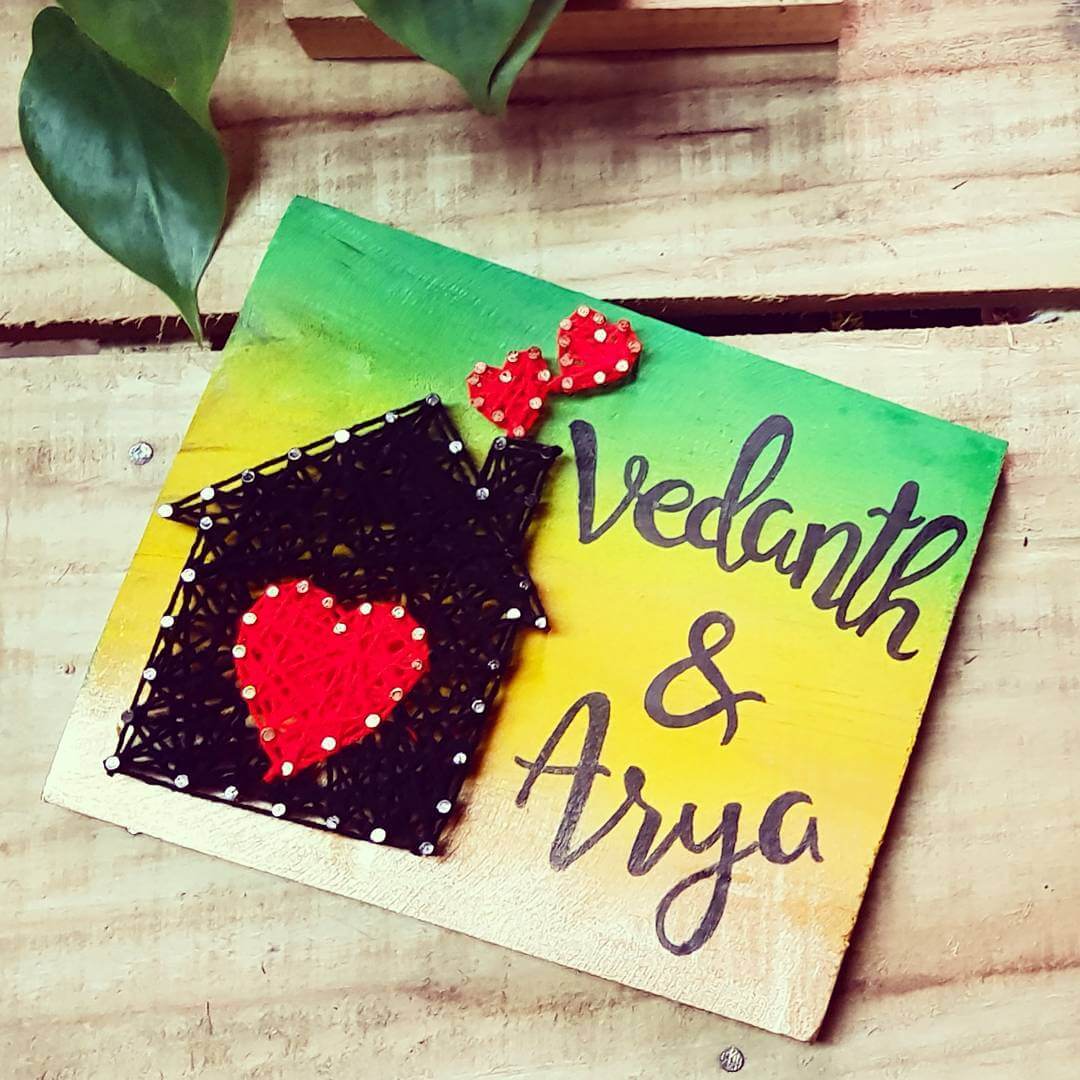 Your home will always be the place for which you feel the deepest affection, no matter where you are. Make your home look more beautiful by keeping your token of love of your twin flame. Get a string art done for your partner by giving us your specifications. Handmade things always give a spark to your space, no matter how beautiful machine made things are.
Every day is a journey, and the journey itself is home.
                                                                        -Matsuo Basho
10. Symbols of love – made out of string art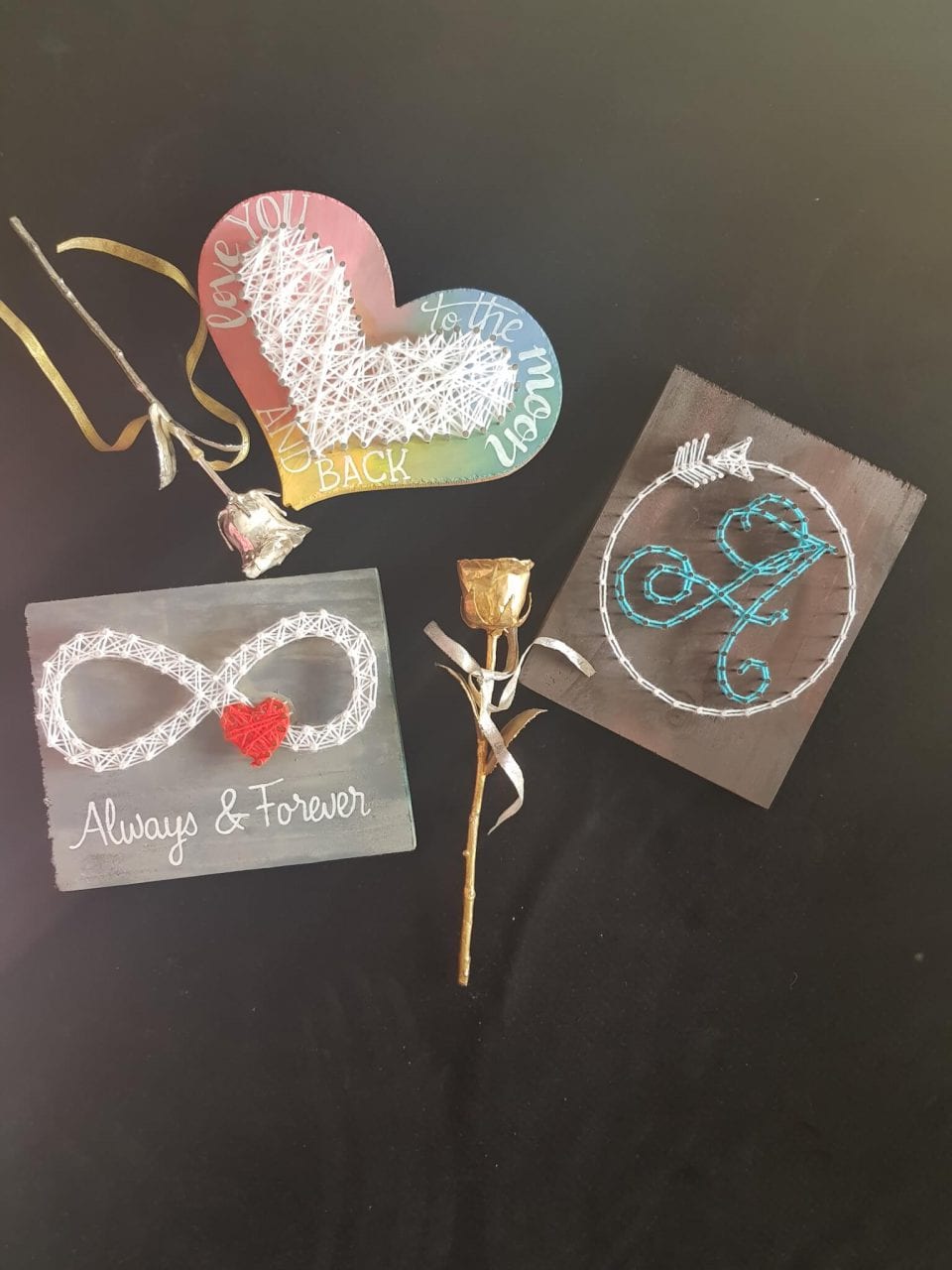 The best thing that you could give your loved one is time and affection. Give them your affection by getting a string art of love and celebrate the gifting moment by giving them your time. We prepare handmade string arts with reference to your specifications.
We always make time for what we feel is important in our lives.
11. "All of me loves all of you.." – a handmade string art filled with love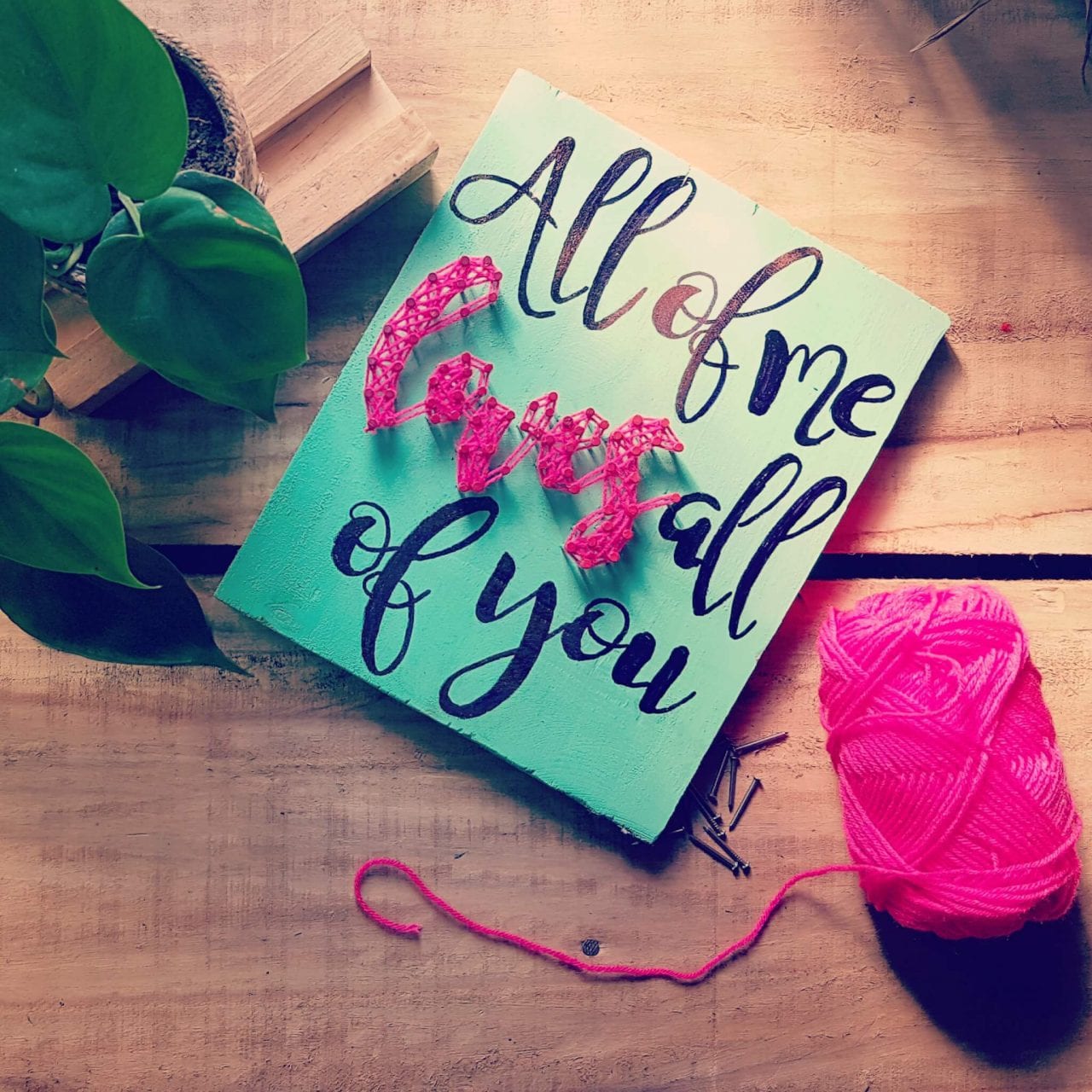 How beautiful are those couples who never stop expressing how much they love each other! Express your love to your loved ones by gifting them a string art which contains your message.
It's not how much we give, it's how much love we put into giving.
– Mother Theresa