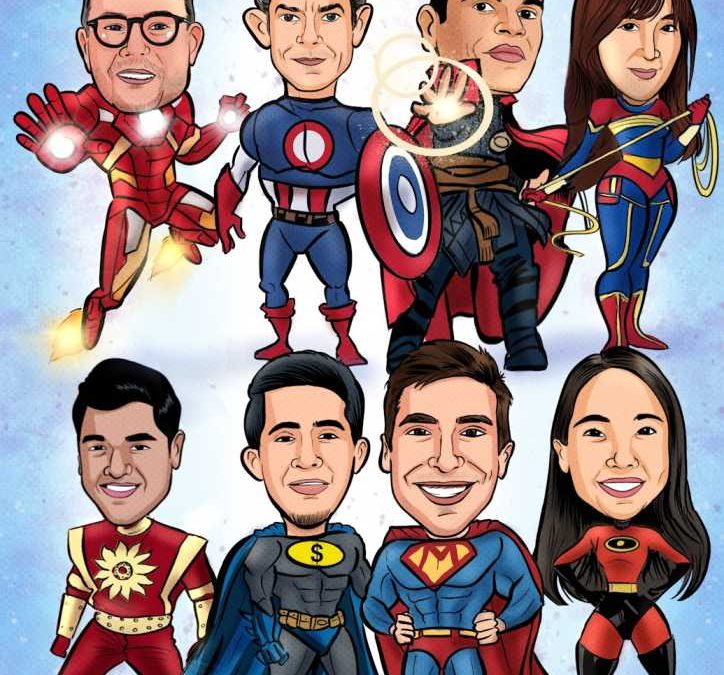 Unique Corporate Gift Ideas – An Insight into Personalized Caricatures
Corporate gifting is a great way to strengthen connections with employees, clients, and partners, and organisations have leveraged corporate gifting for a really long time. 
In this blog, we want to talk about Caricatures as a mode of gifting for corporates.
Corporate caricatures make for a great and unique gifting idea as they are appealing and appropriate for any corporate occasion. For instance, the office staff can adorn a caricature of a retiring employee with handwritten wishes and personal anecdotes. 
Our team of skilled caricature artists can help you add a personalized touch by converting your imaginative ideas into a memorable gift. Moreover, we provide digital renditions of corporate caricatures and the actual original art on demand.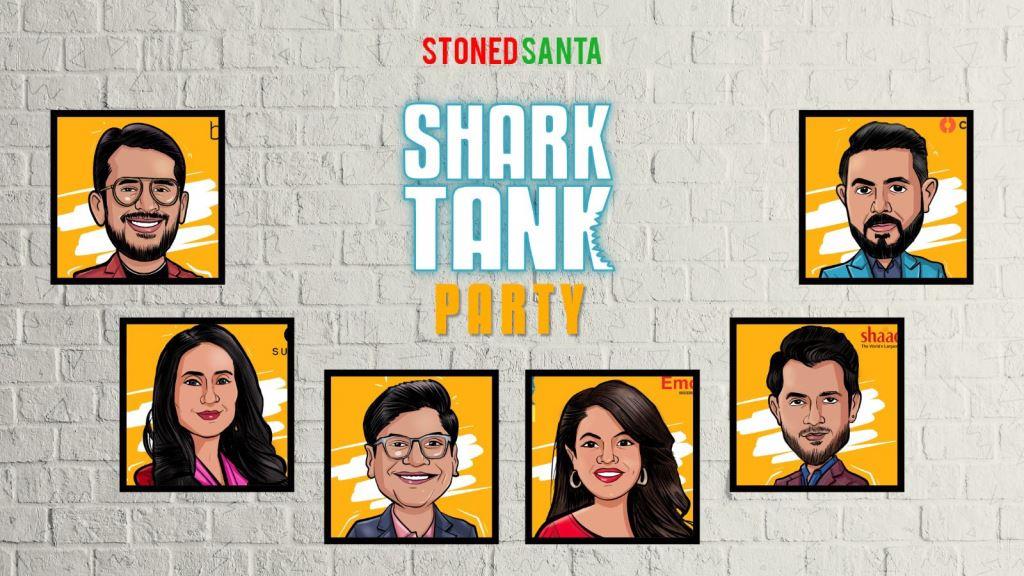 Unique Corporate Gift Ideas – Personalized Caricatures
Our experience in personalized gifting has enabled us to create a list of unique corporate caricatures. 
Corporate Gift Idea 1 – Boss Lady Appreciation
The multiple roles that a woman can play in society are tremendous. And to acknowledge the efforts of their boss, who plays each role with so much dedication, a group of juniors wanted to create a unique gift on her birthday. Therefore with the "multi-tasking woman theme" as recommended by our gifting experts, coupled with the creativity of our caricature artist, we came up with the following masterpiece!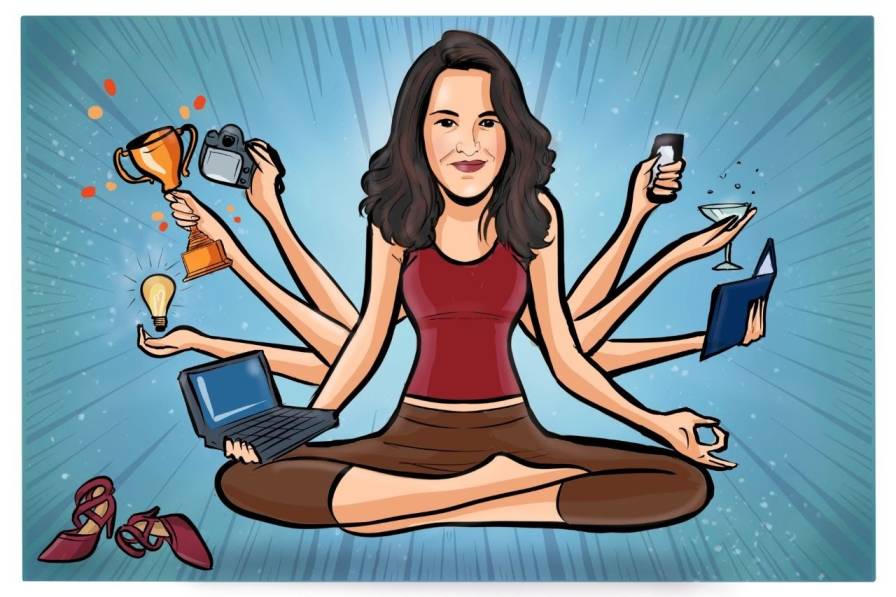 Corporate Gift Idea 2 – Raavan, The King of Multitasking 
In the corporate realm, having a team leader who leads by example is a treasure worth cherishing. But how do you appreciate the leader's efforts who motivate your team to perform better? A unique corporate gift is an ideal way to acknowledge such a leader.
Based on this context, one of the teams of a leading global company came to our gifting experts. They wanted to gift their multi-tasking team leader a farewell gift! Our gifting experts recommended having the team leader depicted as Raavan – managing ten different tasks in a way that shows ten different people are individually working on it simultaneously! 
And this is what our caricature artist came up with –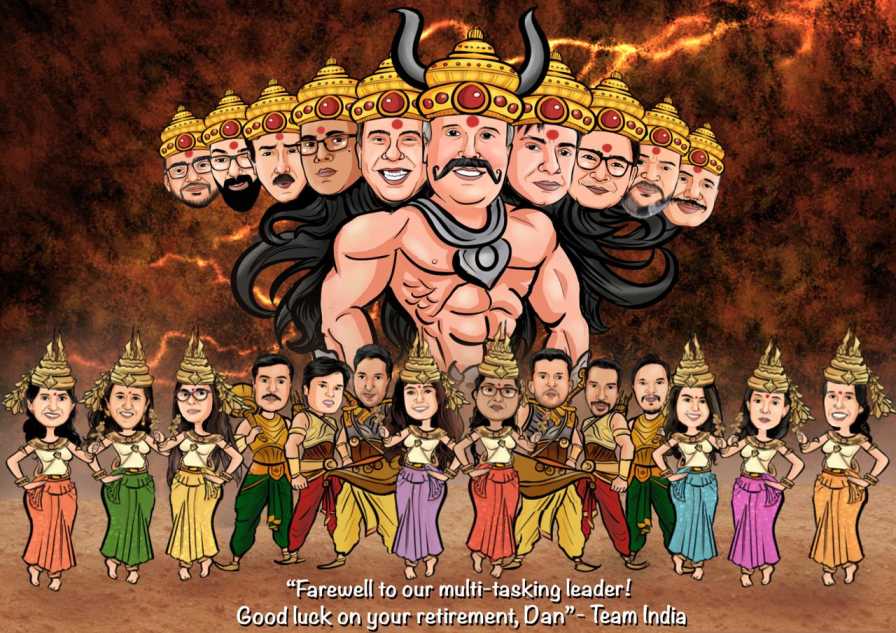 Surprise Caricatures for your team?
Corporate Gift Idea 3 – Forbes Edition "Best Performer Award" 
Our clients wanted to gift their best performer on his work anniversary. The idea was to portray the employee on the Forbes cover page as a caricature with a few quips. Our caricature artist – Chetan, created this masterpiece.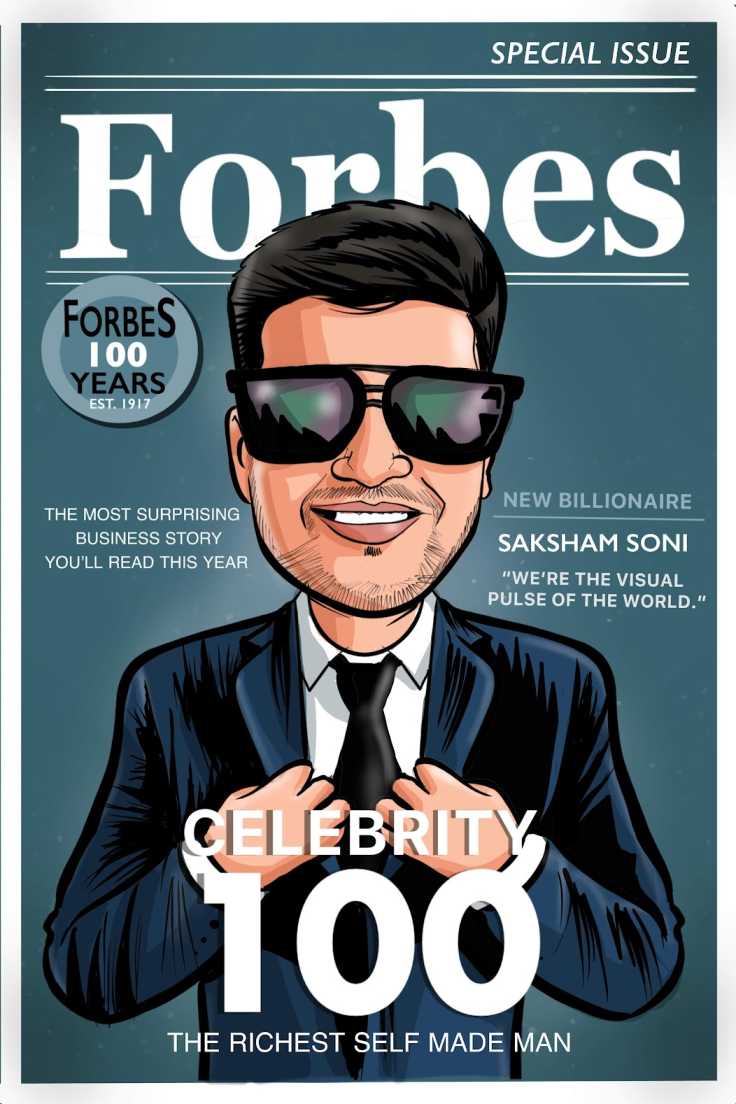 Corporate Gift Idea 4 – Team Superheroes Assemble!
Running a business is no less than a team of superheroes coming together to channel their skill sets and experience. They keep accomplishing unique projects while keeping their customers happy. And what better way to appreciate the efforts of such a team than by giving a personalized caricature gift? 
We got to work on one such exciting concept, where we had to represent the employees as superheroes and depict them in their elements. And the following is the snippet of a Marvel caricature theme –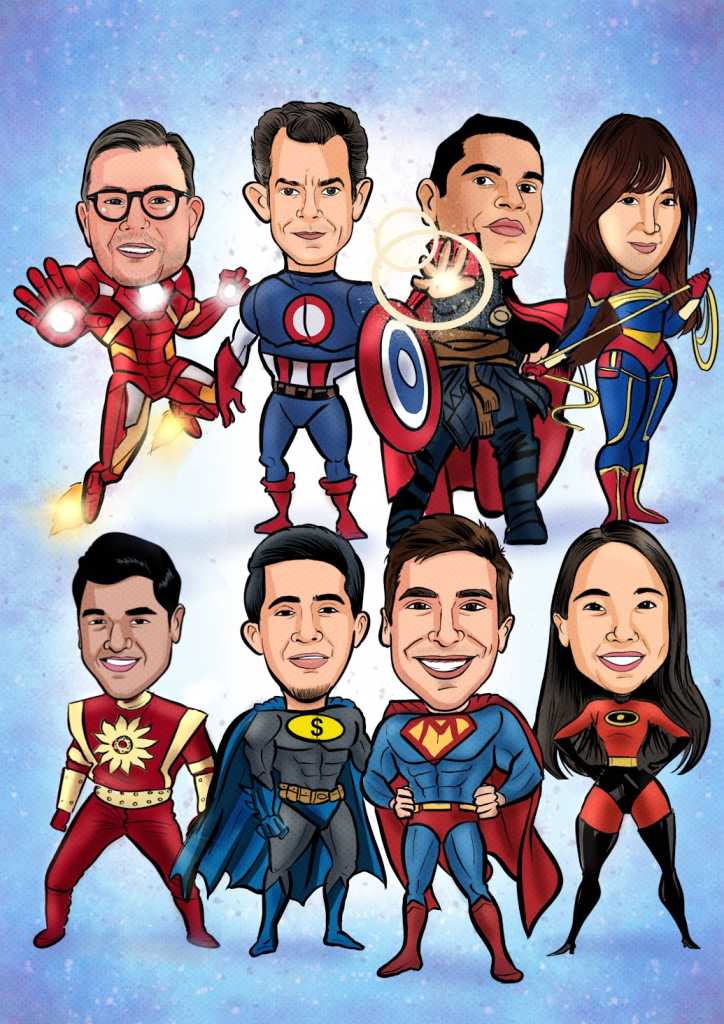 Corporate Gift Idea 5 – Football Fanatics Caricature
We had the opportunity to create a personalized gift for Tom, the (ex) VP of BCG London. He was moving to another consulting firm, therefore the BCG team decided to gift him something really special.
A group caricature with the entire BCG team dressed in football jerseys standing at the centre of a stadium.
PS – It was our first ever international order for caricature.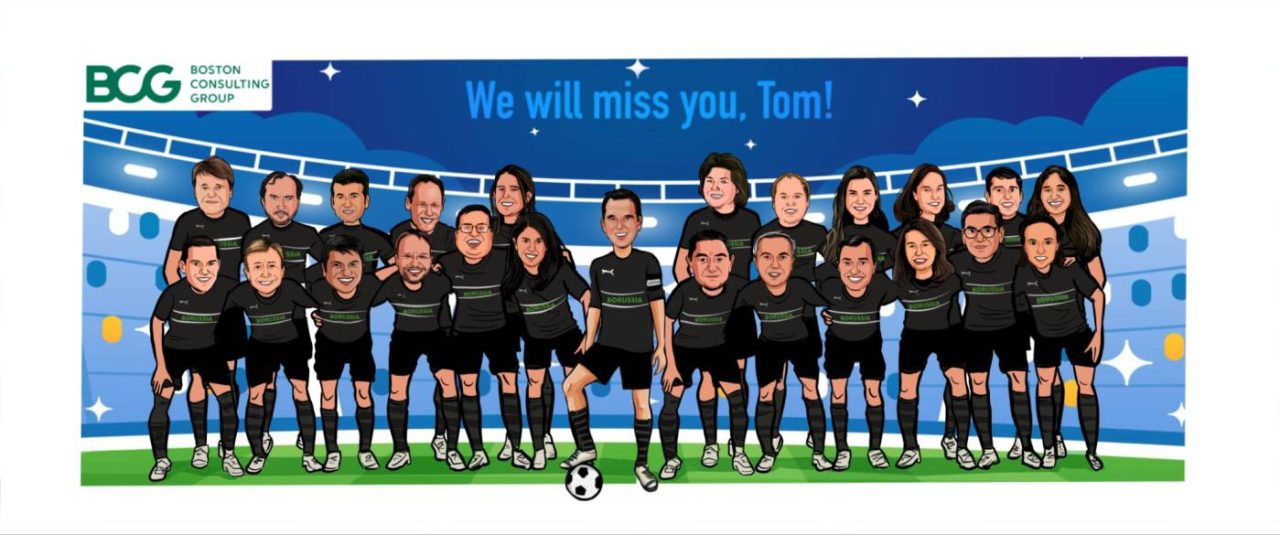 Corporate Gift Idea 6 –  Favorite Character Caricature
Affine Analytics wanted to gift their top-performing employees something unique and customized. They asked their employees the names of their favorite superheroes or fictional characters. The company approached us to make customized caricatures based on the characters and photographs of the employees who shared them.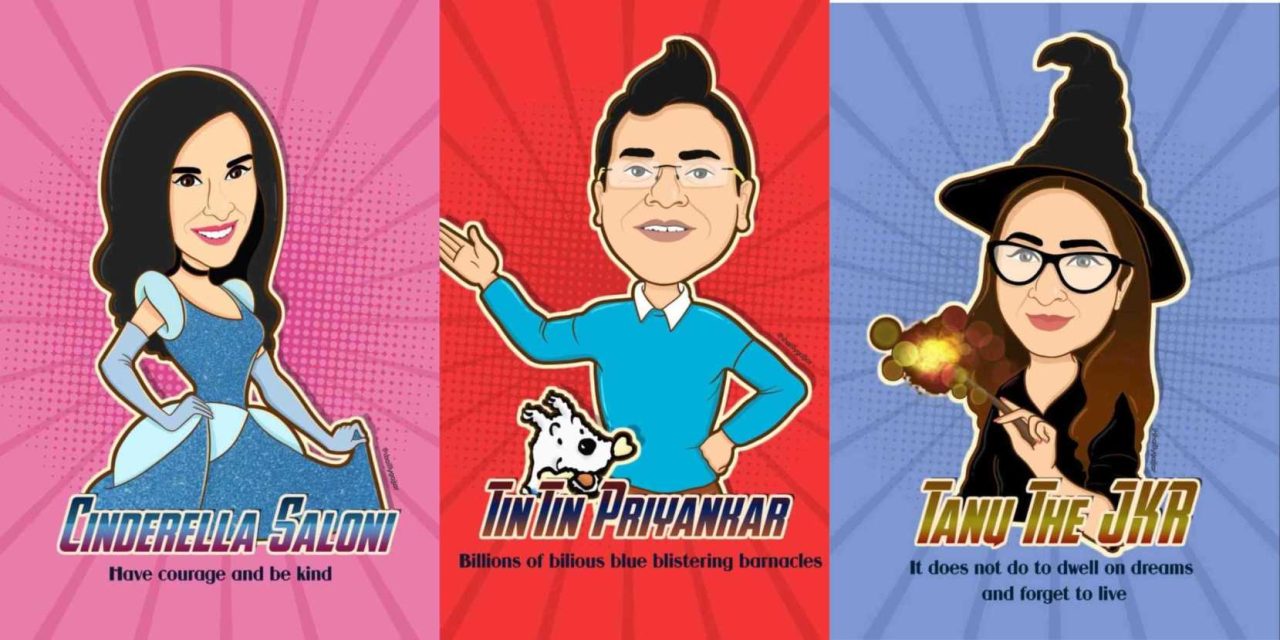 Looking For a Personalized Corporate Caricature?
Corporate Gift Idea 7 –  Dream Team Caricature Ft Royal Sena
Yet another fantastic opportunity from BCG India Office, we had to create a unique gift for the team that worked with Schneider Electric.
The gift was to appreciate the team's efforts, and the theme was to represent the team as Indian mythological heroes who were a part of the royal sena. 
We used different clothing styles and placed each team member in a particular role. And this is what we came up with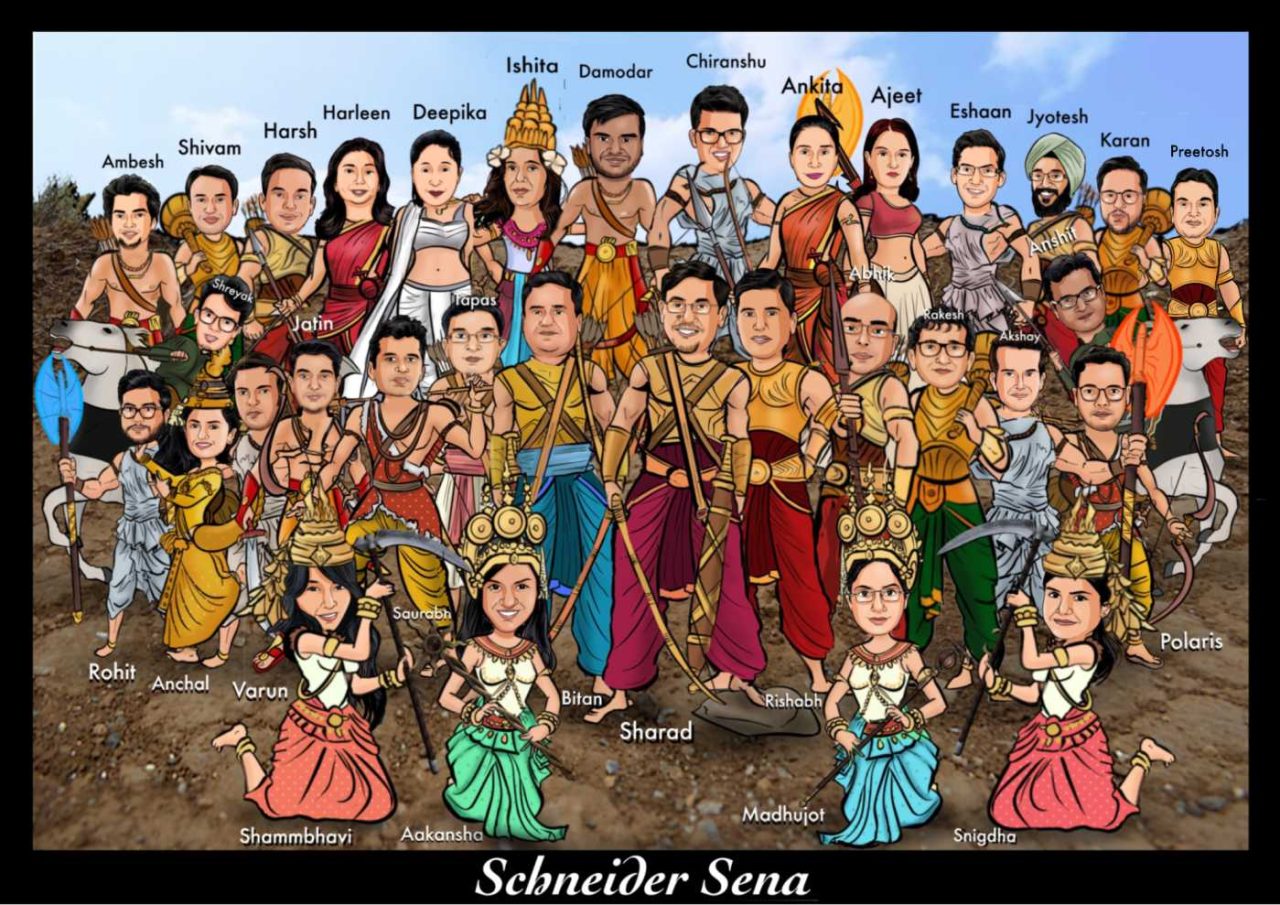 Corporate Gift Idea 8 – Recreating PayPal Mafia Caricature 
Remember PayPal Mafia? A group of original PayPal employees who had difficulty adjusting to eBay's corporate culture left the company, only to start their own companies and venture firms in subsequent years. The term gained popularity as it was used as a headline for an article in Fortune Magazine with a featured photo of former PayPal employees in gangster attire. 
Well, this was the theme for our next creation. BharatPe, a leading digital payment service company, wanted us to curate a similar image to that of PayPal Mafia. And this is what we came up with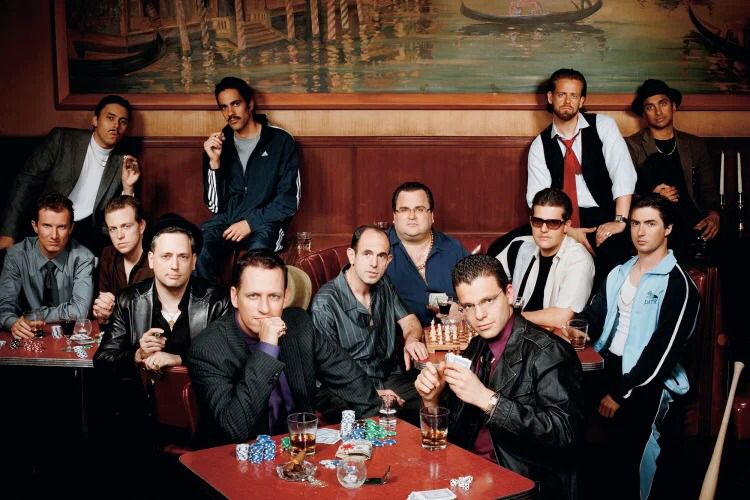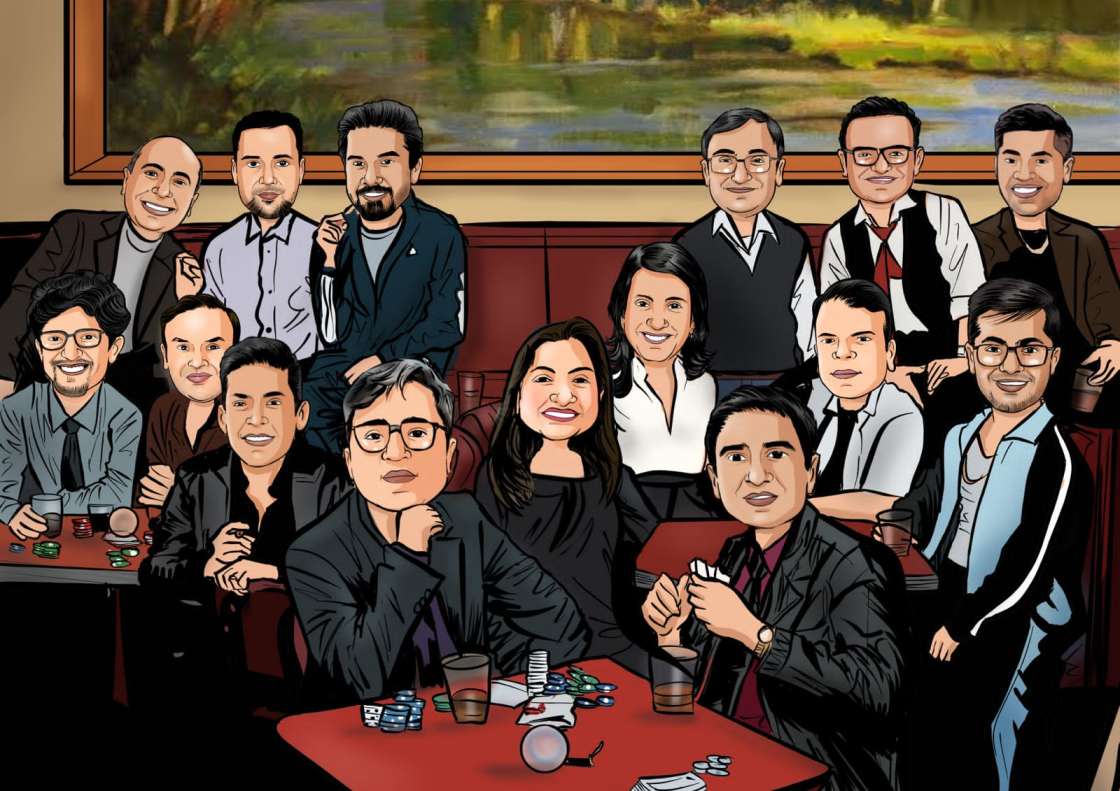 Corporate Gift Idea 9 – Retirement Caricature Gift 
One of our clients wanted to gift his retiring colleague, who worked as a fighter pilot in the Indian Air Force (IAF), a unique caricature. Since the theme was fighter planes and the occasion of WSS retirement, we came up with the following creation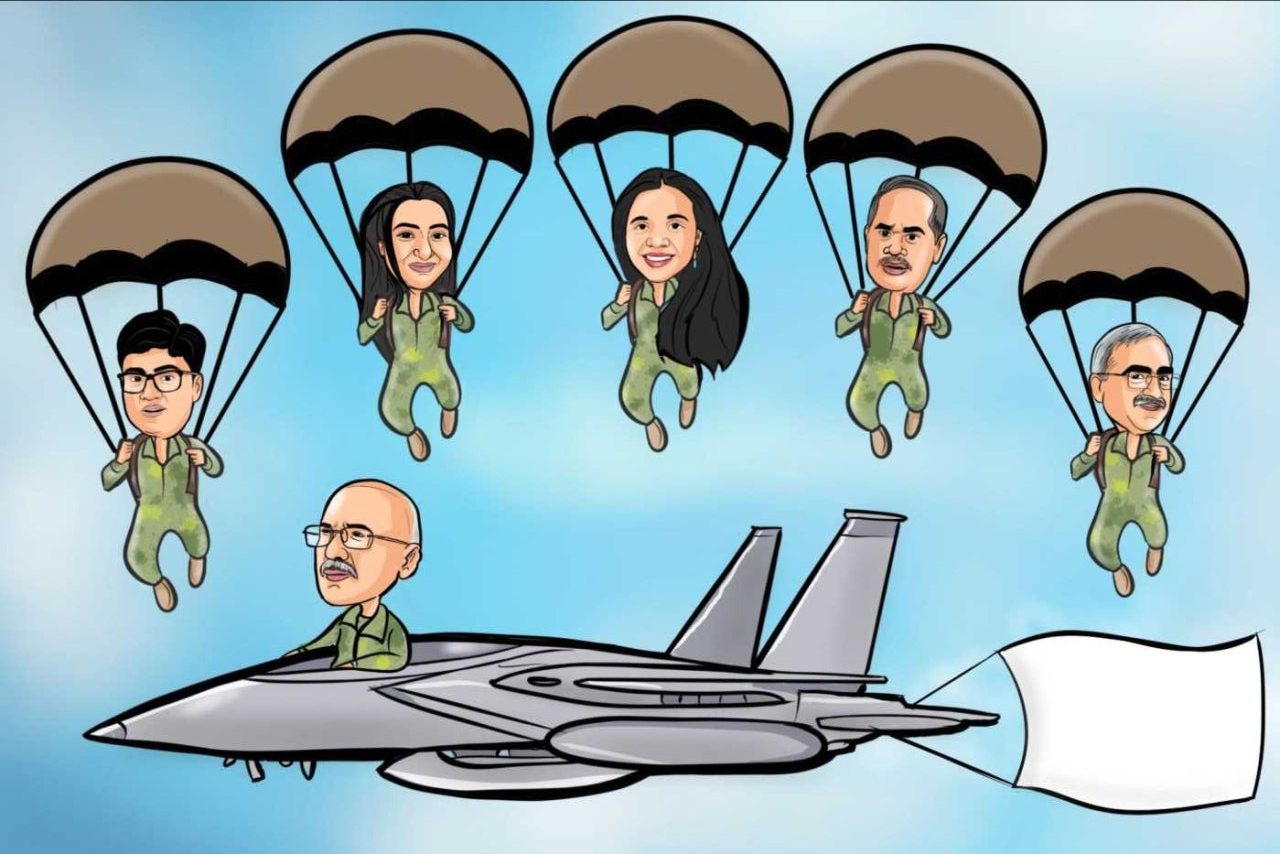 Corporate Gift Idea 10 – Women's Day Caricature
We had the opportunity to work on an exciting project for Women's Day. A team wanted to gift their lady boss a personalized caricature on Women's Day. The idea was to showcase their boss's multiple roles in everyday life. From being a trained classical dancer to managing the house to being a fantastic cook, and a globe trotter, each of these roles was depicted as a caricature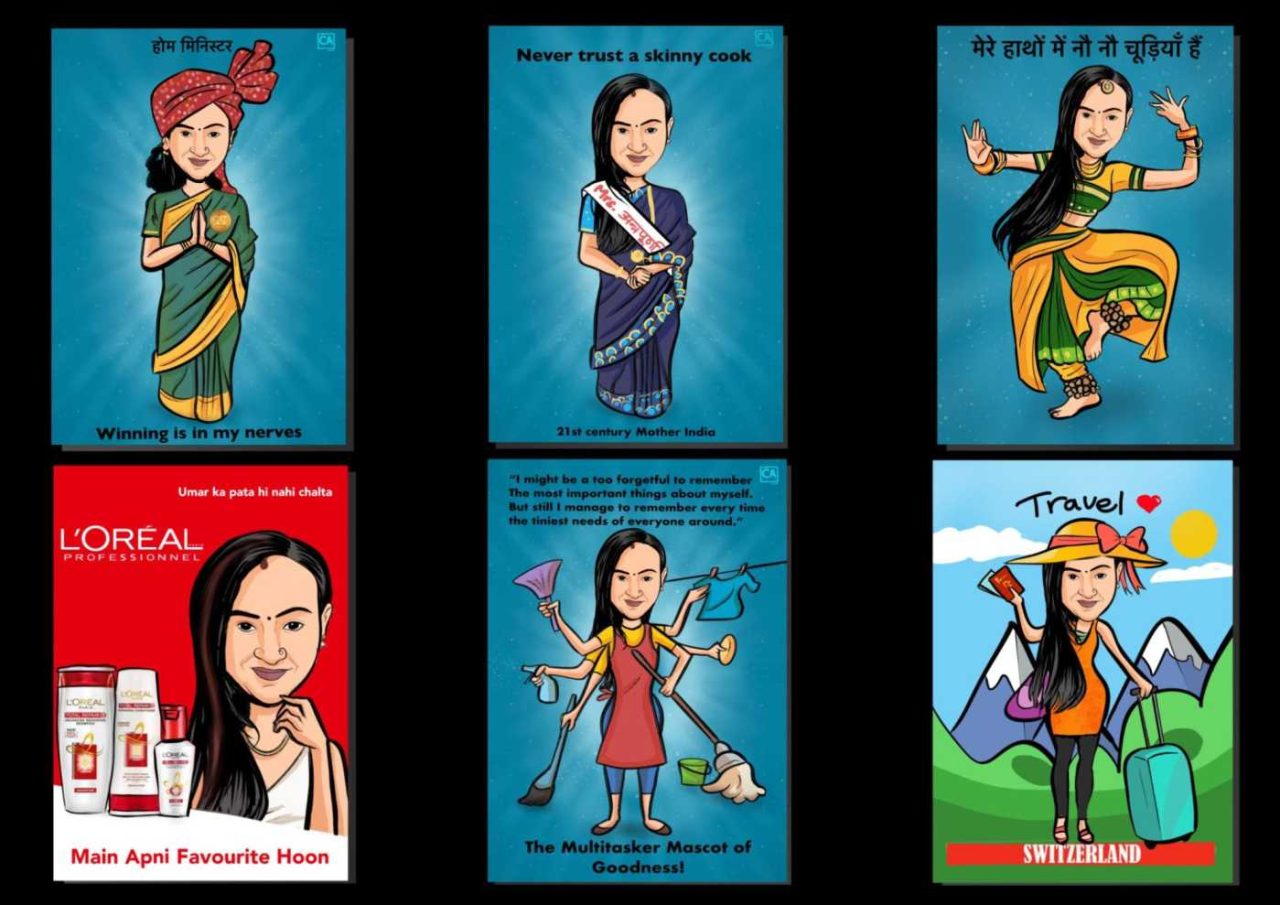 Get your Caricatures with Stoned Santa
Why Choose Stoned Santa for a Corporate Caricature Gift?
Stoned Santa has several years of successfully serving thousands of clients with unique customized gifts. And personalized caricatures are our hot-selling gifting line, and for all the right reasons – 
You can go wild with your imaginations with a pinch of sarcasm, and our artists can add their creativity to incorporate them into the caricature.

Caricatures make a unique gift for any corporate occasion, be it retirement, awards, etc.

Caricatures have a comic effect, which can tickle the funny bones while being a memorable souvenir.

Caricatures are available in digital prints and original art pieces.
Our gifting experts are here to guide you through the originality of the corporate gift, through the work in progress, until the timely delivery! Get in touch with Stoned Santa gifting experts today.
Looking for the perfect gift?
Look no more, our gift experts will get in touch with you and help you with all your requirements.