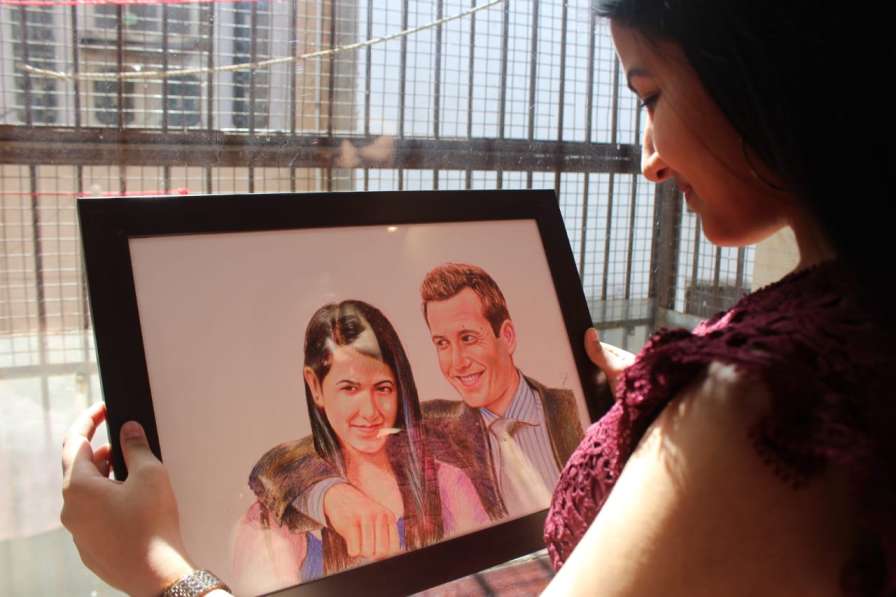 Everything You Need to Know About
Handmade Portraits
Gifting is a beautiful gesture to express your affection and care for your loved ones. You can choose expensive gifts off the shelf of reputable brands or go for something as simple as handmade portraits.
All that matters is the thought and love we put into giving. And what makes the gift unique and memorable is the thought behind it and the sentimental value it represents. However, finding a special gift in a sea of options may seem to be a daunting task. 
Handmade portraits are a doorway to the heart as they encapsulate the memories and feelings you share with your loved ones through art made from your favorite photos. 
This article has compiled a detailed guide on everything you need to know about Handmade Portraits.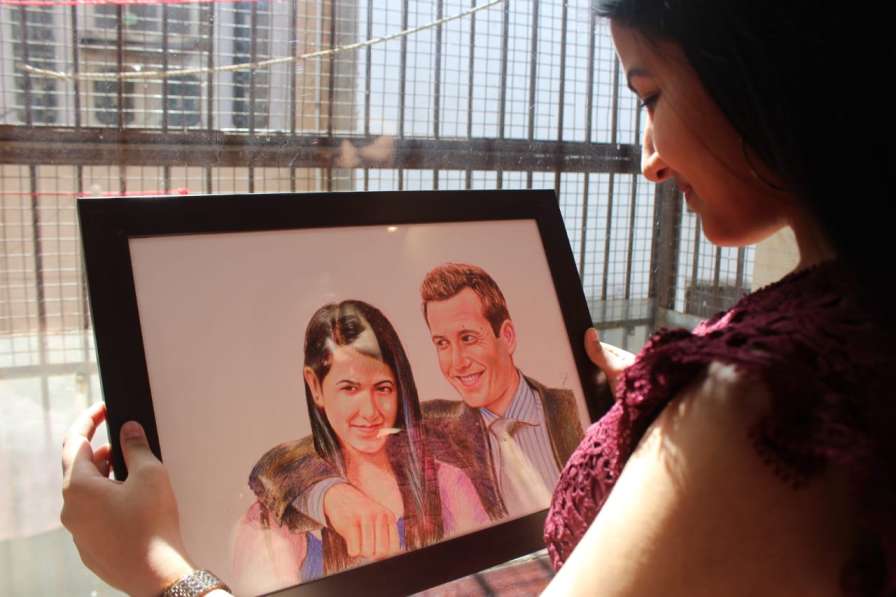 Brief History of Portraits

Before the invention of cameras, people captured images through paintings, and drawings. Hand-drawn portraits in particular played a significant role in capturing the likeness, and preserving precious memories. 
Kings, and people of influence would hire artists, and painters to paint their loved ones, and decorate their houses and palaces with massive paintings.
Portraits have evolved over time from serving as important family records to being unique gifts for loved ones.
However, do you know how handmade portraits are made? Well, continue reading further!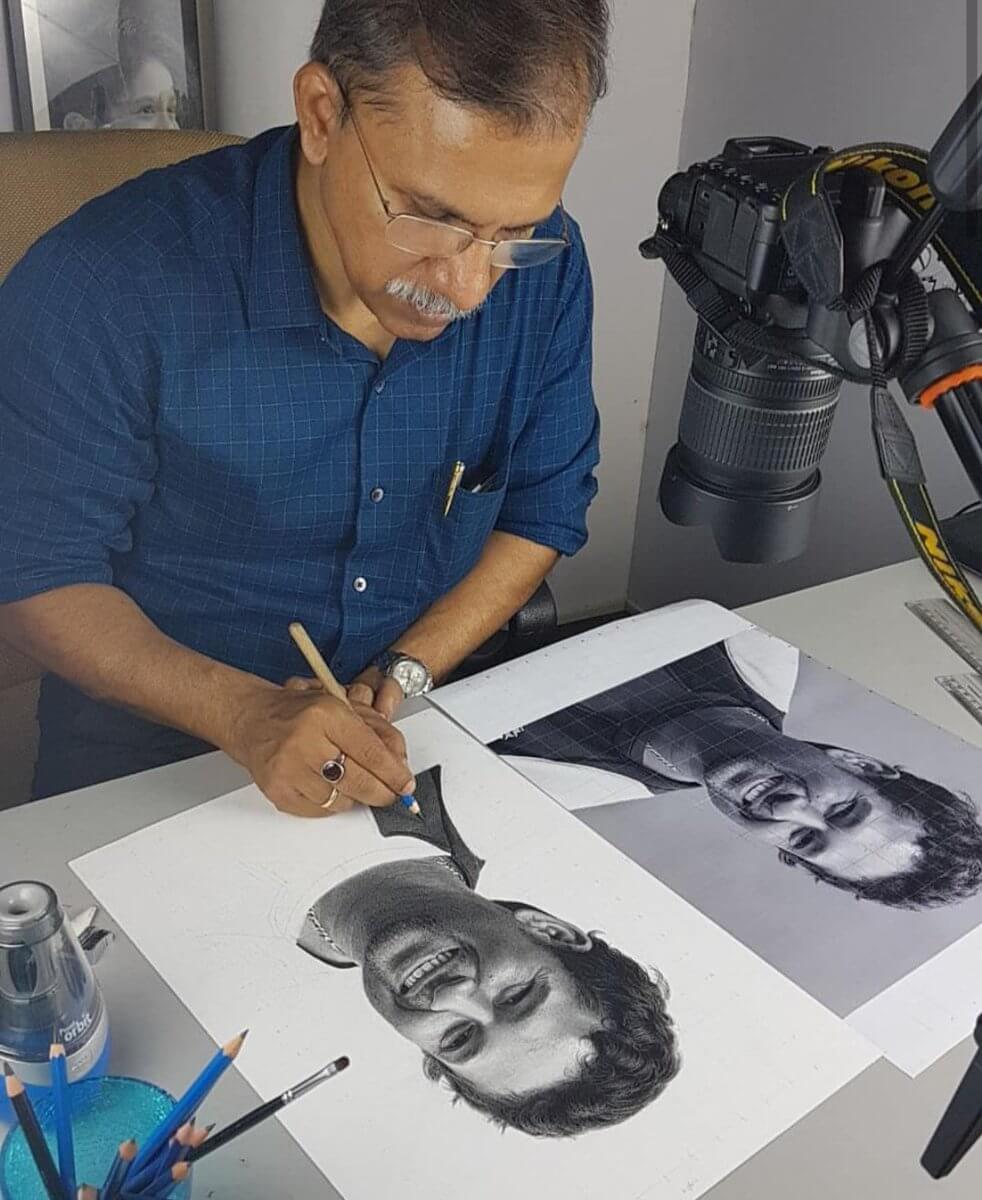 How are Portraits Made At Stoned Santa?
In addition to handmade paintings, portraits can be made in other forms of media, such as digital media and prints. Moreover, these portraits can be made using different art mediums such as graphite and charcoals, oil portraits, water colors, pencil colors, string art, and mix-media. 
Although the techniques for each media and medium may differ, the core process of making portraits remains the same. Let us take you through a brief process of how our artists make portraits –
Gathering the Photo of the Subject
As the first step of making handmade portraits, we collect photos of the subject from our client. A front-facing picture of good quality is a must, as it allows our artists to analyse the facial features, and accordingly paint the features of the subject. 
A snippet of a front-facing good-quality photo shared by our client and a hyper-realistic painting by our artist!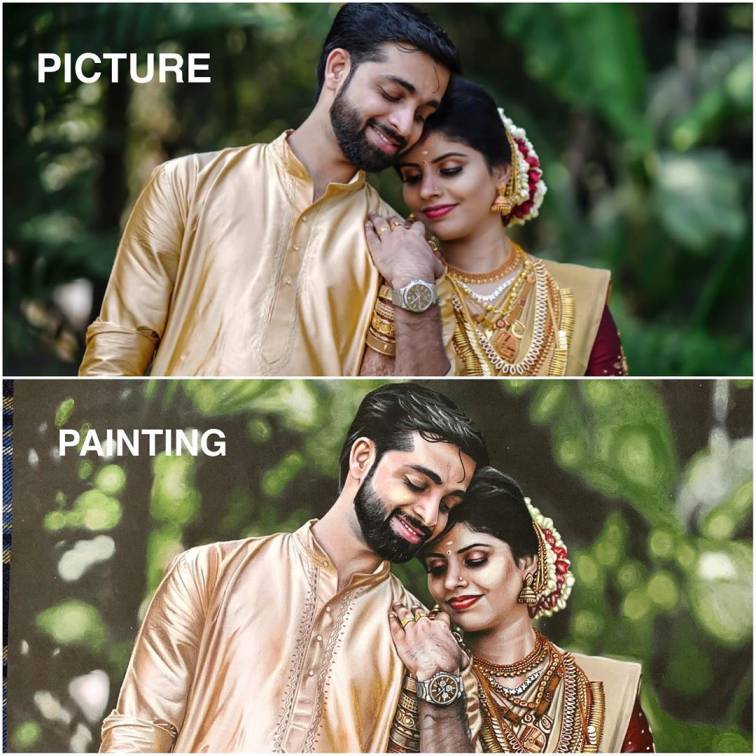 Choosing the Medium and Surface
At Stoned Santa, we have a range of handmade portrait paintings, each curated using different art mediums. So as the next step, we require our clients to choose the medium and the surface they want their handmade portrait paintings to be. 
Choice of mediums
Graphite and Charcoals

Pencil Colors

Oil Portraits  

Portraits in String Art

Mix Media Portraits 
6. Digital Media – Caricatures, or Digital Portraits
Choice of surface

Wood

Canvas

High-grade artist papers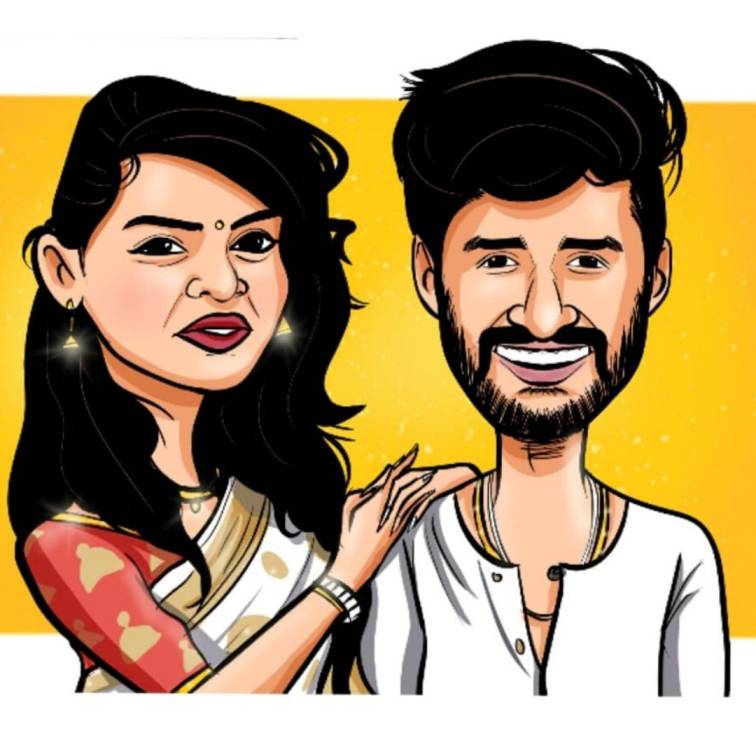 Looking For nice Handmade Portraits?
Defining the Background Elements
In this step, we require our clients to define and decide on any specific customized backdrop or elements that could enhance the portraits. For instance, some clients want the same background as shared in their reference photograph, while some prefer to have an abstract background left up to the artist's creativity.
Or we can take the creative freedom, and let our artists decide. 
Here is a snippet of a handmade portrait painting with abstract background for our client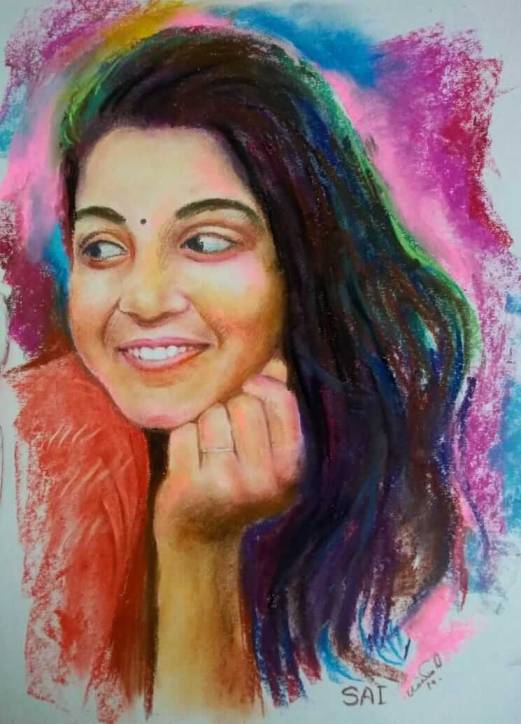 Once the photo, medium, and background elements are decided, our artist begins with the painting process.
Stage 1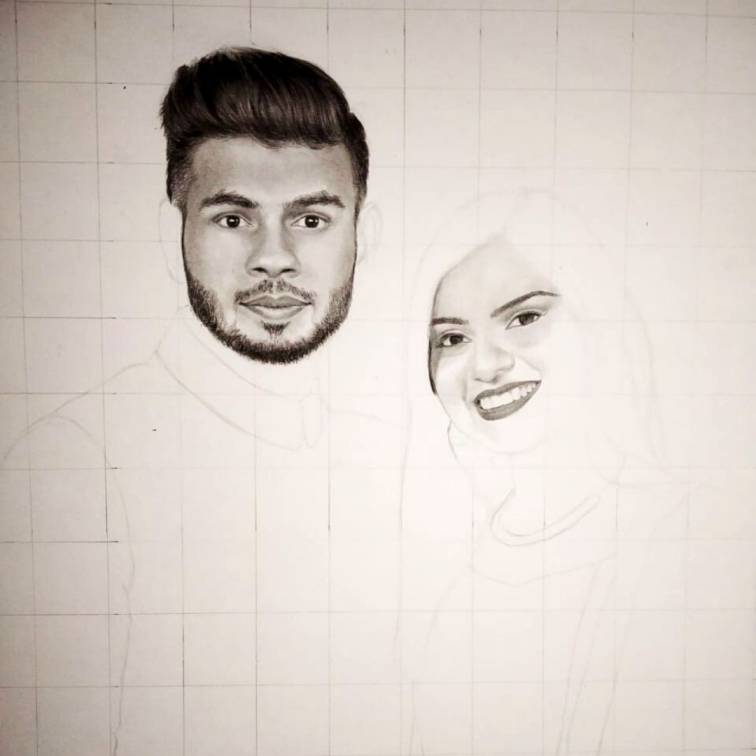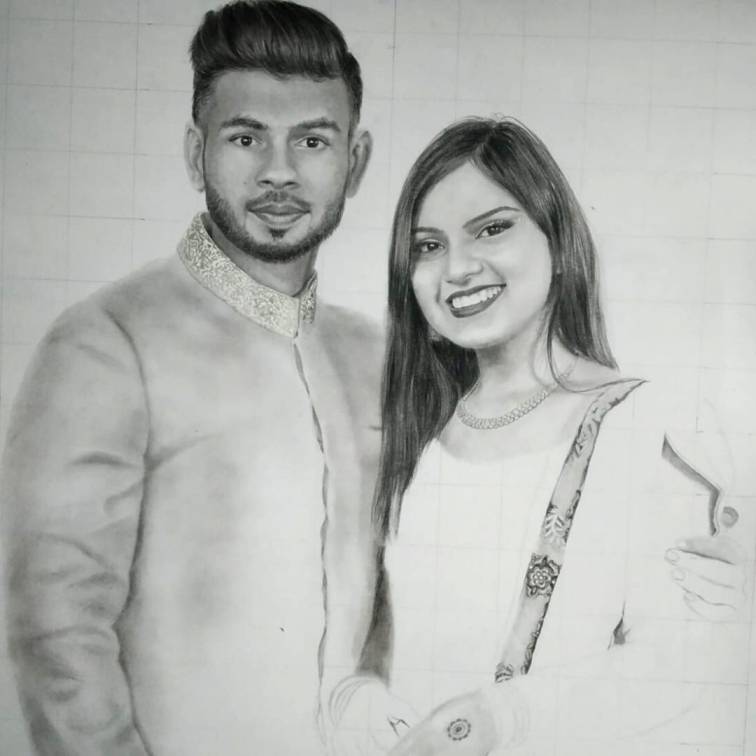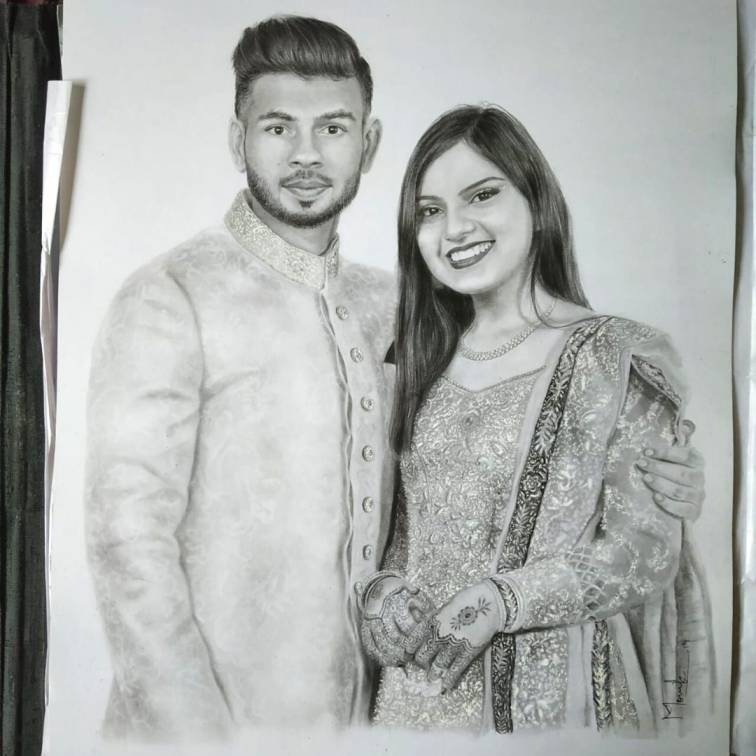 Seeking Approval and Shipping the Artwork
In this last step, we seek approval for the finished artwork from the client, and once they give the nod, we ship the portrait painting.
Pricing of Handmade Portraits
In this section, we will talk about the pricing of handmade portraits, which typically is based on the combination of the following factors – 
Size of the canvas – We allow our clients to choose the surface they prefer the handmade portrait paintings to be on. These surfaces include canvas, artist-grade papers, or wood.

Moreover, different sizes are available for each surface, which ultimately becomes crucial in deciding the price of

handmade masterpieces.

If the client needs A4-sized portraits, the cost would be comparatively lower than a 20 x 24-inch canvas.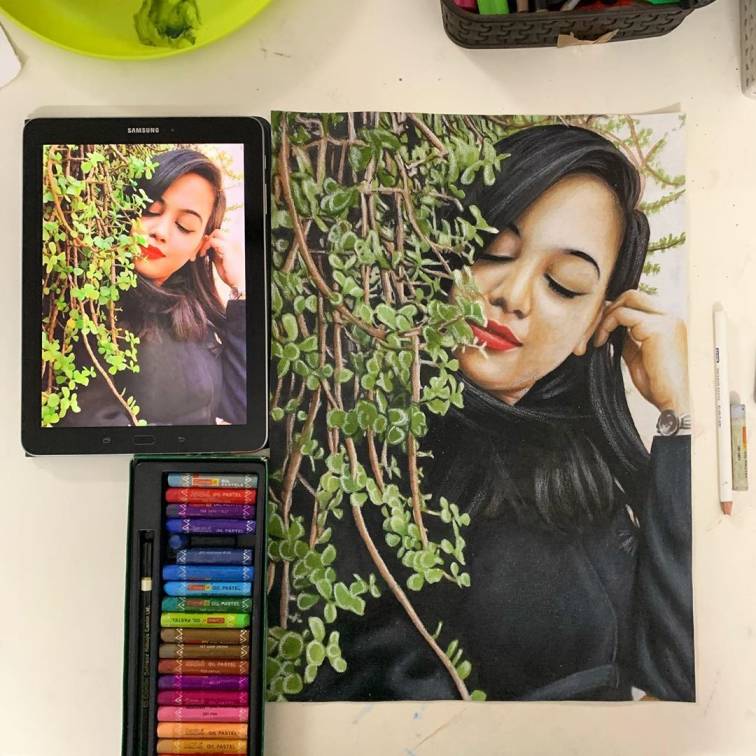 We can help you craft lovely Portraits.
The choice of the medium plays a crucial role in deciding the price of the handmade keepsakes. For instance, if a client opts for hyper-realistic portraits with mixed media, the cost would be higher because several mediums would bring photographic realism to the handmade painting. 
Number of figures in the painting
Handmade portraits may involve more than one subject, so the number of figurines becomes a critical determinant of the price of the final artwork. If there is more than one subject figure, it would require more time and effort on the artist's part, the monetary value of which is accounted for in the final price.
Timeline for delivery- Delivery time is an essential determinant of the final price of the handmade portraits. Urgent requirements of portraits will cost higher than a standard delivery time.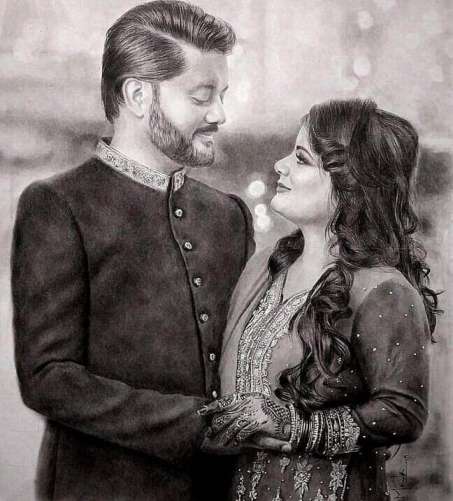 Graphite and Charcoal Handmade Portraits Collection 
This black-and-white collection of handmade portraits is made with graphite and charcoal. These are dry art mediums that give a vintage touch to the paintings. Both graphite and charcoals look like pencils but provide a contrasting effect when used in conjunction, leaving behind a masterpiece.
Pencil Colour Handmade Portraits Collection
A rather colorful collection of handmade portraits, these are made using professional, highly pigmented pencil colors. The colors in the actual photograph can be enhanced to look more appealing in the painting with the help of this medium.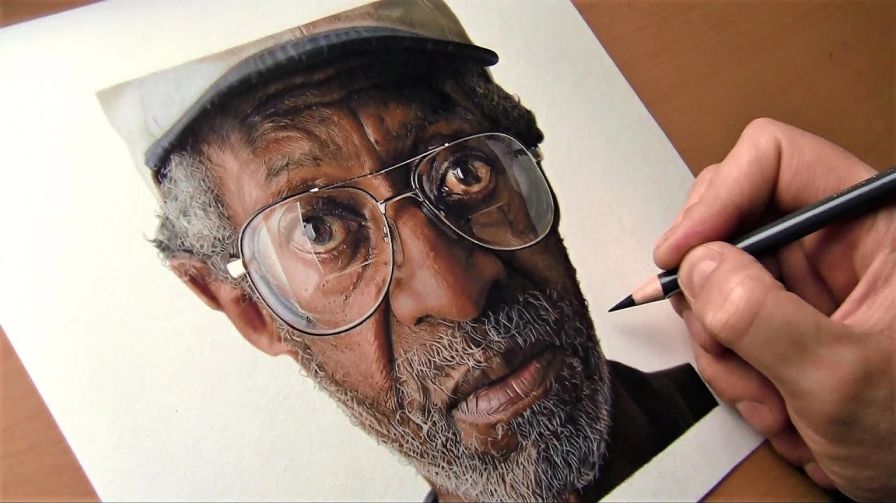 String Art Handmade Portraits Collection
Wondering what unique gift to give to your loved ones? Well, we have nailed it for you! Our string art handmade portrait collection is a perfect choice. These portraits are hammered using nails and strings to create an excellent piece of art just for you!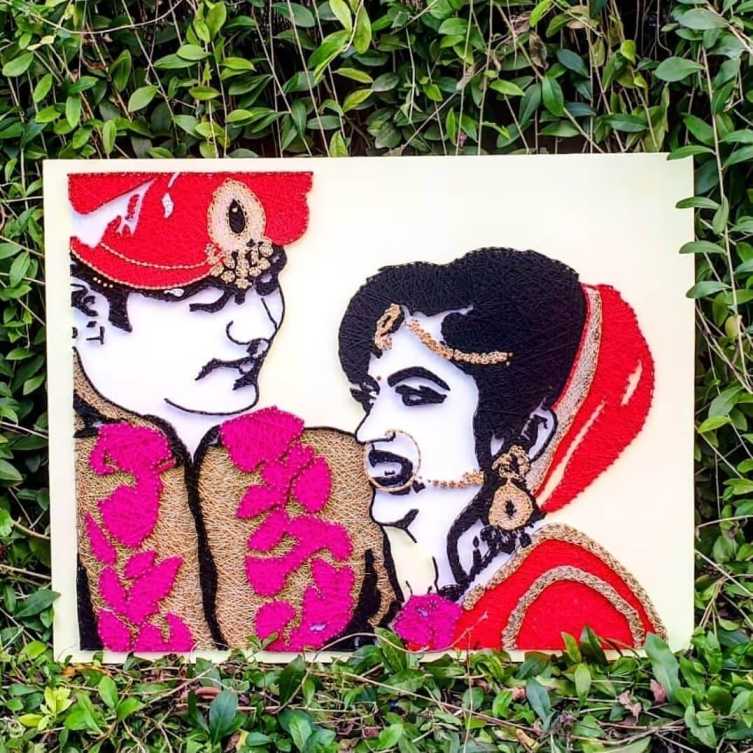 Hyper-Realistic Mixed Media Portrait Collection
Have a special memory you want to capture in a painting the same way it took place? Our range of hyper-realistic mixed-media portrait collections can replicate the memory for you, with much more love added to it!
Digital Portrait Collection 
These are the most trending range of portrait paintings used for various occasions such as wedding invites, anniversary gifts, birthday invites, etc. Digital portraits can be customized to suit the event and your needs. The portraits are then digitized and sent to the client for further use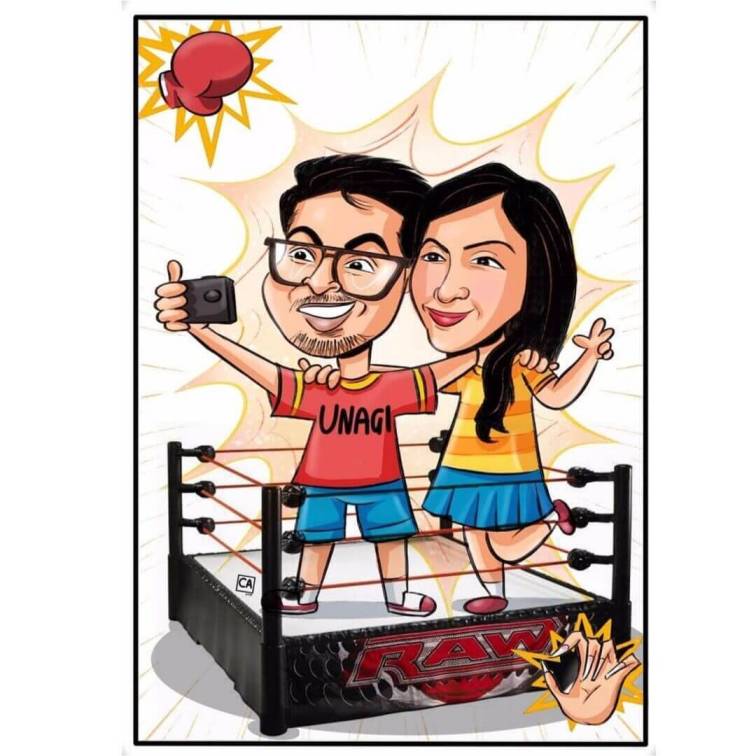 Different Themes of Handmade Portraits
Running out of ideas for handmade portraits, Stoned Santa is here to save your day! Our gifting experts have curated a list of trending themes to choose from to get your customized handmade portraits made in 
We have various options if you want a gift for your better half or the couples in your friends and family at their wedding. These handmade portraits are available in traditional and digitized forms and can be customized by adding fun elements in the background to encapsulate the journey of the couple –
Music is an art to the ears, and what better gift to give a music-lover than handmade portrait paintings of their favorite music icons?
Superhero fans assemble, for we have a Marvel-themed collection to choose from. So convert your loved one's photograph into their favorite Marvel character handmade portraits, and see the joy it brings them.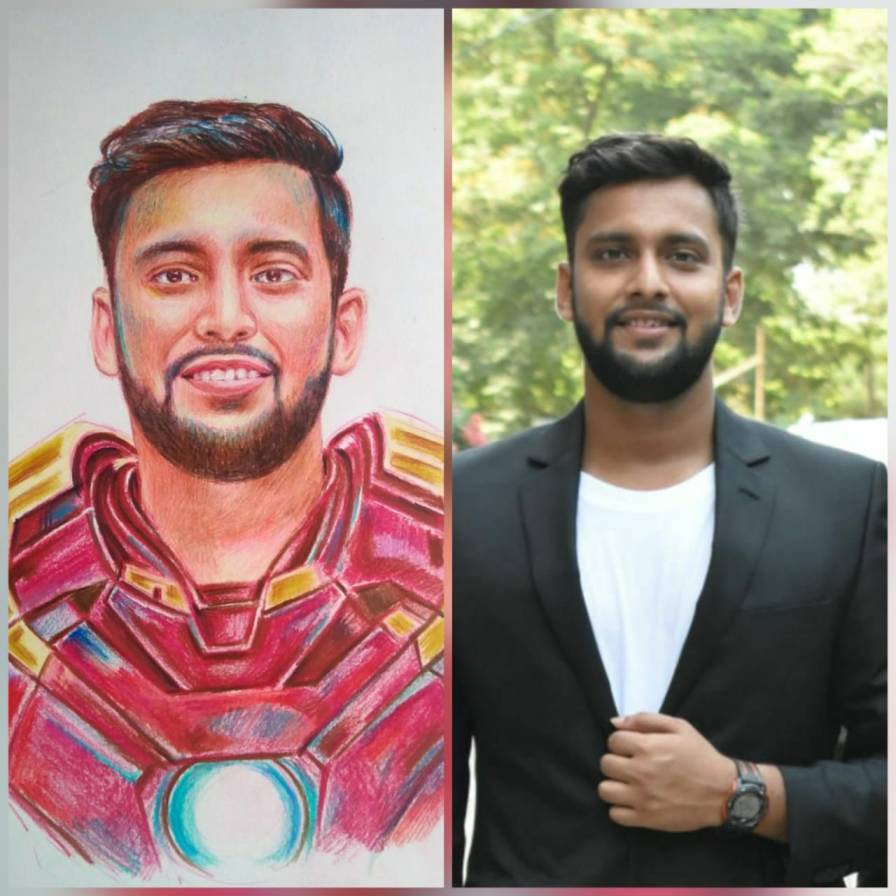 Looking For the Concept Handmade Portraits?
Why Choose Stoned Santa? 
Crystallize a good memory with your loved one into beautiful handmade portraits full of love and memories. At Stoned Santa, we curate exclusive handmade portraits customized as per your need and budget to help you leave a lasting impression on the receiver.
 Our end-to-end customer support ensures that you are assisted by our gifting experts at every step, from ideation to theme selection to timely delivery of the masterpiece at your doorstep. Contact Stoned Santa today!
Looking for the perfect gift?
Look no more, our gift experts will get in touch with you and help you with all your requirements.