What if you could convert your most cherished photo picture into a unique
string art
portrait? What if the beautiful custom-made home decor was only a click away? What if there was an easy way for you to find talented String and thread art
artists
to make them for you?
String art is one of the most aesthetically pleasing art forms. It turns a simple wooden board, paper or canvas into a work of art. Often known as pin-and-thread art, string artworks are unique and intricate and make even more amazing gifts. 
Stoned Santa brings you a network of incredibly talented string artists to take your pick from. Every artist with Stoned Santa is a master of their craft and can help you cherish your memories forever.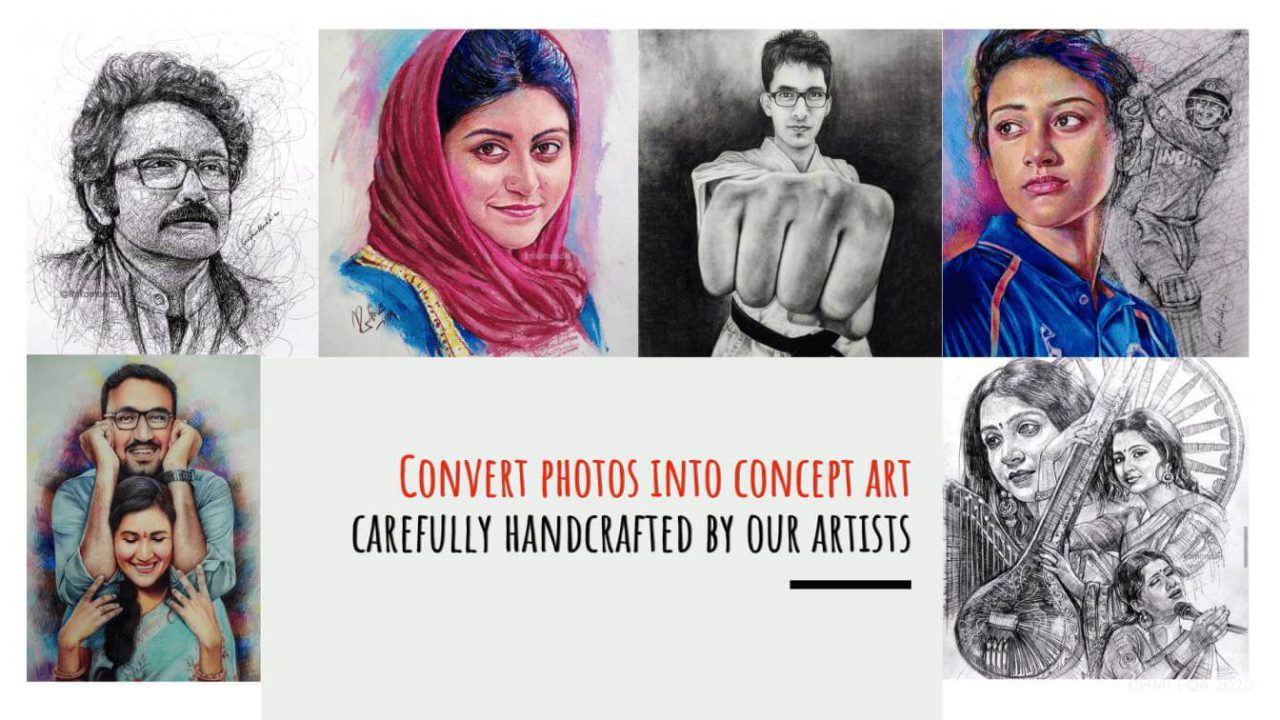 What is String Art?
The concept of string art revolves around simple tools like a wooden board or a canvas, thread and nails. Mary Everest Boole introduced String art in the 19th Century as a way to teach kids more about maths and mathematical formulas. In the 1960s, thread art was introduced in books and DIY kits for kids.
It is crafted by wrapping thread around the nails in intricate and distinct patterns to form art. It can make string art portraits, mandalas, abstract string art and much more.
Stoned Santa has curated a list of 10 incredibly talented and exciting thread art and painting artists whose handmade crafts are sure to make you look twice. We hope you enjoy reading!
Muskan Rajput
Muskan Rajput, a string artist from Ghaziabad, is at the top of her game. She is a self-taught artist with more than 150 thousand followers on Instagram who runs her well-known "Crafts Bazaar" studio. 
She wants to bring the unique and understated form of thread and nail art to the forefront. For her, art is a medium to chase her dreams, spread smiles and leave her mark on the world. 
From shapes to letters and even portraits, there is nothing that Muskan can't do or craft with a couple of nails and strings of thread. She has more than six years of experience and has worked in events like Comic Con India. 
She also organises workshop classes to educate people about the art form in her studio and at significant corporate events. She makes 3d string art, home decor, nameplates, string art portraits and fan art for her clients.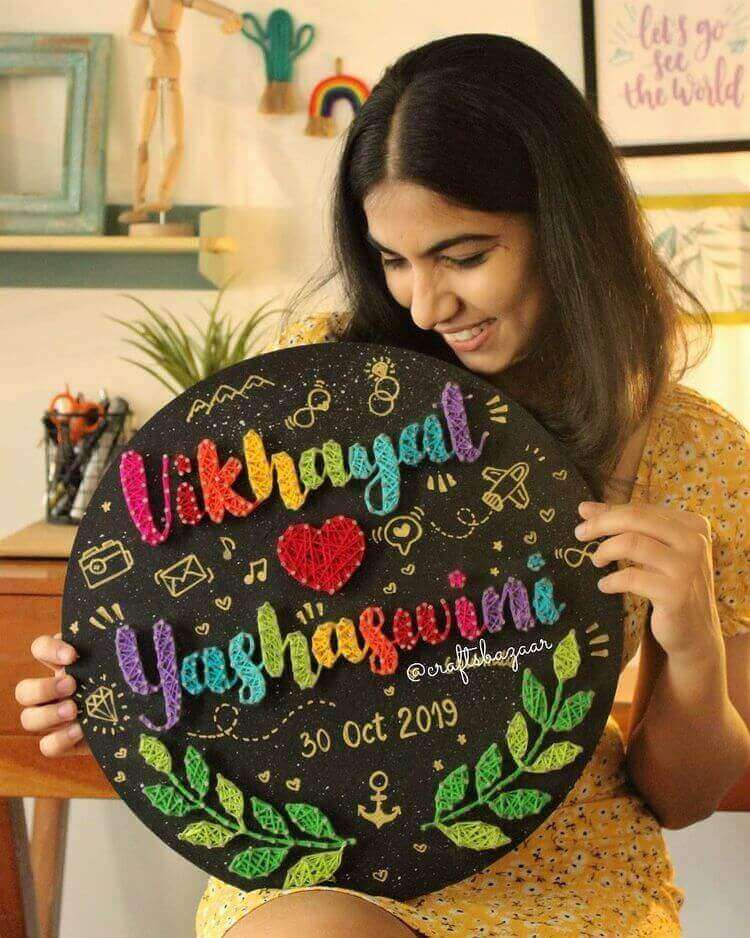 Sushmita Vernekar
Sushmita Vernekar, an artist from Panaji, Goa, is a testament to what can be done with just an idea and an immense passion for creating art. She is a full-time mom whose journey began in 2017 when she quit her job to be a full-time stay-at-home mom for her beautiful baby. 
With her passion for creativity and experience in graphic art, making art came easily to her. She was fascinated by the idea of string and nail art and how threads would create colourful geometric patterns. In her interview with Stoned Santa, she told us that with a bit of practice, it was only a short time after which her first customers started lining up with orders for her to craft. 
Today, she offers a verified gradient of products like thread art on wood, canvas and paper. Her clients have only to tell her what they want, and she will translate their ideas into literal impeccable string artwork. 
Anjani Tank
Anjani Tank is a string artist based in Maharastra. Anjani weaves magic with strings to make awe-inspiring string art. She experiments with patterns and shapes to produce dazzling designs.

Although Anjani has been creative since childhood, it took her many years to listen to her creative soul and become an artist. She didn't start calling herself an artist or sharing her art with the world until the last year of her graduation.

In her interview with Stoned Santa, she told us that her biggest inspiration to chase her dreams was her parents, who gave her the courage to explore her creativity and an unconventional career choice.
She makes wood string art portraits, home decor, illustrations, nameplates and much more.
Rahul Thakare
Rahul is an artist based out of Pune, Maharashtra. He is a string artist and an educator. He is known for making life-like and accurate String art portraits.
In 2019, Rahul Thakare set a national record in 3-D string art by creating the coronation ceremony of Chhatrapati Shivaji Maharaj. He made the art using 42,810 nails, measuring 8ft x 4ft plywood frame and was completed in 5 months on July 17, 2019. 
Rahul makes incredible string portrait art and spends his time organising and conducting string art workshops for kids in schools so they might grow up and become better artists.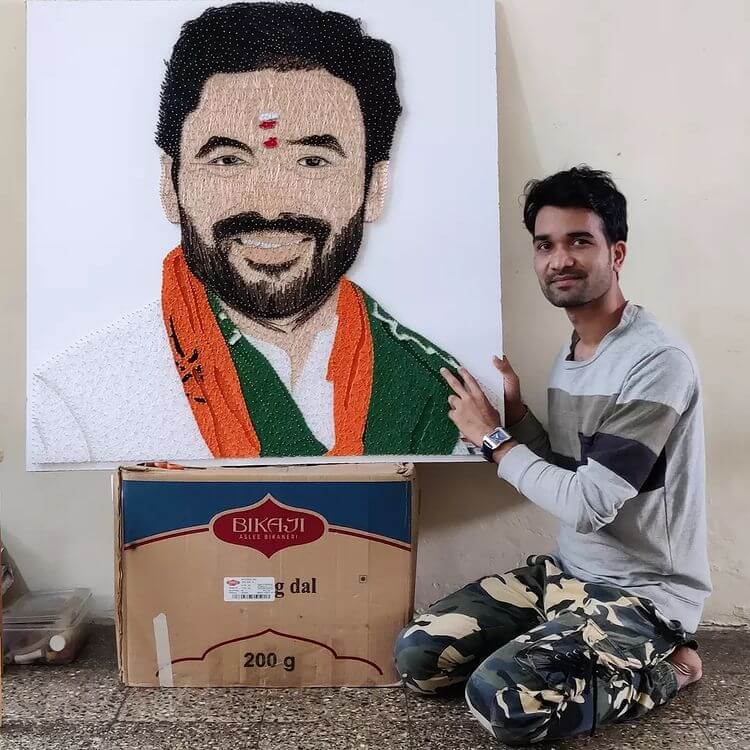 Plank and Nails
Plank and nails is a string and thread art studio with over 7 thousand followers on Instagram. Not only do they make string art, but they make customised resin art too.
They use the threading technique on wood thread art and create the most amazing bespoke patterns and designs. They make wedding invitations, anniversary and birthday presents. 
They have also made string art logos for businesses and created some of the cutest thread and nail art caricature designs. Plank and nails are a fantastic example of creating new memories and cherishing old ones for their clients.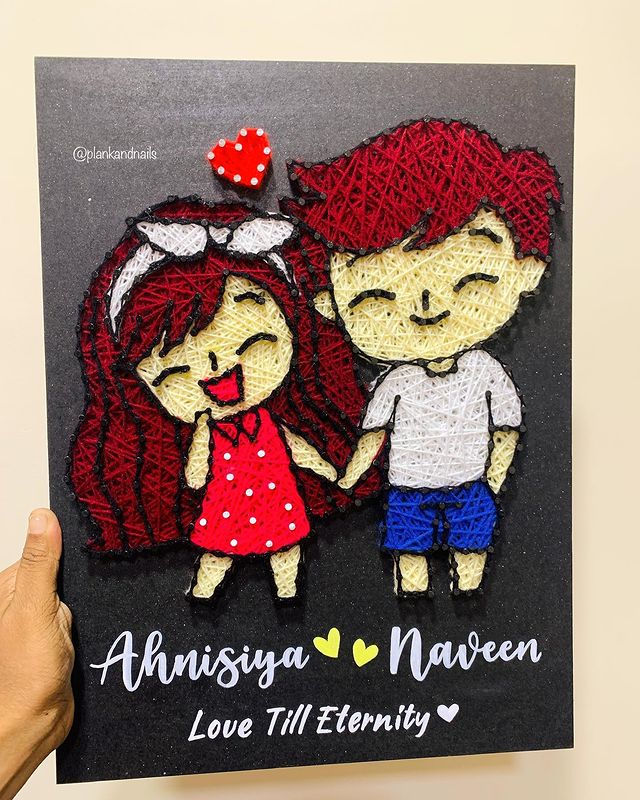 Seevaga Vazhuthi
Seevaga Vazhuthi is a record-breaking artist from Coimbatore. He is a self-taught artist who picked up the string art technique from an Italian artist he followed on Instagram. 

Seevaga's name will go down in history for setting an International record for crafting the biggest string and nail art portrait of the actor and politician Kamal Hassan. It took him over thirteen thousand nails and 250 hours of labour over 28 days to create his record-breaking string and nail portrait artwork.

His dream is to create more intricate and unique pieces of string portrait artwork and educate future and budding artists. For him, art is about being meticulous, endurance and moving away from the conventional paths of life.
Lubhana Thakur
Lubhana Thakur is a string artist from Raipur. She has a unique style of creating string art portraits using black threads of different shades and crisscrossing them on a canvas. 
She makes monogrammed string art logos, invites and gifts for her clients. She is single-handedly changing the art scene in Raipur. She has won various women-centric awards for her contribution and success in string art.
She is a testament to women all over India who want to start a small business but are scared to do so. Her creations are sought after in her hometown of Raipur.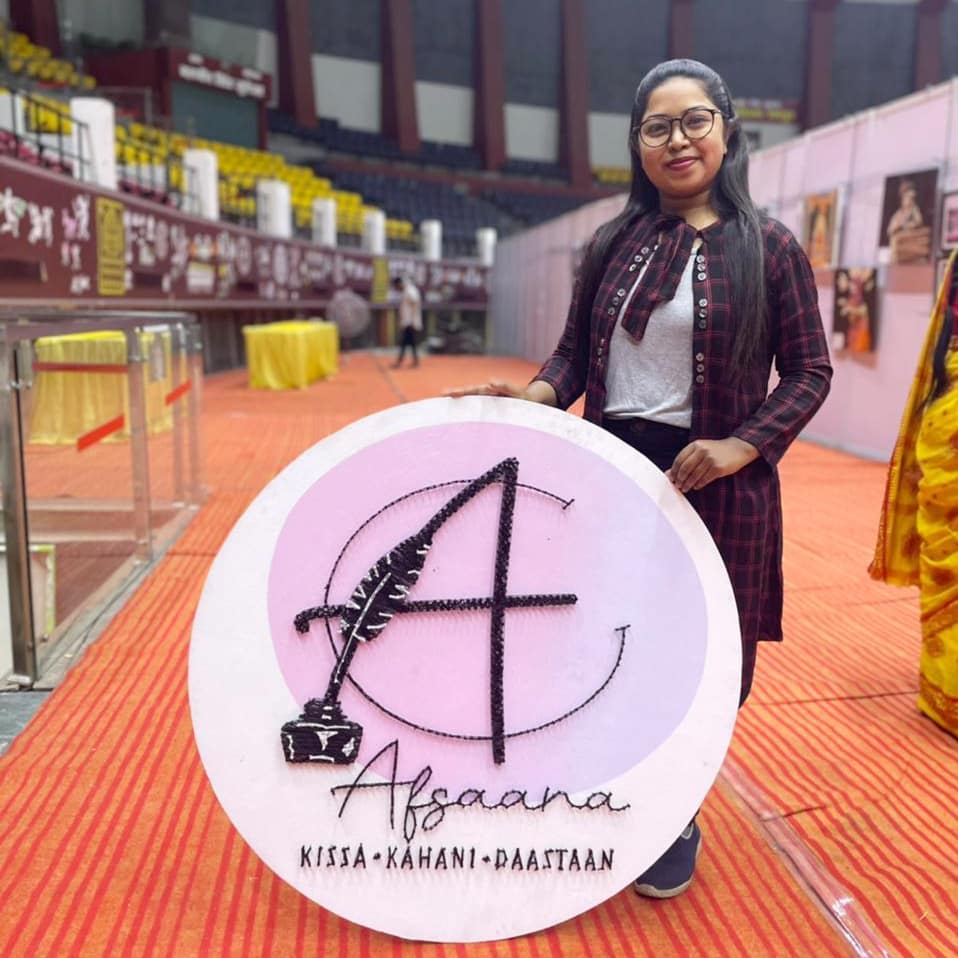 Ekta Thakur Sharma
Ekta Thakur Sharma, a string artist from Mumbai, is a fantastic example of that "Girl Boss Spirit". She has rapidly gained recognition and fame in string art for her top-notch skills and creations.
It was a random scrolling on Pinterest that got Ekta interested in thread art. Like many of us, she was hunting for a personalised gift on the web when she came across a string artwork and decided to put on her DIY creative hat and create one herself. This journey kicked off her brand, "The Knotty Threads", which we all know today.
Her string artworks are unlike any other. They are unique and have a sense of calmness to them. They are best displayed on the walls of your home. She makes custom thread art on canvas for any occasion, like birthdays, anniversaries, festivals and many more.
Her online store is a treasure trove of bespoke string art gift ideas.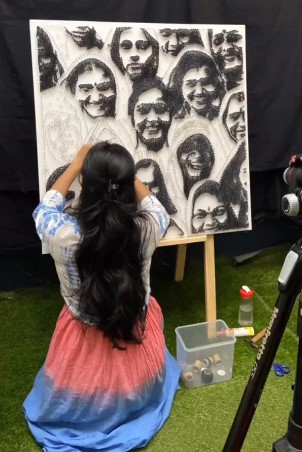 Pradnya Ghate and Tanvi Jadhav
Strings attached is a collective effort of two artists from Mumbai, Pradnya Ghate and Tanvi Jadhav. They discovered their love for string art while scrolling through Pinterest. 
You get everything from customised string and thread artwork to string art murals under one roof. They specialise in creating string wall art, abstract string art and mandala string art as well.
Their unique point of view and art has been displayed in various exhibitions in Mumbai. Not only do they make bespoke art, but they also create monogrammed logos and string art for different corporate clients.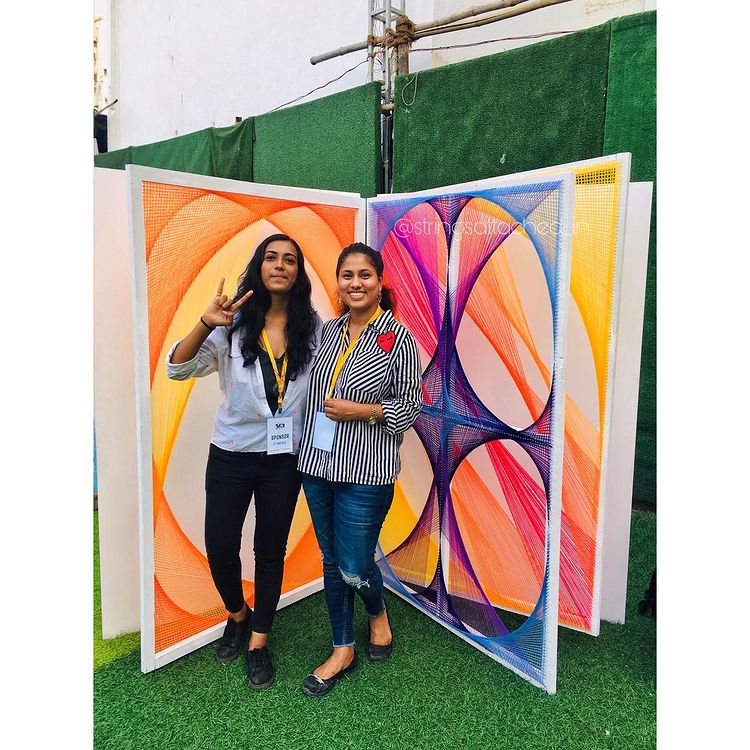 Sonal Malhotra
Sonal Malhrotra, string artist based in Delhi, India is the creator of Pieces for Beautiful places, is an exemplary thread and nail artist. She specialises in making bespoke string artwork for home decor. She also creates thread art portrait illustrations and caricatures. 
Her designs are cheerful, colourful and have the ability to put a smile on anyone's face. They make perfect gifts for wedding anniversaries, birthdays and housewarmings. 
She expresses herself through her art and through her art there is nothing she cannot create.
Sherine Aldrin
Sherine Aldrin is a nail and thread painting artist based in Mumbai, Maharashtra and the founder of The Thread Zone art studio. Her nail and thread art is sought after, and she receives orders from all over the country. Sherine defines her string art as fun and quirky.

She expresses herself through her creativity. Her thread art is simple yet bold and colourful and can bring a smile to anyone who receives it as a gift. She specialises in making thread art on wood nameplates, home decor, and thread art portraits.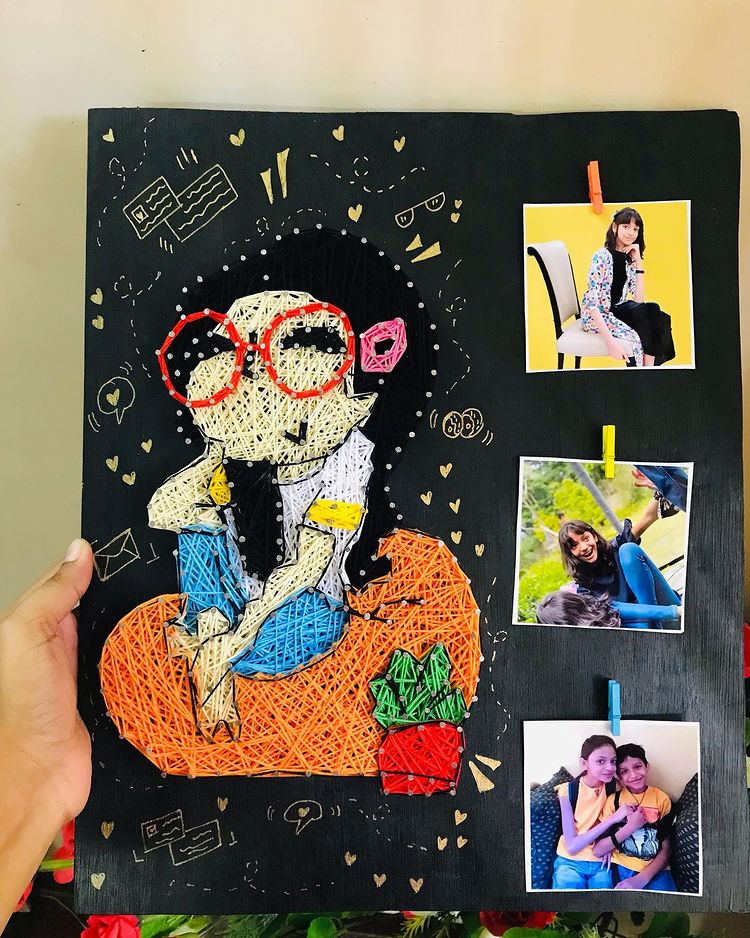 Are you considering obtaining a custom String Art for a friend, colleague or your family?  
Are you considering obtaining a custom string art for a friend or your family?  
Look no further, Stoned Santa brings you a vast network of incredibly talented nail and thread artists in India. We are here to string together your memories and dreams so you can cherish them forever.
Stoned Santa  has been a quintessential part of the handmade personalised gift, art and decor industry for over five years. The artists with Stoned Santa have successfully created thousands of handmade String paintings on wood, canvas and paper for wedding gifts, corporate events, home decor, and much more and have delivered them on time all over the world.
Through Stoned Santa, you may discover various artists who are proficient and connoisseurs of different art forms who will meet your needs and budget and deliver your handmade string art and paintings within your time frame.
Stoned Santa makes it incredibly simple to find a trustworthy and professional artist for you according to your specifications!
Looking for the perfect gift?
Look no more, our gift experts will get in touch with you and help you with all your requirements.