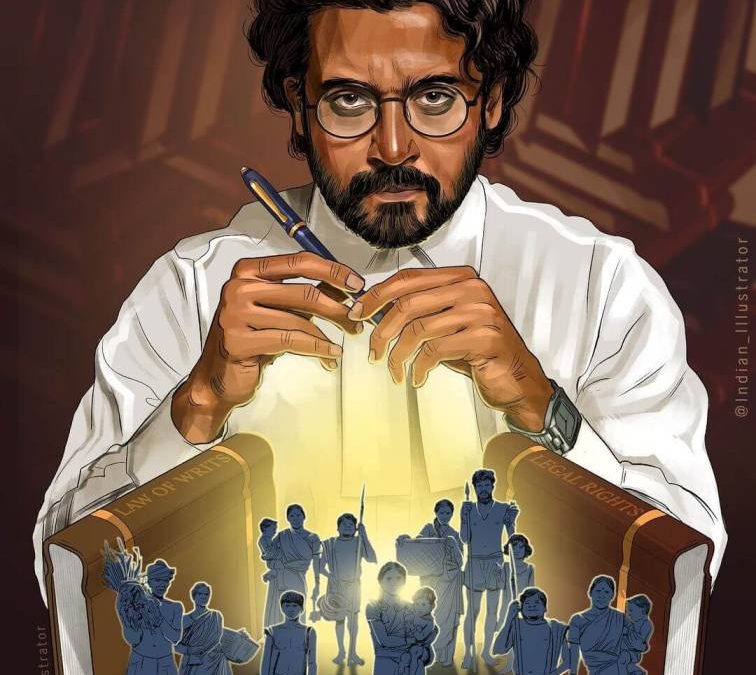 11 Illustrators In India We Can Vouch For!
India has always been the home to exquisite arts and creativity, giving birth to several talented and renowned artists worldwide. Illustrations are one such art form that has garnered the attention of many young and aspiring artists in India, thus introducing a new wave of change in the Indian art industry. These artists are revolutionizing every aspect of life, from content creation to customized gifting. This article celebrates the art and achievements of 11 such illustrators in India while highlighting their daunting journey amidst the career stereotypes in India.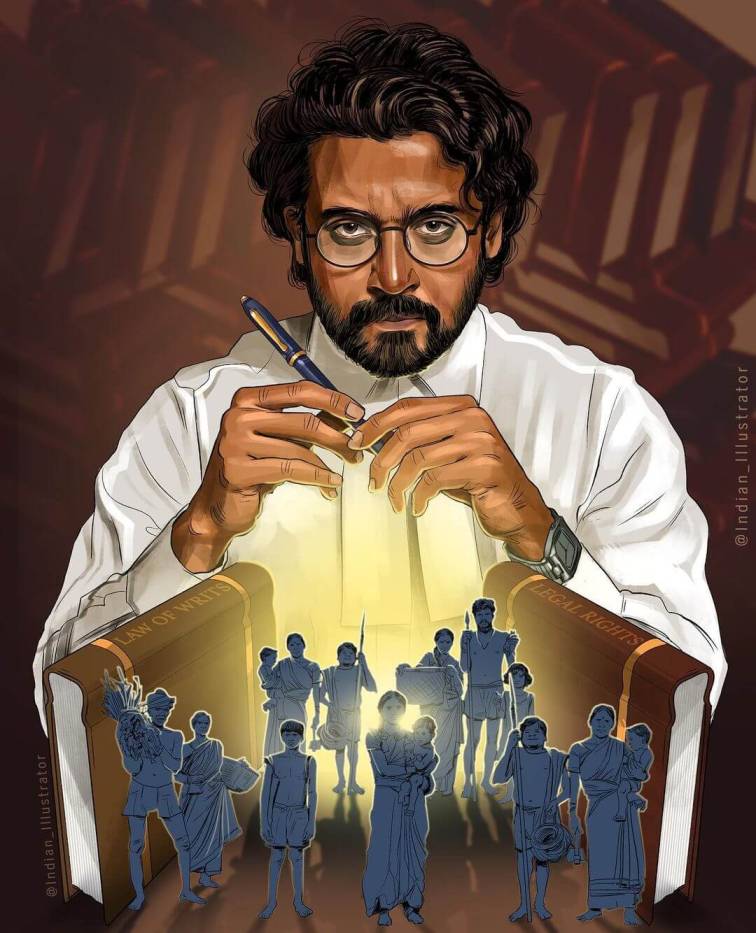 What is an Illustration?
Illustrators are incredibly skilled artists who specialize in creating depictions or visual representations from scratch. They might use various tools, including pens, pencils, colors, acrylics, etc. There are several types of illustration art, such as pencil art, lithography, charcoal and more. Oftentimes, the terms designers and illustrators are used interchangeably. However, designers rely on pre-built templates and offer limited creativity, while illustrators have no limitations.
Chaaya Prabhat: One Day at a Time
In the realm where color speaks louder than words, the prodigal Chennai-based artist returned to India from Hong Kong to depict everyday life through a new lens.
Some find their passion after exploring various fields, while some are born with the clarity and the talent to compensate for that vision. Chaaya Prabhat inspires several illustrators in India as exceptional artists and a professional who are challenging traditional career roles one day at a time. Having amassed a follower base of eighty-four thousand followers, Chaaya is creating waves as a renowned illustrator in India. 
Her works vary from quirky concept illustrations to book cover illustrations, leaving viewers with a new perspective of mundane everyday life events. Undoubtedly the most well-deserved Graphic Artist of the Year, 2023, in our opinion!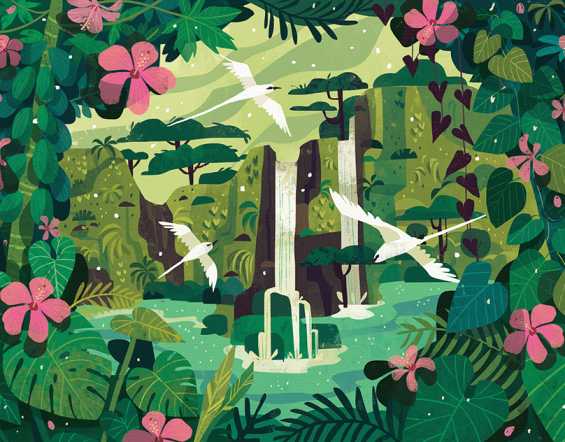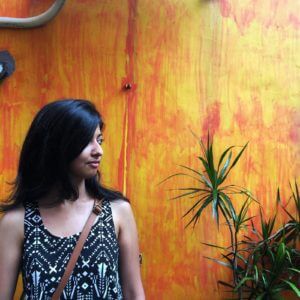 Ranganath Krishnamani: Vintage to Facebook

Where stories unfold through colors that weave a rather beautiful reality of life, viewers are sure to fall prey to the beautiful canvas of the multi-disciplinary art director from Tamil Nadu. 
As a headliner in the art community, Ranganath founded LiquidInk Design, which caters to several corporates but nurtures aspiring artists through inspiration in design and careers. 
Managing a follower base of sixty-two thousand followers through his company page Liquid Ink, the inspiring Bangalorean never fails to mesmerize his followers with captivating posts.  From vibrant narrations to unparalleled precision, and concept illustrations, there's no doubt that Krihnamani's works have attracted the attention of corporates like Facebook, Google, Adobe, Cure.fit, and more.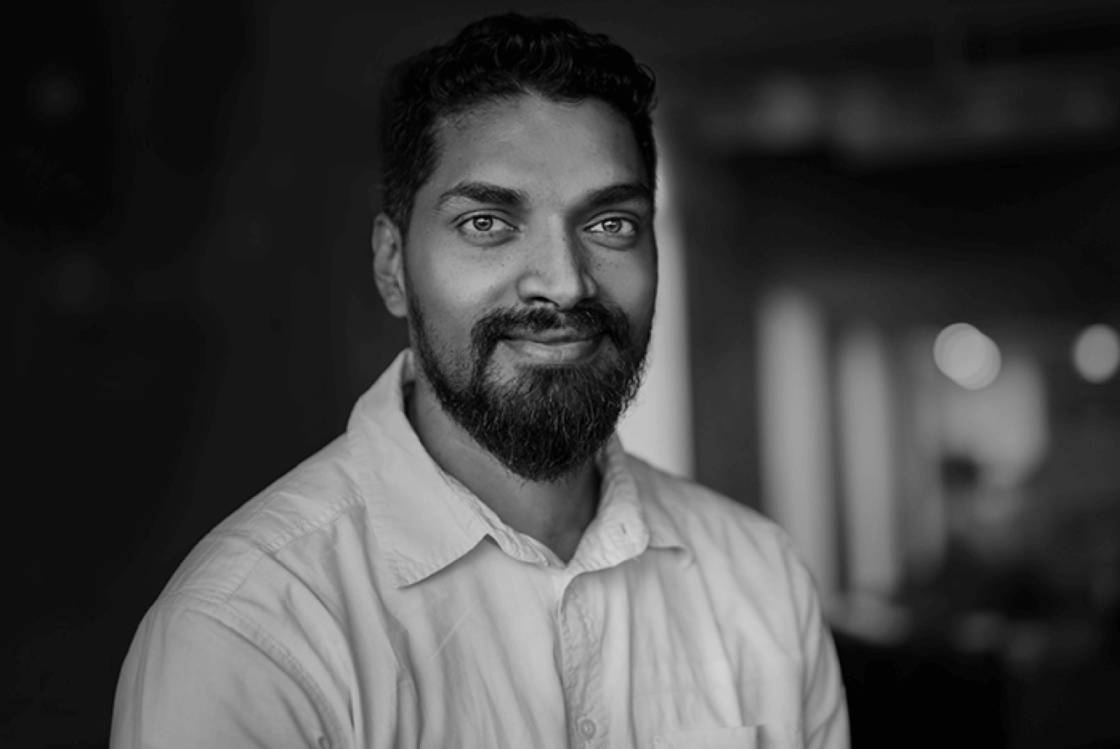 Looking For Personalized Illustrations?
Satish Gangaiah: The Chatpatta Affair

The tricky art of creating captivating yet meaningful concept collage illustrations comes easily to this freelance designer, Satish Gagaiah. 
Boasting 15 years of design experience as an Illustrator in India, Satish Gangaiah has worked with several creative companies and ad agencies, highlighting an impressive and versatile work portfolio. Behance is one of the many platforms where one can find, get inspired, and even buy from this talented mind. 
Comic book illustrations might be one aspect of his service provisions, but viewers might be in for a treat should they ever let Satish's imaginations run wild through concept collage illustrations. 'The Chatpatta Affair', an artwork displayed on his Instagram profile with five-thousand five hundred and forty, is an exquisite yet quirky illustration that paints the love for India's favorite snack, the 'Gol-gappa', in a new light.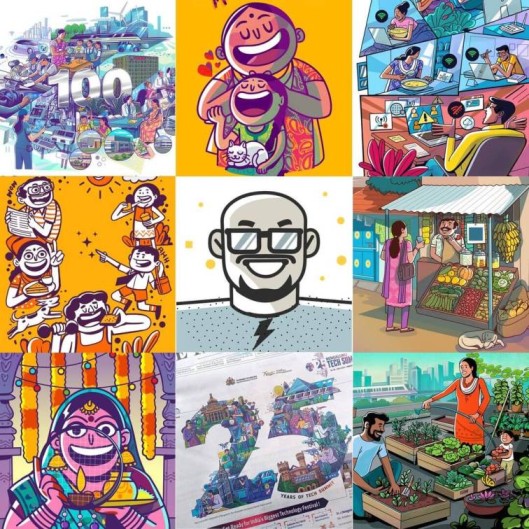 Answesha Paul: Realism Redefined

The combination of thought-provoking imagination artwork, compensated with intricate details, highlights the nurturing and protective nature of womanhood subtly. Answesha Paul, a twenty-three-year-old illustrator in India, is striding forward to appreciate femininity through the lens of an experienced illustrator. 
The young illustrator in India loves showing her consideration for details with the playful use of watercolors, acrylics, and seasoned finesse in various artworks. Her designs range from everyday concept depictions of individuals, animals, and folklore, sprinkling life to their emotions in a surreal manner. If you want to get inspired, Answeha's artistic prowess will surely fill your creative, hungry mind and help you look at the world differently.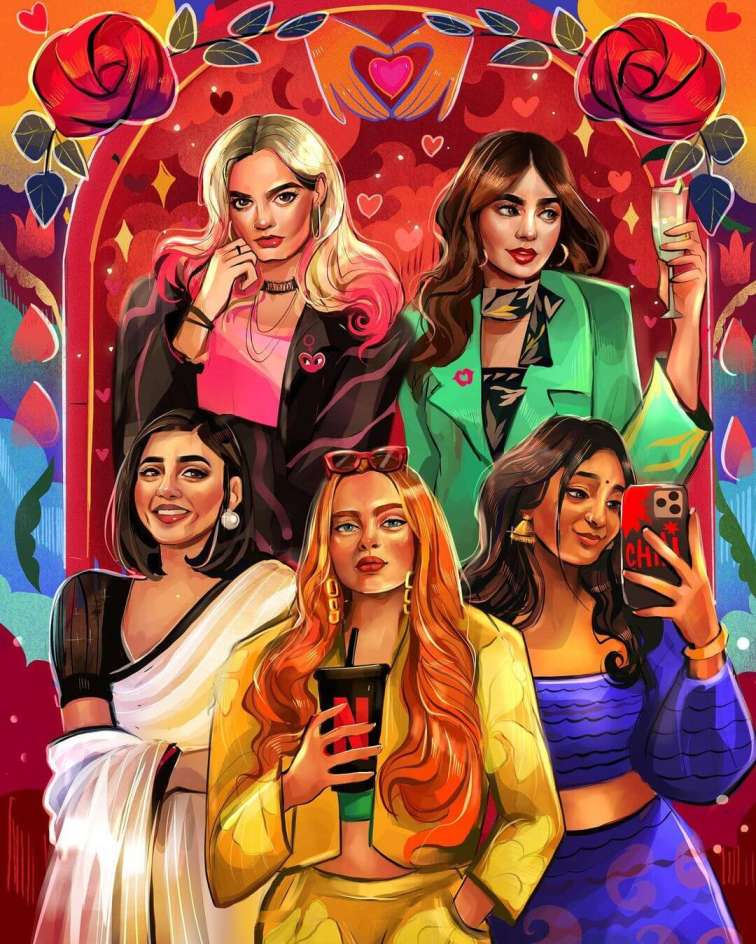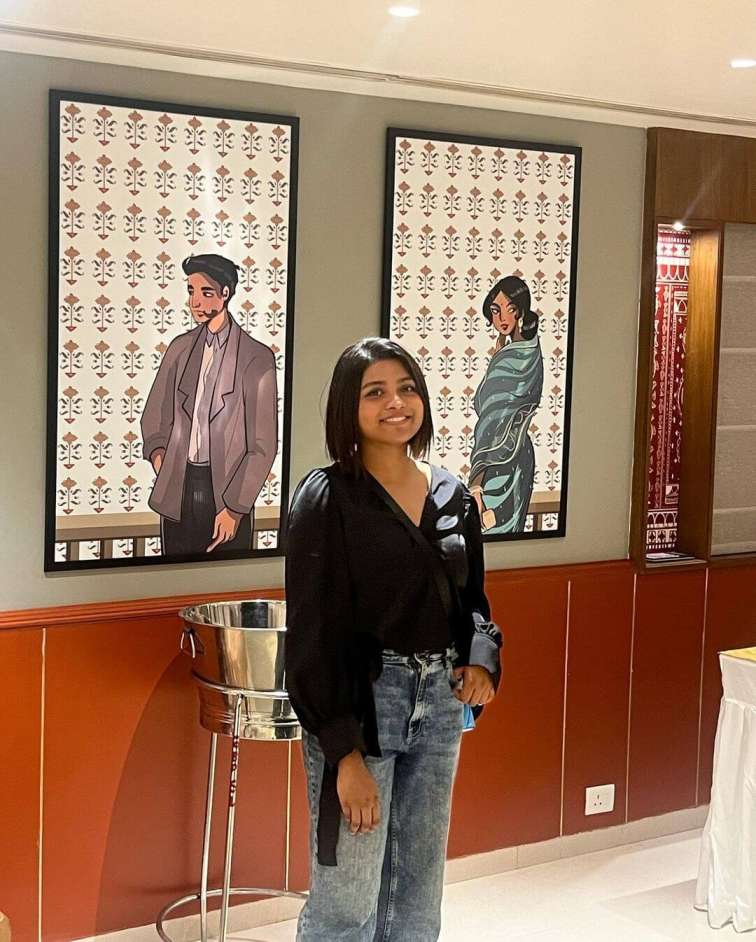 Dejeshwini: Canvas, Colours, and Quote-play

Enchanting strokes, intricate sketches, and unending creativity is the perfect replacement for Youtube shorts and Instagram reels for your inner art-hungry philosopher. Depictions of the vibrant and fading Indian society with a token of color play can be found on Dee for drawing, which Dejaswini manages.  
Using her art as a medium to speak with 41.6K followers on Instagram, Dejaswini is crafting a new form of story-telling, through her work as an Illustrator in India. As one of the most talented illustrators in India, Desjawini also has a knack for writing, which allows her to play with imagination, canvases, colors, and quotes, thus leaving her viewers spellbound and wanting more.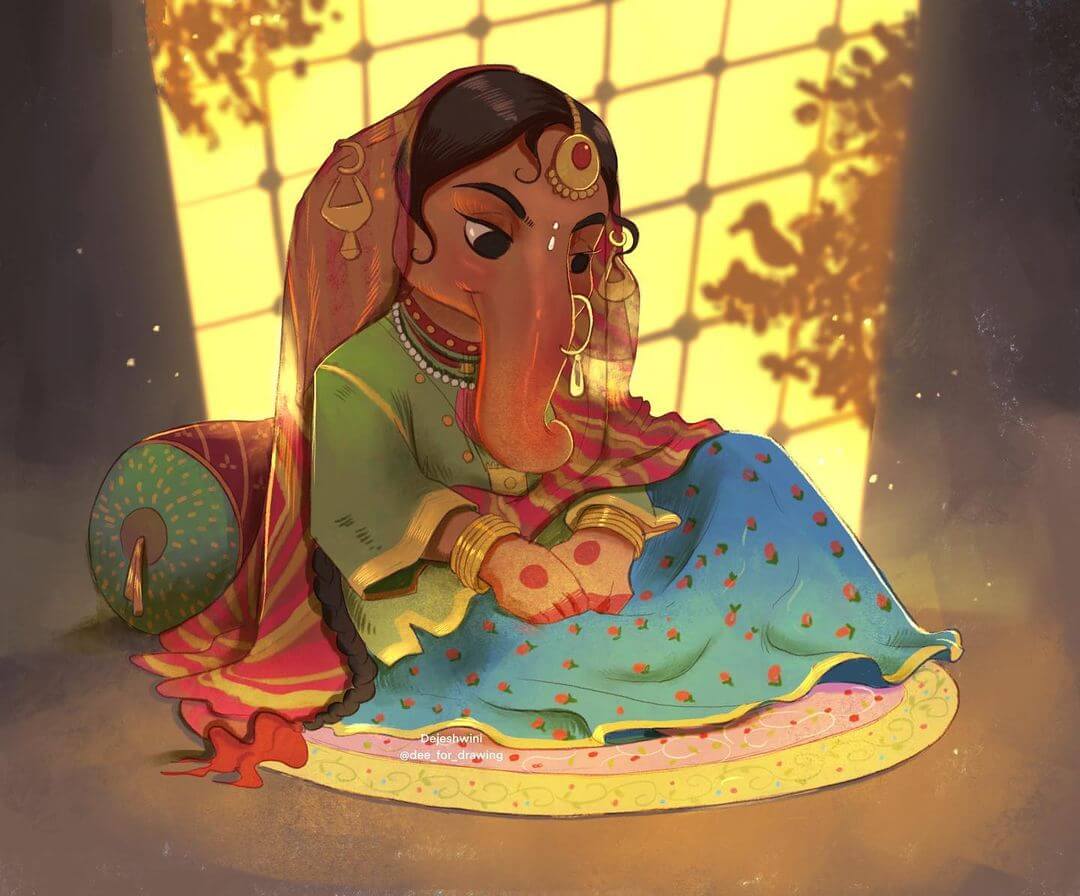 Chaitanya Limaye: Chai, Crackers and Breathtaking art

Enter into the world of breathtaking artistry intricately coiled with exceptional digital artwork by Art of Chai, or the person behind the page, Chaitanya Limaye. 
Indeed a perfect name for an Instagram page, which viewers can enjoy with some chai, crackers, and mesmerizing depictions, helping viewers to lose themselves in a spiral of thoughts. Adding a creative sprinkle of mermaid illustrations to depictions of Dad as a superhero, Chaitanya uniquely expresses his empathic nature through his timeless illustrations. Rest assured; you'll have some quality time on a breezy evening when you enter his art realm with a chai in hand with sixty-thousand other followers.
.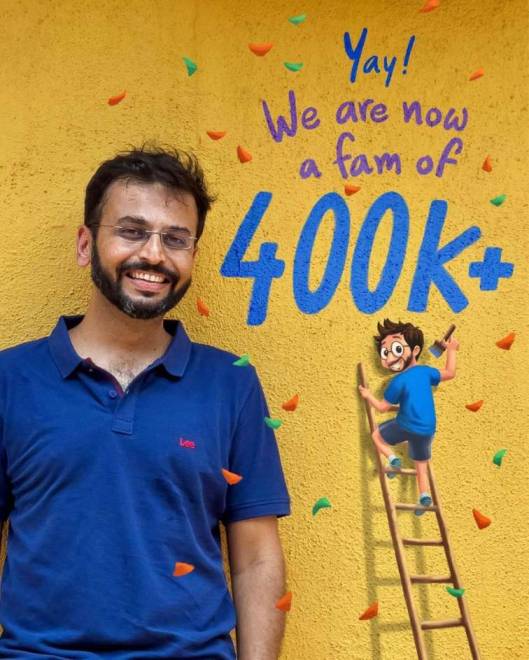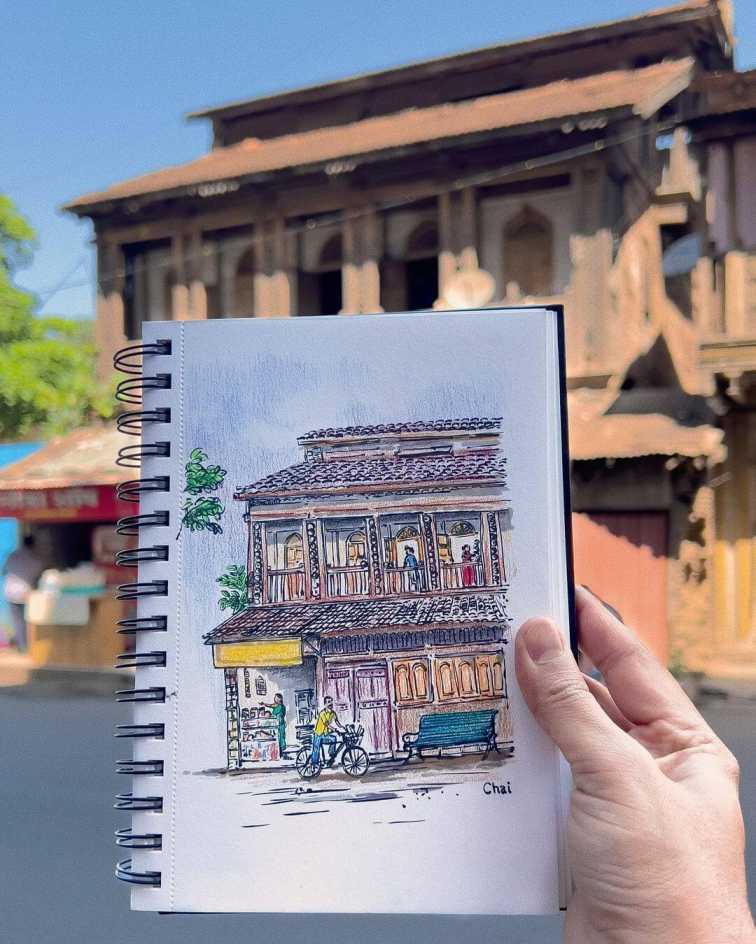 Order from the Best Illustrators in India Today!
Bhavya Desai: The Illustration Puzzle

Collage in a frame might be standard, but converting the whole page into a gigantic collage is a feat only a few talented illustrators in India, like Bhavya Desai, have accomplished. 
Illustrators often enjoy the freedom to perfectly convert their imaginations into depictions without constraints. However, Bhavya Desai is one such illustrator in India who combined his imagination to create art and arrange it on his constraint-specific Instagram wall, resulting in a visual treat. Such feats mark the ability of Bhavya to leverage pre-built designs and imaginations to create outwardly designs worthy of appreciation. While making his mark in several illustration arts, Bhavya's artwork often depicts a sense of free-flowing messy yet beautiful watercolors.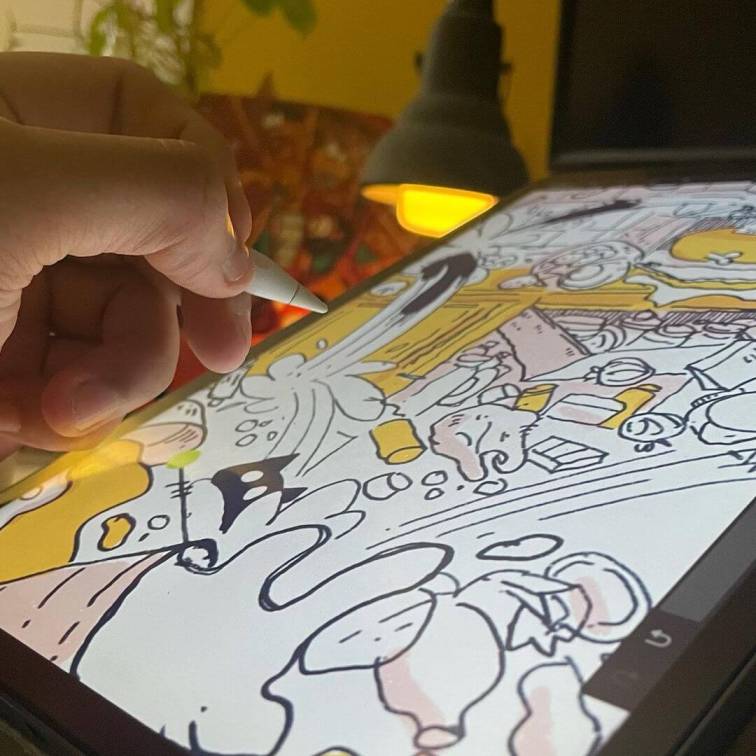 Uday Mohite: Master of students and portraits
The master artsman and teacher who can convey stories through realistic portraits in real and digital formats is famously the Indian_Illustrator by more than seventy-thousand art lovers on Instagram. 
The visual odyssey, intricately crafted by Uday Mohite, is a treat for art and non-art lovers, as portraits made by the master are sure to catch the attention of every wandering eye on the social media platform. Even so, realistic portraits are just one piece of the puzzle, as Uday Mohite is also famous for creating banner illustrations, thus offering some stiff competition to digital artists online. However, be it a competing digital artist or an aspiring student, Uday Mohite is always ready to spread this unique talent through his classes. Indeed, one of the most promising illustrator in India!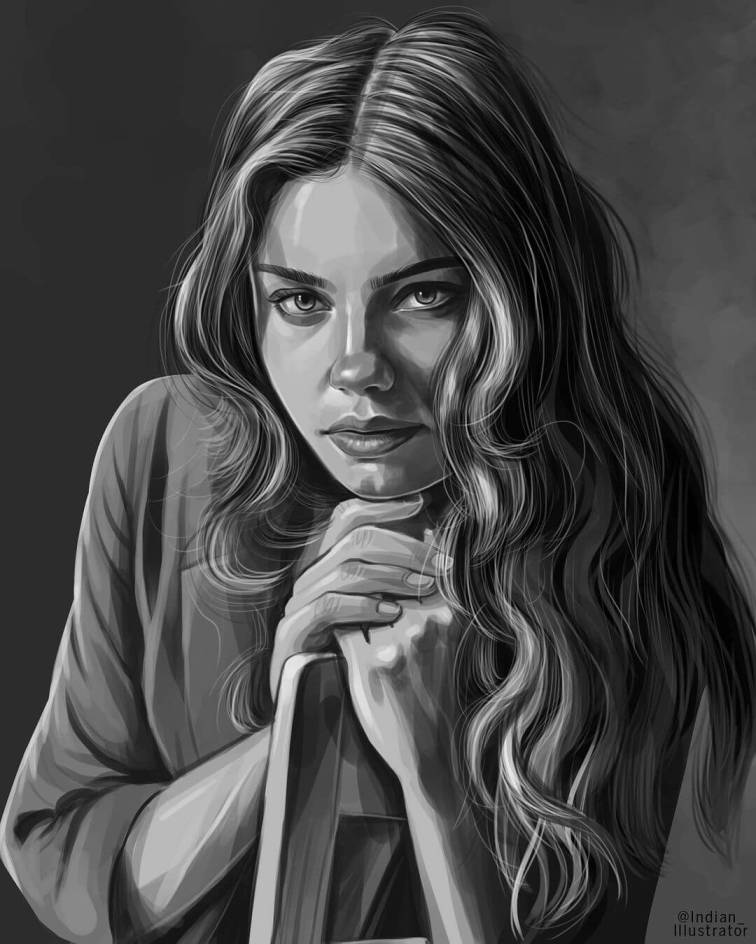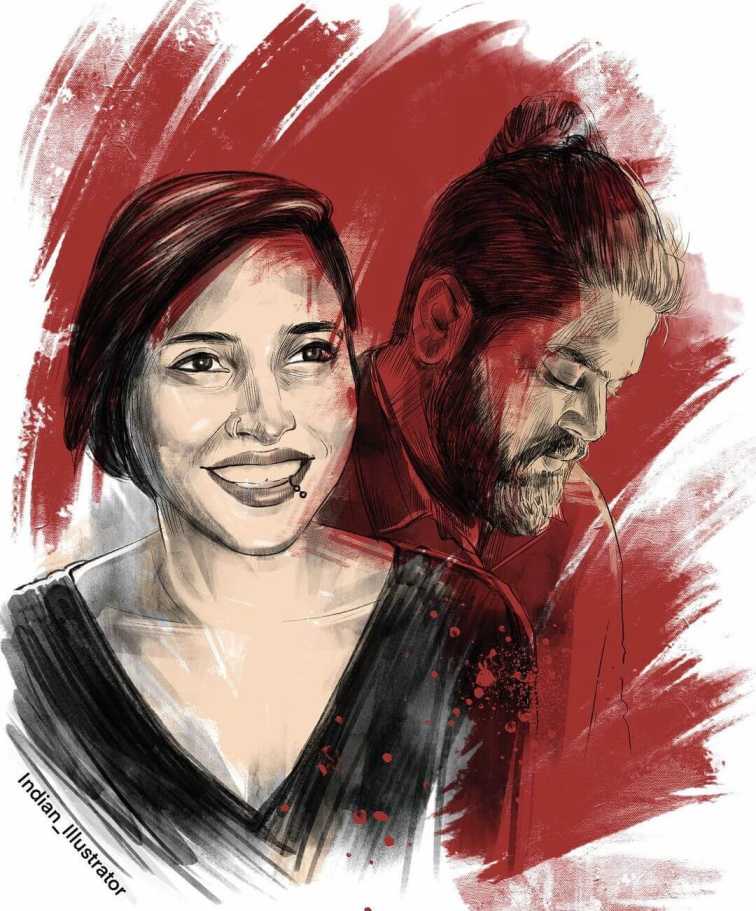 Diah Chakraborty: Transitioning pens to timelessness
The transition of an ink spot to a line to create a timeless piece from the unending library of imagination is already creating waves in the illustration community. 
Nicknamed the ink_isto_paper, Diah Chakraborty has the uncanny ability to use pen and paper to convert her imagination into an exquisite yet simple artwork. Even so, Diah's pen art is just the tip of the iceberg, as the community of more than twenty-thousand often tends to relive the past through Diah's illustration of the traditional Indian lifestyle with a comic artwork style. 
Even though Diah loves creating children's book illustrations, there's no doubt that the young illustrator in Kolkata can add a unique color to mundane everyday life events in a fun way.
Be madly in love with what you do and do it, irrespective whether you do it full-time or on the side. And lastly simply have fun and enjoy the process.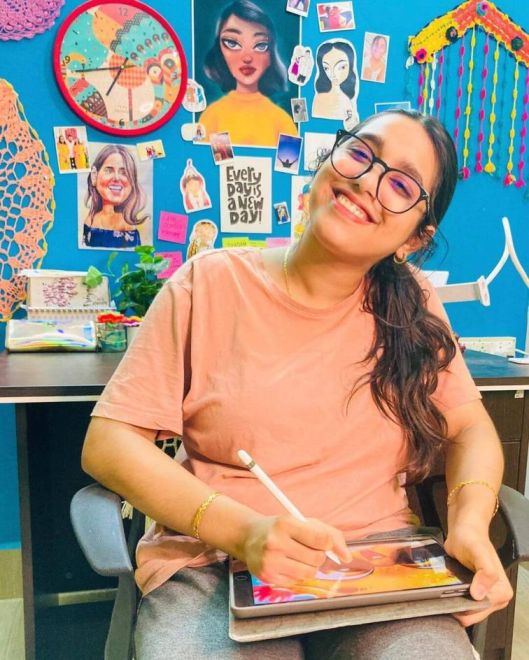 Ashwini: Illustrations, Stickers, and Quotes
Art never fails to mesmerize, but few arts often tend to leave a smirk on your face due to their mischievous and quirky nature. Such is the case for more than four thousand five hundred followers, who love to receive their daily dose of inspiration with sprinkles of humor. 
Ashwini, or the Grummpy Doodler, often sticks to the basics with simple designs with deep meaning. Unlike several illustrators in India, Ahwini likes to get creative by using various objects such as strings, cards, and stickers. Her knack for creating designs with objects and adding words with a fine spray of mischief always offers her viewers with laughs and amazement and the same time.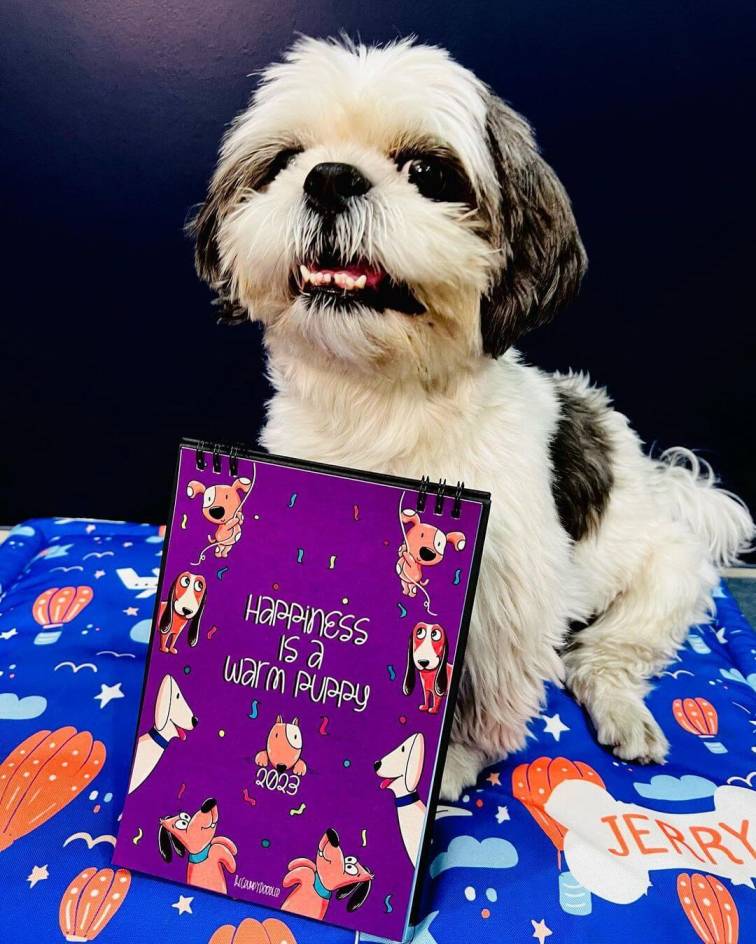 Conceptualize Illustrations on Various Gifting Objects!
Shraddha Piche: Where Simplicity Meets Affirmations
Simple illustrations coupled with positive messages can often light up one's day in a rather creative way. One such page named, Just_add_doodles came to life with this enlightening vision and now has a follower base of more than seventy-five thousand.
Doctor and counseling psychologist turned illustrator Shraddha Piche wavered from her traditional career route to enlighten the minds of content consumers through her creativity and positiveness. With a beautiful message stating, "I hope you get everything your heart desires", Shraddha's page reveals a simple and cheerful design, further enhanced through her minimalist illustrations and quotes. 
Next time, when you're feeling lost, you know where to wander around!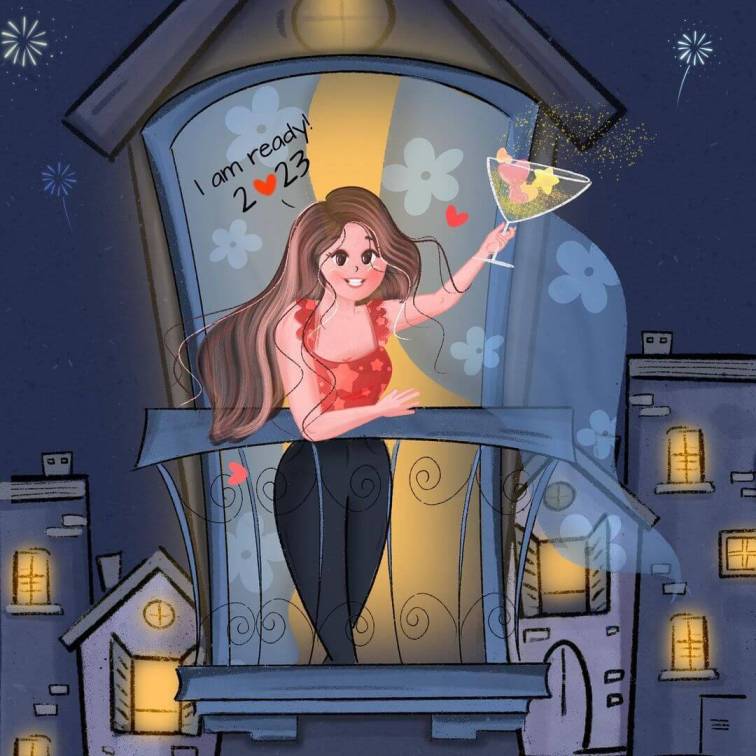 Why buy Customized Illustrations From StonedSanta?
Selecting the perfect gift is a rewarding and daunting affair at the same time. With several options inside and outside the digital realm, making a choice gets tougher. However, could you imagine one of these illustrators sitting with you on the opposite end of the call, brainstorming to create the perfect gift for your loved ones?
These illustrators can add their spin to create the perfect gift, but they come with a specialty that no one can ever provide. Whether your loved one is having an eventful day or is resting on a calm Sunday morning, they're sure to enter a blissful spiral of thoughts every time they see your gift. Is there a price you can put up for that smile and happiness?
StonedSanta is a custom gifting company made from this simple thought to gift happiness and memories for you and your loved ones without breaking the bank. With various options and experts to help you prepare the perfect gift, gifting has never been more effortless! 
Furthermore, with the express shipping options, the company has proven its efficacy in working under pressure to ensure your loved one is left with a beautiful smile that never fades for years to come. Fill in the form to join the community of more than 5000 happy customers who created their perfect gift with love from StonedSanta partnering with the best illustrators in India.
Looking for the perfect gift?
Look no more, our gift experts will get in touch with you and help you with all your requirements.