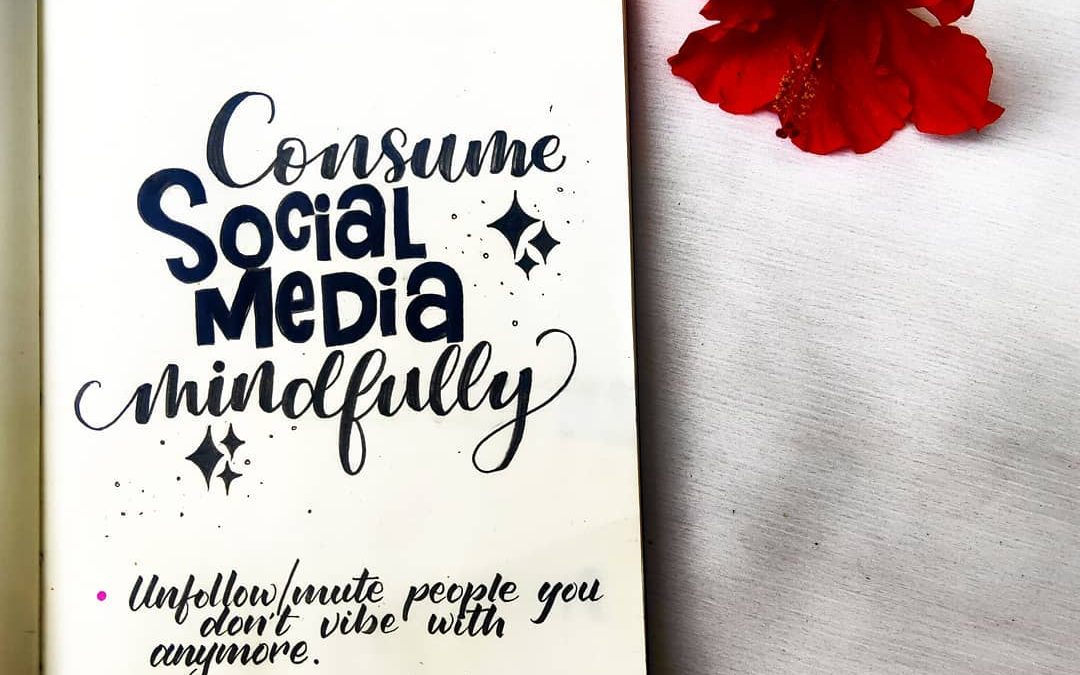 10 Amazing Calligraphy Artists in India
Calligraphy is the captivating art of creatively crafting letters and sentences that adds to its visual appeal. Derived from the Greek term "kallos", meaning beautiful, the letters written through calligraphy are usually long and curved with focused highlights on stroke width. Calligraphy is often used for gifting in various creative ways, starting from nameplates to engravings.  
This blog sheds light on India's most inspiring calligraphy artists, who have forever changed the gifting game. Whether just taking inspiration from the timeless keepsakes or ordering a gift, we covered every nuance so you can conceptualize some great ideas around this challenging yet fulfilling gifting affair.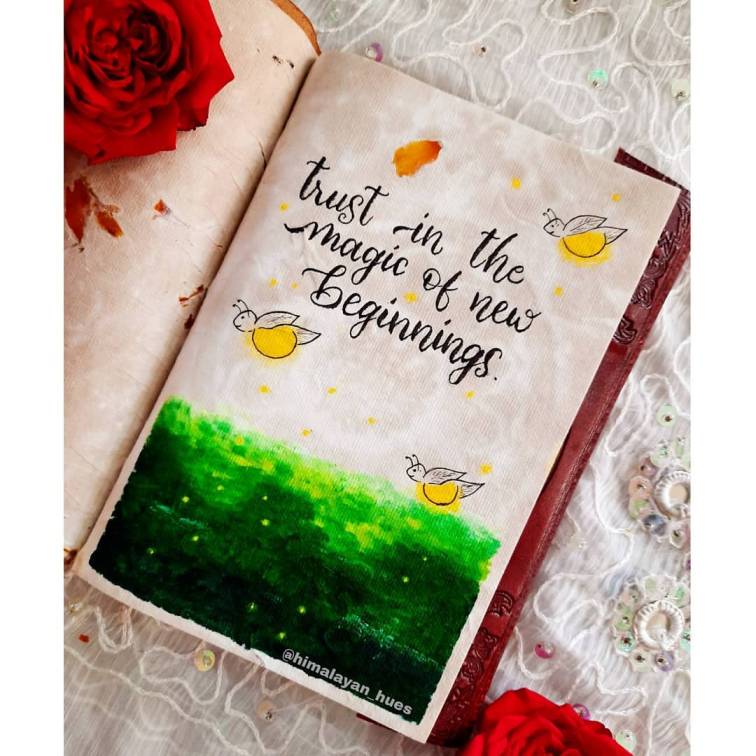 Diksha: Objects, Letters and Journals
A rising online artist with an uncanny ability to capture emotions in letters follows the path to spread awareness and positivity. Just_letters by Diksha is a comparatively new channel with only seven hundred and fifty-seven followers. However, her seasoned experience shines through her tantalizing works. 
Artists often face a creative block while developing new ideas, but the Kolkata-based calligraphy artists are on a different wavelength. Creating intricately woven letters into badges, journals, digital arts, and many custom arts, her fans are always astounded by her new concept of calligraphy arts. Even though she is running a young Instagram channel, one can easily predict her inclusion in great art communities and a huge follower base in the future.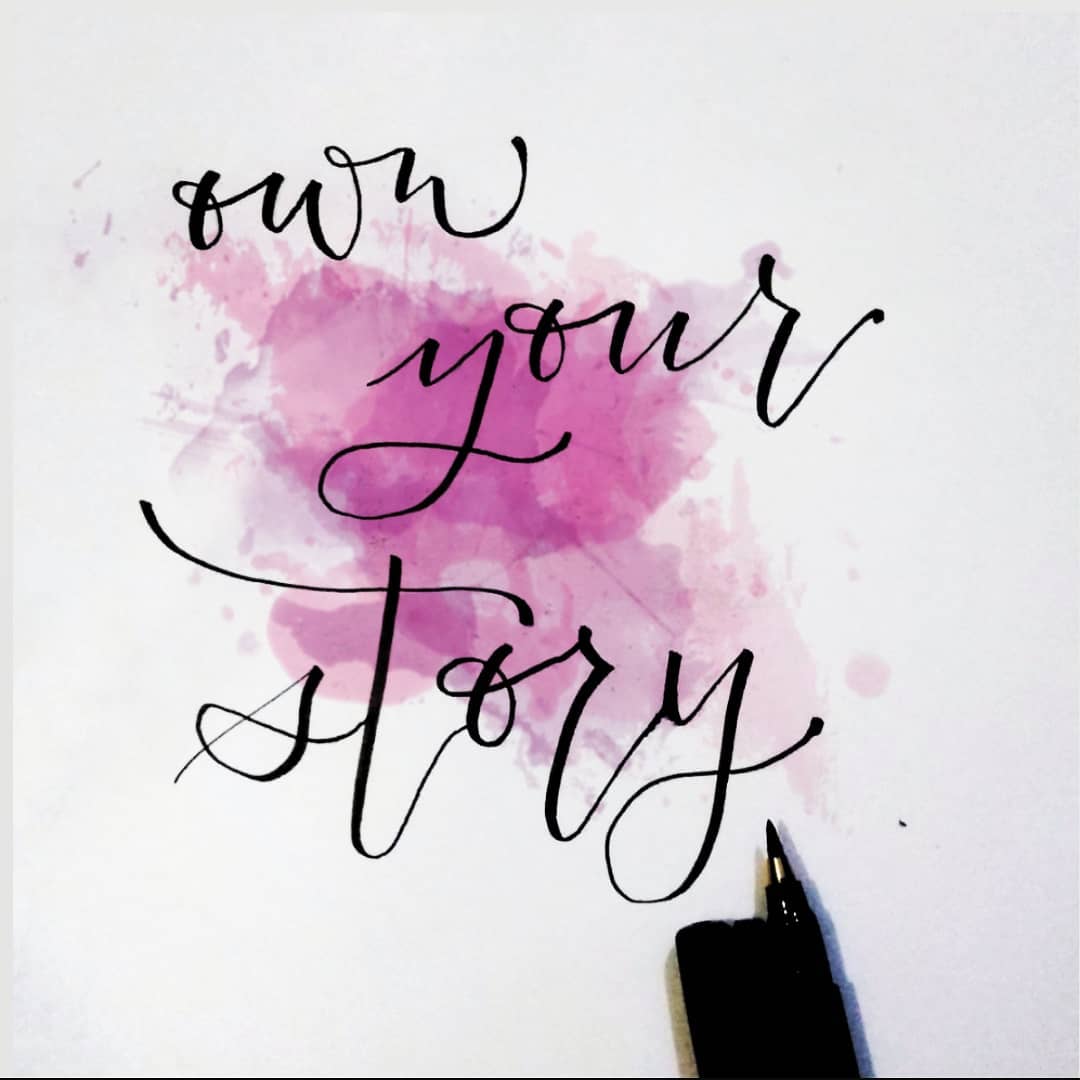 Want a Personalized Lettered Artwork?
Shivanshi Upadhyay: Engraving Emotions and Concept Arts
The versatile calligraphy artist makes elaborate strides in English and vernacular languages with her polished ability through engravings and custom arts. From tantalizing engravings on glasses to creating watercolor cards and vernacular calligraphy, Shivanshi has quickly gathered the attention of more than two thousand and five hundred followers. 
Calligraphy is just the tip of the iceberg for Shivanshi, as she likes to showcase her creativity by combining concept art and watercolor plays with her lettering talents. As an inspiring calligraphy artist in India, the phosphene doodler also sets standards in vernacular calligraphy, an effort made by only a handful of artists.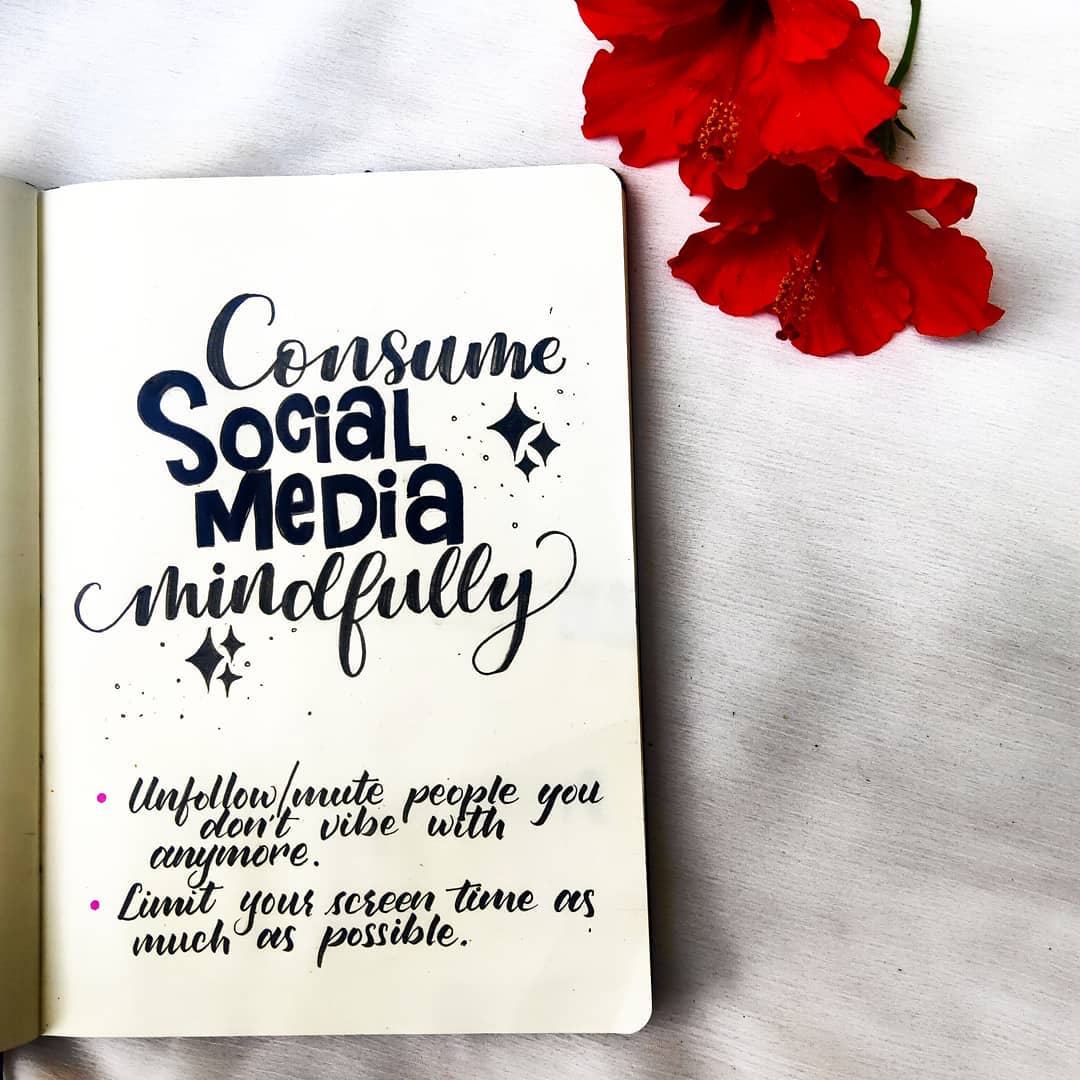 Palak Makkar: Expert Lettering Strokes
The prodigal calligraphy artist from Chandigarh has taken the lettering art community by storm with custom engravings on steel coins and portraits. Many of us fall in love with the acrylic art shown on youtube, yet such arts tend to miss the addition of elusive lettering. Palak, on the other hand, with her polished skills, loves to create concept paintings but also adds a subtle note of expression with her unique lettering skills. 
Combining paintings and lettering, an incredible feat, might seem like an everyday chore for Palak, as the Chandigarh-based artist likes to play with engravings, letters on burnt paper, and more. Taking slow strides in improving her online game, Palak has a modest follower base of around one-thousand-three hundred, which is bound to see exponential growth due to her finesse in every stroke from start to end.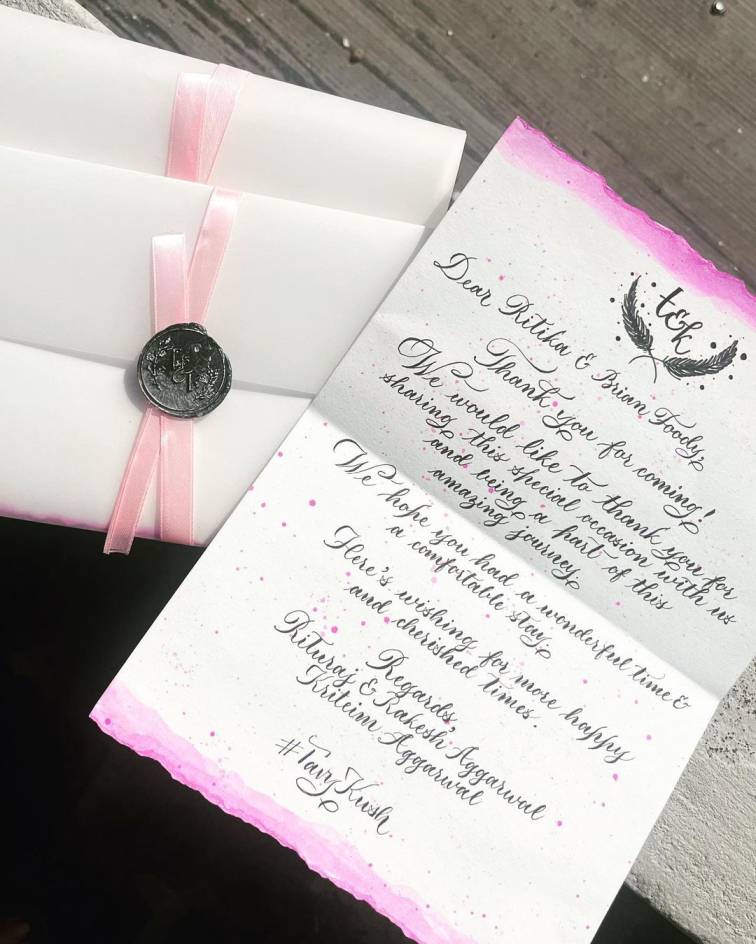 Nishita Khandelwal: The Minimalist Self-Taught Prodigy
On an eventful day, you stumble upon a minimally designed Instagram page with posts showing exquisite lettering talents with a touch of simplicity. Enough to hook your attention, you follow the self-taught calligraphy artist Nishita Khandelwal. 
Nishita's aptitude as a prodigy shines through her work in making custom calendars, cards, or just her strokes with letters. Around eight hundred followers can buy her timeless keepsakes online, but even glancing at her work is soothing enough to lighten up one's day. Watching a self-taught and talented artist express her emotions and steadily grow is a boon for many avid art lovers online.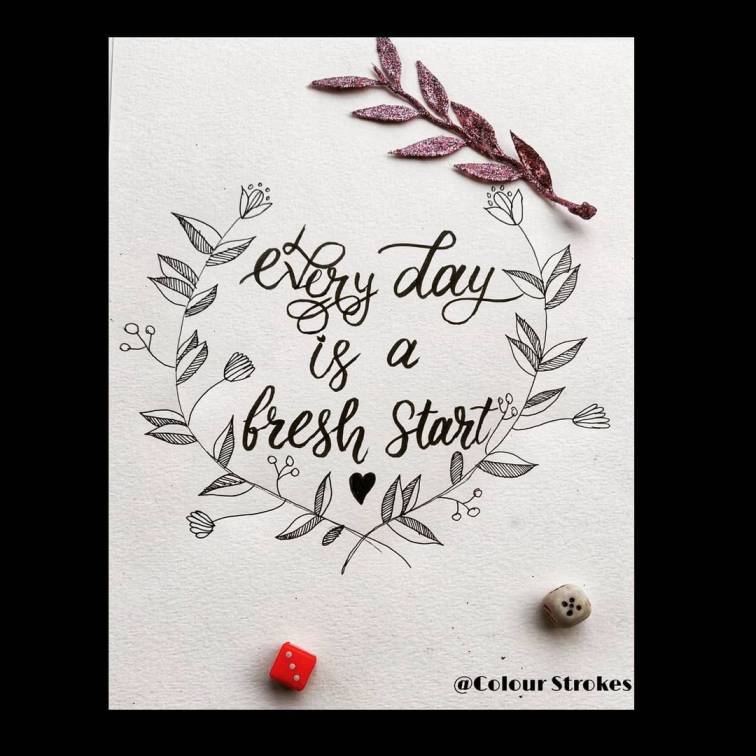 Aayushi Bhardwaj: The Puzzled Lettered Bookmark
Imagine the color of your favorite bookmark fleeting away like puzzle pieces while unveiling intricately written quotes or maybe even your name. Calligraphy art is a tiny facet of Ayuhsi's vast skill set, as she loves to create concept art while combining acrylics, watercolors, and custom lettering wherever possible. 
One of her most notable and original art ideas is the bookmarks posted on her Instagram page, himalayan_hues. Just like the soothing vibe of the cherished landmark, Ayushi's artwork promotes a similar calming and soothing sensation to the buyers and viewers of her timeless masterpieces.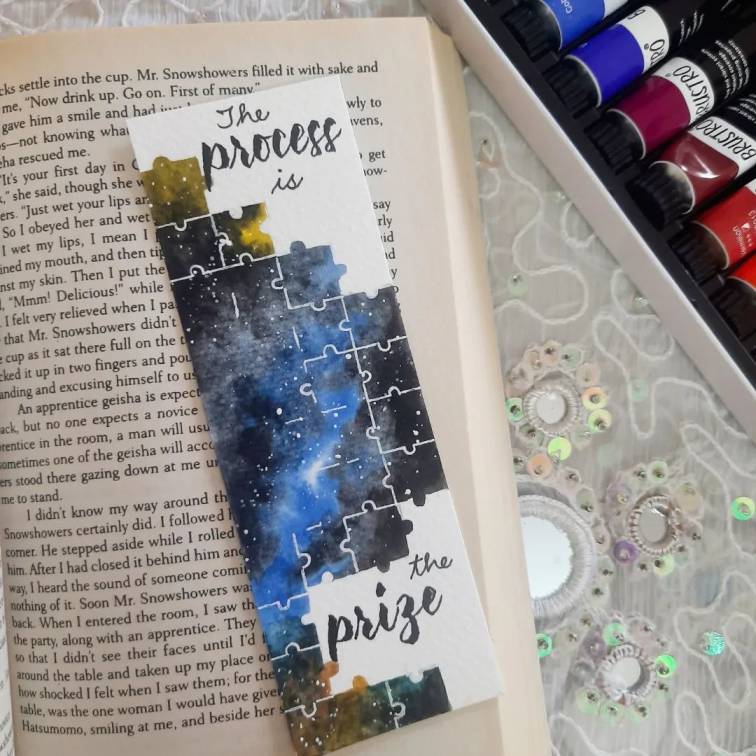 Want a Custom-Lettered Bookmark?
Shaz: The Shining Lettered Script
A meer look at the warm and fuzzy scripts with bright and vibrant colors can be the source of unmatched tenacity and motivation for anyone throughout the day. With the most appropriate name, thesunshinescript, managed by the Calligraphy artist Shaz, is taking giant strides to lighten everyone's day, whether a customer or an observer. 
The Chennai-based artist is known for using vibrant colors and inspiring texts while experimenting with cards, portraits, bookmarks, and calendars. One of her most prominent works comprises a fully-custom calendar that has taken the netizen's attention. Her unparalleled ability to imbibe custom lettering in any object underlines her future as a promising headliner in the Indian calligraphy and art community.
.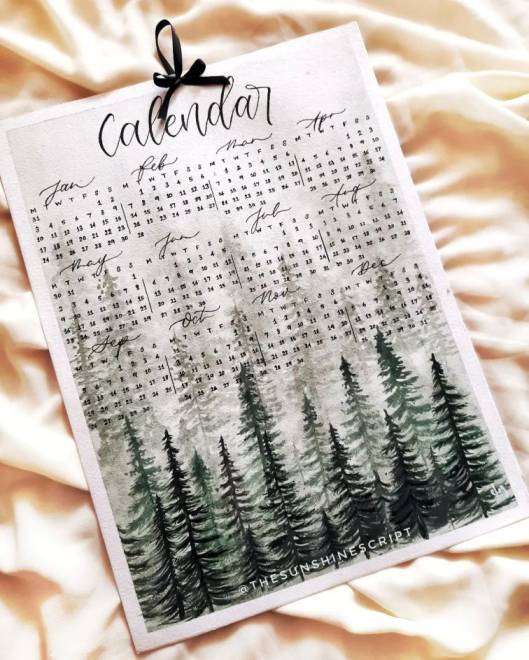 Farheen Sheikh: Luxuriously Simple Calligraphy
Imagine a custom-lettered artwork encased in gold or silver chips throughout with a thoughtful message and some spray of artistic finesse is what Farheen Sheikh specializes in. In hindsight, lettering as an art can be mastered, but the fantastic collaboration of luxury and simplicity highlights the creative flair of the Mumbai-based artist. 
Even though classy and luxury works are some notable works that might catch everyone's attention, Farheen has more cards up her sleeve. Mixing custom stamps with beautifully crafted designs or making a simple and motivational card or eye-catchy handbags are designs that the prodigal artist revels in making.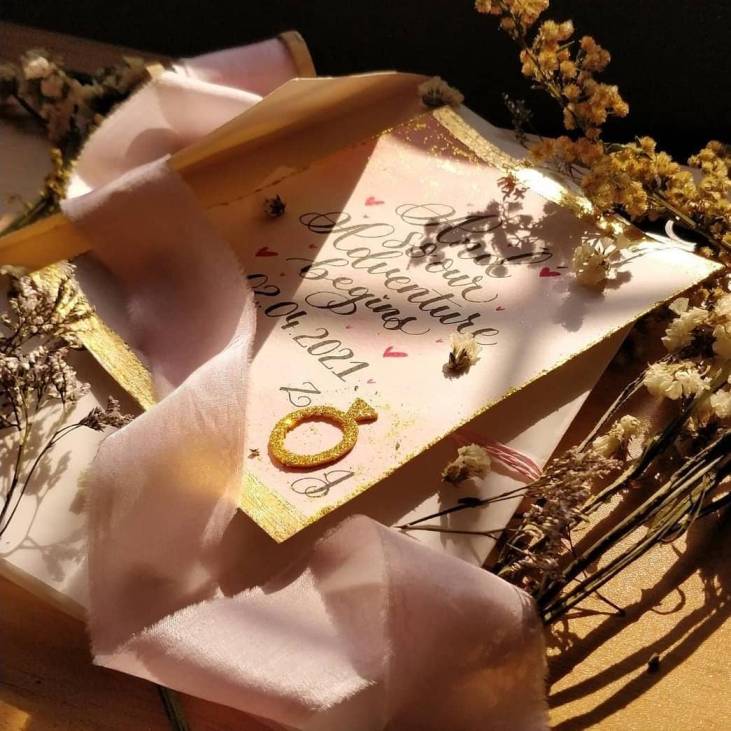 Shruti: Calligraphy X Doodle X Frames
Witnessing a creative mess of pictures, personalized quotes, and memories in a rather thoughtful way is a delicacy savored by the customers of Shruti. The India-based calligraphy artist loves to run wild with her imagination while capturing them in frames for her delightful customers. 
Being a master calligraphy artist, Shruti exhibits her talent through thoughtful quotes but adds more to her overall masterpieces with creative doodles of pictures in frames. Quickly amassing the attention and appreciation of more than seven-hundred art lovers, the future calligraphy influencer is inspiring both avid art lovers and aspiring calligraphy artists at the same time.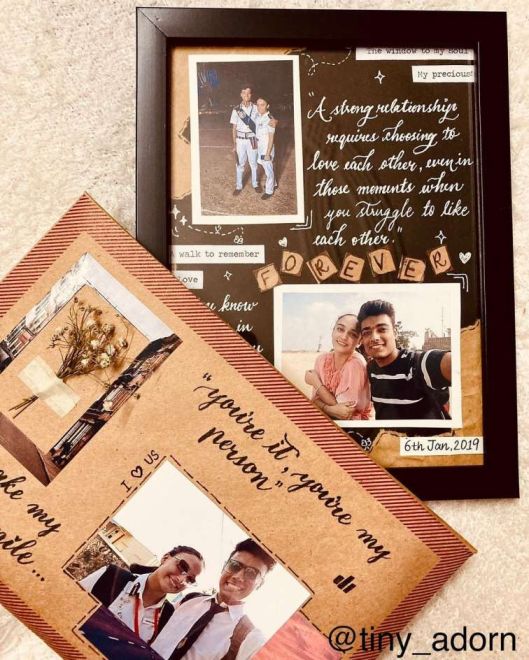 Poorvi Gupta: The Simple and Relaxing Lettered Vibe
A scenic exhibition of nature, flora, fauna, and similarly soothing lettering art is bound to take you through a bright and vibrant imaginative world delicately crafted by Poorvi. The young artist from Pune loves showing her appreciation for nature through her works, thus giving her art customers and viewers a relaxing vibe. 
Besides custom lettering, Poorvi reveals her imagination through watercolor and acrylic art. Through custom lettering, she imbibes the emotions of her artwork and thoughtful gestures in a rather soothing way.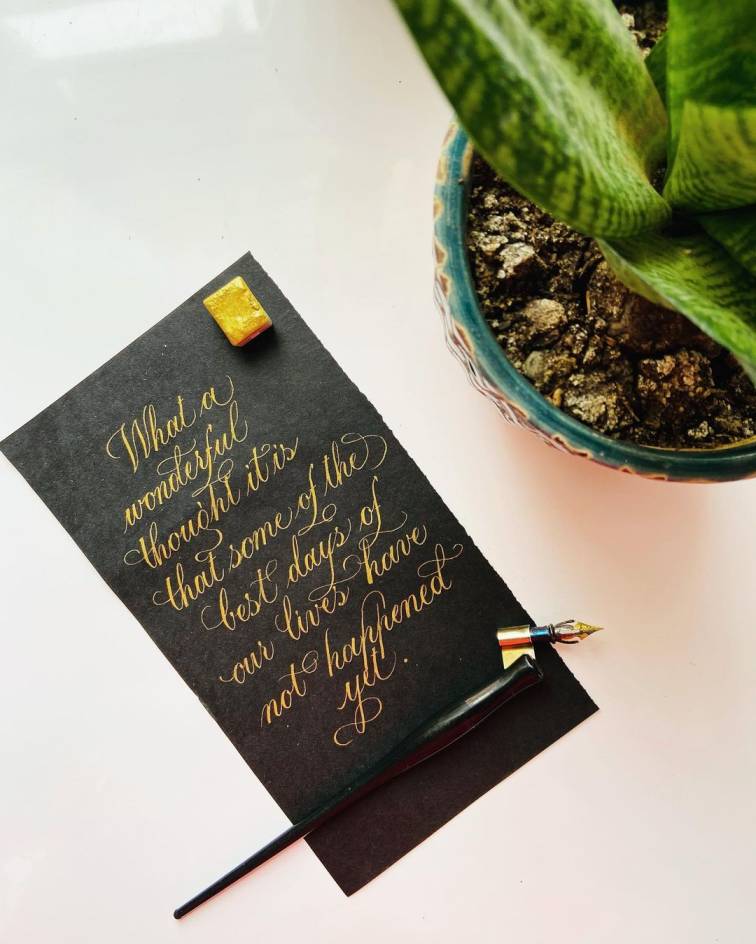 Hera: Upliftingly Simple Calligraphy Art
A daily dose of motivation and inspiration is imminent for the writers and almost twenty-thousand avid art observers who follow Hera, themerakigirl. Creating custom-quoted journals or the addition of other personalizations became mainstream after the prodigal artist introduced her initial copies of custom letter journals. 
Having worked with brands like Cry India, Hera has also shown interest in grooming young minds through her workshops. While passing on her remarkable talents, Hera's concept journals still make huge waves in the custom gifting community, thus making her artworks a revered choice.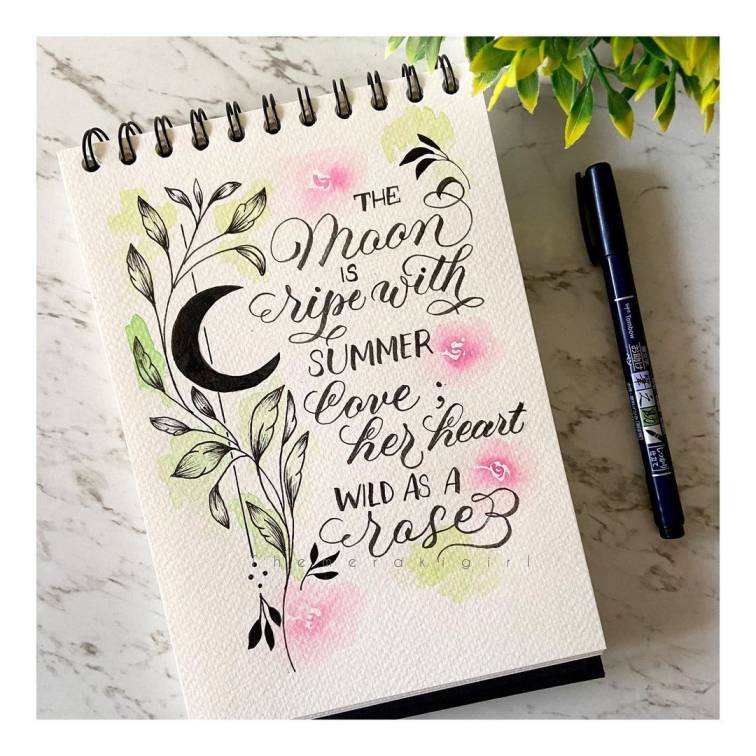 Get your Custom-Lettered Art with Stoned Santa
Why buy Customized Calligraphy Artwork From StonedSanta?
StonedSanta is an IIM-incubated startup created to revolutionize gifting by connecting extraordinary artists with the masses. With a simple vision and undying motivation, we have shared smiles with over five thousand customers and brands like TedEx, BMW, and many more. 
Gifting is an art and a rather tough decision to make. However, we make it easy by helping you connect with India's most incredible talents in calligraphy, mandala art, string art, caricatures, and many more. As one of India's most passionate gifting companies, we look forward to creating memories and sharing smiles with you and your loved ones.
Looking for the perfect gift?
Look no more, our gift experts will get in touch with you and help you with all your requirements.