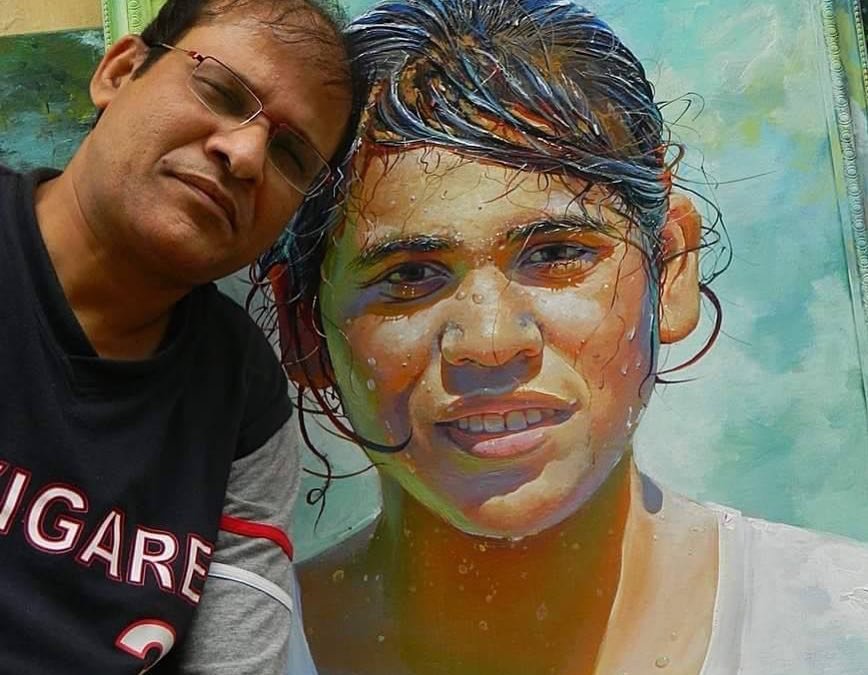 Meet the Railwayman – Artist Bijay Biswaal, whose paintings traveled the world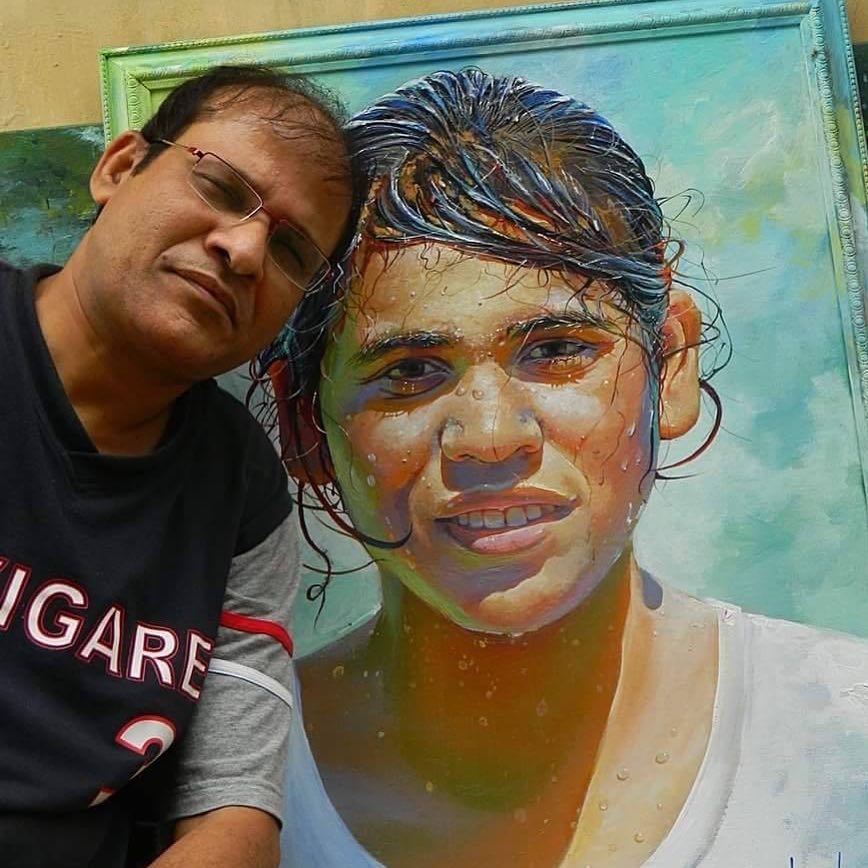 Artist – Bijay Biswaal, quit his full-time job with the Indian Railways to pursue his career in art full-time and is now famous for his work across the world. 
We learned about his humble beginnings and his transition from a railwayman to a world-famous painter who has traveled the world creating art and spreading joy.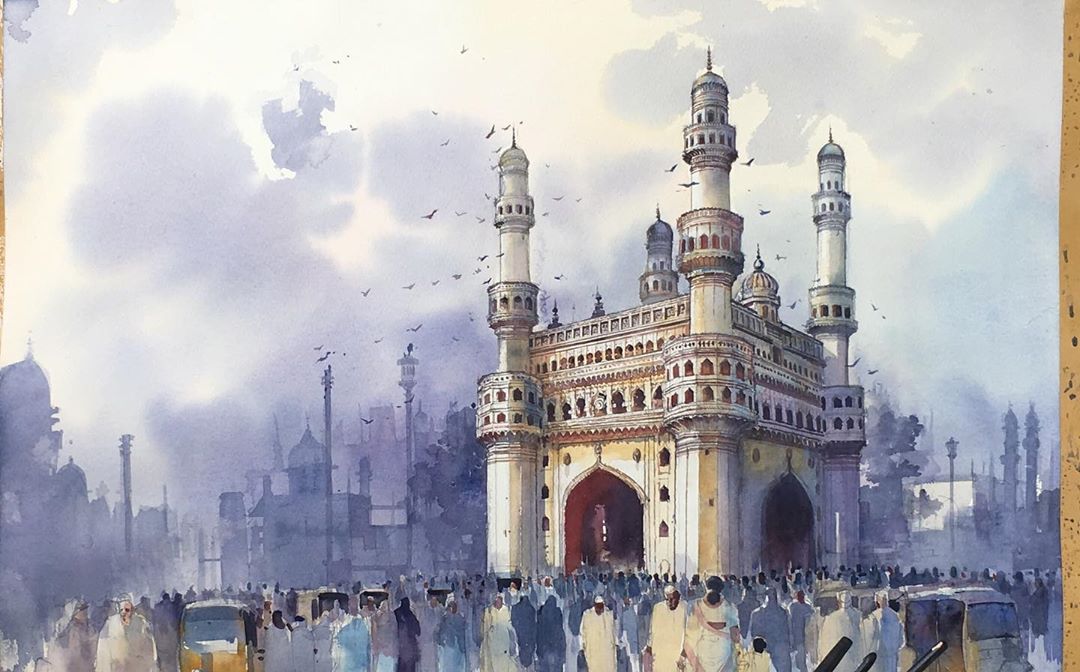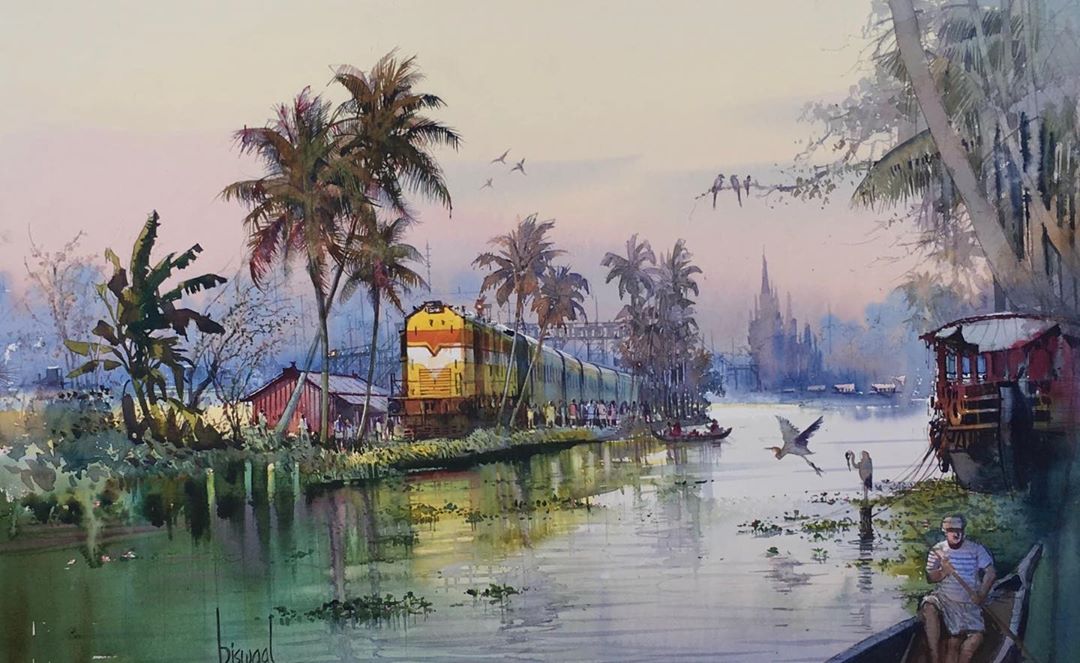 Every artist has their unique definition of art. What is yours?
I have never tried to define art, it's not something that can be explained in words or phrases. It's felt by the heart, and not the mind. For me Art is a form of expression, a form of passion with no boundaries. Art makes me truly happy.
How did you get started with art? 
When I was 3 or 4, I remember picking up burnt wood charcoal from the earthen stoves my mom would cook on, painting the walls of my house and getting scolded by my mother. As a child, I would pick any surface and start drawing and doodling.
When I joined the school I started scribbling on the slate with chalk, and I would end up drawing something or the other, irrespective of the surface. Art came to me naturally.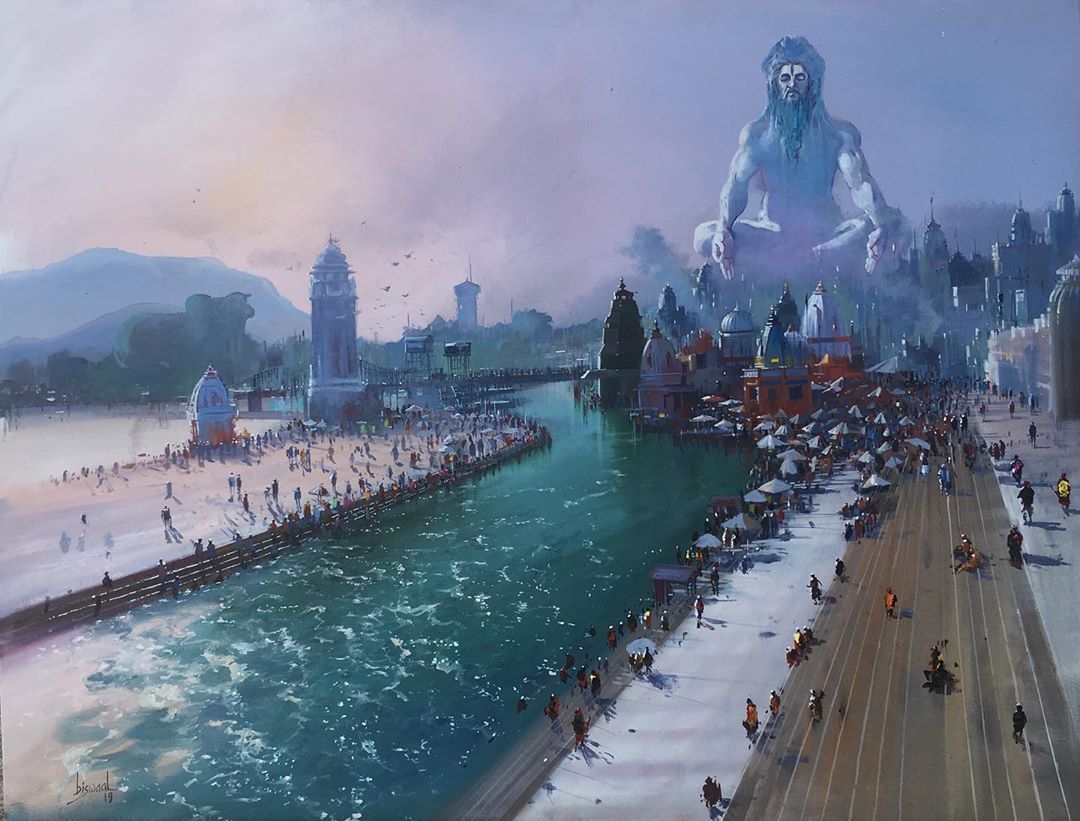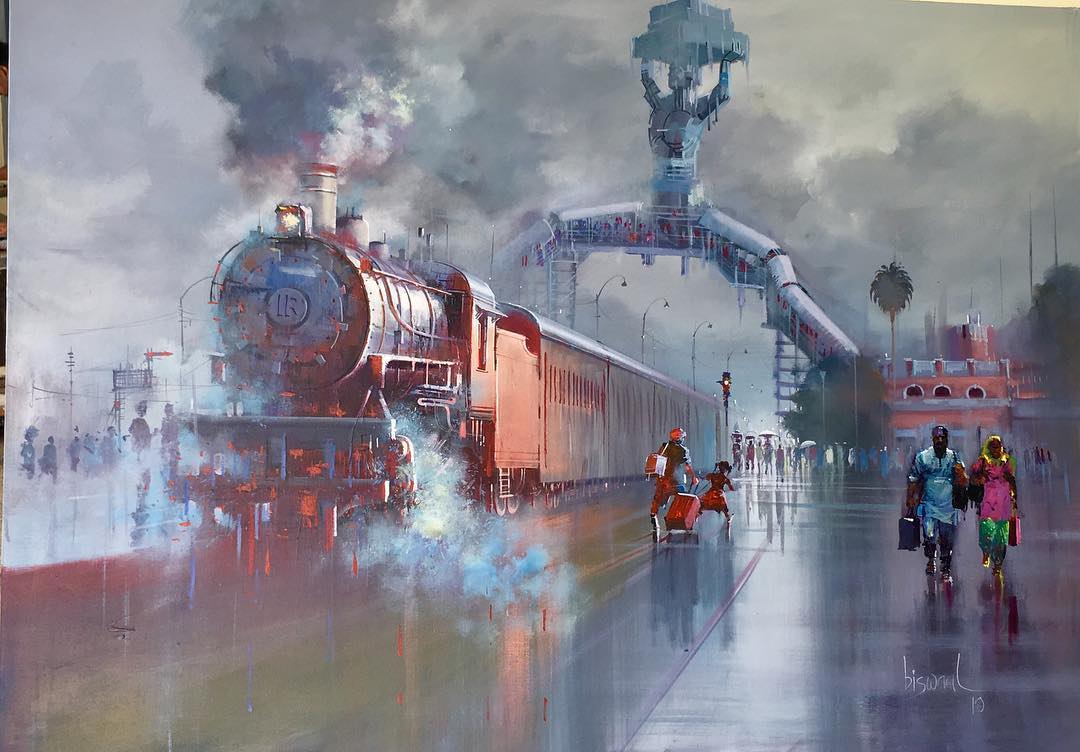 How did you choose Train as a subject for your paintings? 
I was posted in the Indian Railways, and the majority of my work involved spending time in the trains and the platforms, and I think I did not choose the train, it chose me. 
When I started painting trains, a lot of my friends told me – It is such a boring and metallic thing to paint, but I did not pay attention to that, and soon enough Trains have become a world-famous genre in painting. 
I think sometimes Subjects choose you, and sometimes Art chooses you. 
Where do you draw your inspiration from? 
Nature and music. I sometimes end up painting 8-9 hours in my studio listening to music, while I groove my body and the paintbrush on a canvas, and I think there is a spiritual connection, and that is my moment of ecstasy. 
How did you know it's time to take art full-time and decided to take retirement from the Railways?

It was always in my mind, all I wanted was to paint. It would break my heart when I had to leave my canvases empty and go to work. I would wait for my shifts to get over so that I could go back and paint, no matter what time it was, I would never sleep with an incomplete canvas. Never! 
My wife –Pranati Biswaal, played a huge role in helping me gather the strength and the courage to take this decision because she always believed in me.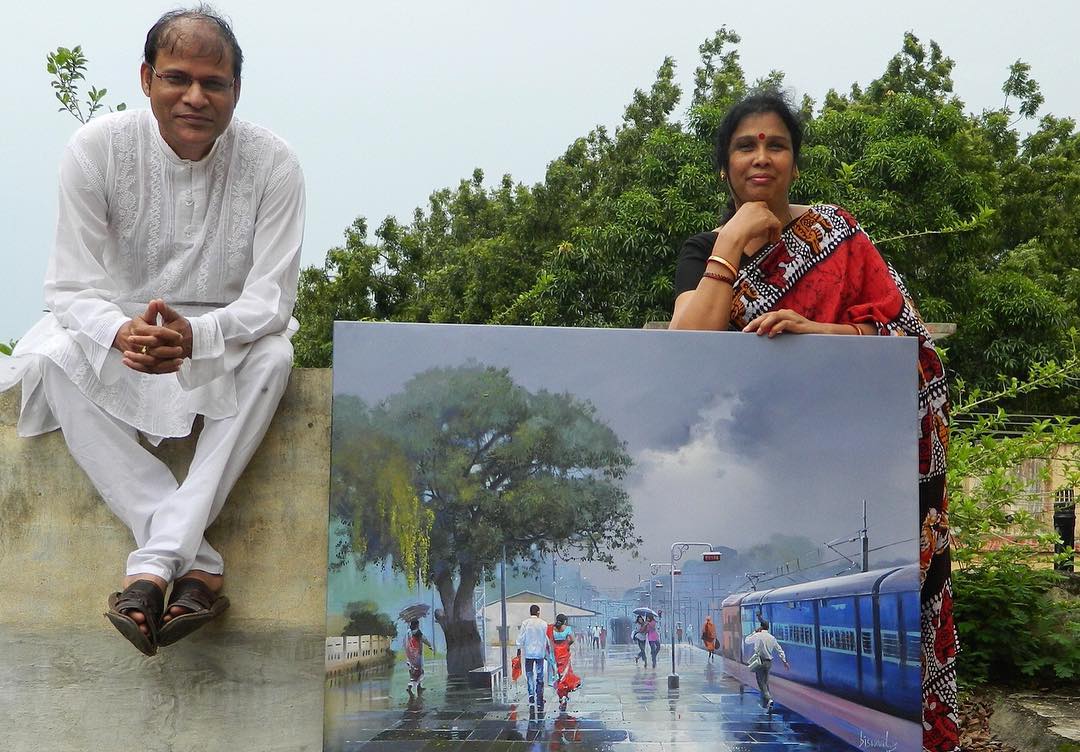 Talking about your transition from a traditional job to a totally different field – Art? 
I have always focused on my academics, and I am a MA First Class Degree holder, with a legal degree. I have always wanted to be financially secure so that I did not have to burden my father financially to buy me paint or canvas. 
The railways have always been very supportive of my art, and I think the best gift I got from my time serving the Indian Railways, was the exposure I got to the places of India, and the people around, it helped me discover my style. 
What sacrifices have you made to become what you are today? 
I would paint like a mad man, people would know me as the mad railwayman who paints all the time. Looking back, I realized I have always prioritized painting over cups of tea, a game of cards, or sleep. 
I wouldn't call them sacrifices, because it never felt like one. 
"Best moment was to quit my job to pursue art full-time"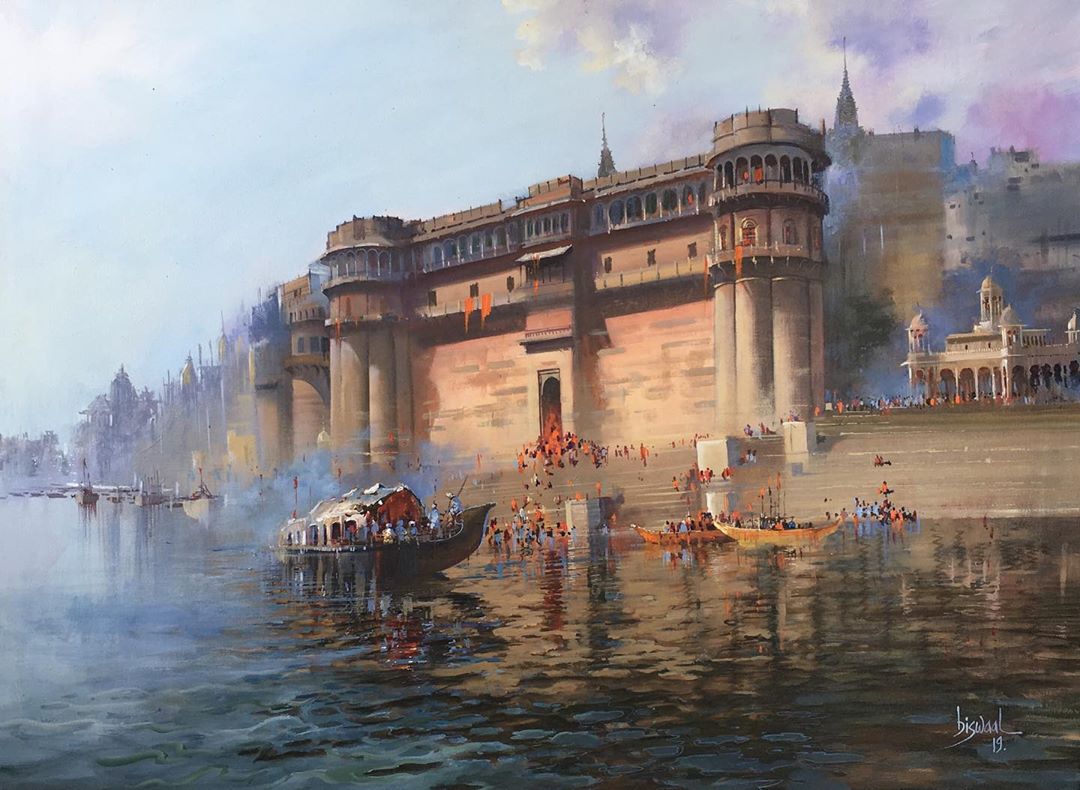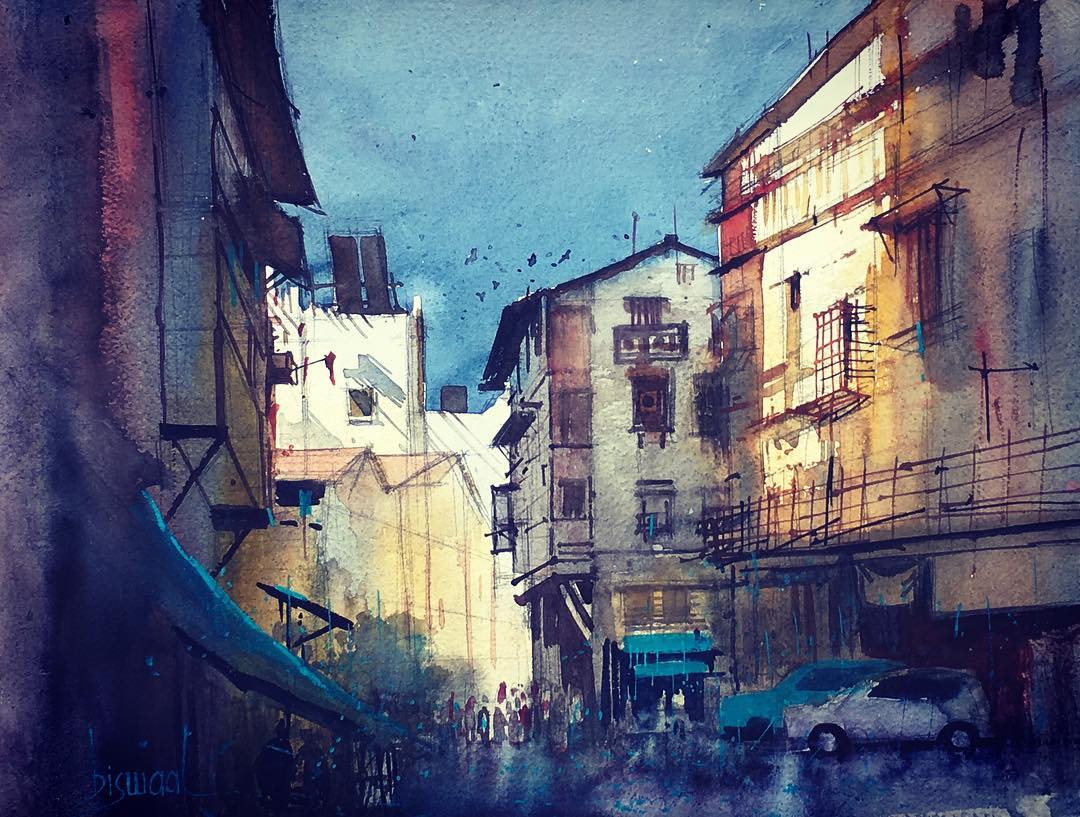 Best moments in life? 
Oscar moment when PM mentioned about me and my work in his "Mann ki Baat" in 2015. Another iconic moment for me was when Suresh Prabhu, Railway Minister invited me to "Rail Vikas Shivir", and I was given one dedicated pavilion for Art. 
Speaking to him I put up my request to gift one of my paintings to our Prime Minister –  Narendra Modi, and when Mr. Modi saw it, he said "Biswaal Ji Nagpur Waale", I have seen this painting several times on the internet, and seeing this in real life makes me truly happy. 
The same painting made history in 2018 when it was auctioned by the National Gallery of Modern Art – NGMA, Delhi for raising funds for the Namami Ganga Project.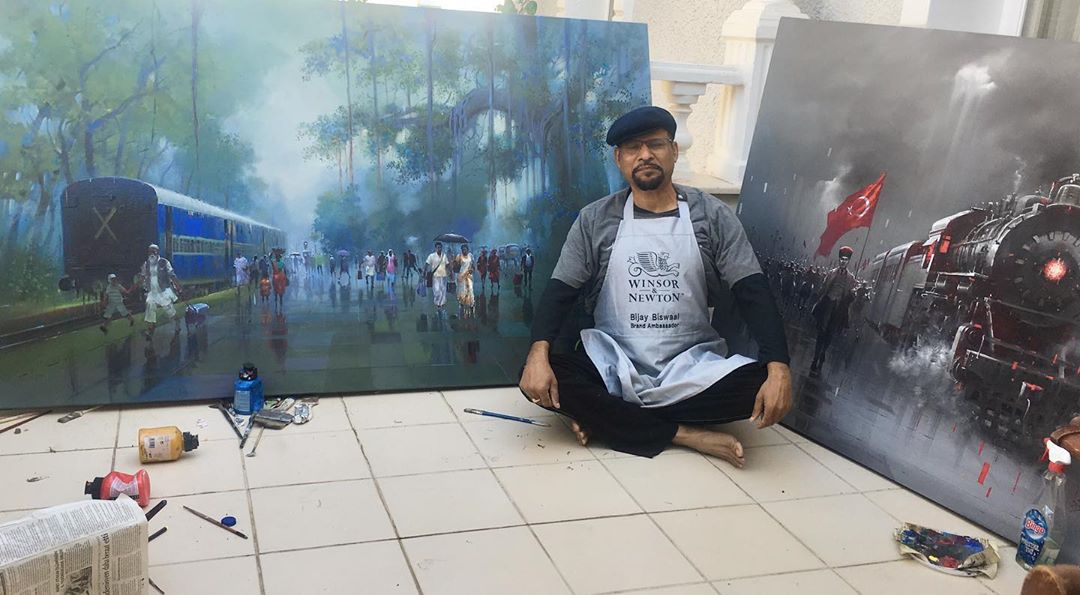 What are your thoughts Corona and its impact on your work?
The best time to create art and this is the best time for me. I am truly happy to find this time to create and experiment with a lot of styles I earlier couldn't because of other engagements I would have. 
Although I wouldn't mind if I am locked down for another 6 months. However, I hope this gets over soon, and humanity is back to its usual track.  
How did you get started with the idea of hosting Art workshops, and what can one expect from such workshops? 
I love the ambiance that workshops give me. I have been to countries like Russia, Qatar, Nepal, Mauritius and so many more. Looking back I realize, I never planned for this. All these opportunities came to me, and I was happy to take these opportunities up. 
If you have the quality, you will be found. All you have to do is continue doing what you love with no strings and expectations attached to the outcome(s).
My main focus has always been to keep it simple. I truly enjoy sharing my experience with the people who come to experience art with me.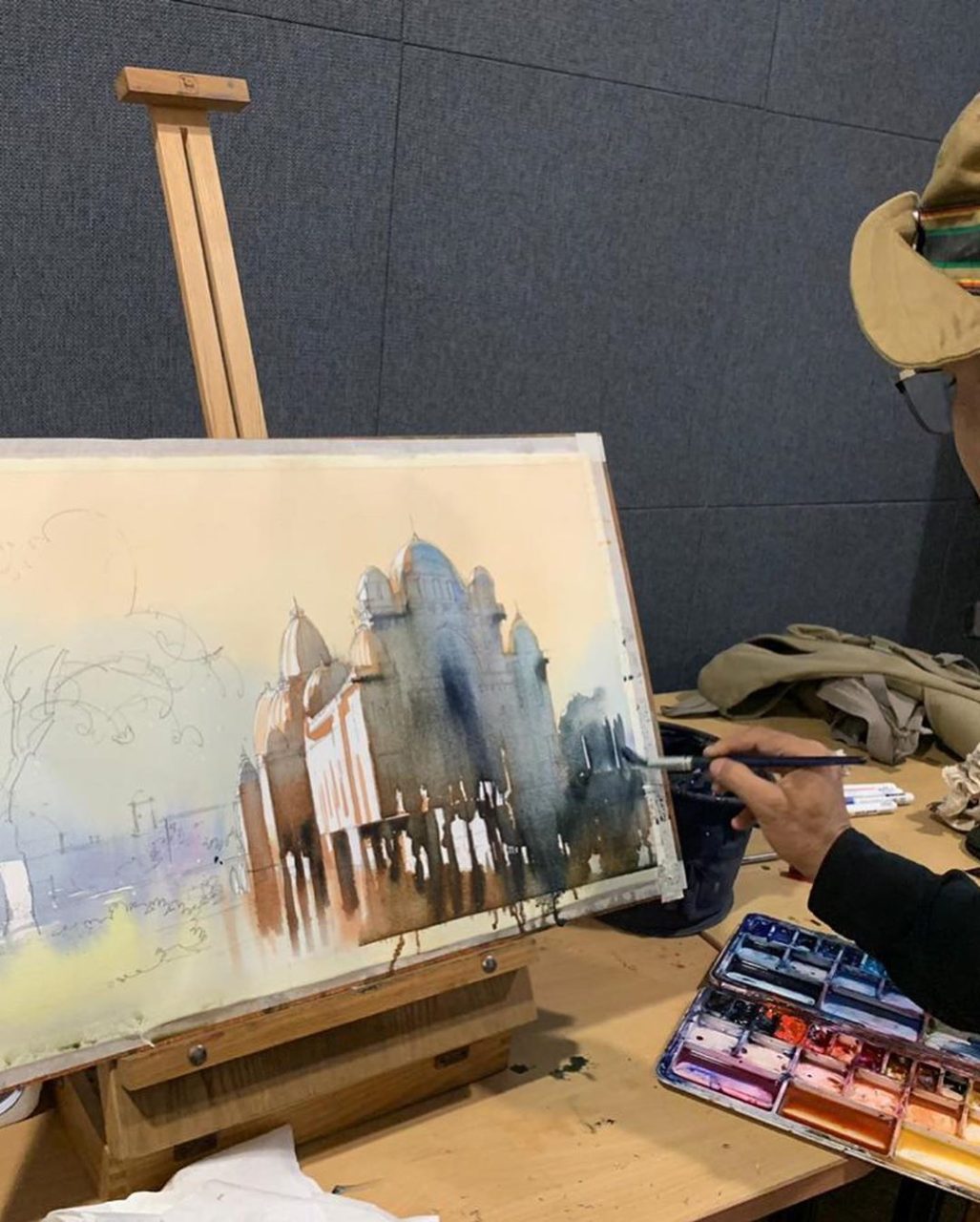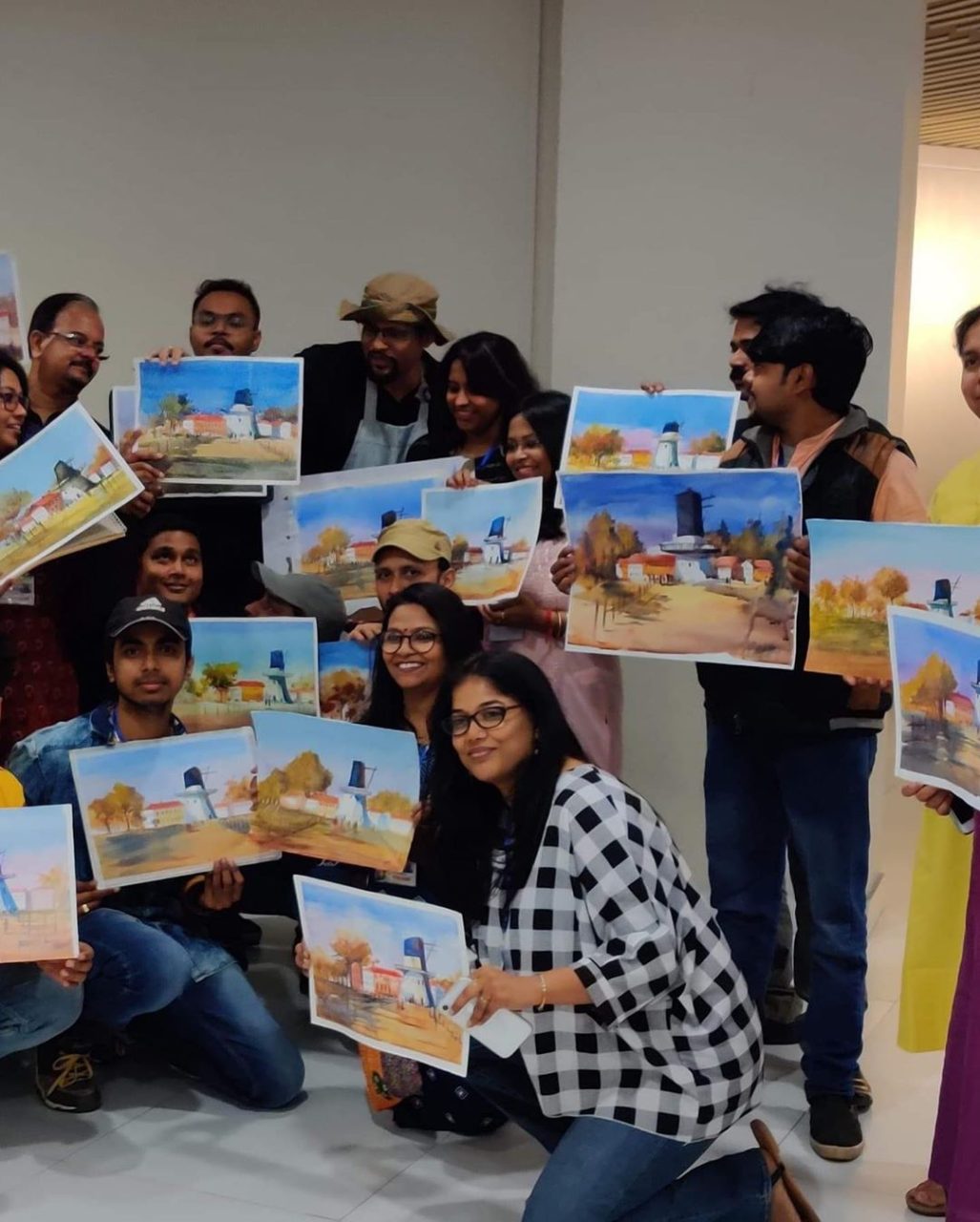 Throughout your journey, who has been your biggest support?
My wife is like a pillar of strength. She has always fuelled me with a lot of passion, and if I have to credit someone for where I am today, it would be my wife – Pranati Biswaal. 
She always wanted me to pursue art full-time, she'd always given me the support and the positive vibes I ever needed. I am grateful to her for everything. 
Art as a therapy? 
I am the happiest man, I am so positive, always. Whenever I am in my studio, I forget everything, I am transported to another dimension altogether. Paintings aren't just colors, they are stories. 
Let's take watercolor as a beautiful medium, all you need to do is put color on paper, and they blend to create a flavor that will make you feel ecstatic. I always compare watercolor to a game of 20-20 cricket, which is active, lively and gives you tremendous satisfaction. 
Any common man can experience this ecstasy, people suffering from dyslexia, or ADHD or concentration, you can engage people for longer if they are given colors. 
How do you think technology has changed the dynamics of art? Tradition and Technical? 
Gone are the days when you will have to find Buyers or approach Art galleries to showcase or sell your work. You are a couple of clicks away from potentially reaching millions with no one to stop you. 
Which are some of the most memorable projects that you have worked on?

I was in Hojer, Denmark, the only Indian artist to be invited to paint their historical sites, old barns, and distilleries. I would have made 23 paintings (Plane Air – Doing it live), the owners of the gallery that hired me would take me to different locations, we would have breakfast, and brunch, and go back in the evening. 
That feeling of capturing the rich culture of a place was ecstatic.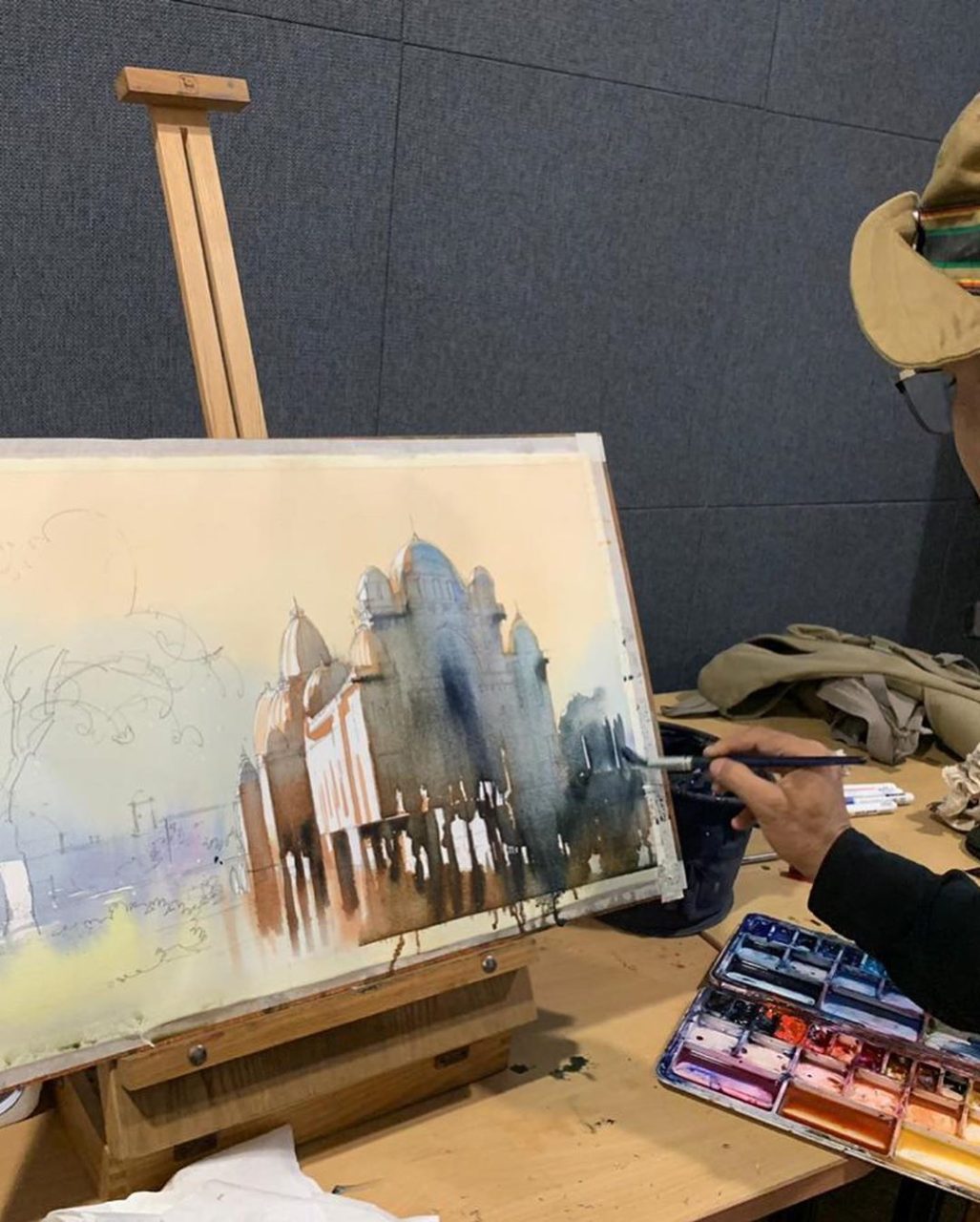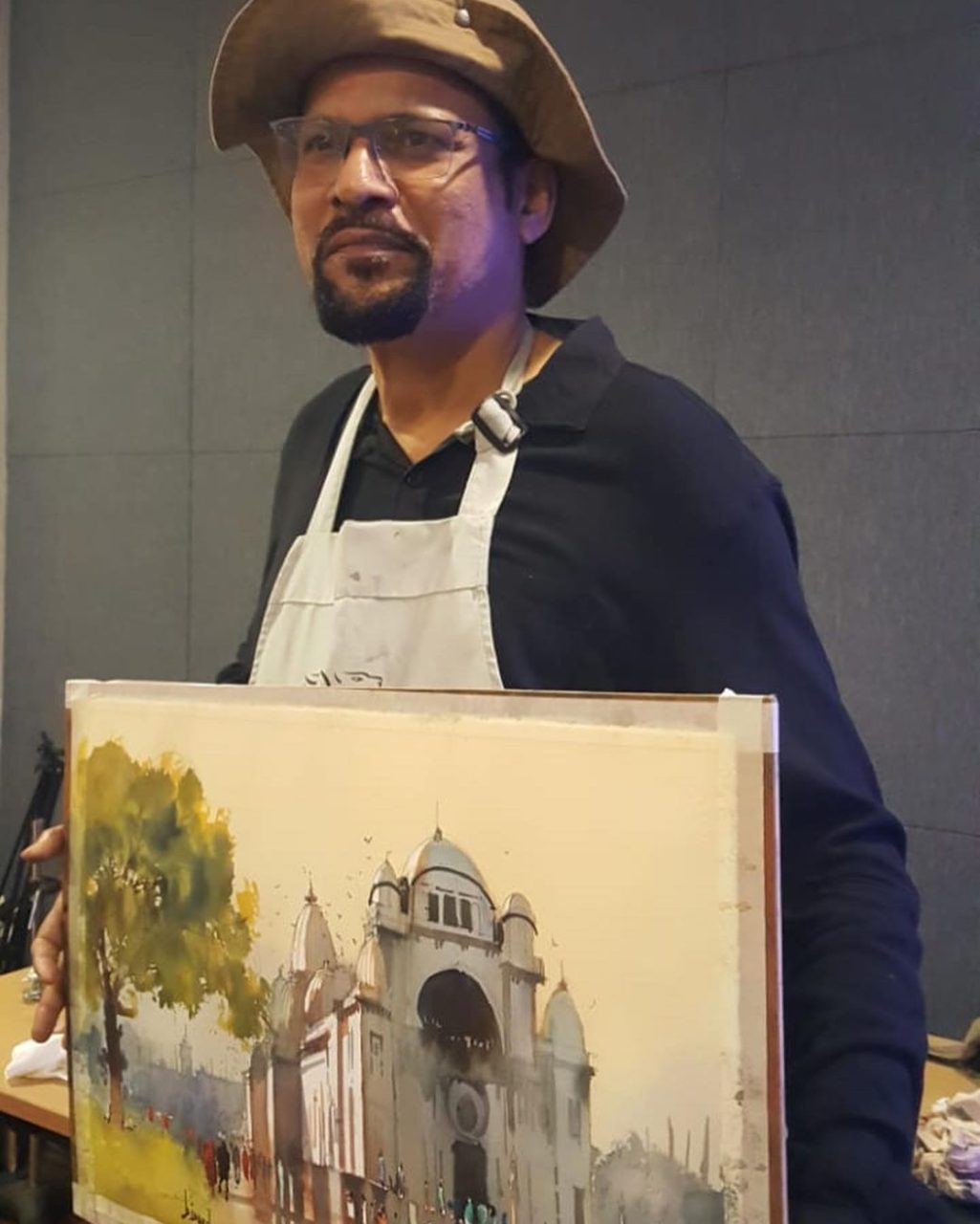 Have you ever felt an Art Block? How do you recommend artists to get over such creative blocks? 
Artists say I feel an Art block, writers say Writer block, people say I don't have a mood to paint. But I am always in the mood to paint, even if I don't want to. I will sit on the canvas and put in work to see the magic happen. 
"Just do it", inspiration and motivation will come to you when you're in the flow, for that state of flow you have to start, Right? 
What advice would you give to the budding artists?
Paint only if it makes you happy. Don't add hopes to it – Will I be famous?  Will I be able to sell? Will I be able to find my own style? Put your head down and draw and sketch. 
Make as many as 20 sketches a day. Not masterpieces, just sketches and doodles.
"When asked how many artworks you would have drawn, I would have made millions of drawings and art forms".
How can an artist discover their unique style?
The finest compliment an artist can get – " I can identify your artwork without looking at the signature", and I think this only comes with a lot and a lot of experience. The more you do, the closer you are to your own style. 
If you are always looking to discover your style, you will never find it. The key lies in doing what you do every day, and one day your style will find you. 
What are your thoughts on Stoned Santa?
Innovative, the fact that you are trying to show the world that Art can be gifted to people. Elegant endeavor and I hope you keep inspiring and helping more and more artists.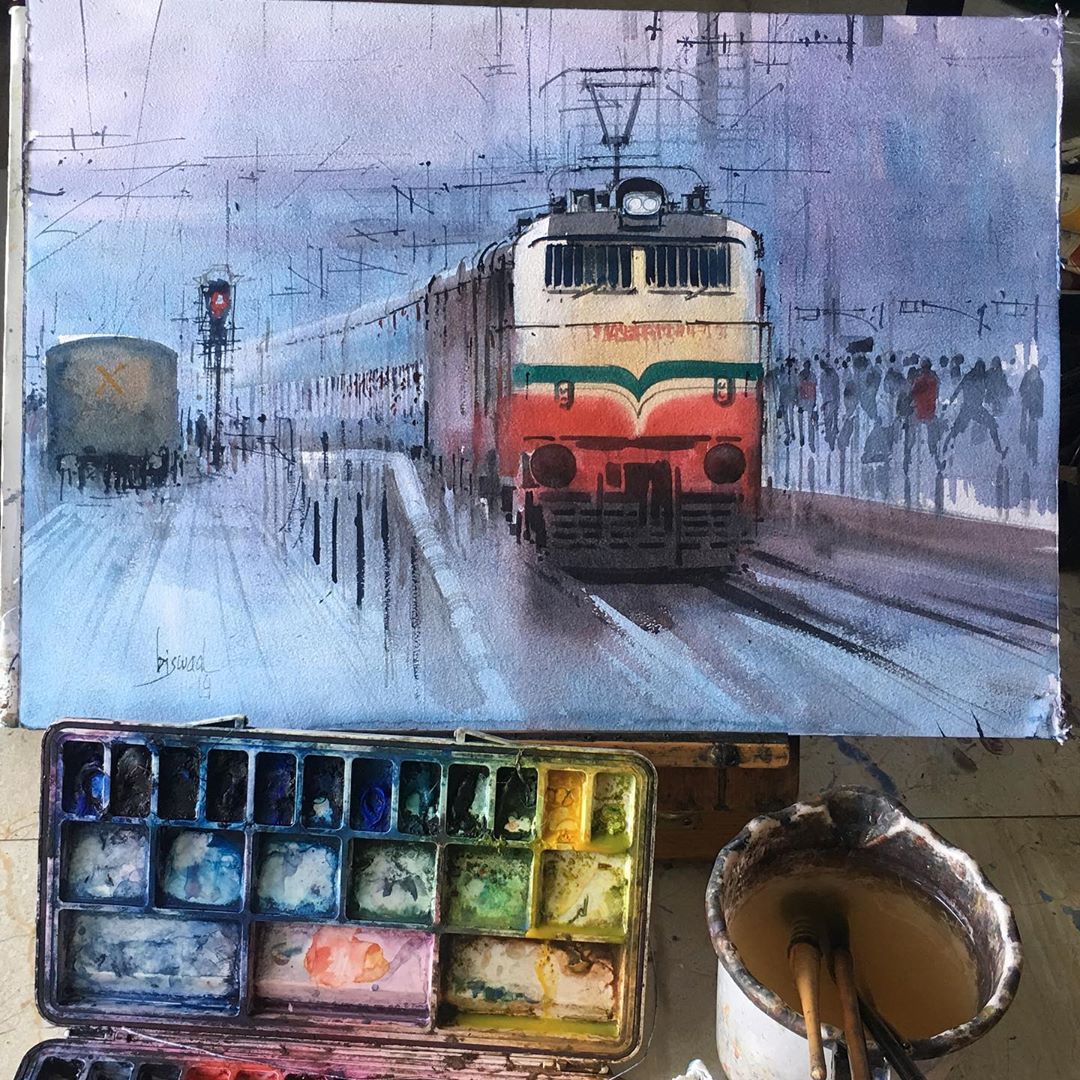 Looking for the perfect gift?
Look no more, our gift experts will get in touch with you and help you with all your requirements.