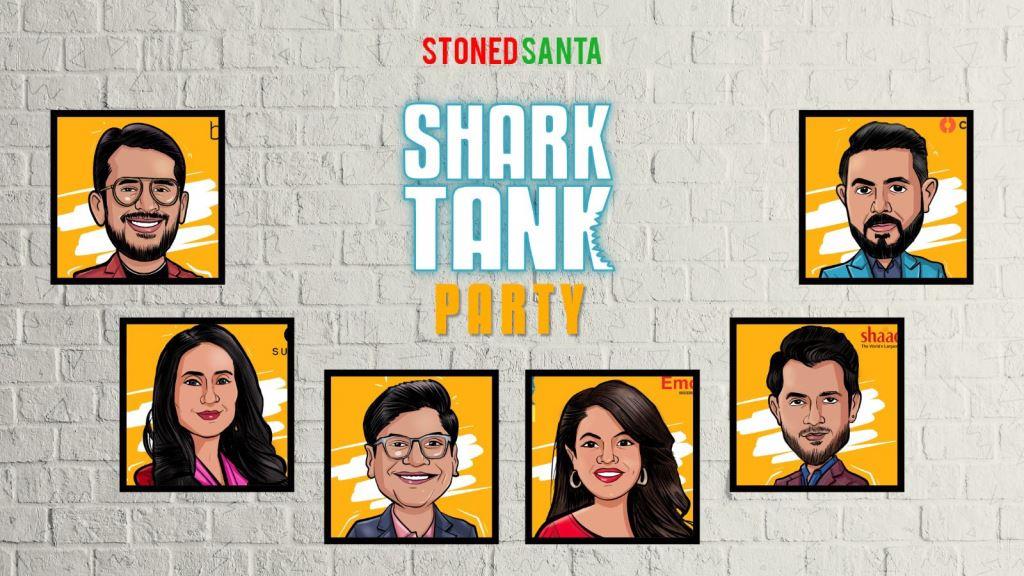 What is a Caricature?
Shark Tank India is a popular television show that provides a platform for entrepreneurs to pitch their ideas and products to a panel of angel investors known as "sharks" to secure funding and mentorship. Not only has this show made Indians fall in love with the idea of entrepreneurship, but it has also revived the Kaun Banega Crorepati golden era of television when every Indian family would come together to watch a specific show.
Shark Tank India showcases innovative and creative business ideas from diverse industries. However, what sets the Indian version apart is its focus on local and regional markets. This makes Shark Tank India an exciting and dynamic platform for showcasing the entrepreneurial spirit and India's vibrant and diverse culture.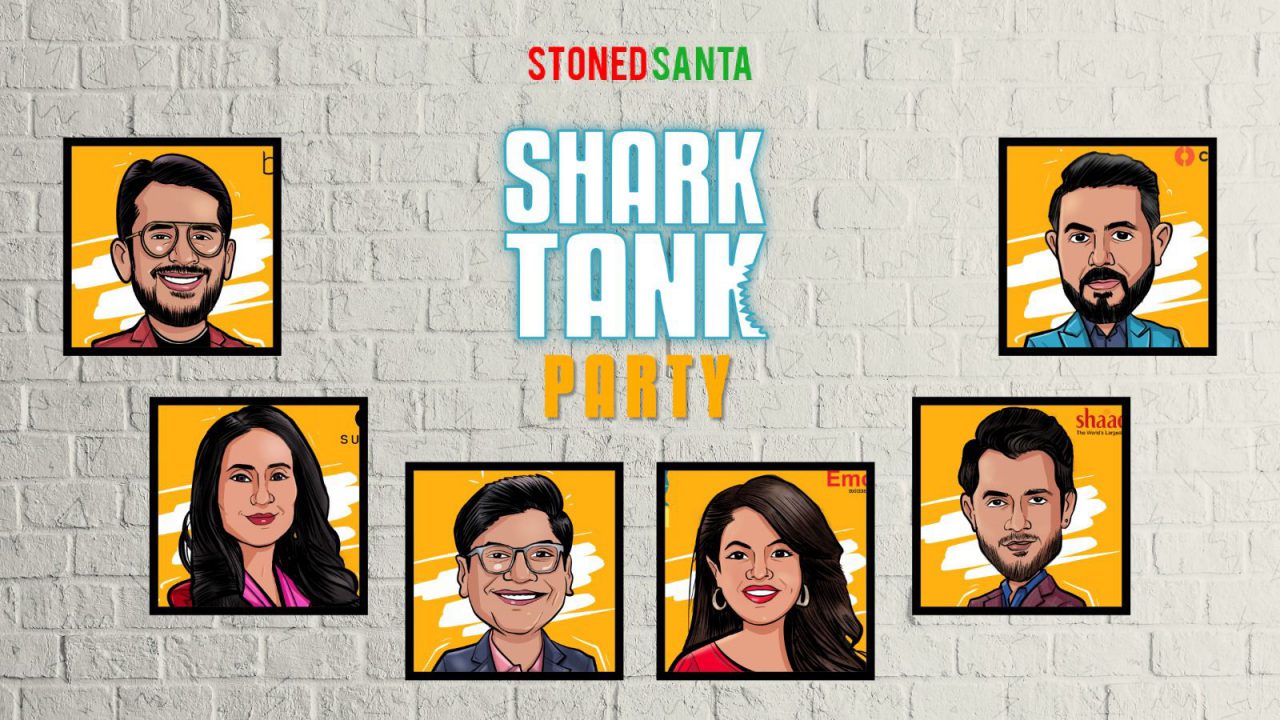 What are Couple Caricatures?
Shark tank features self-made multi-millionaires as potential investors termed as Sharks. They judge the product pitches and decide whether to invest and mentor them.
The sharks have a wide range of expertise and experience in different industries. They bring their unique perspectives and investment potential to the show. Their interactions with contestants can be insightful and entertaining. Shark Tank India is a must-watch show for anyone interested in entrepreneurship and business.
As a Start-up itself, Stoned Santa, appreciates the difference that the "Sharks" of Shark Tank are making in the India Start-Up economy. 
Welcome to our Caricature Shark Tank blog series, where we explore everything about the sharks, shark tank and their caricatures. 
Let's Meet the Sharks:
1) Anupam Mittal
Anupam Mittal, born in Mumbai in 1974, is an Indian entrepreneur and investor best known for founding Shaadi.com, one of the world's largest matrimonial websites. He earned a degree in mechanical engineering from the University of Mumbai before pursuing a Master's degree in management from Boston University.
Anupam Mittal founded Shaadi.com in 1997, which quickly became a popular platform for people seeking marriage alliances. Over time, Shaadi.com grew into a massive business, with over 35 million users and offices in India, the United States, and the United Kingdom. Apart from his enormous success with Shaadi.com, he founded the People Group, a parent company that owns Shaadi.com, Makaan.com and the Moj video app.
His success has made him a prominent figure in India's startup ecosystem. He is an active investor and mentor to many other start-up entrepreneurs.
Through Shark Tank India, he has invested in various startups like:
Beyond Shark Tank, Anupam Mittal has invested in other big startups like TradeX, BharatX, Big Basket and many others. He has invested in more than 200 companies over the years. 
Mittal's contributions to India's startup ecosystem and his commitment to social impact have made him a respected figure in the country's business community. He continues to be involved in various projects and initiatives to promote entrepreneurship and innovation in India and beyond.
In his caricature by Stoned Santa's artist, his facial expression and features are exaggerated to make him look serious and successful. His clothes and the background of the image are personalised to his real-life fashion choices and the work that he does.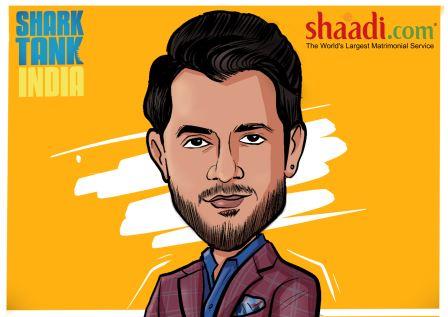 2) Namita Thapar
Namita Thapar, was born on 21 March 1977 in Pune city of, Maharashtra to a Gujarati family. She is a prominent Indian entrepreneur who has made a name for herself in the business world through her astute investments and entrepreneurial mindset. 
She is the Executive Director of Emcure Pharmaceuticals, one of India's leading pharmaceutical companies. 
Namita Thapar is a well-known name, especially when discussing progressive women in business in India. She is an inspiration to women all over the world.. Her presence on the television show Shark Tank, India is endearing and inspires many aspiring entrepreneurs.
Some start-ups she has invested in through Shark Tank India are

And many more…
Namita Thapar is a successful entrepreneur and businesswoman who has made significant contributions to the growth of the Indian economy. Her investment role as a "Shark" on Shark Tank has earned her a reputation of a savvy investor and a dynamic leader. Her entrepreneurial mindset, strategic vision, and passion for supporting innovative ideas continue to drive her success in the business world.
In her caricature by Stoned Santa's artist, her facial expression and features are exaggerated to amplify her inspiring, warm and welcoming characteristics. Her clothes and the image's background are also tailored to her real-life fashion choices and to show that she is the head of Emcure Pharmaceuticals.
3) Aman Gupta
Aman Gupta was born on 4 March 1982 in Delhi. He received his Chartered Accountant certificate from India's Institutes of Chartered Accountants. He also completed his second Master of Business Administration from the Kellogg Graduate School of Management.
He is the co-founder and Marketing Director of Boat Lifestyle, an Indian consumer electronics company that specialises in manufacturing and selling audio devices and lifestyle accessories. He started his entrepreneurial journey in 2016 by launching his brand, which has become one of India's leading audio and lifestyle accessories, gaining a whopping share of 27.3% in the Indian market. 
It is impossible not to come across a Boat lifestyle accessory when shopping for an audio device in India. His vision for Boat was to create affordable yet high-quality products that catered to the needs of the Indian consumer. He focused on building an affordable brand with premium and luxury features.
Aman Gupta is the OG start-up wiz that every entrepreneur looks up to. Beyond building his very successful start-up into a successful business, he heavily contributes to the Indian Startup culture through his role as a Shark in the famous television show Shark tank, India.
Some companies that he has invested in during the show are:
And many more…
In his caricature, by Stoned Santa, his smile is exaggerated to show off his happy and funny nature on show. The Caricature is personalised with his clothing, iconic glasses, and background.
4) Amit Jain
Amit Jain founded CarDekho, an Indian online car search and reviews portal that allows users to research, compare, and buy cars. Jain's entrepreneurial journey began in 2007 when he and his brother Anurag Jain started the company.
CarDekho quickly became a popular platform among Indian car buyers, offering comprehensive services that included reviews, comparisons, and financing options. 
In addition to his success as an entrepreneur, he has gained popularity as a judge on Shark Tank India. His expertise in the startup ecosystem and his experience as an entrepreneur help aspiring entrepreneurs refine their ideas and secure funding.
Some companies that he has invested in during the show are:
He has made the largest offer, Shark Tank, India has ever seen. He offered 5 Crores to Pitcher Ankit Aggarwal, founder of start-up Unstop.
In his caricature by Stoned Santa, His hair and beard are the featured elements. His wardrobe is personalised to show savvy dress sense. The background of the caricature is personalised to show the company's logo CarDekho.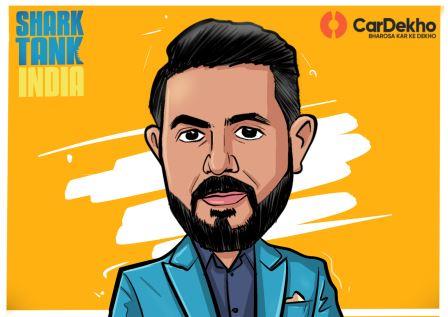 5) Ashneer Grover
Ashneer Grover, born June 14, 1982, is the ex-co-founder of the famous fintech company, BharatPe. He is the man who organised the unorganised sector of payments in India.
His vision was to create a platform that made it easy for merchants to accept digital payments. BharatPe has proliferated, becoming one of India's leading digital payment providers. The company offers a range of services, including UPI payments, QR code payments, and instant loans, all designed to help small businesses grow and succeed.
Ashneer Grover was also seen in the first season of Shark Tank, India, through which his popularity rose instantly. His expertise in the fintech industry and experience building successful startups helped aspiring entrepreneurs refine their ideas and secure funding during the first season.
Some companies that he has invested in during the show are:
In his personalised caricature made by Stoned Santa, his face is the most exaggerated feature to show off his quirky and witty personality. His clothes, eyeglasses and hair are all featured whimsically to bring out his quirky personality in the image.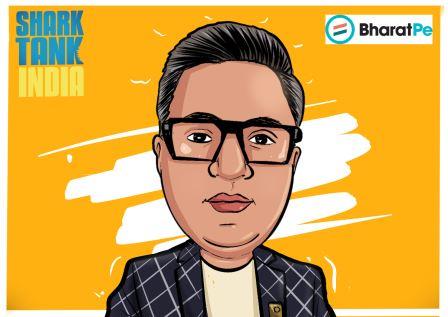 6) Ghazal Alagh
Ghazal Alagh was born in Gurgaon, Haryana, India. She with her husband co-founded their company "MamaEarth". it is one of the fastest-growing Indian Toxin-free Beauty and Baby care brands. 
She co-founded Mamaearth, driven by the passion for making early parenting stress-free. Ghazal is responsible for product development and community management. She works closely with many mothers to develop a product line that addresses problems that moms face daily. 
After creating her very successful beauty and baby care brand, Ghazal Alagh now concentrates on investing and helping other start-up businesses that have problem-solving visions like hers.
Some companies that she has invested in during the show are:
Ghazal Alagh inspires all women and all the new mothers in the country. She has made baby care products affordable and accessible to all mothers. 
In her personalised caricature made by Stoned Santa, her beautiful hair are featured element. The artist has brought out her soothing and caring personality through her caricature. The background of the caricature is personalised with MamaEarth's logo.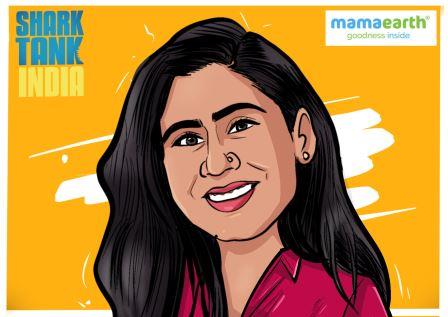 7) Peyush Bansal
Peyush Bansal co-founded Lenskart with Amit Chaudhary, and Sumeet Kapahi in Nov 2010, and ever since their inception – Lenskart has served millions of customers and is the goto brand for Indians to get eyewear. 
Peyush Bansal is a fantastic entrepreneur known as a tech guru and an inspiration to many aspiring entrepreneurs. He is a firm believer in purpose-driven business. His vision for building Lenskart was to provide vision to every Indian.
Peyush Bansal is one of the most loved Sharks on Shark Tank, India. He is known to invest in businesses with a purpose and a vision to improve the country. He is someone who believes in social entrepreneurship the most.
Some of the companies that he has invested in during the show are:
And many more…
Peyush Bansal and Lenskart are among the most trusted names in the Eyewear industry.
His smile and glasses are the two most amplified elements in his personalised caricature made by Stoned Santa. These elements show his work in the eyewear industry and his approachable and loveable personality. The background of the caricature is also personalised to display the logo of Lenskart.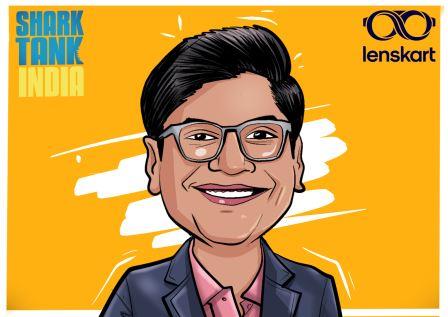 8) Vineeta Singh
Vineeta Singh was born in Anand, Gujarat. She is the CEO and co-founder of Sugar Cosmetics. She established Sugar by making it accessible, affordable, and ideal for the Indian skin. Sugar Cosmetics has a cult following among millennials in the country.
She is not only a successful entrepreneur but also an inspiration to many young women across the globe. Vineeta Singh and her work with Sugar Cosmetics have put India on the global map. Through Sugar Cosmetics, she was able to break into an industry that was already saturated with big names and foreign brands. 
Vineeta Singh is a testament to what perseverance and self-belief can do for an individual. Even after facing various failures, she kept on with her dream and achieved it.
Vineeta Singh has gained mainstream recognition and popularity after her appearance as a Shark in Shark tank, India. She is known to invest in creative businesses with the same feeling of perseverance as her. 
Vineeta Singh, with her brand Sugar Cosmetics, is revolutionising the makeup industry and contributing to India's start-up scene.
Her makeup and hair are amplified and exaggerated in her personalised caricature drawn by Stoned Santa to show her makeup brand and bring out her creative personality. The background of the caricature is personalised to display the logo of Sugar Cosmetics as well.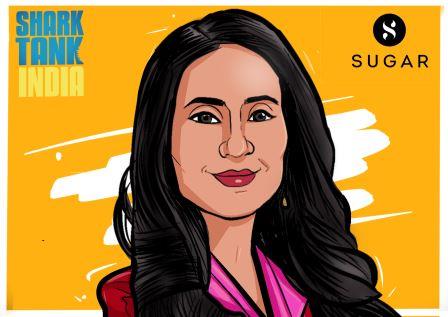 The judges or "sharks" of Shark Tank, India, play a critical role in the show's success. Their experience and negotiation skills make them valuable mentors and investors for aspiring entrepreneurs everywhere. They provide valuable insights into the world of entrepreneurship, helping to inspire the next generation of entrepreneurs. The Sharks of Shark Tank, India, have become icons in the business world.
Stoned Santa is a start-up with a vision to revolutionise the gifting culture in India. We are all about bespoke and personalised art that is meaningful, affordable and accessible to every Indian. We create artwork that cherishes important moments and creates new memories. 
Stoned Santa has been a quintessential part of the handmade personalised gift, art and decor industry for over five years. The artists with Stoned Santa have successfully created thousands of handcrafted and digitally curated caricatures for corporate events, couples, weddings, and home decor and have delivered them on time worldwide.
Stoned Santa makes it incredibly simple to find a trustworthy and professional artist according to your specifications!
Looking for the perfect gift?
Look no more, our gift experts will get in touch with you and help you with all your requirements.