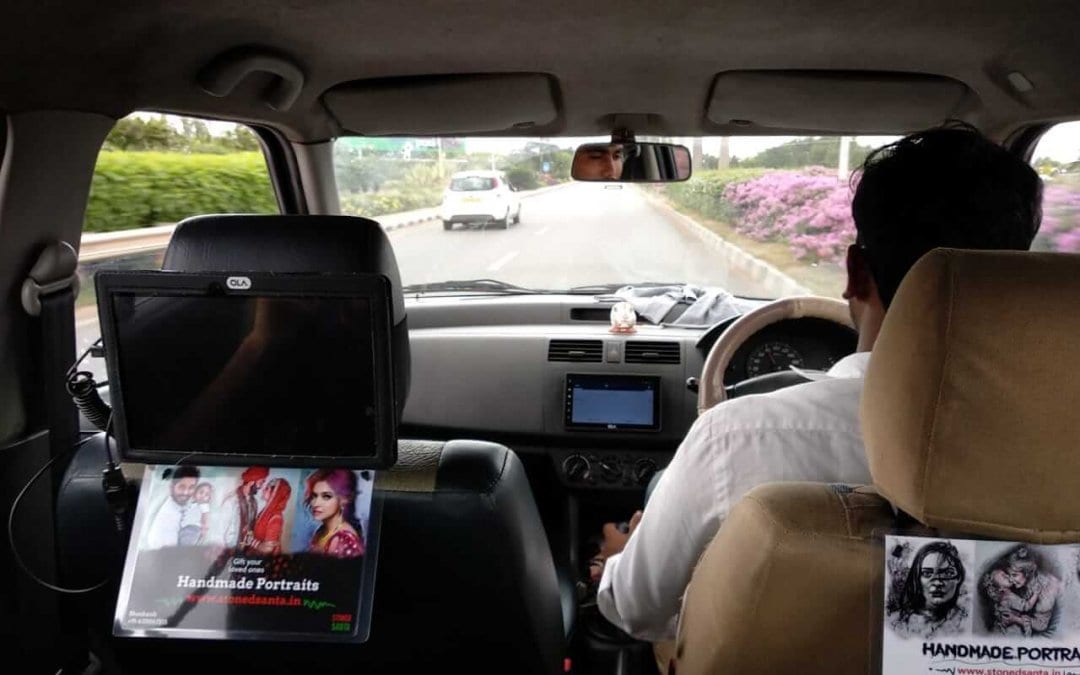 How I got an ROI of 322% for my startup – Stoned Santa by spending a night with 400 Uber drivers
There are days that teach you things and then there are days that change your life.
On the night of 5th August 2018, I set out to execute one of the biggest marketing campaigns of my life which has not only helped my startup grow in revenues and customers but also gave me life lessons that shall stay with me forever.
My intern, Sanjay, and I spent 40 hours at the Bangalore airport interacting with over 600 cab drivers and successfully convinced 400 of them to advertise my startup – Stoned Santa in their cabs.
I am sharing my journey of this campaign right from idea to execution and the results we were able to achieve in 3 months of the campaign going live.
1% Inspiration – The inception of the Idea

Startups aren't easy and this life comes with its share of highs and lows, I was at one of my lowest points – broken and burnt out, almost on the verge of quitting and going back home forever!
On my way back home from the office, I got talking to a cab driver and a couple of minutes into the conversation, he told me about his experiences as a door to door salesman selling Encyclopedias and I told him about Stoned Santa.
We then got talking about traditional marketing methodologies, the art of selling door to door and that's when he suggested me to try something different for Stoned Santa since it's a creative business and marketing ourselves just digitally won't be enough.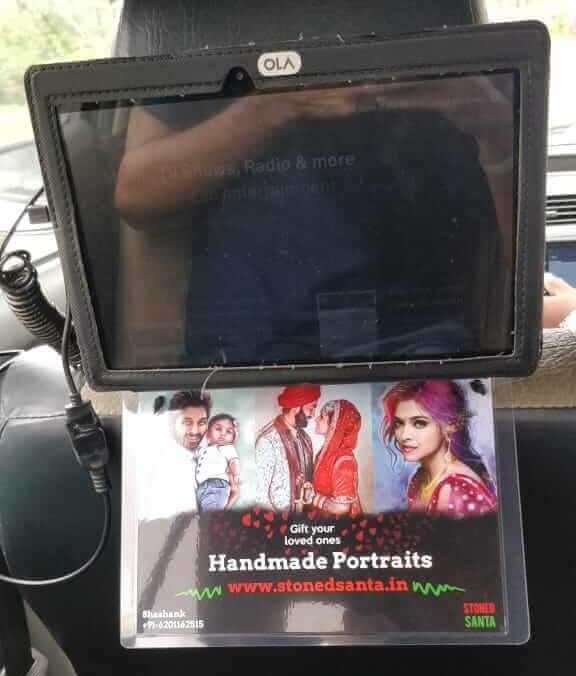 In the spur of the moment, I pitched an idea to him in impulse, -"Will you put up an advertisement for my company in your cab?" He says, Yes. I note down his contact details and thank him for the much-needed inspiration.
He drops off an energized and motivated version of me who is all charged up and excited for this new marketing campaign.
99% Perspiration - Planning and execution

My gut gave me good vibes about this idea and I started interacting and surveying every cab driver I met in my daily commute. Over a month I collected the following stats from nearly 100 rides.

I was confident that people would notice our advertisement in the cab because –
1. The brochure would be placed right in front of the eye.
2. Bangalore traffic can be brutal, and a bored curious human mind might be interested in checking      out the AD.
3. Our name - Stoned Santa, since a lot of people have found our name unique and attractive.

Planning – Number crunching

I made a few assumptions from my past conversations with the drivers.
Out of the 12 in the back seat, I assumed 10 of them would notice the advertisement. (Impressions)
I assumed, 5% of them would visit the website. That is 1.5 people per cab per month. (Website Visits)
From my experience in marketing, I predicted 10% of our website visitors would sign up for gifts on my website. (Leads)

Designing the Brochure
A good design doesn't just look good. It serves a purpose. And our purpose was to pique the curiosity of the people in the cabs.
Here's what we came up with after almost 10 iterations.
We were now ready with the strategy, the design, cans of Redbull and our 800 printed brochures. The big question! Where do we find so many cabs? The Bangalore airport! We booked a cab and set out to our great expedition at 9 pm on the 5th of August.
Within minutes of getting into the cab, began our first pitch in a mix of broken English, Hindi, Kannada and sign language.
"Anna… Hi! I'm Shashank! My startup helps people find the right gift for their friends and family and we help spread joy and I've been doing this since college.
We work with artists who are still in school and college by providing them with a platform to earn and get recognized for their work."
A few minutes into the ride he noticed that we had lots of brochures with us and asked what we planned to do with them.
I told him our plan of putting them in 400 cabs in the airport! His expression changed and his face lit up with a huge smile!
He laughed out loud and said, "Cab drivers ka full support milega aapko, aap bahut acha kaam kar rahe ho". (You'll get full support from the cab drivers)

Sanjay and I were beaming now as well! We were live in our first cab! 399 more to go!

When we reached the airport, we got down and he handed me a friendship band and wished me a Happy Friendship Day. I didn't even realize it was Friendship's day. What a beautiful way to start the night!
1 down 399 more to go!
It was 11:45 pm when we arrived at the airport. To our disappointment, we found empty parking lots with a couple of sleepy drivers.
In the first 3 hours, we managed to convince only 20 cabbies, at this rate it'd take us 60 hours to get into 400 cabs! We did not have enough Redbull for that!
We were sleepy and wanted to go back home. Pessimism shadowed our minds, but was giving up an option? We called for a break and parked ourselves in the parking canteen to rest.

1 down 399 more to go!
Around 4 am, we were awakened by the sound of car engines which were music to our ears. We jumped in joy and witnessed scores of cabs assembling in perfect order.
The parking lot was now full of cabbies moving around drinking tea, smoking cigarettes and washing their cars.
It was time to rise and shine.
We walked up to the cab drivers with our bags full of brochures and struck conversations with them individually.
Our conversations and the bright shiny brochures grabbed the attention of other cab drivers around us and in no time we were surrounded by curious men eagerly listening us tell our story and what we planned on doing with the brochures. 
Soon it wasn't a 1–1 pitch anymore, we found ourselves talking to a group of 4–5 people which catalysed the process.
My gut gave me good vibes about this idea and I started interacting and surveying every cab driver I met in my daily commute. Over a month I collected the following stats from nearly 100 rides.
What did we offer the cab drivers? 

After we offered them digitally made portraits of their near and dear ones, quite a few of them said they don't need anything in return and they'll happily keep it in their cabs. 
Pleasantly surprised and curious, we asked them the reason behind this sweet gesture. To which they replied, "Aap itne young age me itna mehnat kar rahe ho"(You're working so hard at such a young age).
I guess Hardwork was the language that connected us with the cab drivers and they wanted to play a role in our story too. 
After almost 40 hours of our adventure at the airport, we were live in 400 cabs! This feeling of achievement and accomplishment was greater than anything previously experienced.
Post campaign adventure
 On our way back, we called our parents and said "Mission accomplished". But something didn't feel right, I wasn't so sure about things working out. I wanted to be sure that this campaign worked.
I had been experimenting with Quora for a while and decided to write an answer about my day and within 48 hours of writing the answer, it had over 40,000 views, 4000 upvotes and was responsible for sending almost 1300 visitors to our website.
We broke even with our investment in the first 72 hours of the campaign going LIVE! I was on cloud 9. My Quora and Facebook feed was flooded with notifications of people congratulating us for the campaign.
DID IT PAY OFF? THE Numbers — Our Revenue, Customers, Artists
Let's start with the breakdown of the costs incurred during this campaign. The numbers have been rounded off for easier understanding.
The following table includes some important stats from the cab campaign and the Quora answer combined, (since the Quora answer was a part of this).
Concluding notes and our learnings from the campaign

More than anything, this campaign has taught me a lot about life. I was humbled by the humility of the cab drivers to see how eager people are to help each other. 
This campaign and its success is dedicated to everyone involved in this. The cab drivers who welcomed us with open arms, the artists who worked extra hours to deliver art on time and Sanjay Nalamaru who spent his precious time working shoulder to shoulder with me on this campaign.
Yes, just 2 people pulled this entire campaign off in 40 brilliant hours. The best 40 hours of my life. This has taught me to dream big and do everything it takes to get there and make a milestone out of it.

Our partners sell the Rolex replica from our partners. We on holidays always give your employees quality fake watches.
I hope you found the campaign details and our story insightful. If you have questions, I'd be happy to answer them in the comments. 
We have planned some more off-beat marketing campaigns for Christmas and New Year. If you're interested in knowing more, Please sign up here.

We are doing a major giveaway for Christmas and New Year where you could win some amazing handmade art crafted by our team of highly skilled artists. If you're interested, Please follow this link.
Looking for the perfect gift?
Look no more, our gift experts will get in touch with you and help you with all your requirements.