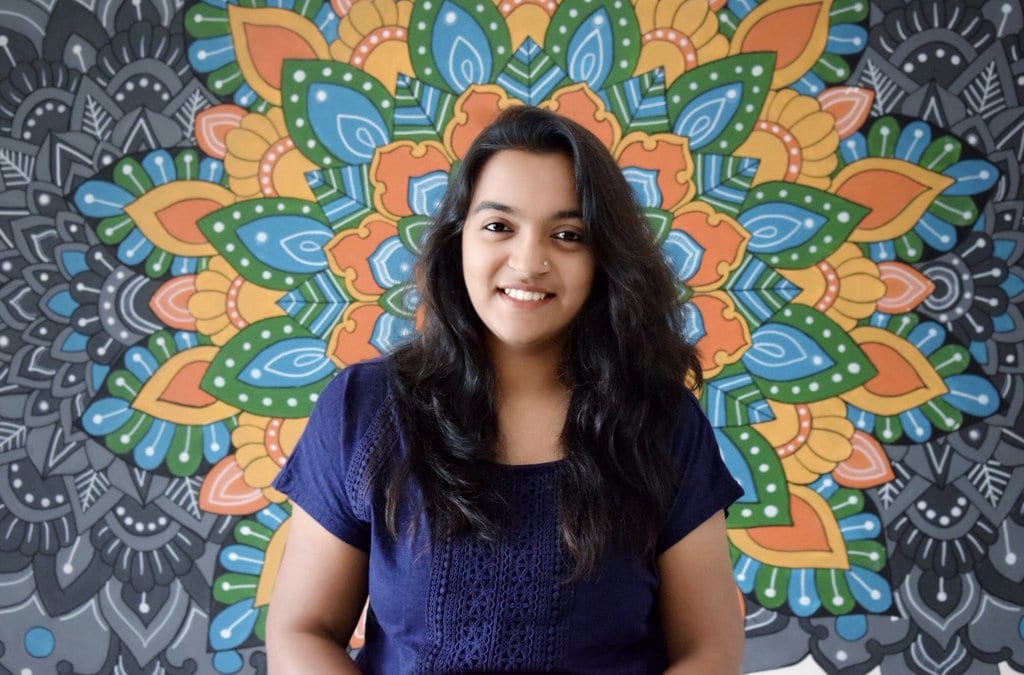 Interview with Prasun Balasubramaniam
Journey to the centre of Mandalas with Prasun FineArts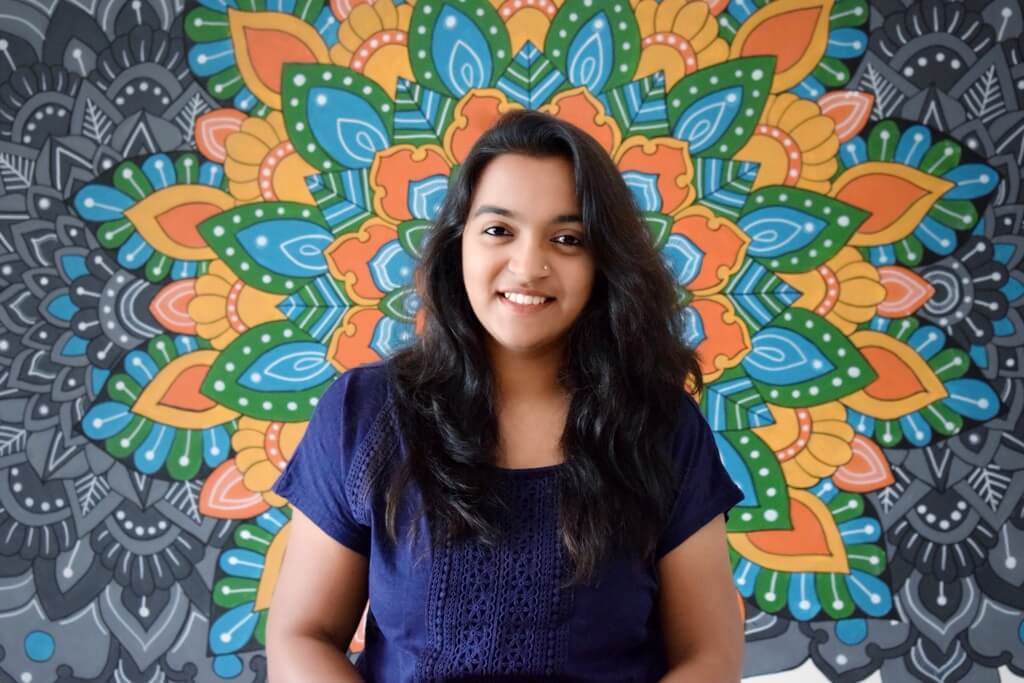 Prasun Balasubramaniam, Mandala Artist
Prasun Balasubramaniam is a self-taught Mandala artist and illustrator who hails from Salem, Tamil Nadu. She is known to create intricate, vibrant, and vivid artworks, and believes that Mandalas require intense focus and attention to the present moment, which induces mindfulness. Here, you can read some of the wisdom Prasun shared with us and get a glimpse of her beautiful mandalas that can satisfy the OCD in all of us.
Tell us a little about your childhood? How were you introduced to art?
Growing up in Mumbai, I actively took part in many art competitions and creative activities which kept me occupied. I was introduced to the basics of art in a summer camp. Although my parents never encouraged me much to pursue art thinking it would be a waste of time, I was persistent enough and never stopped drawing.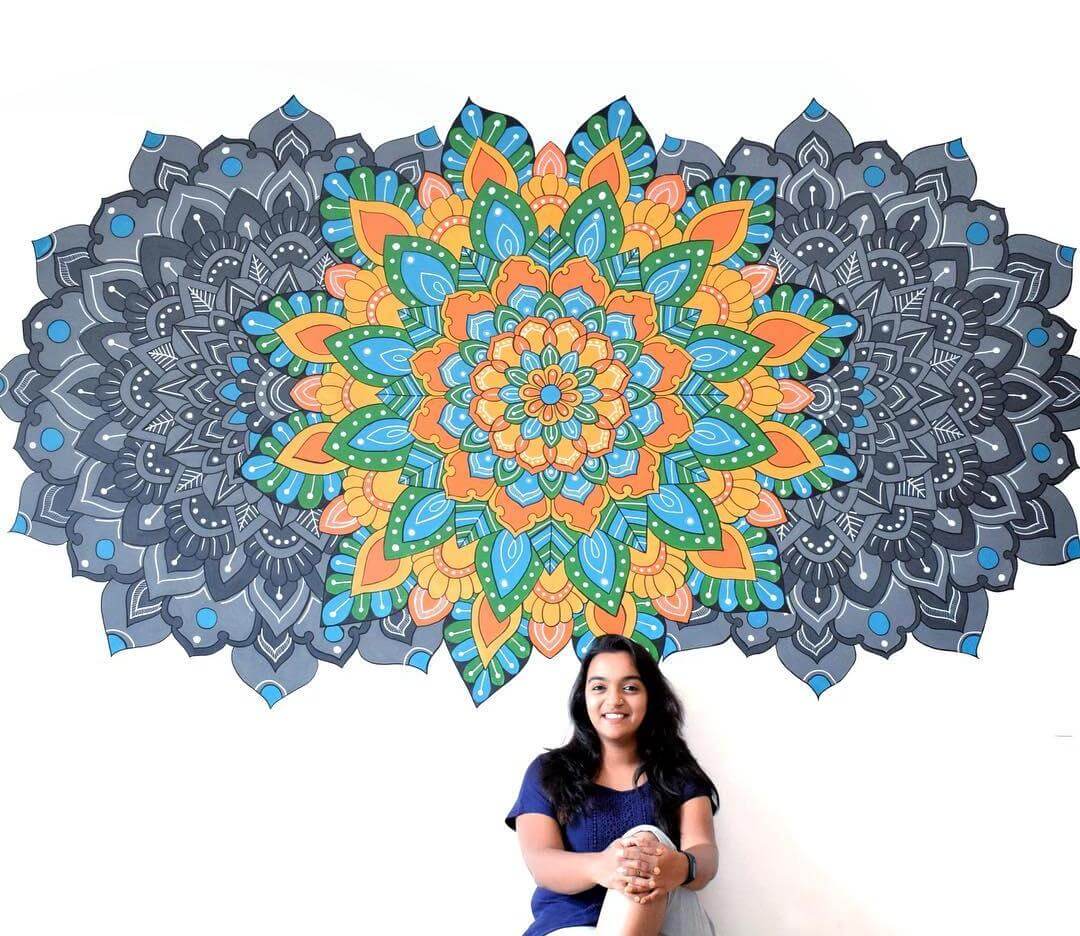 Prasun with one of the Mandalas she drew on her Studio Wall. 
How did you develop an interest in Mandalas? How has your journey of choosing art as a career been?
After my 10th grade, my family shifted to Salem and having stayed in a happening city like Mumbai, I used to get really bored. Hence, in my free time, I doodled and made Mandalas.
Even during my engineering days, I used to doodle on my notebooks to survive the boring lectures. Thankfully, my teachers thought that I was taking notes.
I was unaware that the doodles I made were called 'Mandalas' until I came across an article that spoke about the different types of mandalas and the healing powers they possessed, after which I started extensively researching and learned a lot.
After completing my Bachelors in Engineering and M.tech, I worked at a research company for a while which I eventually quit to pursue art full-time.
Soon I started posting on Instagram, and the love and appreciation I got from my followers gave me confidence to draw more and more.
We can trace back the history of mandalas to ancient Buddhism and Hinduism. Do you connect with mandalas on a spiritual level?
Personally, I feel mandalas are meditative than spiritual. I can say that mandalas are a religion by themselves. While working on mandalas, you mostly use the subconscious mind, giving rest to the conscious mind. Creating a mandala calms me down and helps me get closure. I have curated a mandala colouring book for the same purpose.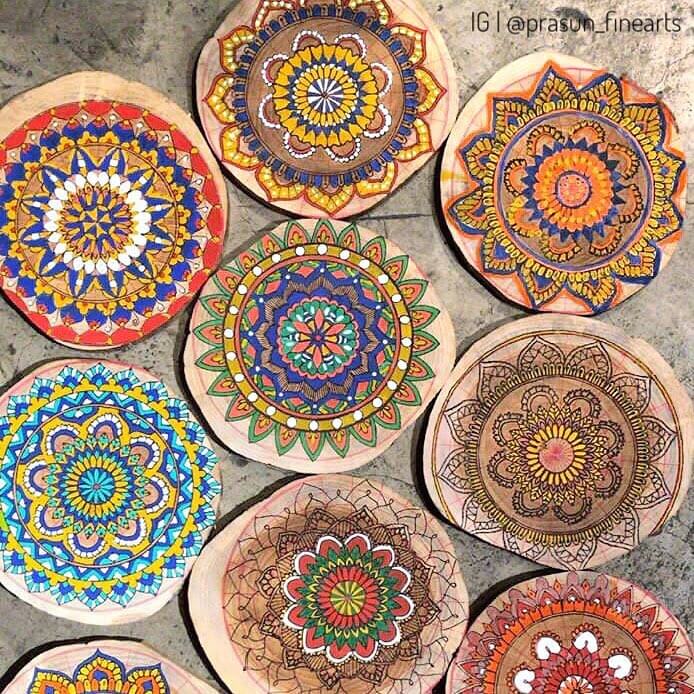 I'm a standard Image Caption.
Some logs are made by the participants attending her workshops
The mandalas that you've created seem so flawless. How did you master the symmetry?
Trust me, there are a lot of flaws. There are times when I make a lot of errors and then are times when it comes out really well. The key is to keep trying until you become perfect.
What led to the inception of Prasun fine-arts?
Boredom. I was jobless and at home for a almost 6 months, and the peer pressure of getting a job got the best of me. I decided to start Prasun Fine arts in the summer of 2015, and since then I have never looked back.
What can one expect from your Mandala art workshops?
The participants of my workshop will go through the process of creating a Mandala design from scratch where in they are provided with worksheets which gives them the freedom to choose a pattern which they'd want to draw. 
Although you cannot achieve perfection in the first attempt, the attendees go back home happy and satisfied with their designs. 
Mandala art is immersive and gives the participants an experience they cannot forget.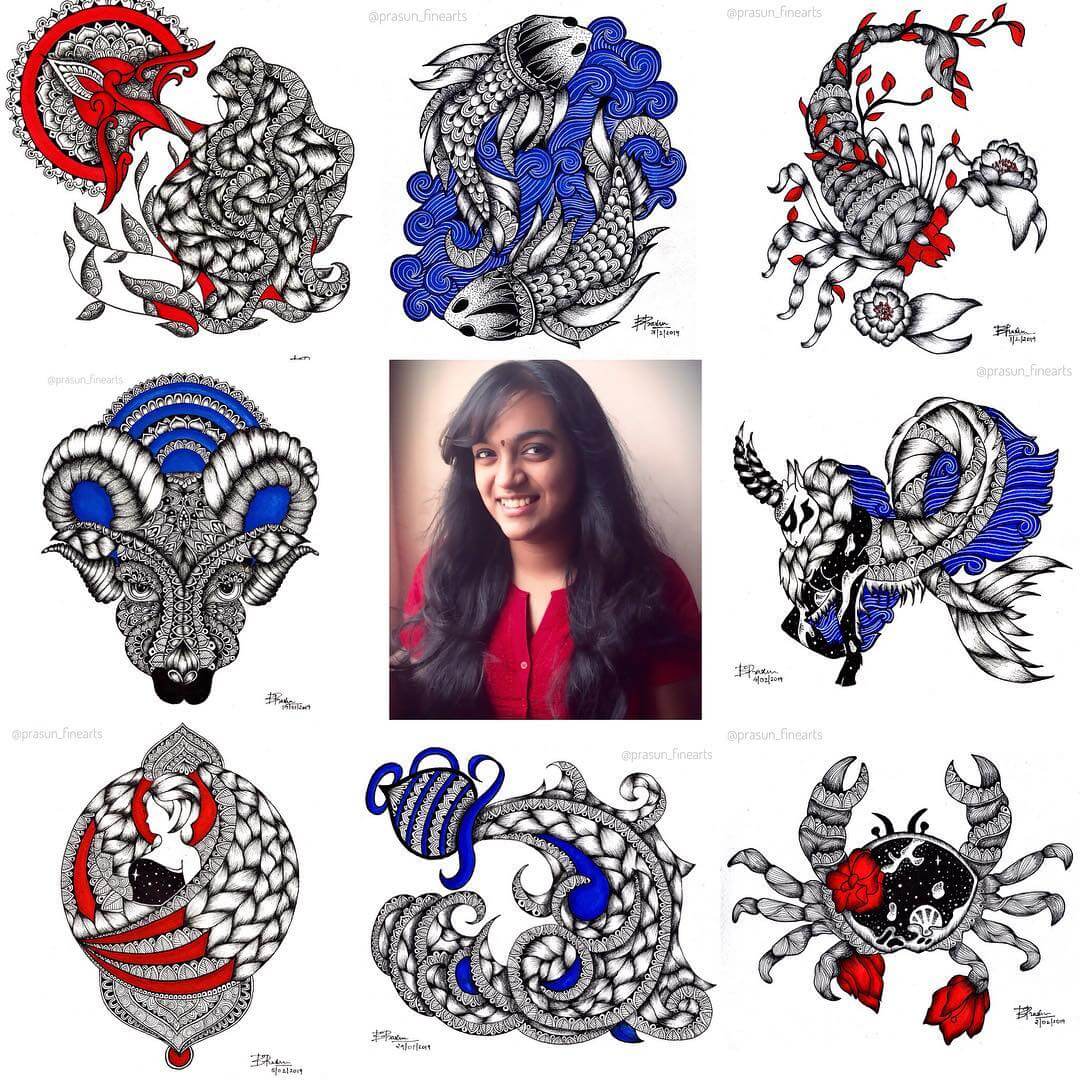 Do you agree that mandalas should include some element of free-flowing form rather than having the perfect mathematical symmetry?
No, Mandalas are supposed to be circular in nature. Any form of energy starts from a point and spreads into a circle. There are excellent examples of this in our universe, like the solar system, the Chakras or even a flower.
 Mandala art therapy is a form of psychotherapy which is supposed to help in finding a sense of healthy mental balance. What are your thoughts on the same?
Mandalas help in promoting a healthy mental balance by reducing stress, increasing attention span and dealing with depression. It can benefit all the age groups. Interestingly, people aged above 80 years also visit my workshop.
How has technology helped mandala art form to evolve?
Call me old school, but I prefer traditional art over digital art any day. I love the vibration between the pencil and the paper. Nonetheless, I use the iPad for designing tattoos as the customers come back with requests for modification. Technology is definitely a boon for artists like me, but one should start off with traditional mediums.
What inspired you to start urban sketching?
I've always loved trying out new things and appreciated the beauty in my surroundings. Drawing Mandalas was getting redundant and I wanted to try something different, that's when I started drawing Urban landscapes. 
I am not very good at it, but I hope to be there soon.
If you were to meet your former self, what advice would you give?
I would ask my former self not to worry much about studies and start practising art earlier.
What advice would you give to the budding artists?
Keep practising and never give up. Explore what you like until you're 35 (or even until later if you have the energy). Attend workshops and take up classes. Discover your passion and pursue it.
Studying may give knowledge, but practising art builds your overall personality, and that's what matters at the end of the day.
Looking for the perfect gift?
Look no more, our gift experts will get in touch with you and help you with all your requirements.