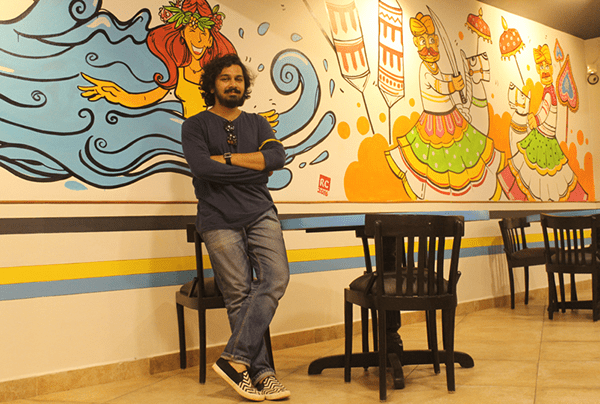 Born and brought up in Goa, Rohit Chari is an illustrator, artist, and artpreneur who runs Red Canvas Studios, a venture he started in 2016. In this creative studio, ideas come to life in art on different canvases such as walls, frames, and memories. 
Rohit started playing around with sketches early in his school days where he'd draw, doodle, and soon enrolled into a full-time fine arts course where he learned traditional art forms and techniques in a formal setup. Today Rohit caters to special art commissions where he draws beautiful caricatures, paints on walls, has his line of merchandise; in short, he's found his passion and made a living out of it. 
In this interviews, Parth interviewed Rohit, where they talk and explore the world of being an artist, an entrepreneur, and suggestions for the fellow community of artists and creators.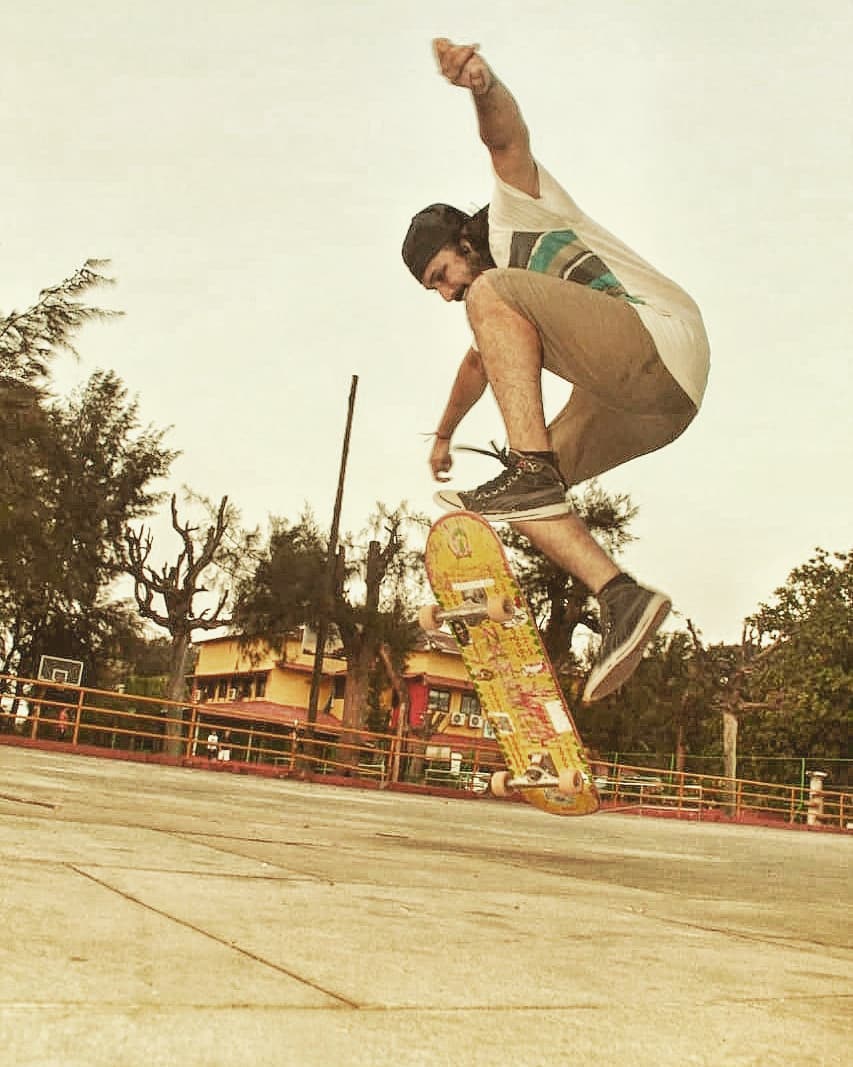 Story of your first customer? 
Well, the first few projects were majorly for friends, and I did them for free. But the first paid project came to me as a surprise. I had made a digital caricature for a photographer friend, and I think after minutes of it posting, it went viral in our little friend circle. 
Everyone wanted to know who made this caricature, and there I was flooded with requests, most of them free, but some of them translated into orders, and that's how I kick started my Freelance career as a Digital Caricature artist. 
Freelancing and the early challenges 
Under pricing and not being able to strike that early balance where I get quality clients who pay decently were the initial challenges I faced. I think the first few paid projects, I was underpaid, but then I guess that's all a learning process. 
When I realized I was charging lesser, I decided to increase my prices, but then the clients stopped coming in. With time, I reached a sweet spot where the clients are comfortable, which allows me to be satisfied. I think the sweet spot of pricing your art "just right" can be determined only by talking to customers, and this process takes time.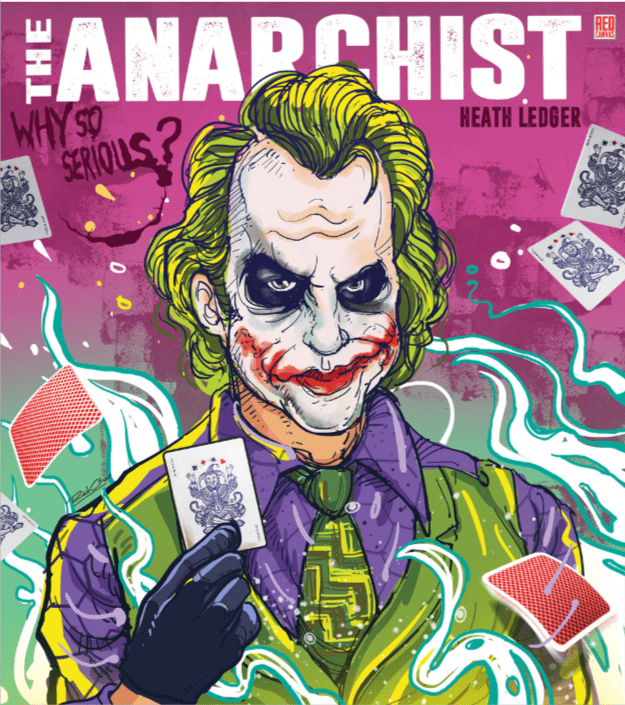 How do you explain Digital Art to your customers?
I was introduced to digital art years after graduating with a degree in Art, so I am very empathetic to my customers when I explain to them about Digital Art or Digital caricatures to help them understand and appreciate the process of creation. 
Many people think making caricatures digitally is when the artist uses some apps or simply traces it, but that's not how it works. Usually, when I encounter clients who do not know much about Digital Art, or the creation process, I educate them first about this art form because this helps set the expectations right and makes the process of creation and approval smoother. 
I walk my customers through the process, share the work in progress pictures with them, answer their queries before starting work; I think this has many advantages, and the client's chances of negotiating to go down significantly.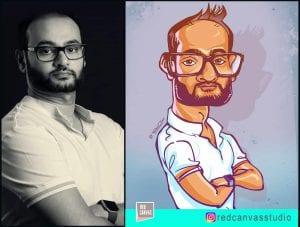 How do you price your digital caricatures? 
I decide the cost of my caricatures based on the combination of the following factors, and a lot of times, if the order is to required urgently, there's an added cost. 
The number of characters –

A lot of my customers think that the price of caricature quoted can include as many human figures, but that's not how it works. Therefore one of the criteria for deciding the price is the number of people/characters drawn.

 

The caricature style –

Is it the Realistic Caricature or Flat(2D) Caricature? It takes me more time to work on the realistic caricature. Therefore this one is charged higher.

Background – Clients often demand unique backgrounds, such as the Eiffel tower, or the Taj Mahal, or other requests, and to accommodate such requests, I charge extra.

In India, it's a little tough to find clients who will not negotiate and respect the price you quote, but it's so much easier with foreign clients, and I can charge them higher too. 
Drawing a celebrity caricature vs. Drawing for customers 
With celebrities, I have the freedom to experiment, exaggerate, and let my creative juices flow, but I have to be very careful with client projects. People want to look cute but not funny. 
I think there's a nice balance, where I get paid for the commissioned work I do and the time I have left after such projects; I experiment, play around with colors, strokes, and let my ideas flow without being constricted by the client's expectations. 
(Rohit has created fan art versions of famous Netflix TV shows like – Money Heist, Scared Games, etc.)
Wall Murals vs. Digital Caricatures 
I like both forms of art – Making digital caricatures and murals, both of their unique charm, and I thoroughly enjoy working on both mediums. 
Still, the outcome of completing a mural is much more gratifying than a caricature, primarily because of the heavy hard work required to create a mural. 
First, we prepare a design based on the input given by the client and then get the digital design approved; post this, the digital design is transposed to the wall. This process from idea to execution takes 3-4 days, or more, depending on the size of the wall. But I love working on murals. I usually start early and work in sprints to finish it as per the agreed timelines. 
When the project is big, I collaborate with other artists, and it's fun working on such projects.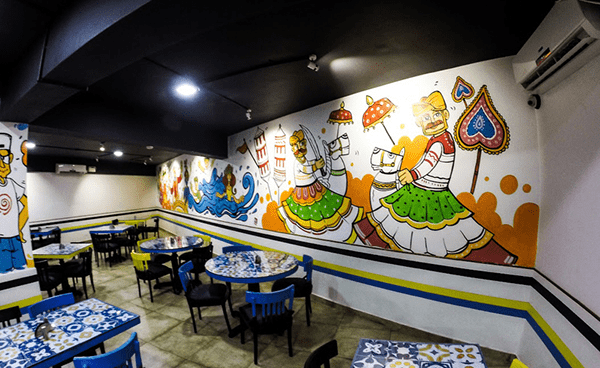 How do you feel when people compare your work with other artists? 
I'll be honest, early in my career, I'd get offended easily and react, saying, "if you like their work, go buy from them," but now I try to explain to them the reason for the difference and explain to them my art process. 
Other Hobbies? Skateboarding? 
Well, I love to skateboard, and I represented my state in Skateboarding back in the days, and I think I found a lot of artists from the skateboarding community. Skateboards are usually hand-painted, uniquely communicating what the owner wishes to with colors and visuals. 
I've got many gigs because of the community, and I think having a hobby is an excellent release to your creative juices, but in a different environment.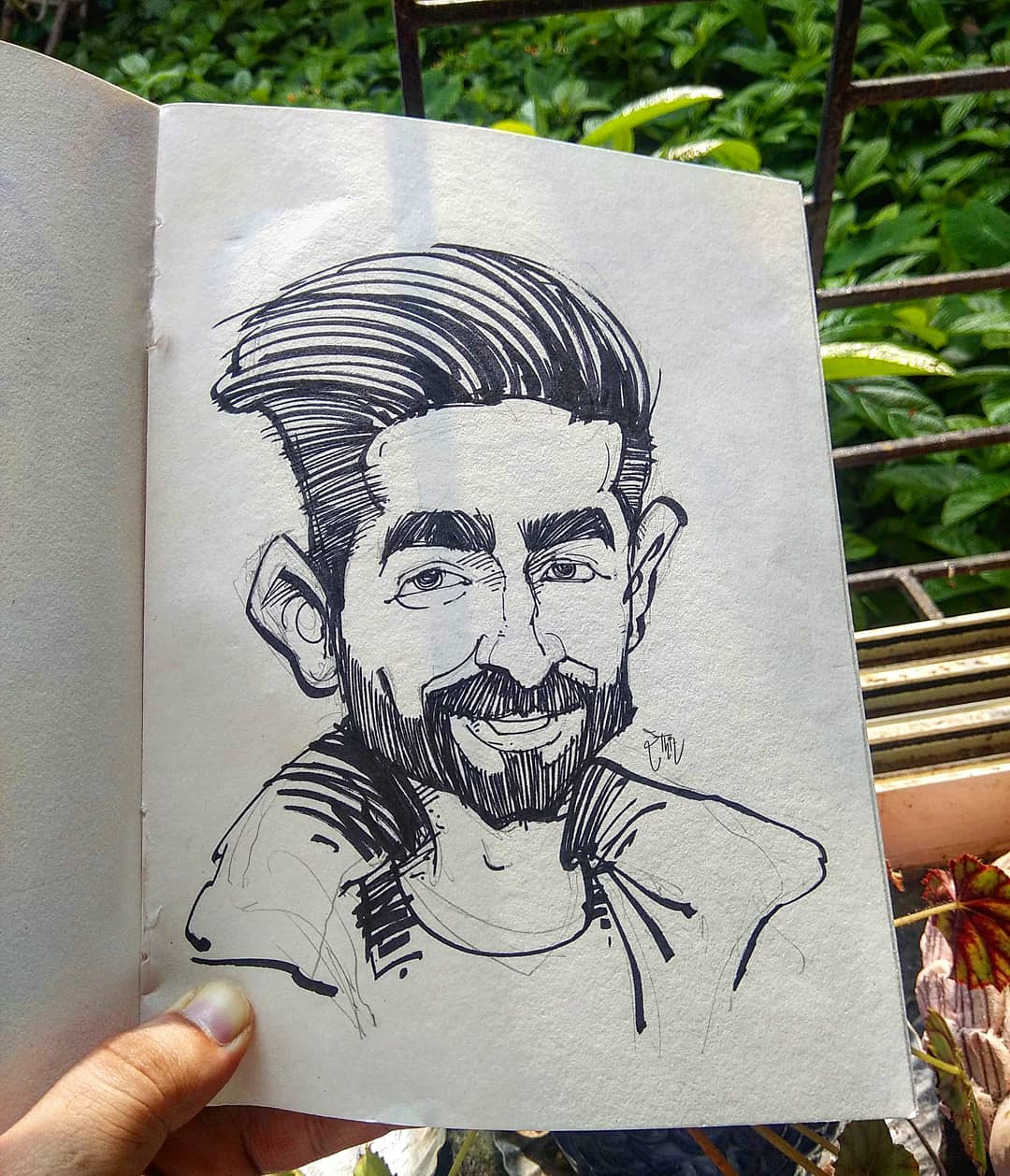 Future Aspirations
I aspire to work with more prominent brands where my skills are tested. I meet fellow creators, and I learn and grow while doing so. I have worked with some very famous brands in the past, and I look forward to working with more brands as I grow as an artist. 
Advice to fellow artists in the community 
Digital art is comparatively easy when you are tracing it, but I would strongly recommend against it. Try to draw it manually instead of tracing, and it'll help you in the longer run. 
If you want to draw caricatures, don't immediately jump into drawing caricatures. Start by drawing portraits; it'll help you understand the human face anatomy better. Once you've mastered that part, it's easier to play around with human facial features to make fun caricatures. 
Closing Notes
Rohit concludes the interview by saying, "I would just say, support all the artists, because this is a small business we are into, but when the audience supports us, we can prosper. And I would request you to respect the artists, try to understand them, and value their efforts."
Looking for the perfect gift?
Look no more, our gift experts will get in touch with you and help you with all your requirements.