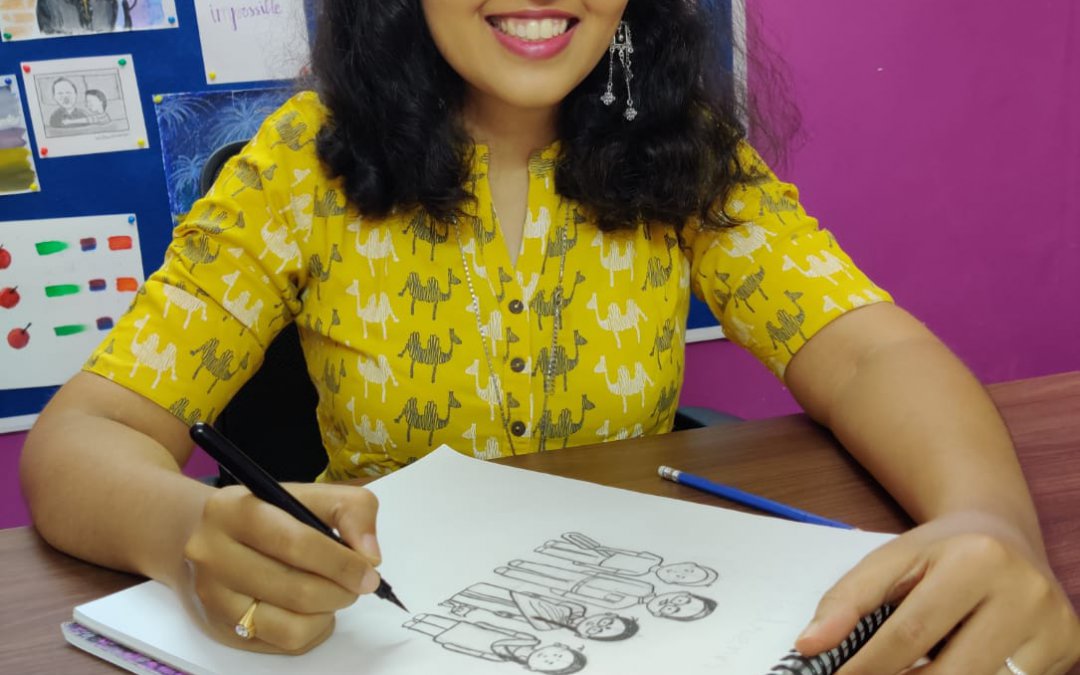 Meet Sameera Maruvada, the creator of 'Salt & Sambar'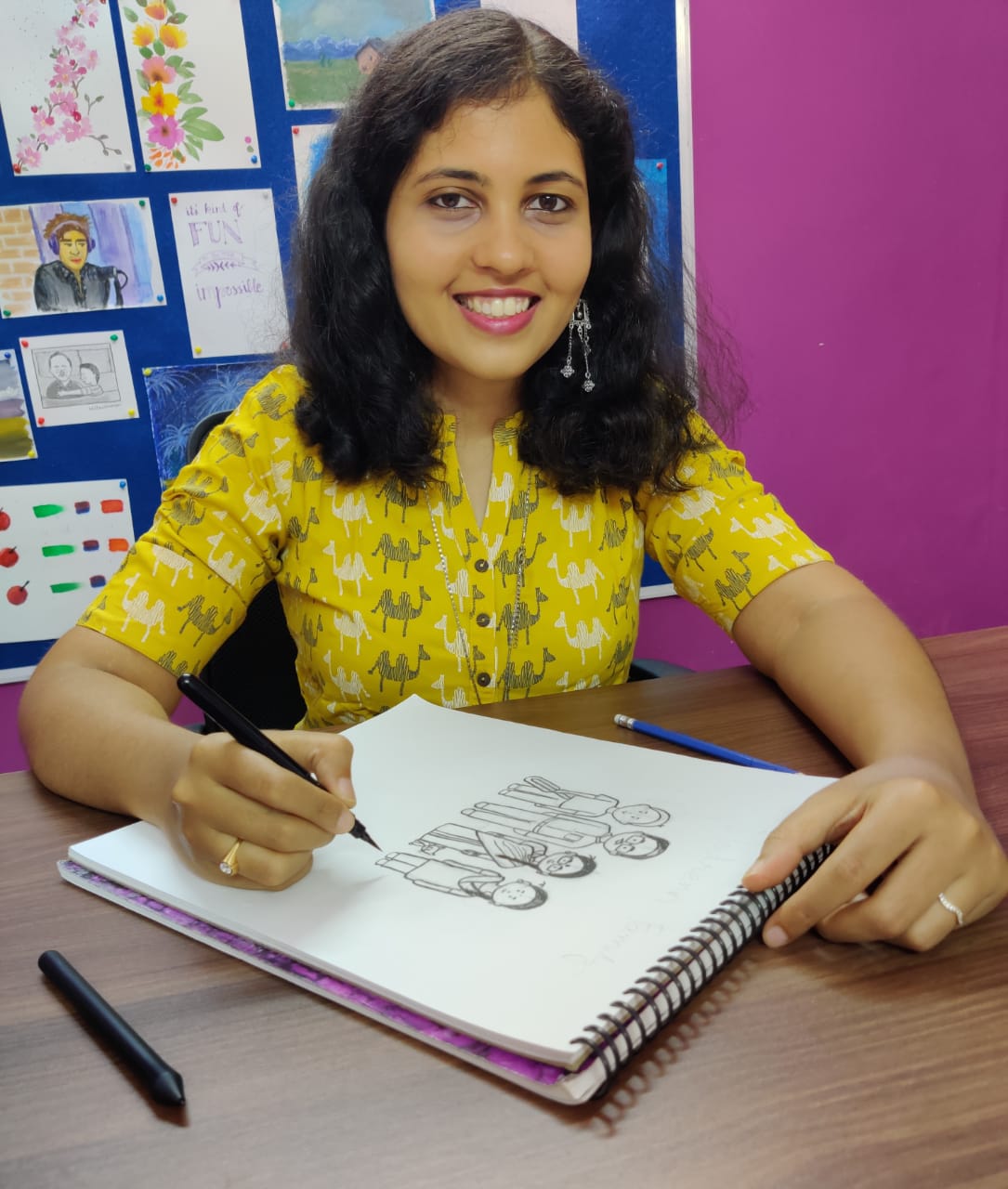 Sameera Maruvada is a freelance illustrator based in Visakhapatnam who turned pastime doodling into her career. She is also the creator of a web-comic series called "Salt and Sambar"  through which she aims to spread awareness on different social issues in a humorous way with a bit of cultural touch.
She aims to inspire young artists to pursue their passion for art through her Youtube channel – Saminspire , which has over 3.8 million views.
Read on more to find out about Sameera's artistic journey.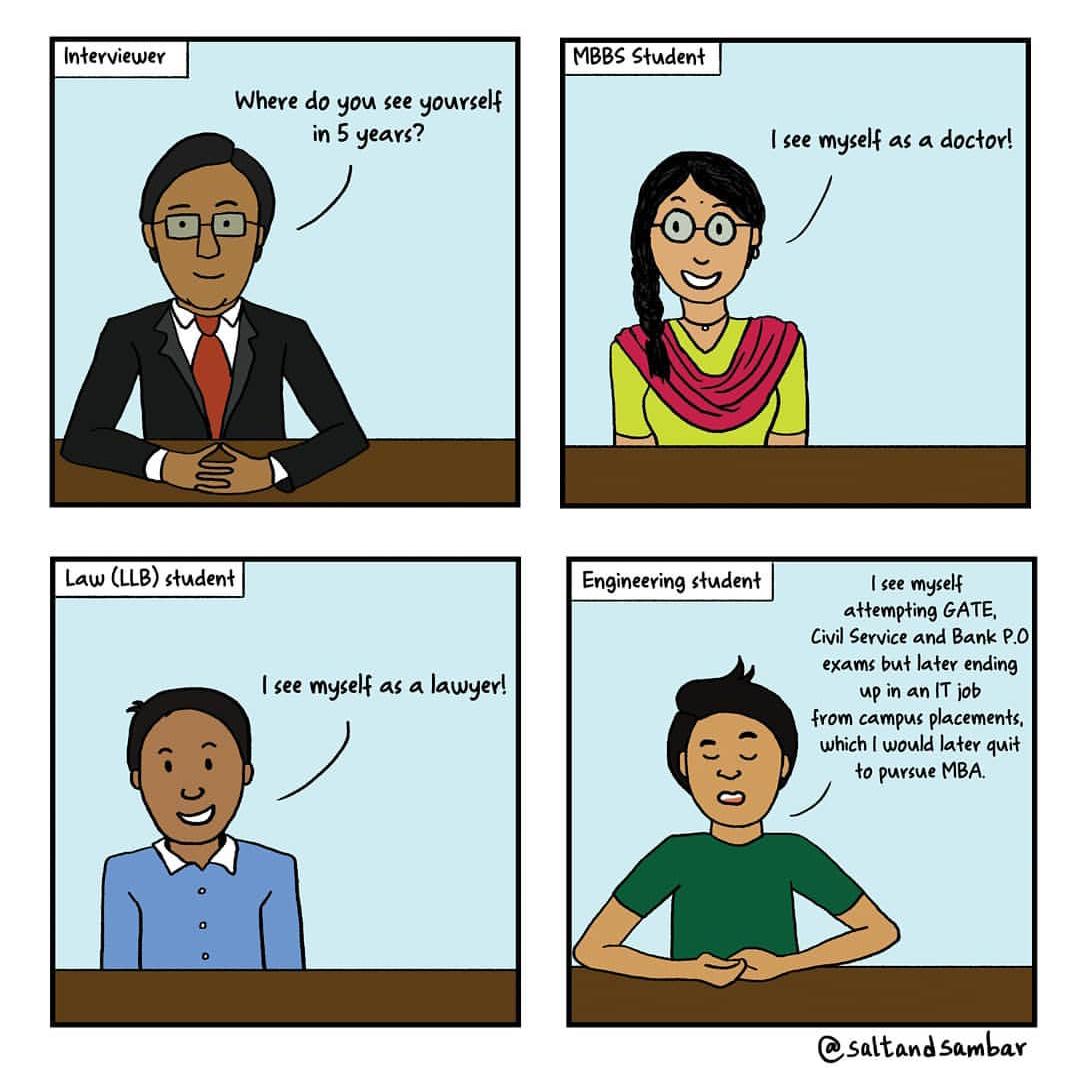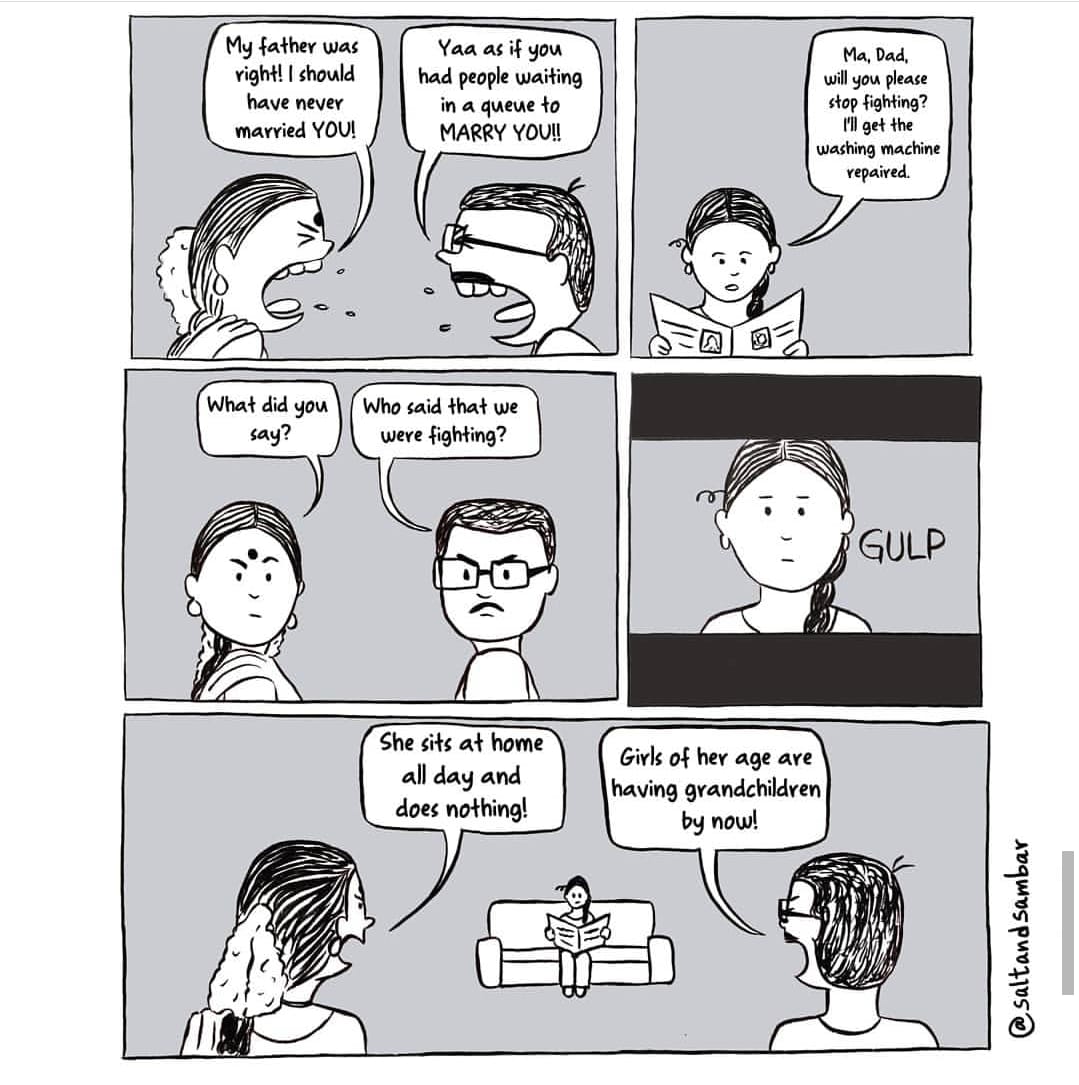 Were you inclined towards art, right from your childhood or did you develop the passion over the years?
Drawing is something that came naturally to me. Ever since I was a kid I have been engrossed in drawing and coloring. I used to love participating in art competitions, I also used to win a lot of them. This did not change even after I grew up.
How did you start cartooning? What made you pursue it?
Initially, I never had cartooning on my mind. I used to mostly experiment with oil pastels, and I've been creating YouTube videos for the past five years. 
After completing my interior designing course, I was extremely clueless about what to do next and that's when I started drawing comics. I have always drawn cute characters for greeting cards, and I love storytelling. So, comics were the perfect mix of both.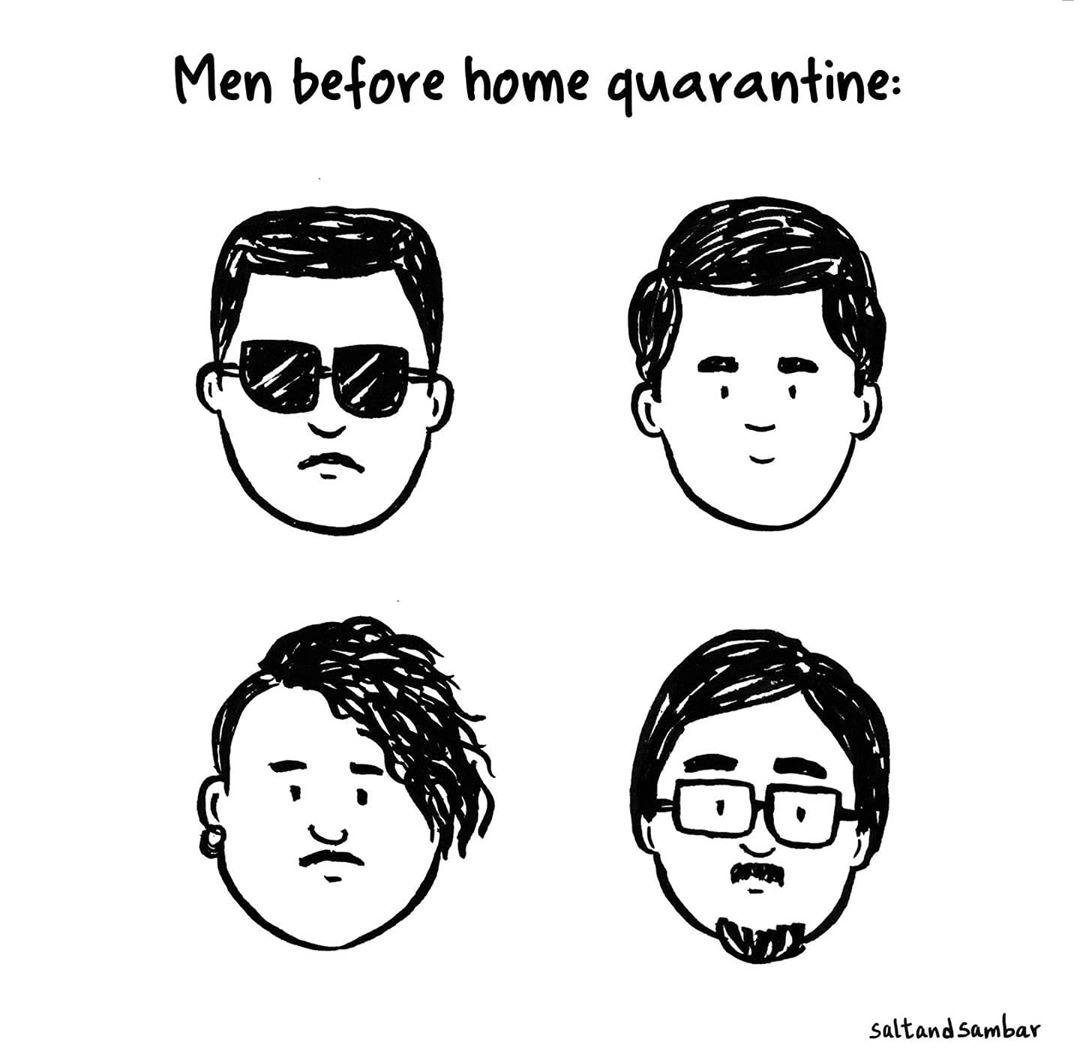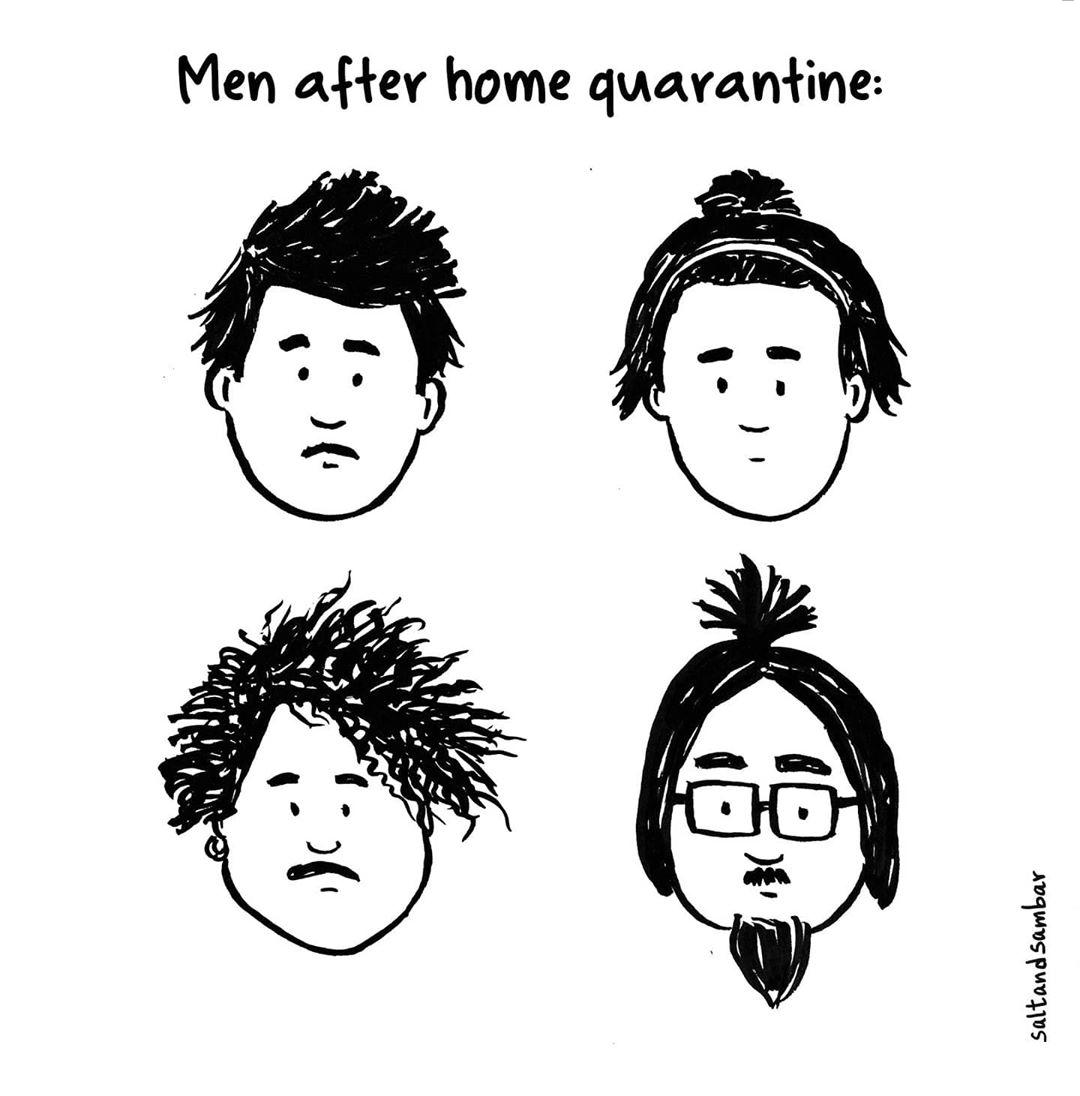 Many of your comics are in Telugu. How have the audience reactions been?
When I started creating comics in Telugu, the primary reason was not to promote my culture or language, but it was mostly because I could express certain feelings only in my mother tongue. Adding on to it, certain phrases sound good only in a particular language.
When  I started making comics in Telugu, I never expected many people to understand it. However, many Telugu-speaking-people from different parts of the world could relate to it and I'm glad I could make them feel home. 
How did you come up with the name " Salt and Sambar"?
I always wanted to give a south Indian touch to the name of the comic series. I initially thought of calling it "Idli & Sambar", but that name was already taken. That's when "Salt & Sambar" struck me.
There's a phrase from a famous Telugu movie called "Aha Naa-Pellanta" which inspired me to choose this name.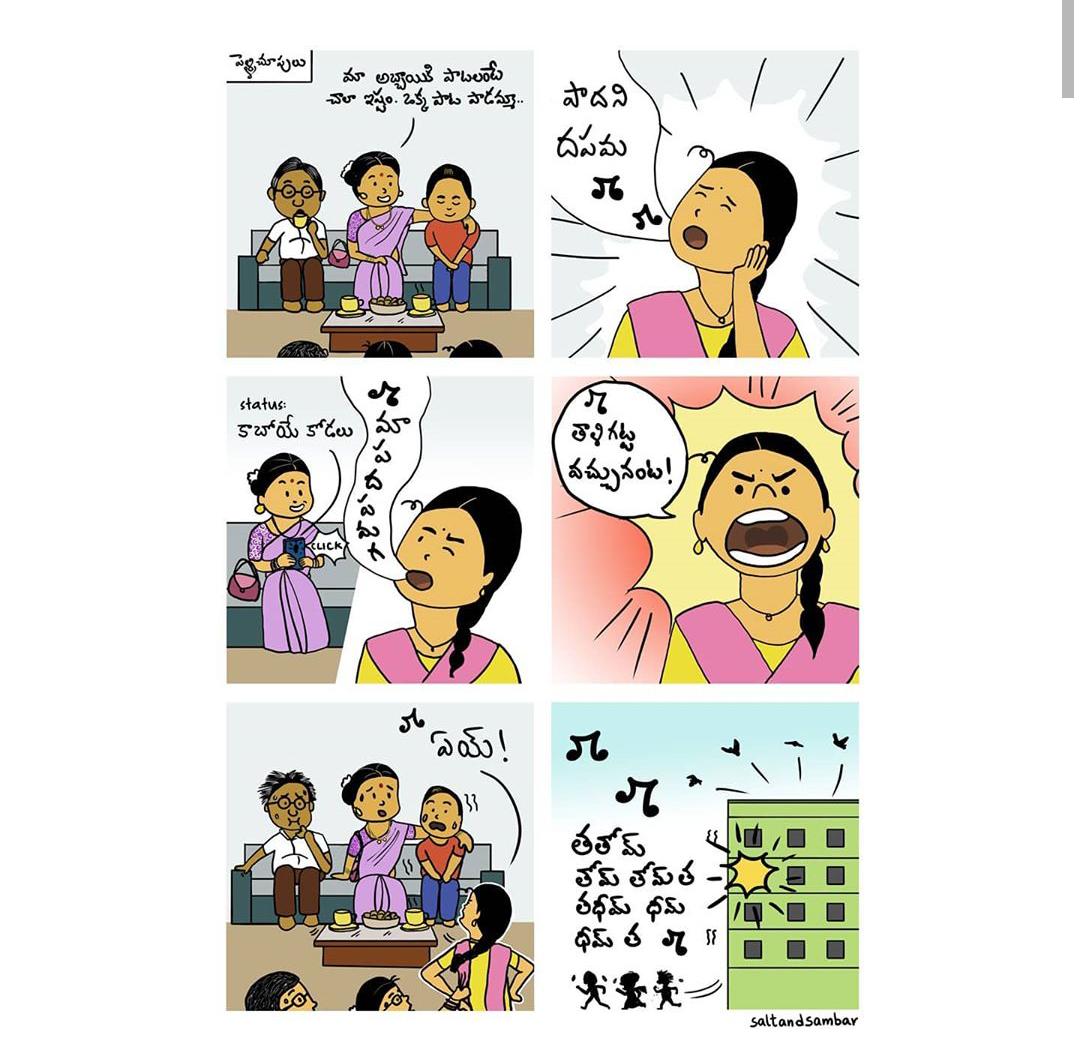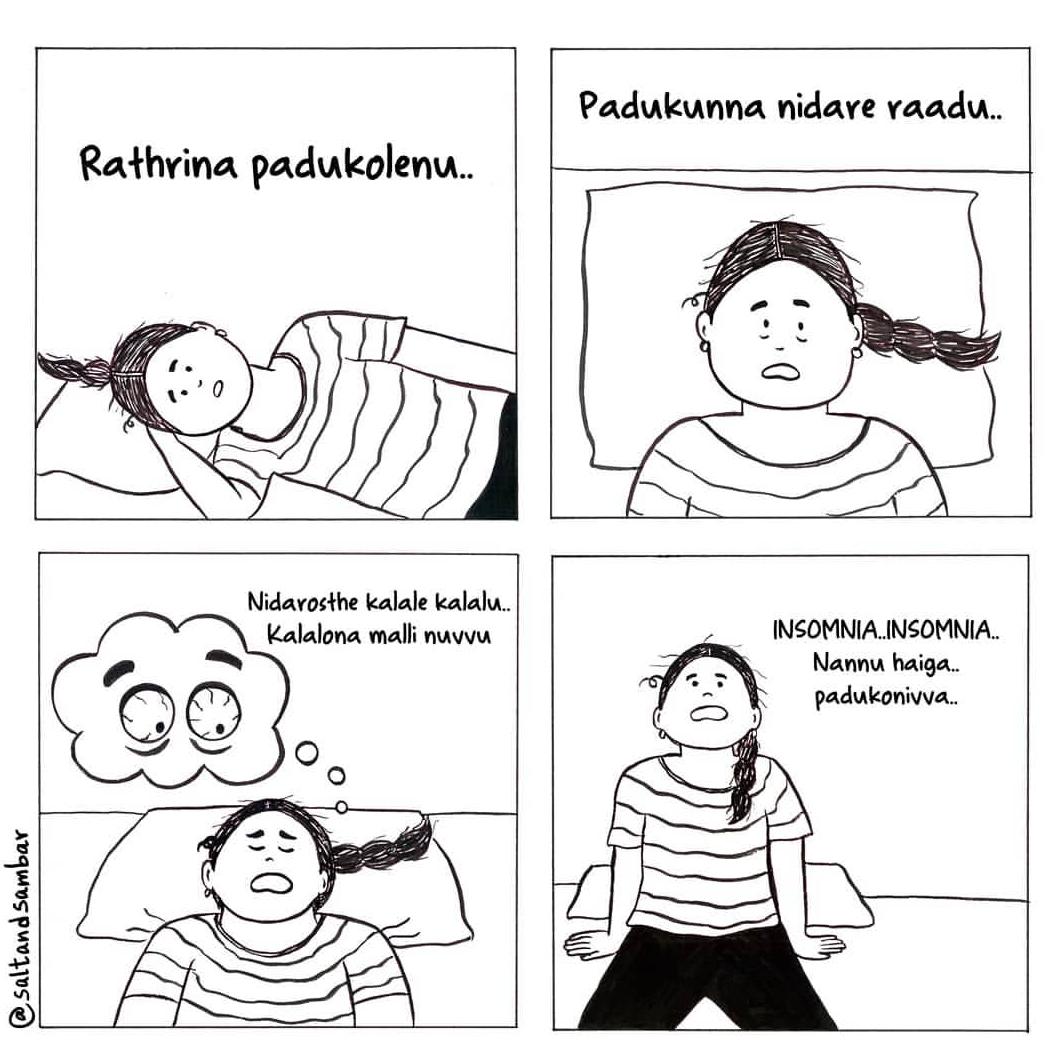 Are you a full-time artist? If yes, how has the journey been?
Yes, I am a full-time artist. I take up freelance projects, conduct workshops and also have a youtube channel where I teach simple drawings with oil pastels, DIY art and crafts and the basics of coloring.
Although being a freelancer is definitely not easy, if you work hard enough it's as good as any other profession.
Where do you derive inspiration for your comics from?
Most of my comics are based on real-life experiences. There are certain messages that I want to spread through my comics. For instance, I want to show how students are pressurised into taking IIT-JEE or similar entrance tests, and how girls are expected to marry after a certain age.
I try to address these social issues in a humorous way, with a cultural touch.
Who are some of the artists whom you look up to?
These are some of my personal favorites – Rohan Chakravarty, Alicia Souza, Bill Watterson, Foxtrot, Sarah Andersen and Marloesdevee.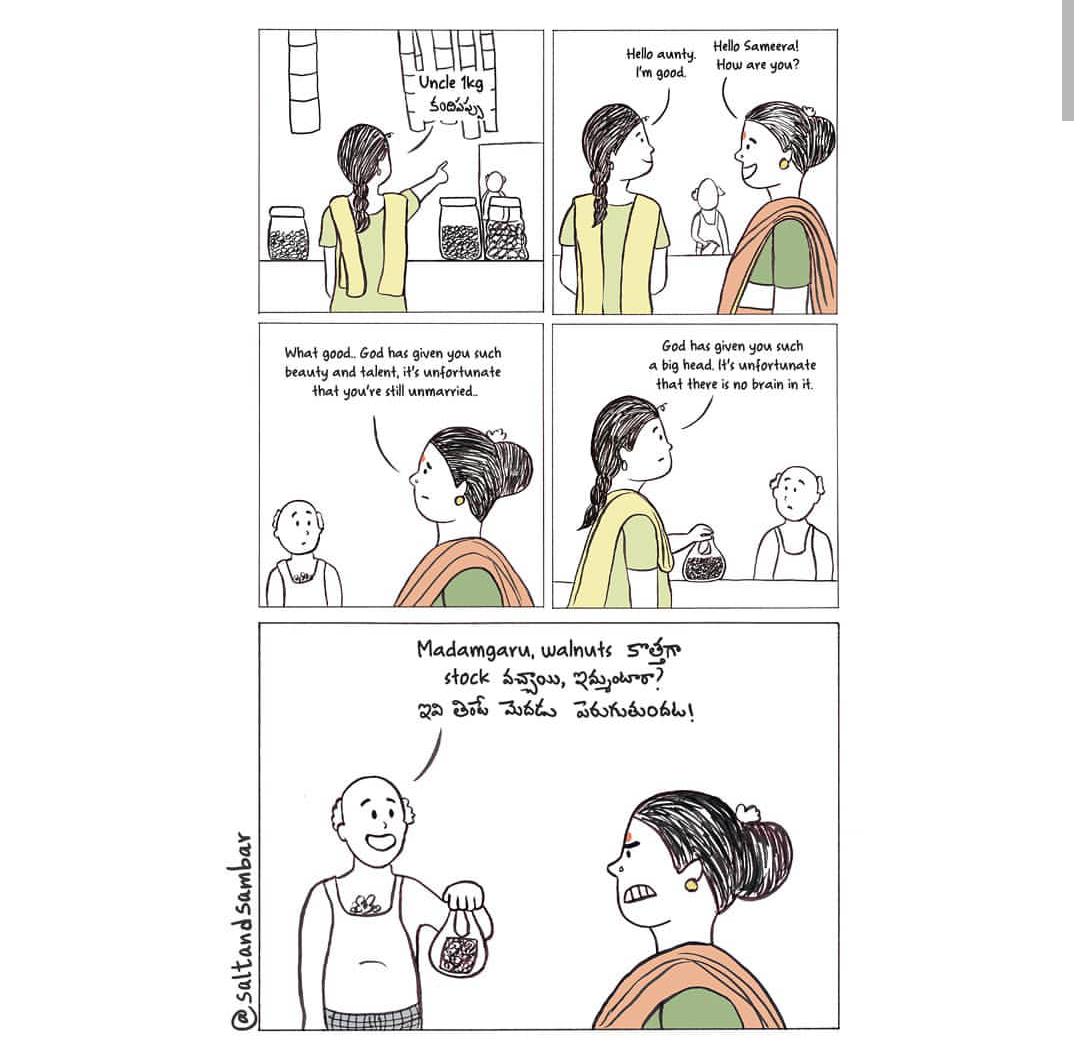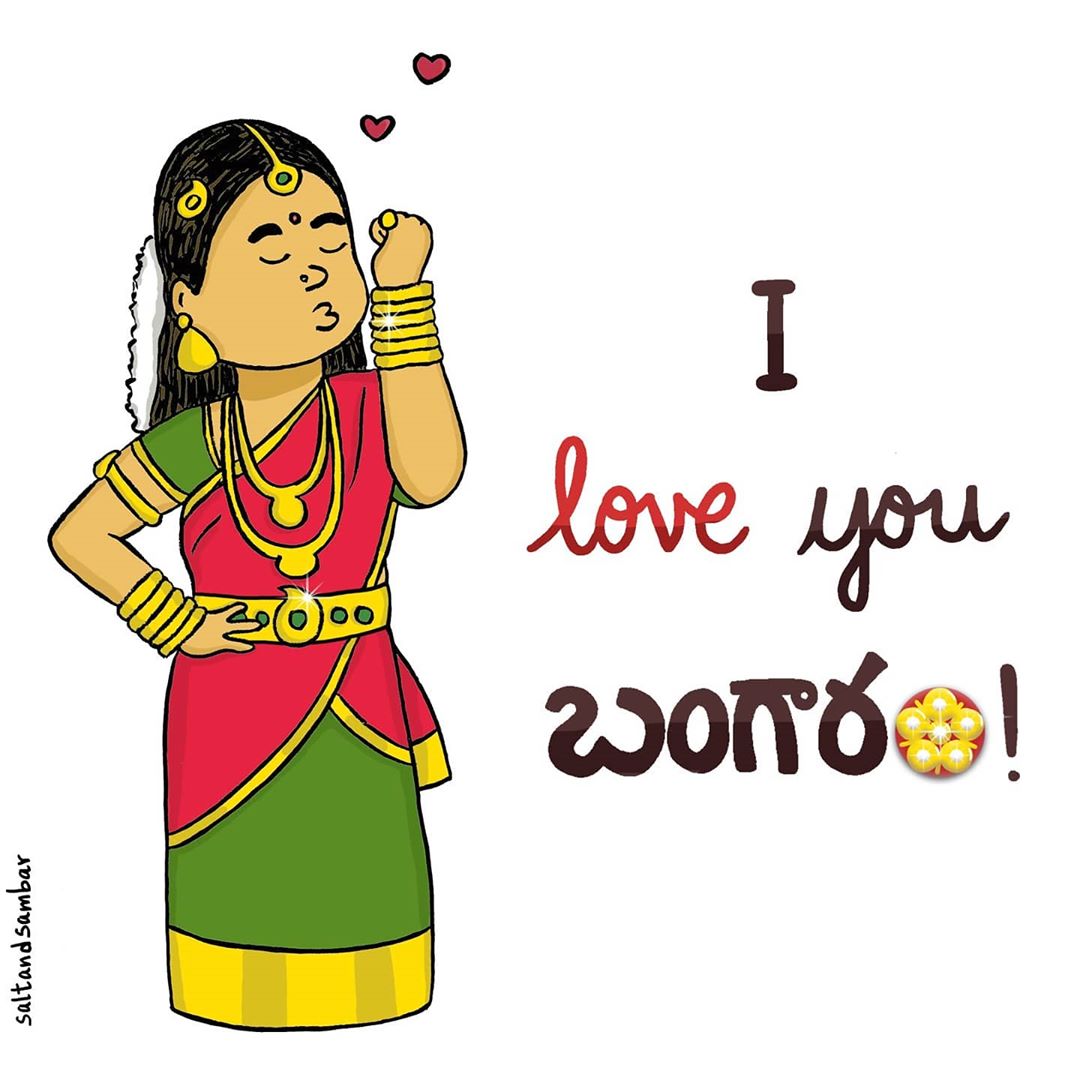 What are the problems that you face as a freelancer, and how do you think viewers can help?
I strongly feel that in India, freelancers are undermined. Nobody views art as a lucrative career choice. This mindset must change.
When it comes to supporting artists, people can support artists on this website called 'Patreon'. Again, this is a very unfamiliar concept in India. People are charged a nominal amount every month to support their favourite artists. In return, you will be given exclusive rewards, like newsletters, early updates, merchandise and more. This helps the artists to not depend entirely on freelance projects for their income and helps them focus more on creating original art.
What advice would you give to the budding artists?
No one should pursue what they don't like just because they are being pressured by their friends, family or society. 
I wish that by looking at artists like us, they should realize that art as a profession isn't less than any other, and if you are persistent you will do great. 
Even if you have to take up a day job to make your ends meet, you should always make time for doing what you love, and never let go of the passion.
Thoughts about Stoned Santa?
Helping artists get recognized and helping them reach many people is a wonderful idea. I really hope that Stoned Santa does well in the future.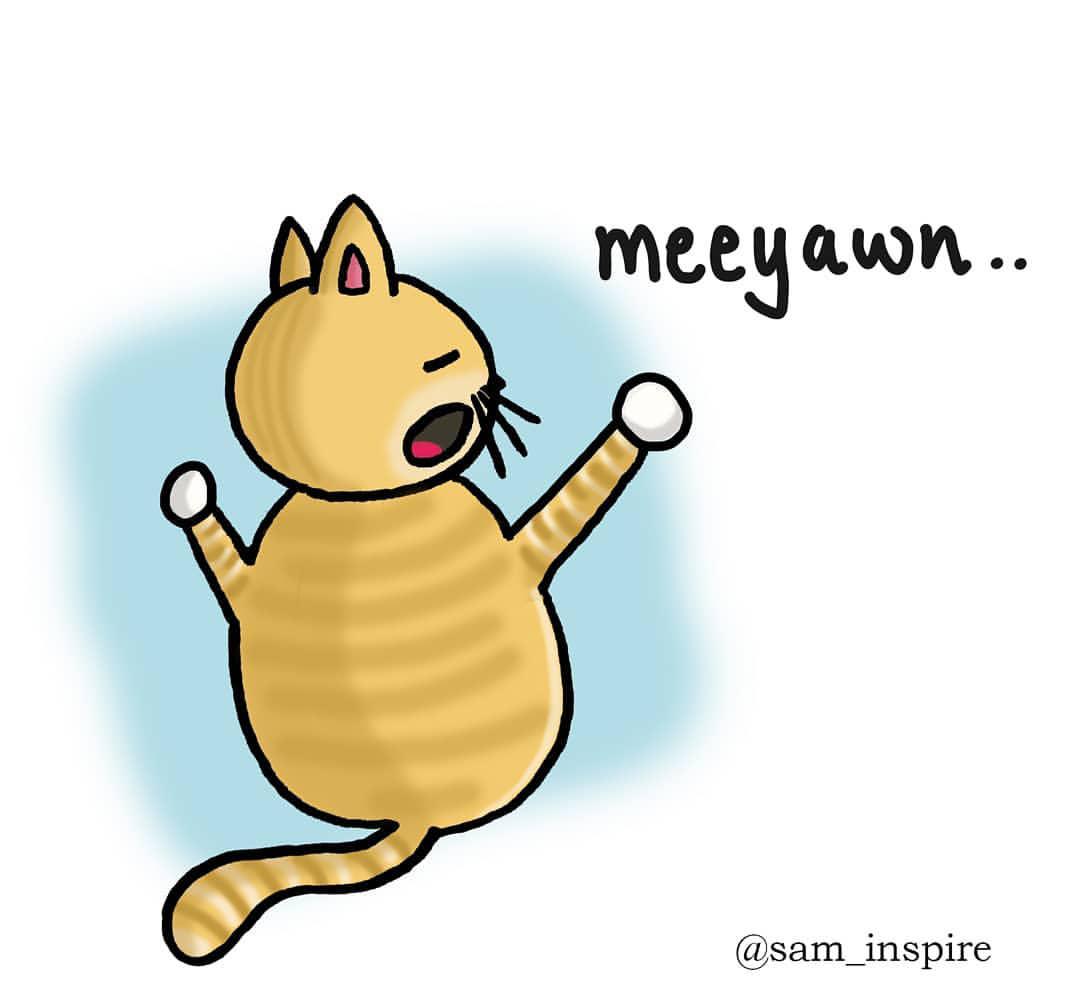 Looking for the perfect gift?
Look no more, our gift experts will get in touch with you and help you with all your requirements.