A wedding is a joyous occasion that calls for the celebration of love and the union of families and friends. As the bride and/or groom, you would want to make your wedding saga extra special by adding a bit of personalized touch to all your preparations. And one of the very crucial steps in your preparation is the making of wedding invites. 
Nowadays couples want quirky, creative, and customized digital wedding invitations which could make their celebrations even more special. And one such emerging digital wedding invite trend is personalized wedding caricatures of the couples on the cards. There are many creative ways in which wedding caricatures have been put to use by our customers such as backdrops, wedding invitations on Whatsapp, "Save the Date", Welcome boards, Standees, etc
So if you are planning to get your caricatures on the digital wedding invitation card, this article, is just for you! Our experience of serving thousands of clients has enabled us to compile this article, which serves as a comprehensive guide about everything you would want to know about wedding caricatures and digital wedding invitations! 
A snippet of Wedding Caricature being used as "Save the Date":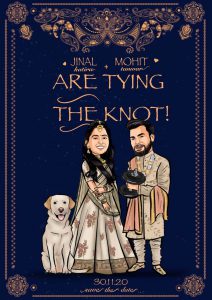 What are Wedding Caricatures?
Before we dive deeper into this article, let us first understand what are wedding caricatures:
A caricature is an art form which includes comically distorted drawings of a person or a thing, with the intention of satirizing or mocking the subject. In simple words, a caricature is a painting of the subject with dramatized features to create a grotesque effect. For instance, painting a real person's caricature includes exaggerating their striking features, such as an oversized head, tiny body, squinted eyes, etc. Similarly, wedding caricatures are personalized caricatures of the couples to add a bit of fun and humour to the digital wedding card. 
If you wish to learn more about this art form, you can find everything you need to know about caricatures here!
How are wedding caricatures made? 
The process of making wedding caricatures is a two-way process. It requires inputs from the client and the creativity of the artist to blend these ideas and bring alive the emotions of our clients. Therefore, the outcome and the experiences of our artists, and the customer are different and unique every time. However, if we are to describe how wedding caricatures are made, we can encapsulate them in the following points – 
Gather Photo of the Couple
The very first step of creating a wedding caricature involves collecting the photo of the couple. Ideally, a front-facing picture, of good quality, allows the artist to identify the striking facial features, and draw them well. Once the facial features are approved by the client, the artist moves further to the rest of the parts to complete the caricature.
Deciding the Attire 
As the next step, we have a brief discussion with the client with regards to the attire, and ornaments they wish to be depicted in. For instance, if it is a South Indian wedding, the bride could be shown wearing the traditional pattu saree with temple jewellery, and the groom could be shown wearing a kurta with flowy dhoti, and so on.
Identifying the Background Elements
Further, the process of creating wedding caricatures involves deciding the background and the other elements. For instance, sometimes the clients want us to include an invitation text, venue, and other details, while some clients prefer a plain caricature with subtle backgrounds and elements that embodies their journey.
Seeking Approval and Transferring the File 
As the last step, when the caricature is completed by the artist, final approval is taken from the client. Once the client gives a nod, we email the HD file of the caricature to them for further use.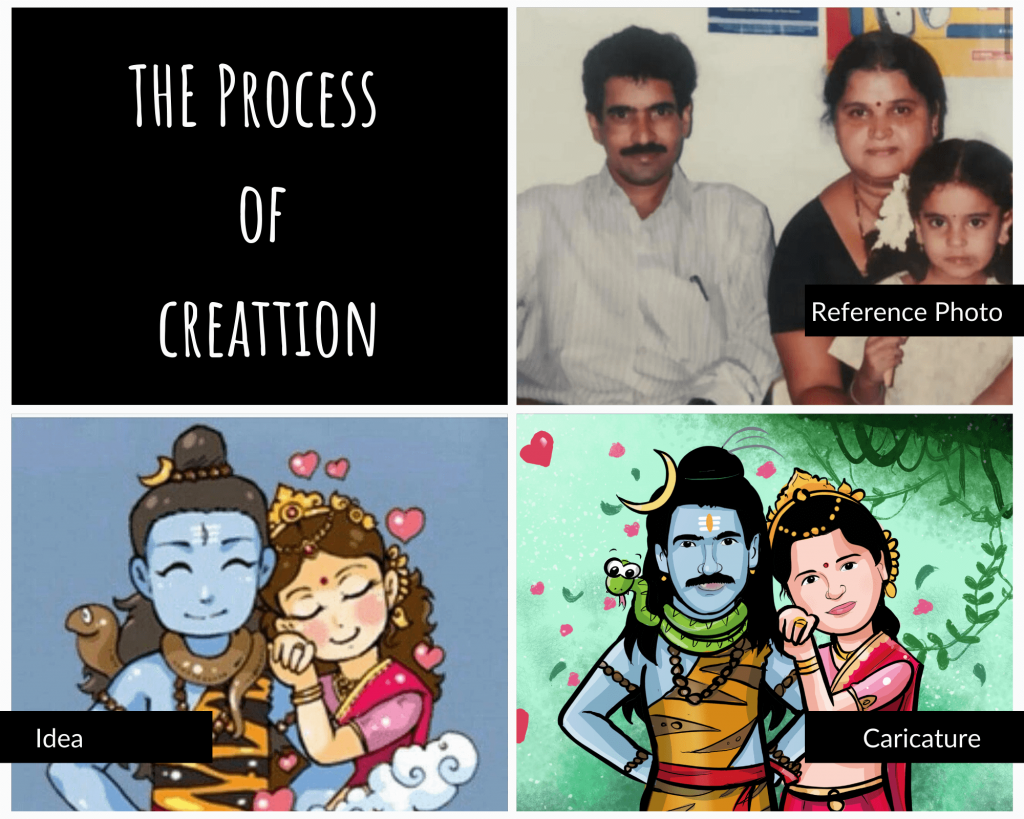 Types of Wedding Caricatures
Depending upon your need and budget, wedding caricatures can be available in two forms – 
Traditional Wedding Caricatures 
As the name suggests, this is how the caricature form of art originally began. In this method, artists use charcoal, pencil, pen, and ink to draw caricatures for you.
Digital Wedding Caricatures 
With digitization taking over, and several graphic programs like adobe illustrator, digital wedding caricatures are becoming more and more popular. Digital wedding caricatures come with the advantage of offering richness in colour and quality and are an excellent option for a wedding gift for your friends or as a digital wedding caricature invitation.
Pricing of Wedding Caricature
If you are to place an order for a wedding caricature, you must know how these caricatures are priced. Hence in this section, we are going to provide a brief about the pricing of wedding caricatures, straight from the horse's mouth, Rohit Chari from Red Canvas Studio, one of the most celebrated caricature artists in India.
The pricing of the wedding caricatures typically is based on the combination of the following factors-
The number of characters –

Typically wedding caricatures include two human figures, that being the couple. However, the pricing of the caricature so quote may vary depending on the characters your wish to include in the illustration.




 

Style of Caricature – 

Another factor based on which pricing is dependent is the style of caricature, whether you want a realistic or flat caricature.




 

Background or Theme–

If you wish to have a unique background to your wedding caricature such as an Eiffel tower, movie-based theme, etc, the pricing of the caricature will vary accordingly.

Timeline for Delivery –

Delivery time is also a very important variant in determining the pricing of wedding caricatures. If the client wishes to have the artwork delivered in a rather shorter span say in 2 days or in 24 hours, the artist has to accordingly add the value of a tight deadline while deciding the cost, thereby increasing the cost of the wedding caricature. However, if the artist is allowed a wider timeline to deliver, say 3-4 weeks, the cost of the wedding caricature will be comparatively lower. 
Digital Wedding Invitations 
Digital wedding invitations have taken over the traditional invites because they can be customised as per your liking and taste. There are several digital wedding invitation card templates available on the internet, but couples nowadays want a bit of personalized touch in their wedding invites. 
Hence the trend of adding couple's caricatures on the wedding e invitation card is becoming increasingly popular these days. These wedding caricatures can depict your love story and can be customized to your liking and taste.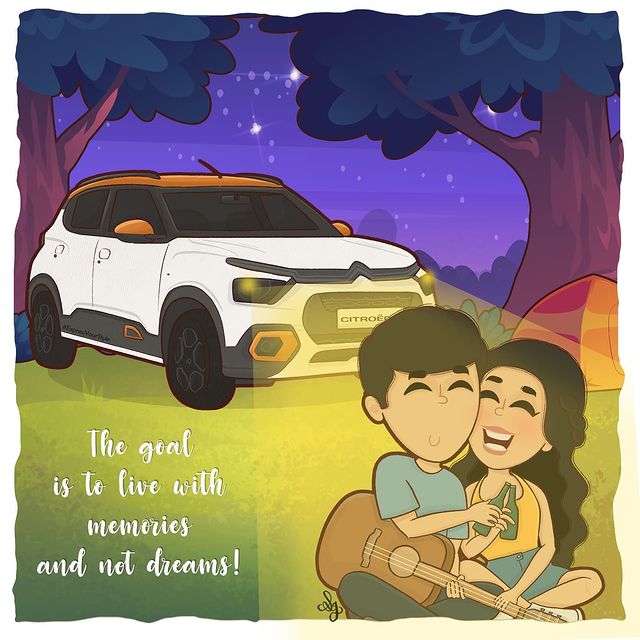 Wedding Caricature Ideas and Examples 
Do not know how to plan your digital wedding card? Well, we at Stoned Santa have got you a treasure trove of ideas to choose from. Most of these wedding caricatures have been custom-made for our past clients, and they continue to hold a special place in our lives and theirs.
Movie-Themed Wedding Caricature
For all you movie buffs we have got a unique way to design your digital wedding invitations, customised as per your favourite movies and characters. Here are some illustrations – 
Concept – One of our clients wanted us to portray them as Bunny and Naina from Yeh Jawani Hai Deewani
Concept – Our client wanted us to portray them as Bittoo and Shruti from Band Bajaa Baraat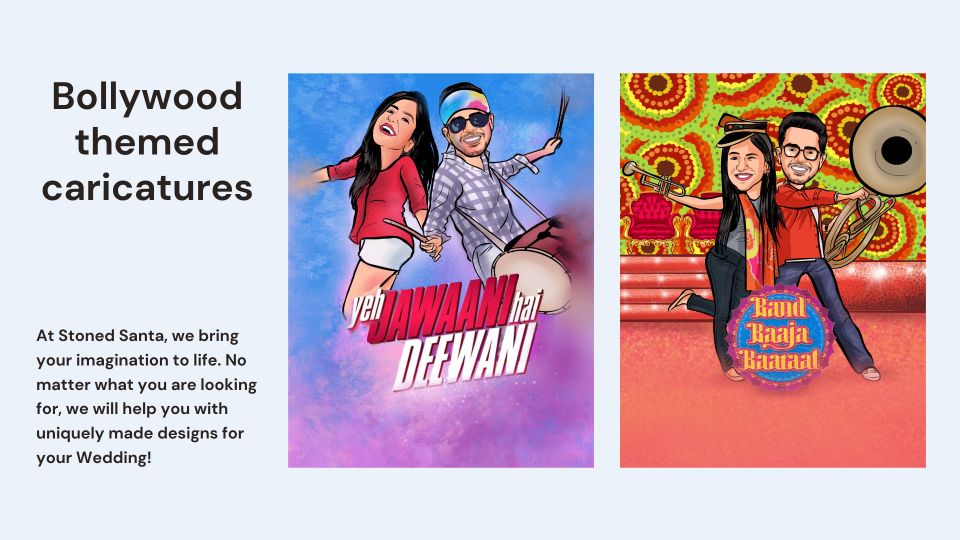 Super-Hero Themed Wedding Caricature

Marvel and Avengers clan assemble, this one for you! Portray yourselves in your favourite superhero avatar, and make your digital wedding invitation even more special.

Concept – One of our clients wanted us to portray her groom as Captain America.
Concept – In another version we brought together the caricature of Superman, and Wonder woman in one frame.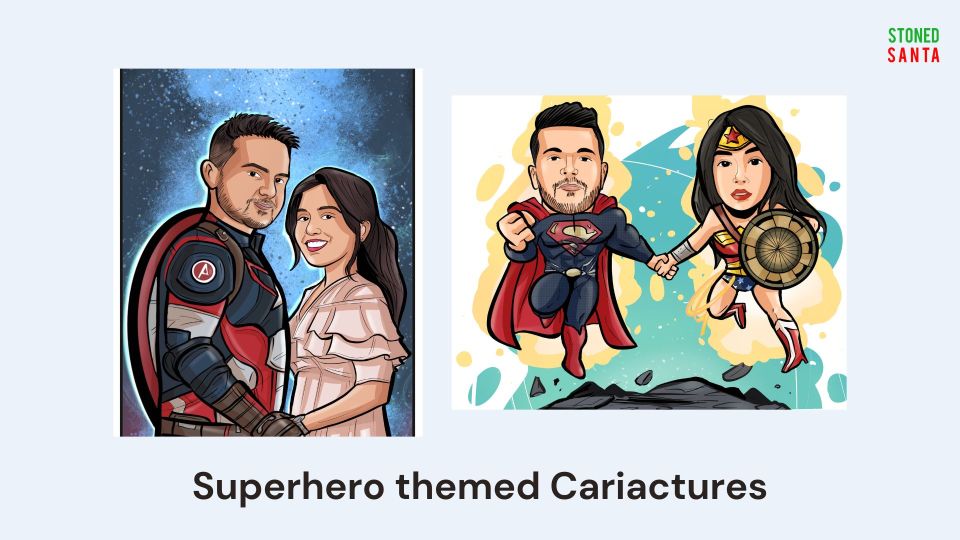 Sports Themed Wedding Caricature
Finding a partner who loves sports as much as you do, is a boon! Well, calls for no more fighting for that remote when there's an important match! 
and, What a match! 
Concept – One of our clients wanted us to portray them with cricket bats in their hands, and dressed in their wedding attire, with a cricket stadium as the background. Cheers to their Lifetime Partnership!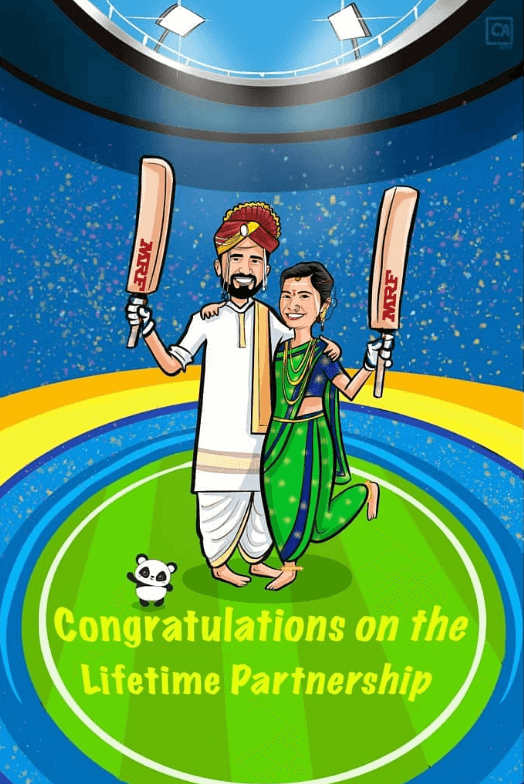 Dog-Lovers Themed Wedding Caricature
Are you pet parents, well, you can add a pawsome touch to your digital wedding invitation now!
Concept – One of our clients wanted us to portray them in their element with their cute little pet for their Save the date invite
Beach-Themed Wedding Caricature
All you beach bums out there, get yourself a beach-themed wedding invite customised as per your imagination. 
Concept – One of our clients wanted us to portray them in their element with their favourite beach in the background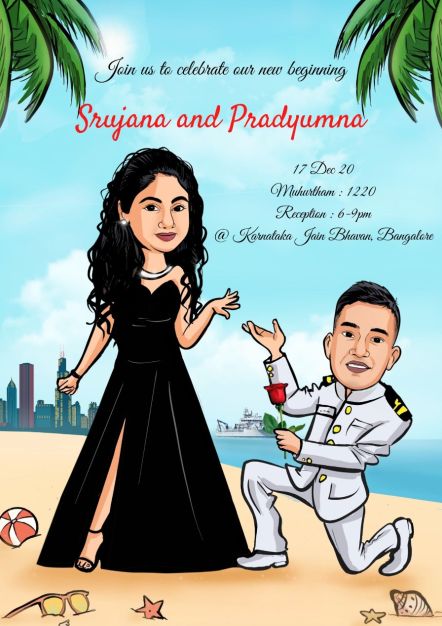 Travel-Themed Wedding Caricature
Finding a travel partner for life, well that's a boon for all those who love travelling the world. Get yourself a travel-themed wedding invite
Concept – One of our clients wanted us to portray them travelling the world together, with symbols of the places they have already visited so far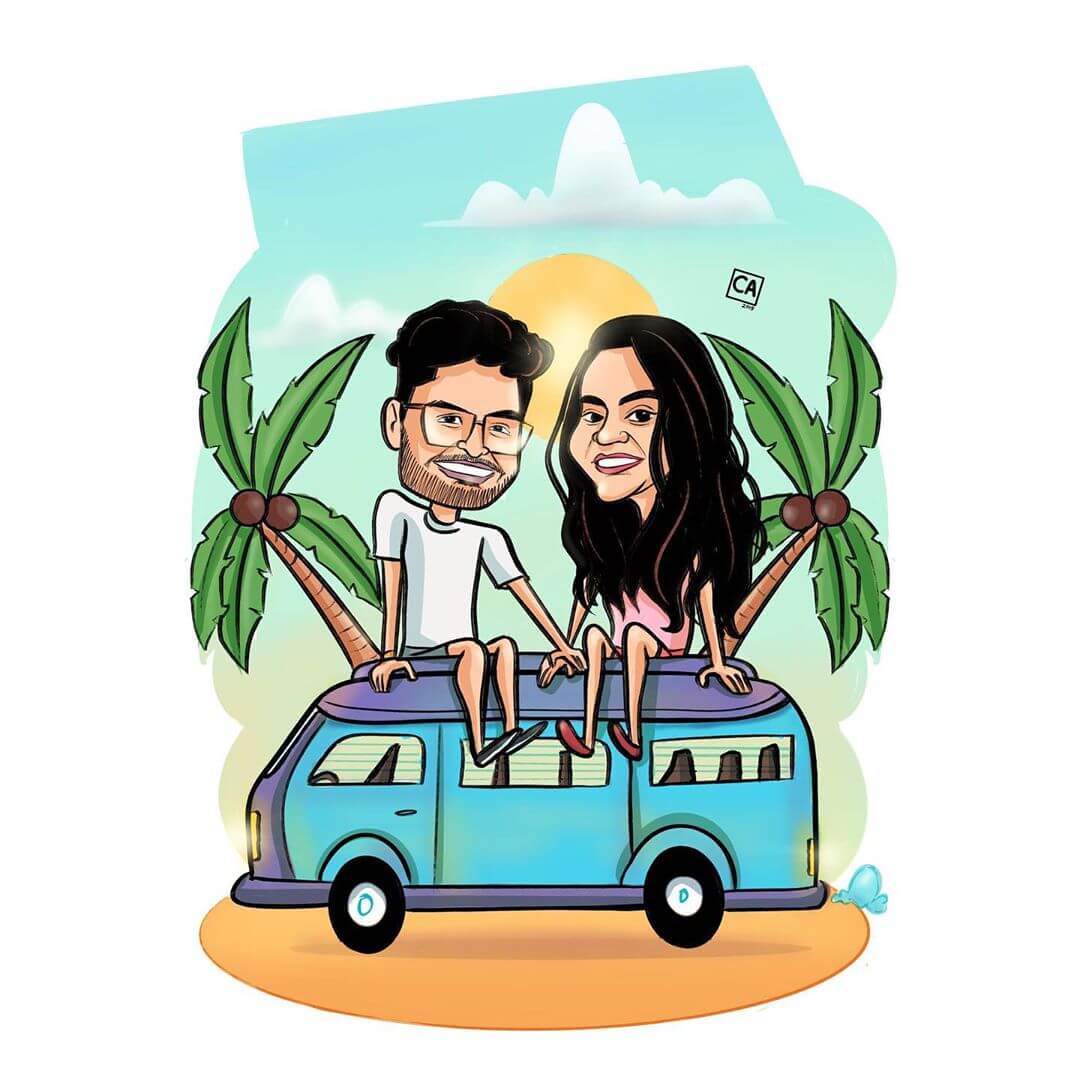 Final Thoughts – Why should you consider Stoned Santa? 
So, if you are looking to get customised wedding caricatures on your invitations, look no further. We at Stoned Santa, are here to paint magic, and spill colours to make your digital wedding invitation card most unique and memorable. 
Our talented team of art experts are here to help you select the best theme, and our renowned caricature artists, to help turn those ideas into an exclusive piece of art, just for you. Contact Stoned Santa today to curate some fun wedding caricatures and digital wedding invites.
Looking for the perfect gift?
Look no more, our gift experts will get in touch with you and help you with all your requirements.