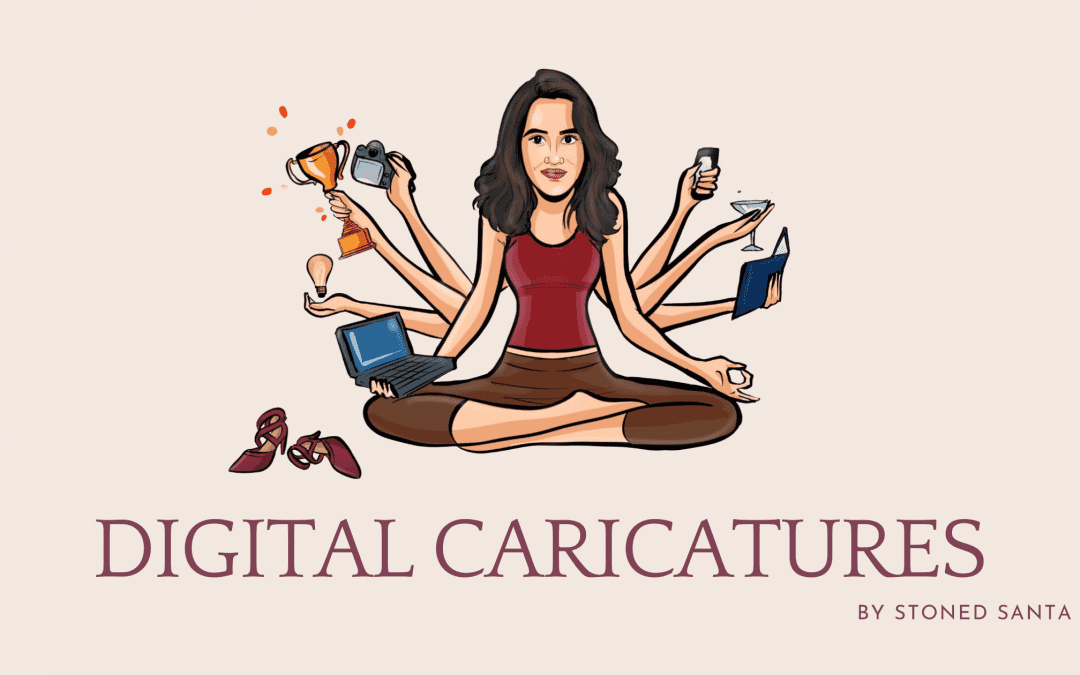 Most Indians will relate to the cartoons of the common man by RK Laxman published in the Times of India, and the political cartoons that adorn the cover page to engage the readers, and present them with "News of the Day". 
If we look carefully, it is easy to notice that the increasing popularity of caricatures stems from our ability to relate to them at a subconscious level.
As kids, it used to be fascinating to see large-headed, tiny body versions of so many renowned people from politicians to movie stars and recognize them despite their weird shapes. Most of us found out only much later, that this particular format and style is known as Caricature. In this article, I attempt to answer some of the questions you might have about caricatures. Let's start with the basics.
Concept Digital Caricature for a client where the client wanted us to portray them as Shiva, and Parvati.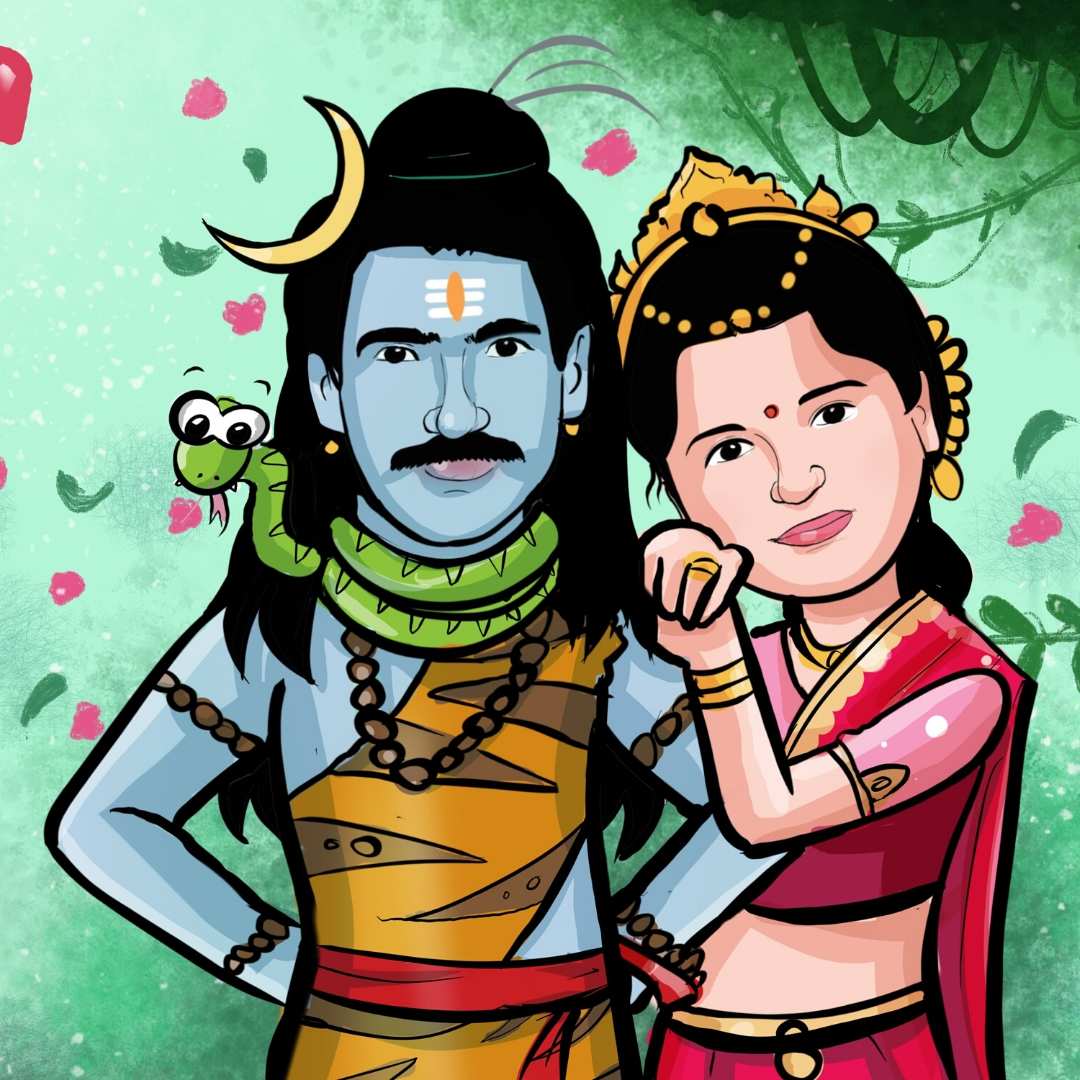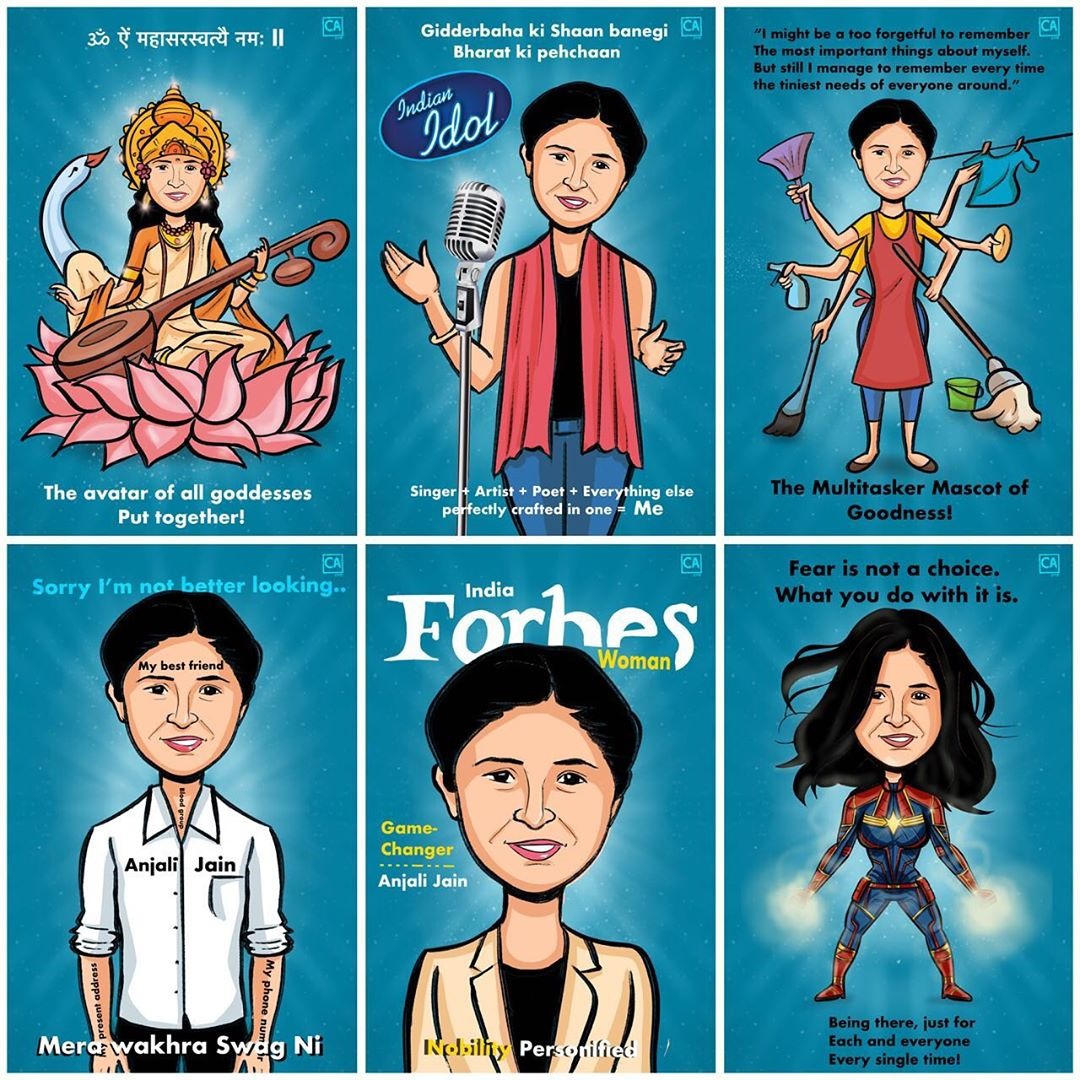 What is a caricature?
A caricature is a picture, description, or imitation of a person in which certain striking characteristics are exaggerated in order to create a comic or grotesque effect.
If you too skipped through the dictionary definition, let us understand it in simpler words.
A caricature is a drawing of a real person with features dramatized absurdly to entertain or make fun of (all in good humor) of the person so drawn. Some ways for dramatization are an oversized nose, squinted eyes, really large or too small lips, etc.
In the words of caricaturist Greg Bigoni, "A caricature gets to the essence of who someone is and not just what they look like, but what their personality is".
Concept caricature we made for a client who wanted a unique Mother's day gift. 
How are caricatures made?
If you look at any caricature you'll notice a pattern. In every caricature pretty much all of the features of a person's face or body are artistically modified, yet one can still recognize that person, and this is something that makes the art of drawing a caricature so unique. 
One key element of drawing a good caricature is the ability to truly observe the key characteristics that define someone's face. This is what is referred to as likeness. In other words, when we see a person, we see them just as we know them but a caricature artist can notice highlighting features of a person.
When caricature artists draw a person, they exaggerate the most prominent features and reduce the size of other features, bringing, even more, focus on the features they want to highlight. These along with a fine knowledge of how to balance overall distance, angle and proportions are few secrets of drawing caricatures.
Along with facial features, caricature artists also make use of how a person is shaped or holds them if they have any distinct props from tattoos to anything they carry with them in making the caricature really identifiable. Think of Abraham Lincoln's Stovepipe hat, Mahatma Gandhi's round spectacles, or Charlie Chaplin's mustache. Staple associations like these, act as great props for fun caricatures.
Concept digital caricature we made for a client whose friend is an entrepreneur, and he wanted to surprise him with something really unique.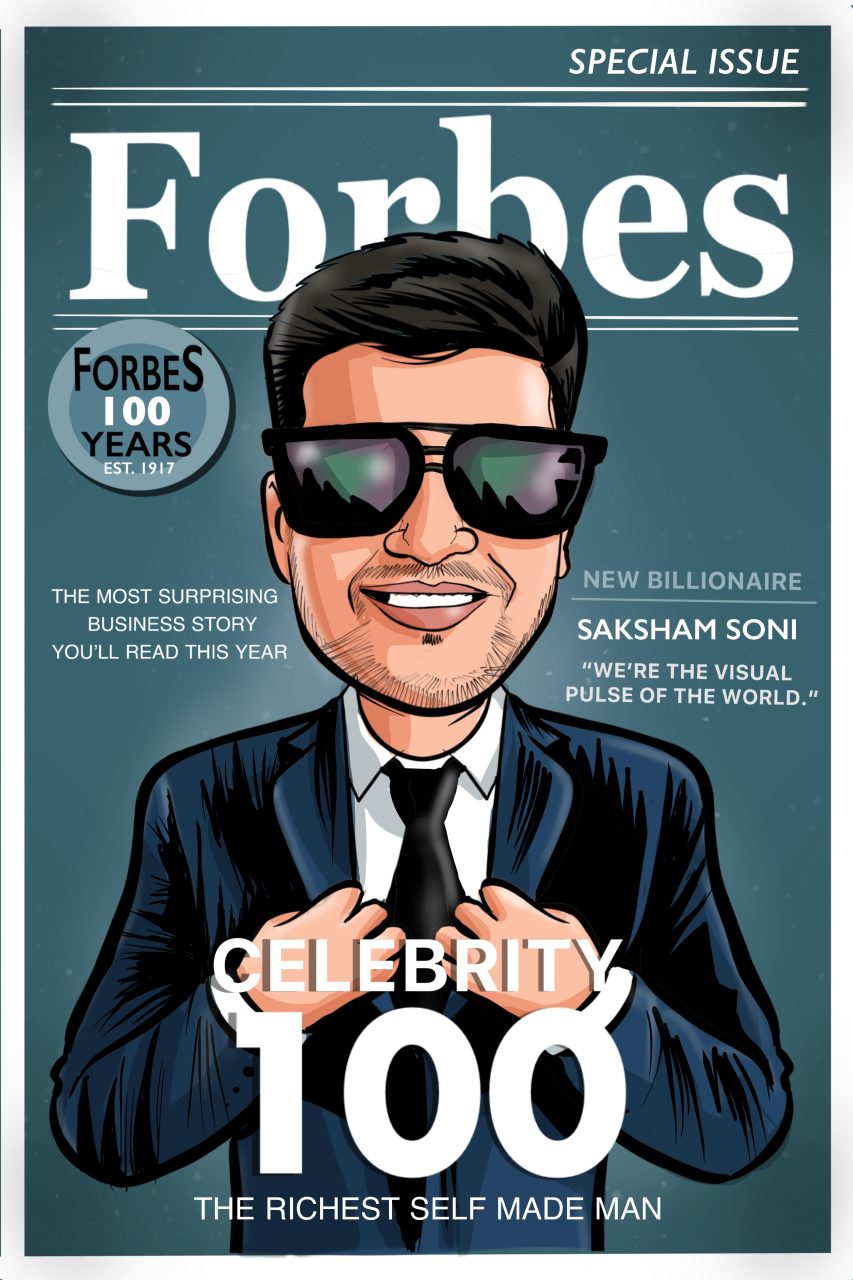 What are the various types of caricatures?
While caricature as an art form is centuries old, there isn't a standard form of classification of different types of caricatures. Here we will talk about two methods of classifying caricatures; based on style and based on the method of execution:
Classification based on style:
Portrait or definition – This type of caricature relies on knowledge of sophistication of making a portrait and combining it with the knowledge of creating comical effect through inflation and deflation of features.
Satire – This form is most commonly used in political cartoons. It makes use of not just physical or personality traits but also draws attention to statements by such politicians. The purpose of such caricatures is more often than not to bring attention to political issues of the time.
Grotesque – As the name suggests, in this style, the face of a person is unnaturally distorted to make it look ugly. Grotesque art was the earliest form of distorted drawings which evolved later into caricatures.
Classification based on the execution method:
Traditional Caricatures – This is how caricatures started and charcoal, pencil, pen, and ink drawings were the methods that were used. These are the tools that are used by street artists across the world for an instant sketch. So next time, when you visit Paris, remember to ask the artist if he is going to draw a portrait or a caricature of you 😉
Digital Caricatures– Graphics programs like adobe illustrator are numerous drawing tablets are becoming more and more popular these days. Digital caricature comes with the advantage of offering richness in color and feel of caricature making them an excellent option for gifting your friends or as digital wedding caricature invitations.
How much time does it take to make a caricature?
The old idiom, "The devil is in the details", does not have a better suitor than this question. A professional caricaturist can make a sketched caricature of a person's face in even under 5 minutes. However, the more details you add like body structure, surroundings, colors, etc., the longer it can take. 
A hand-painted caricature with portrait-like details can take as much as two days. In short, it boils down to the intricacies of each piece that is being made.
What is the process of getting a caricature made?
There are two ways in which an artist makes a caricature –
1. Live Caricatures – Live caricatures are drawn for a live audience in real time. Live caricatures are less common and you'll see street artists only in very few cities and tourist spots. Live caricatures are a hit or miss experience for most people because you can not check the artist's previous work.

Working on Live caricatures is very challenging for the artist, and usually, live caricature artists are hired for corporate events and weddings.
2. Drawing a caricature from a picture, and presenting a custom theme – Most caricature artists these days practice creating caricatures in their free time where they are free to think and act creatively on a project without the constraint of time, and expectations.
For example – When you select an artist from us at Stoned Santa there is a certain process the artist will follow to bring life to the ideas as specified by our clients –
Our caricature artist requests reference pictures of the subject, ideally clear front-facing pictures with a clearly visible face, and other facial features

Based on the picture received, and the desired theme in which the caricature is to be made, the artist recommends suitable styles, and color combinations best suited for the provided story, and reference pictures.

Once the artist starts working, they share the work in progress with our clients, and we seek feedback to further improve the caricature.

Post completion, the work is shared with the clients, and upon approval, the digital files are shared with the clients. 
How to hire a Caricature artist?
If you are thinking of getting a birthday caricature for your friend at work or a digital wedding caricature for your special day, you can find a caricature artist that suits your requirements and pocket at Stoned Santa.
There are many independent artists who can draw one for you as per your specification, but Stoned Santa makes it very easy to find a reliable and experienced caricature artist for you no matter which part of the world you need your caricature to be delivered.
If you want to hire a caricature artist from Stoned Santa, all you need to do is fill up this form, and our gifting experts will reach out to you.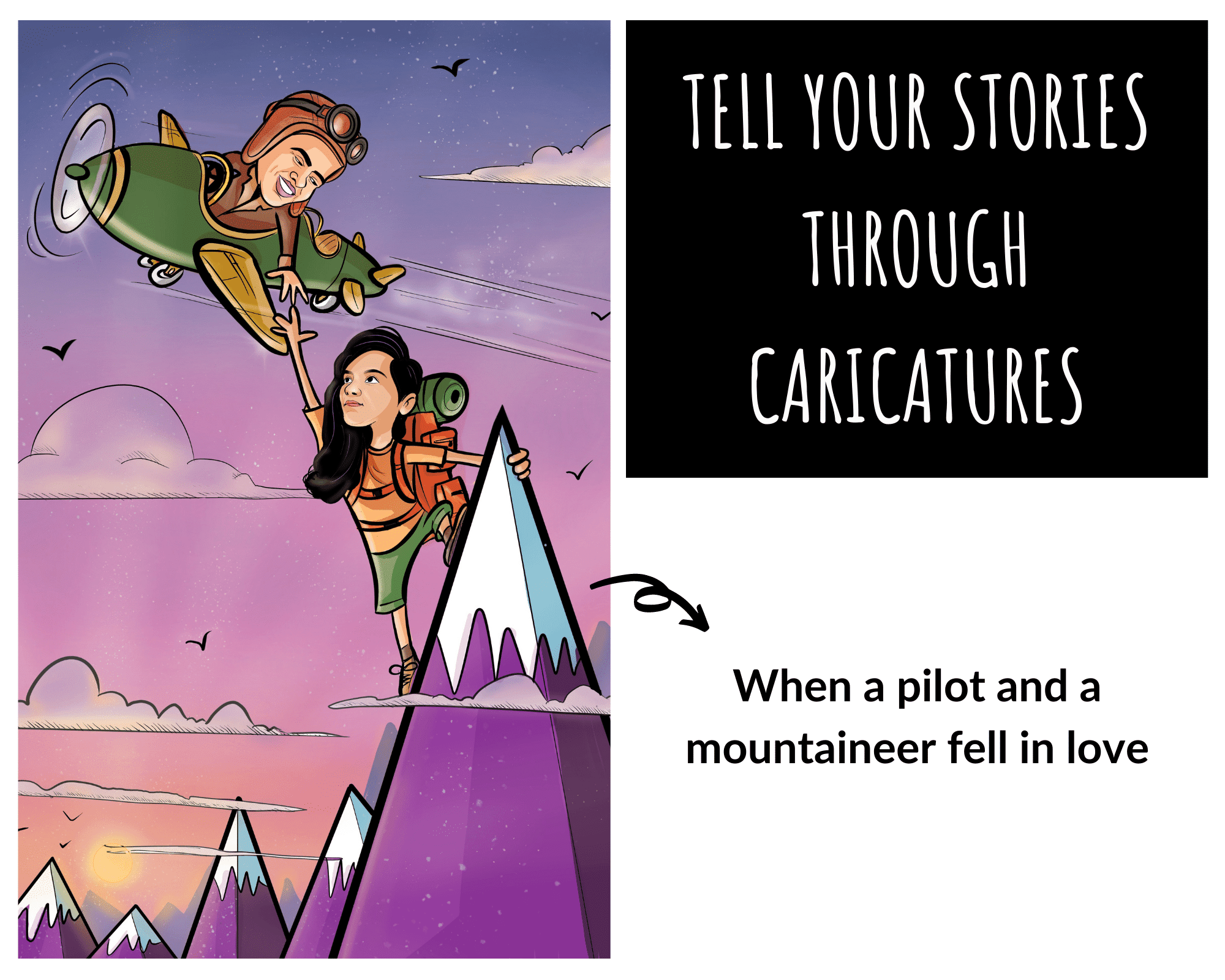 What is the cost of a caricature?
Art is subjective and so are the prices for any art piece. As vague as it may sound the prices of a digital caricature are dependent on factors like – 
1. The number of people or characters to be drawn – This includes humans, pets, and any other objects such as monuments, and buildings that are to be drawn with precision, and care.

2. Experience & Work Portfolio – Senior artists with years of experience, and expertise may charge 10 times than that of a beginner who's just begun their journey as an artist. There are many caricature artists in India, and the costs vary dynamically from artist to artist.

3. The style to be chosen – Physically made caricatures cost more than digitally made caricatures. Often, the artists offer varying levels of detailing in their caricatures, which is a big factor in determining the costs.

4. Time Required – If clients have an urgent requirement, in such cases the artists usually charge a higher price, but if the timeline isn't a problem in such cases it's easier for the artists to accommodate their requests, and the artists usually offer discounts.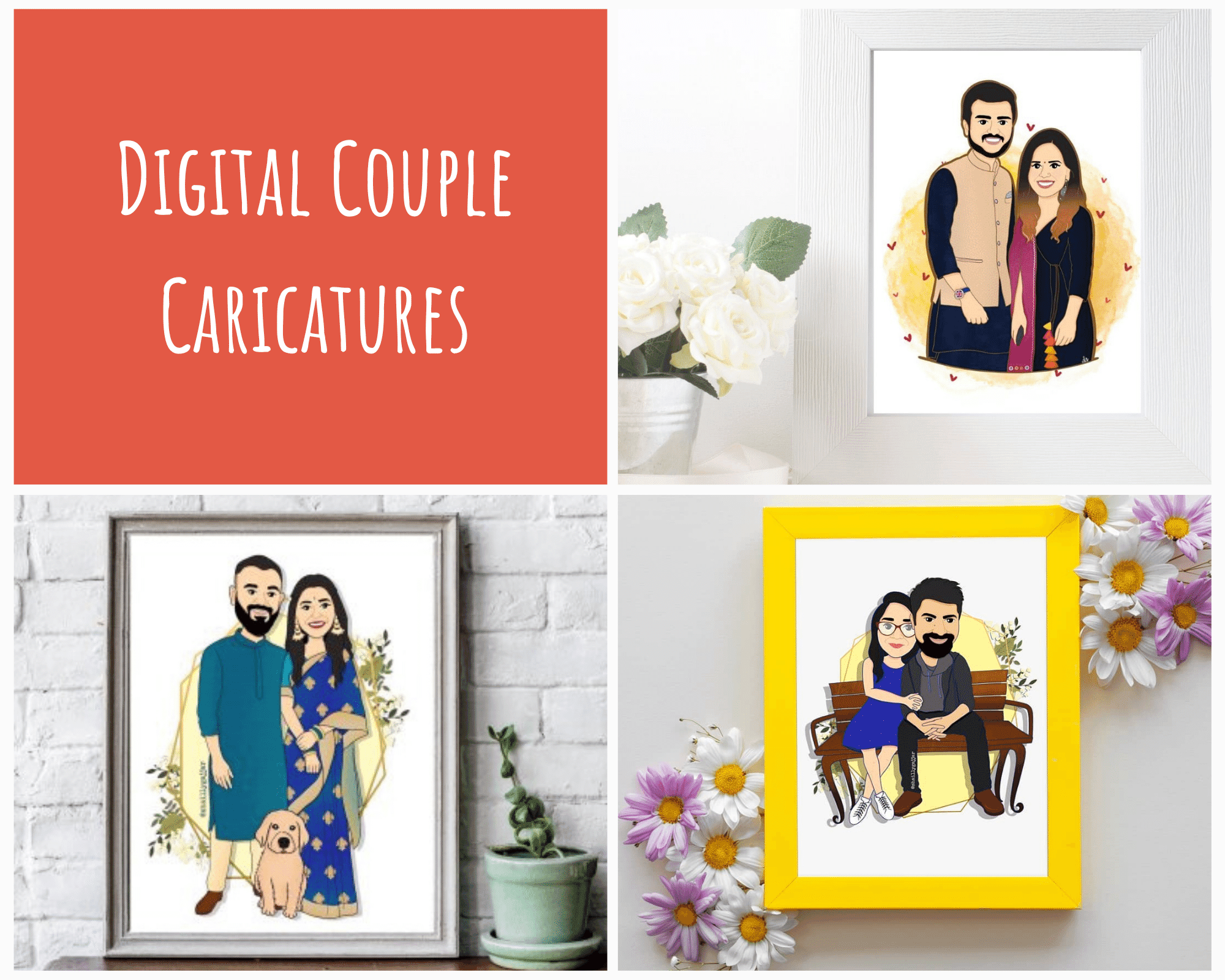 Usage of caricatures
A caricature is a historical form of art. Caricaturists have been using this form to draw attention to political issues through political satires and to show their admiration of people they admire across fields. 
From being used as a medium by artists, and poets to voice people's opinions on newspapers, and magazines to being used as digital wedding invites, and gift for bosses, Caricatures as an art form has evolved to cater to the gifting requirements of individuals, and companies. 
At Stoned Santa, we help you create unique caricatures that are designed as per your choices, in the timeframe that you desire.
Book your personalized caricature only at Stoned Santa.
Looking for the perfect gift?
Look no more, our gift experts will get in touch with you and help you with all your requirements.