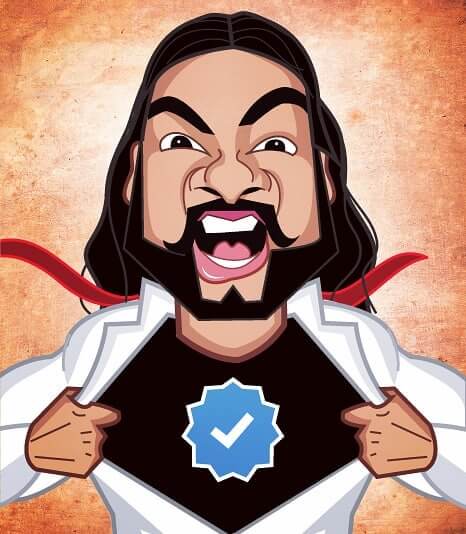 Interview with Prasad Bhat
The serious art of Caricatures : Prasad Bhat on Caricatures, Graphicurry, Comedy and more.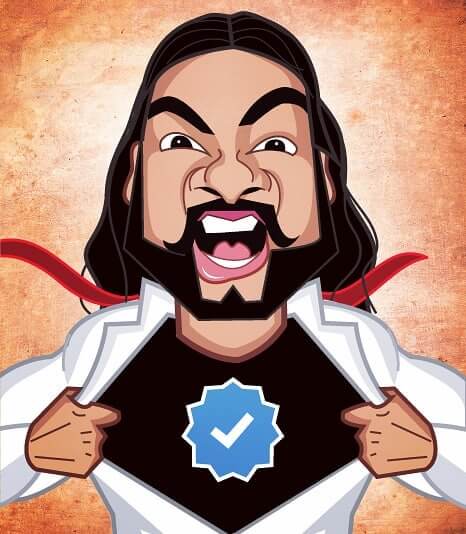 Prasad Bhat, Founder of Graphicurry
Prasad Bhat is the mastermind behind Graphicurry, a caricature specialist and an illustrator based in Bangalore. His quirky caricatures have brought him global appreciation. Like every other Indian kid, Prasad Bhat studied Engineering and struggled to get a job after his graduation. On realizing that engineering was not his cup of tea, he started his own design studio turned art store, Graphicurry.
Prasad never fails to bring a smile on your face, whether through his caricatures or comedy. His skills have attracted some of the coolest clients such as Amazon Prime, Disney and MARVEL. His artwork is original, authentic and witty.
Here are excerpts from when we caught up with Prasad Bhat for a quick interview and a dozen laughs.
What's the story behind Graphicurry?
"Art and food are two of my most favourite things, hence the name 'Graphicurry'! Luckily, the URL name was easily available".
"Graphicurry started off in 2013 as a logo and designing company for corporates, and eventually evolved into a personalized caricature store. Today, we have over a hundred varieties of caricatures and merchandise of famous TV shows, movies, and artists".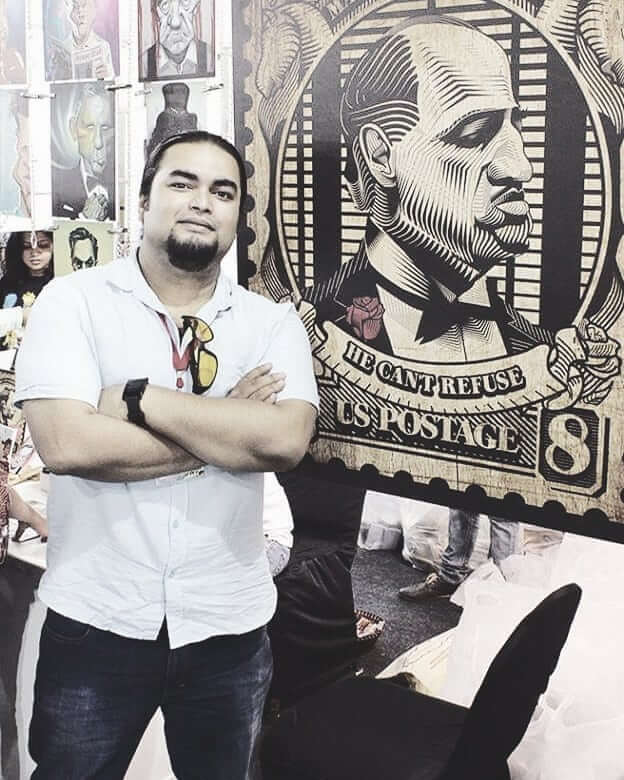 What made you take up an off-beat career and start Graphicurry, having studied engineering?
"I graduated with a score of 75% in engineering. I was over qualified for Call centres and under qualified for IT Companies. While I was desperately looking for a job, my girlfriend suggested that I pursue art seriously. I began to learn various digital tools. 6 years have passed, and here we are. Graphicurry has over a hundred personalized caricatures and merchandise".
One of your prominent works includes Vector art. What made you pursue it?
"There are so many artists out there who have access to the same tools as I do. I've always wanted to have a unique style when it comes to art in order to stand out from the rest. That's the main reason I started drawing vectors. Plus, I really enjoy drawing them".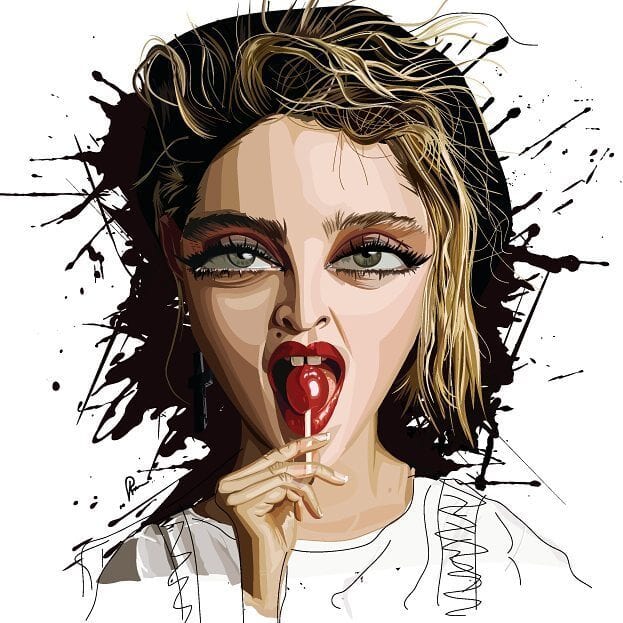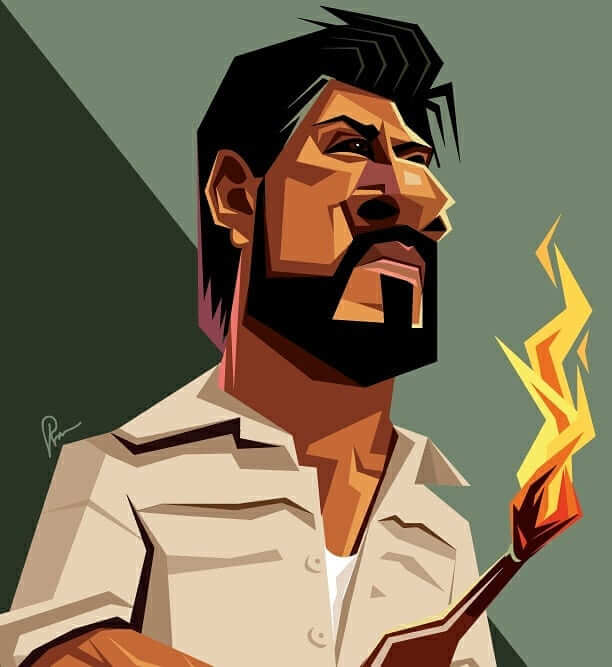 "I sometimes feel like a low-key plastic surgeon".
How do you manage to get the right balance between realism and exaggeration in your artwork?
"I prefer keeping my art minimal over intricate detailing. Honestly speaking, people don't like their features to be exaggerated. Everybody wants to look better. So, I only focus on making my clients look cuter". *chuckles*
As you make customized caricatures, you might have come across various customization requests. What's the most common request that you get?
"Make my wife look beautiful". I've heard this so many times. I sometimes feel like a low-key plastic surgeon. I wish people could accept themselves and others as they are. I'm a brutally honest person; I would trip at requests like this. Thankfully, my wife, Deepthi takes care of all the client communications and makes my life easier".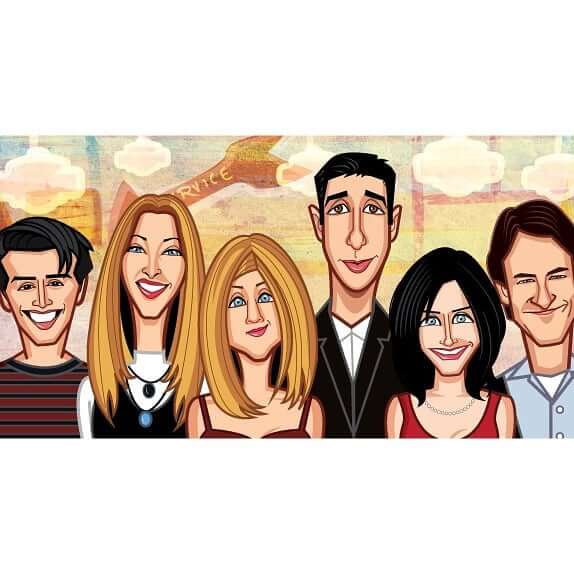 Caricature of  F.R.I.E.N.D.S illustrated by Prasad Bhat.
"That's when I realized that I had travelled so far to get to the point where my favourite thing had to be recreated by me".
Any current projects you can talk about? What was your biggest project until now?
I had my 'Pursuit of Happiness' moment when Disney asked to draw Mickey in my style to celebrate Mickey's 90th Birthday! That's when I realized that I had travelled so far to get to the point where my favourite thing had to be recreated by me".
"Currently, I'm excited to be working on a few projects for Hotstar, which is upping its presence on the online media industry".
Being an artist, what's your biggest pet peeve?
"Most of the orders I get are for gifting purposes. Few clients provide hazy images for reference. This is my biggest pet peeve".
How do you think the digital age has helped artists?
"I'm truly blessed to have digital aid. I have a competitive advantage over others as I was among of the first few artists to start digital caricatures in India. Most of the caricature artists who did not adapt to the technological changes, are still struggling. Technology has introduced us to unlimited possibilities. It's up to us to make the best use of it".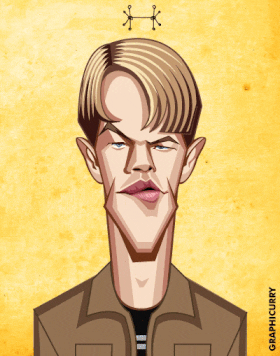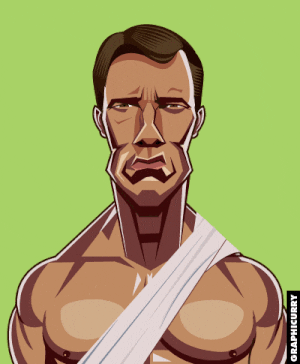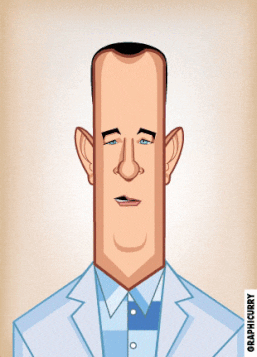 "All artists have a shelf life. I'm ready to face life as it comes".
Could you tell us about your "Evolution" series?
"The evolution series focused on famous celebrities such as Leo, Matt Damon, Tom Hanks, Arnold Schwarzenegger, Robin Williams and others. It was a tribute to all the amazing roles they've played so far. I also worked on a project where Ranbir Kapoor evolves into Sanjay Dutt. The idea is to keep the face unaltered and change other details such as the outfit, attire and expressions".
What inspired you to start stand up comedy? Where can we see Prasad Bhat in the years to come, as a comedian?
"Even I'm not sure why I started doing comedy. I think I like to suffer and be broke. Jokes apart, I love making people smile and I wanted to do that professionally. Recently, I performed in Mumbai for a huge crowd, the video of which will be releasing soon. Other than that, I attend 2-3 open mics every week. It is tiring to run an art store and pursue comedy. But, I'm getting there".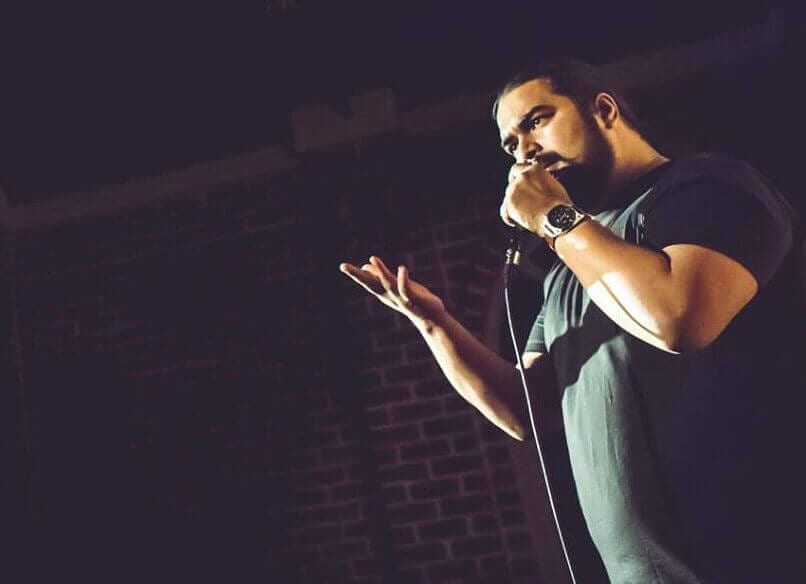 Prasad Bhat in one of his Stand-up comedy sets.
You have made some amazing caricatures of various Sitcoms. Which is your favourite sitcom of all time?
"Seinfeld is my all time favourite. It's think that it's the best show ever and everyone should watch it! Each character has its own charm that makes the show so special".
Have you ever hit the rock-bottom? Tell us about it.
"I had hit the rock-bottom after my graduation which made me start Graphicurry. Since I've already been there, I don't fear it anymore. All artists have a shelf life. So, I'm ready to face life as it comes. On the other hand, even if I get a lot of money and fame, I won't let it get into my head. I like to keep myself grounded".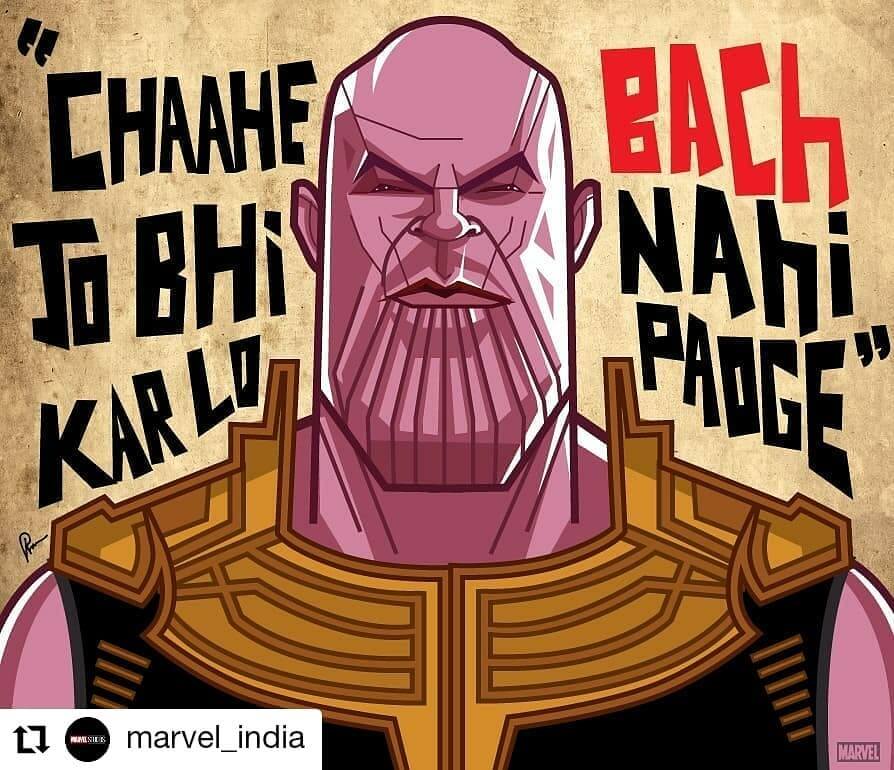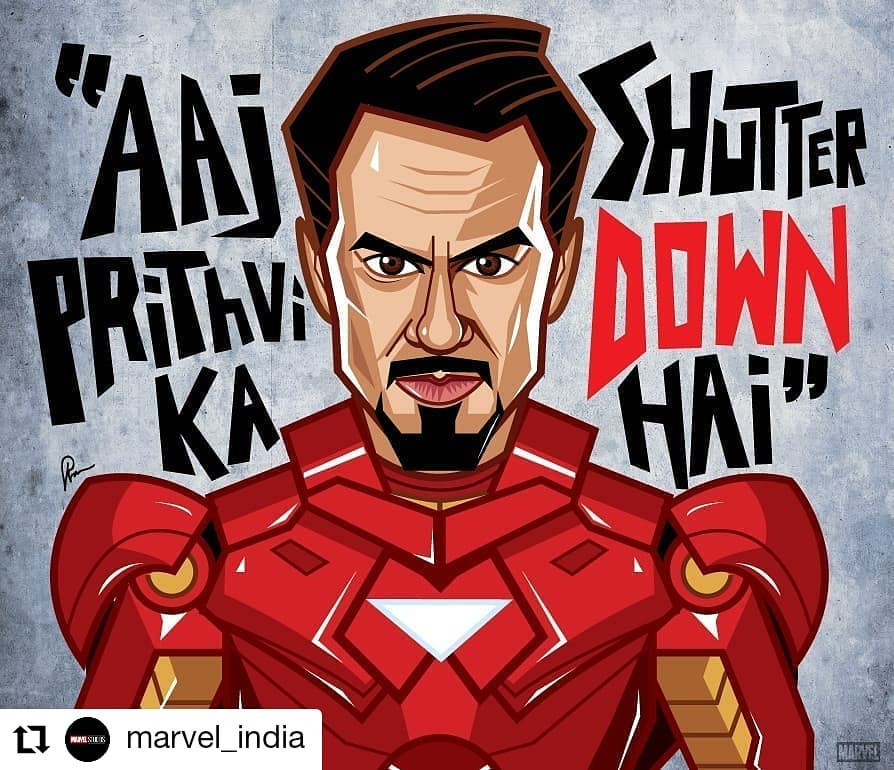 "If you wake up with a burning desire in you to achieve something, you must follow it".
Do you plan on taking up workshops?

"No, that's my last resort. I'm not a big fan of teaching because I'm very impatient. If everybody stops buying from me, then I'll give it a thought".
Being a popular artist, demands you to have a constant social media presence. How do you cope up with this?
"I have to constantly post engaging content for my audience. I can't post whatever I like, it has to be trending. Right now, there's Game of Thrones fever everywhere. So, few of my posts are based on that".
They say that art can reduce stress and promote relaxation. Do you agree with this?
"To a certain extent, art is therapeutic. It might seem fun drawing all day. But trust me, it isn't. It is a lot of work and requires patience".
Lastly, do you have any tips or advice for the budding digital artists?
"Don't Do it". *laughs*
"I'm just kidding. I usually don't advise others much. It's easy for me to ask others to pursue art. But, there are other factors one must consider like financial security and emotional support. To be an artist in India, it takes something more than just talent or hard work. It takes a thick skin. Hard-work is overrated. Unless you have a huge inheritance, or become an overnight sensation, it's really hard to get financial returns".
"Nonetheless, if you wake up with a burning desire to achieve something, you must follow it. I also believe that if your parents support you, you'd get too comfortable and become lazy. The magic happens only when you step out of your comfort zone. So, I think all the parents should kick their kids out of the house after they grow up ".
Looking for the perfect gift?
Look no more, our gift experts will get in touch with you and help you with all your requirements.