Komal Thoria is an illustrator, designer, and a freelance artist who has been a mentee to the highly respected Mr.Sadashiv Sawant, where she learnt the intricacies of applied arts, worked under him, assisted him with projects, to evolve as an artist, and be a guide to fellow artists, just like her mentor – Sadashiv Sawant. 
Komal has come a long way in her career. From working in a call center, and commissioning a portrait for just Rs. 250 to now charging as much as Rs. 15,000 for a portrait. She has seen it all, and evolved as an artist, and a professional who now has big plans for her future. 
In this interview we talk to Komal about her evolution as an artist, her dream projects and her message to fellow artists.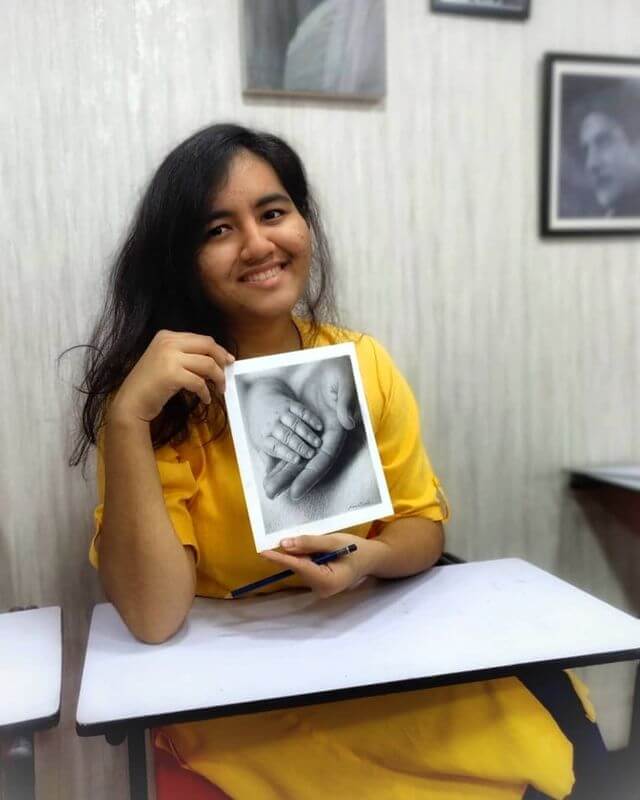 What's your earliest memory of sketching?
The earliest memory that I have of sketching is when I was maybe 3 or 5 years old. My family realized that I had something in me when it came to sketching, I was naturally good at it. Since I was good at Maths my dad thought Science, or Commerce would be a suitable choice. After that, however, I failed in a couple of subjects. It was then that I realised that I wasn't meant for this and so I took up Applied Arts and worked in a few production houses and different places. There I got the opportunity to learn and work under Sadashiv Sir.
Did you have any formal training in your formative years or was it just you figuring stuff out on your own?
It was my Mom who put me into tuition. There I got informal training for a couple of years. But mainly I used to recreate art using Youtube videos, and I have been a self-motivated learner since my childhood. My family left me on my own, they were not much concerned as long as I was doing something or the other. 
How did you transition to getting trained in a more formal setup?
I never felt like going to a fancy institute to learn Applied Arts, I wanted to be a part of an upcoming institute and actively contribute towards its growth. Hence I went to Asmita Applied art Academy, which was founded by Ashish sir. I've  learned a lot there but most of all I've enjoyed it a lot. It was there that I met Sadashiv Sir in a 3 day art workshop. 
Who has been your role model in this journey?
I'm still in the process of exploring myself and I want to make my own path. I guess that's why my role Models keep changing. I Look up to Ashish sir and Sadashiv sir. Sadashiv Sir is like a father figure to me. I Love Sadashiv Sir's observation skills, and that's something which I want to learn, and incorporate more in my life. 
Over the years, you have made so many artworks, which one do you regard as your Masterpiece?
I've never really thought about it that way. I don't know if I have a Masterpiece. Sadashiv Sir likes my Still Life artworks. I guess the Mountain sketch would be my best work. I have created a series on nurturance. I have done it a while back but haven't posted it anywhere yet. I really like drawing hands for some reason. Like me and my grandmother's, then me and my mother's and then my father's. I want to go deeper into this form of art, and I wonder how it'll turn out.
How do you decide the price for your artworks?
So, the first portrait that I sold was for Rs.250. My first few clients weren't particularly happy with my work. I took the criticism in a constructive way and identified my shortcomings. I wanted to improve, so I didn't take any new orders for the next 6 months and I utilized this period to work on my shortcomings. After this, it got better, and I got a few foreign clients as well.
So, now I charge around 5-7k for an A4 sized portrait and around 10-15k for A3 portraits.
I know that if I take up a project, I will give my best. My clients also respect this and most clients don't argue. I like such clients who respect the artist's time, and their work.
Have you ever had to deal with clients who restrict your creativity?
There will always be a few clients who hamper your creativity but it's not really their fault, they don't perceive art the same way us artists do. Therefore, I always educate them about the process of creating art, and how I would be going about with the project, and most importantly the WHY aspect of it.
A lot of times, my clients want me to draw half a face or make a portrait out of random selfies. Now, this obviously won't look good. I tell them quite frankly that there is significant money and effort involved on both our parts and the artwork that you're paying me for is meant to be lifelong. Therefore it's advisable that you select a proper image, rather than settling with poorly shot pictures, where either the photo isn't well lit, or blurred.
A lot of clients ask me not to put my signature or even any trace of mine on the final parcel. I make it a point to charge extra to fulfill such demands.
Moreover, I have my personal projects that allow me to experiment, and style my artwork the way I want it to.
What's your view on the much talked about 'Artistic Temperament'?
I feel that creative temperament is necessary for an artist. Clients need to give artists the freedom that they require. Artists need that space and scope for creativity. I have had some arguments over this with my clients. On many occasions, clients give very tight deadlines. They need to understand that the work we do takes time, and if rushed, we are compromising on quality.
I, for one, like to take my time. I have also declined clients who wanted big orders within a couple of days. But when I do take up a project, I know that what I'll give would be the best, and I have hardly had any clients who were dissatisfied with my work.
Over the years you may have worked with other artists. How has the experience been for you?
It has been an amazing experience. Everybody's got their own beautiful journey, and perceptions. It has been fun sharing our experiences and to be able to be a part of someone else's journey. One thing that I've realised after interacting with so many artists is that art is connected to freedom of expression. You need to be able to freely express your thoughts and feelings, if you want to progress as an artist.
How's the role of a mentor for an artist different from being an artist?
I teach gesture drawing, realism, and I even share the common mistakes that artists usually commit early on. I speak about how your brain fools you while sketching. Once I start teaching I feel so energetic. A lot of students have approached me with questions after the workshop so I feel that maybe the workshop was good, and I think I am constantly evolving as a teacher.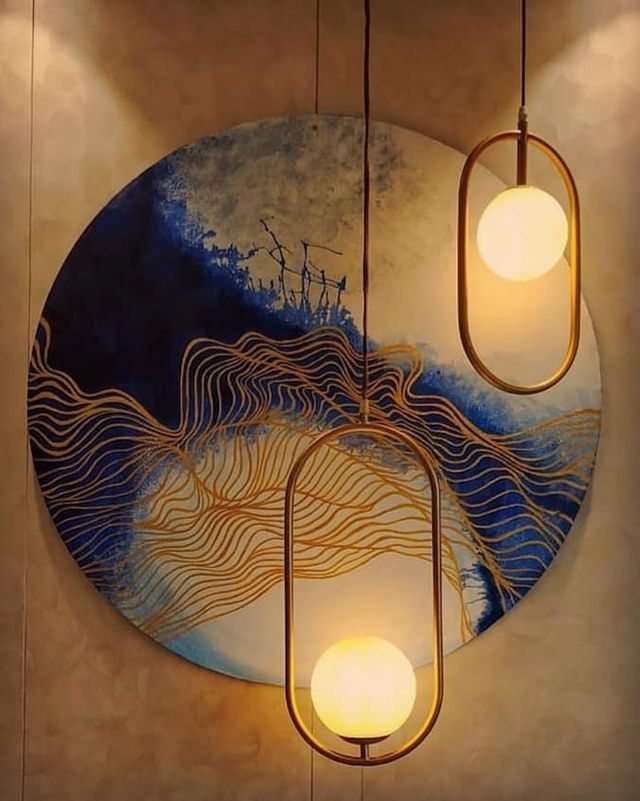 How have your students fared ?
Well, I've seen amazing results. My students are quite talented and they're doing really well. I just pat myself on the back when I see my students doing well. I'm a chilled out kind of a teacher. I try to be a friend, not a teacher. I've never felt the need of being too professional with them, and I'm always open to share my feelings
I feel my students have got a lot of potential. Some of them are as confused as I was when I started off. I help them correct their course, wherever I can so that they don't make the same mistakes I made while I was learning, and evolving.
I've been teaching for almost 5 years now. I've taught older people as well. Their attitude of not giving up really inspires me. If someone at the age of 40-45 manages a family, a job and still makes time to pursue their interests and passion, that is something that truly inspires me. I get to learn a lot from my students.
What's your take on Digital art ?
I don't do a lot of digital art. Although I love handmade art, I plan to start doing digital art again. The main problem is that I'm not mindful while doing it. But, I know it is Important to know the basics of Digital Art. This year I plan to get a grip on my Digital Art skills. I have done a few digital caricatures recently but have kept them to myself, haven't posted it anywhere, but let's see how it goes.
Every artist has some idea of a dream project that they intend to work upon, what is your idea of a dream project?
I always wanted to make a big waterfall, maybe in my house.I don't really know why I'm so fascinated with waterfalls. Maybe it's the textures of a waterfall or the pounding of water which excites me. I want to make a big waterfall. This project will take the life out of me but yeah I'm excited. But as of now, I'm not really looking for a dream project, it'll come with time. I'm more excited about small little things, at the moment.
What are some other things that you plan to do moving ahead?
I want to make people reconnect with art. Many of us do like to express ourselves through one art form or another, but not a lot of us pursue it. I wish to start with my mom who I feel is very creative. I want to give people hope. I want to be the booster in everybody's lives. I do actually boost up people wherever I work. So spreading smiles, and joy through my art could be one of the things I'd want to continue doing.
Everyone is not able to follow their passion, let alone make a career out of it. What's your message to those who intend to take this leap of faith on their passion?
I'd just like to say that you should be doing what you love, and that money isn't everything. Once you realise who you are and what you're meant to be just follow that dream. Independence comes from realizing one's dreams. Find your purpose and work towards achieving it.
I'm always happy and dissatisfied because I always want to improve myself. That's why I say that your dream is gonna make you happy. There's no point running after luxuries, life is a journey. Just enjoy it, while you're at it.
Looking for the perfect gift?
Look no more, our gift experts will get in touch with you and help you with all your requirements.