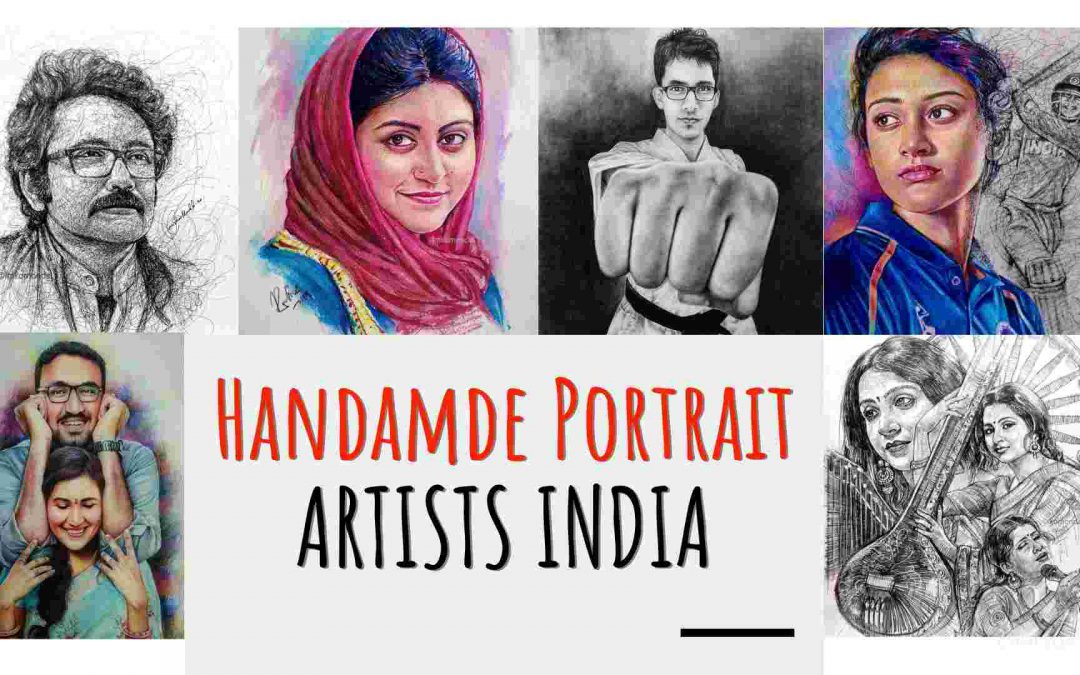 What if you could convert your favourite photo or memory into a handmade painting? What if there was an easy way for you to find an incredibly talented artist to make a handmade personalised painting for you? 
Since time immemorial, Royals, Nobels and the wealthy have been fascinated with the art of oil portraitures. From the 16th century, oil portraits were an embodiment of the magnificence of the monarchs and how their subjects would perceive them.

Stoned Santa brings you this age-old tradition with a modern twist.  We bring a network of incredibly talented portrait artists to take your pick from. Every artist with Stoned Santa is a master of their craft and can help you cherish your memories forever.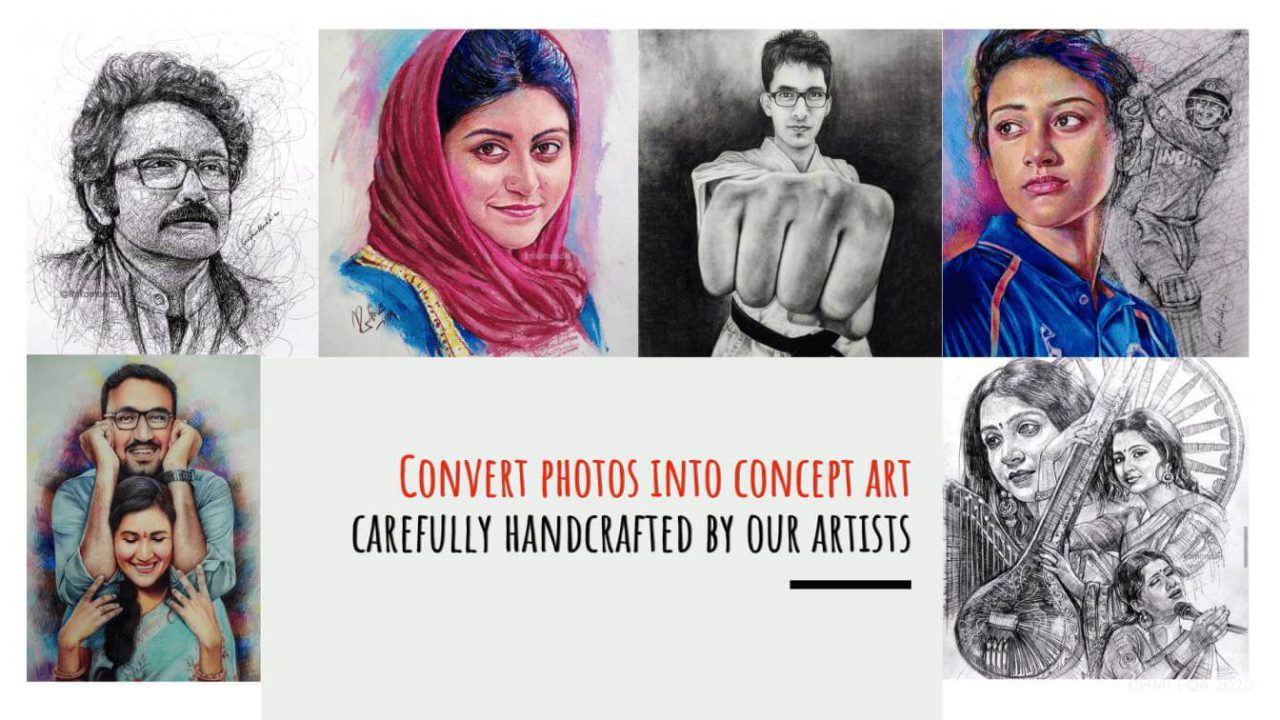 What are Handmade Portraits?
Handmade portraits are a form of art that intends to represent a human figure. They are an artistic representation of people that can be created using any medium, from traditional oil paintings to acrylics and even mixed media. Handmade portrait art is an extension of the realism art movement in fine arts. 
Handmade portrait painting is a form of art that is perfect for the purpose of gift-giving or if you want commissioned portrait art for yourself or your family to display in your living room boldly.  
Stoned Santa has curated a list of 10 incredibly talented and exciting handmade portrait artists whose handmade portraits are sure to make you look twice. We hope you enjoy reading!
Sadashiv Sawant- The educator
In his own words, Art is not about training only our hands but our eyes. A true realism virtuoso, Sadashiv Sawant has spent more than 30 years perfecting his art. Today, he believes in educating others and sharing his deep knowledge of the craft. He is the founder of the art academy known as "Pencil Perception Academy."
His work spans from Handmade charcoal portraits to displays of still life through his art. His play on light, shadows, shades and contrast are the main elements of his artworks. His artworks though simple, leave no room for error. His experience and versatility can be seen in the simplest of his artwork.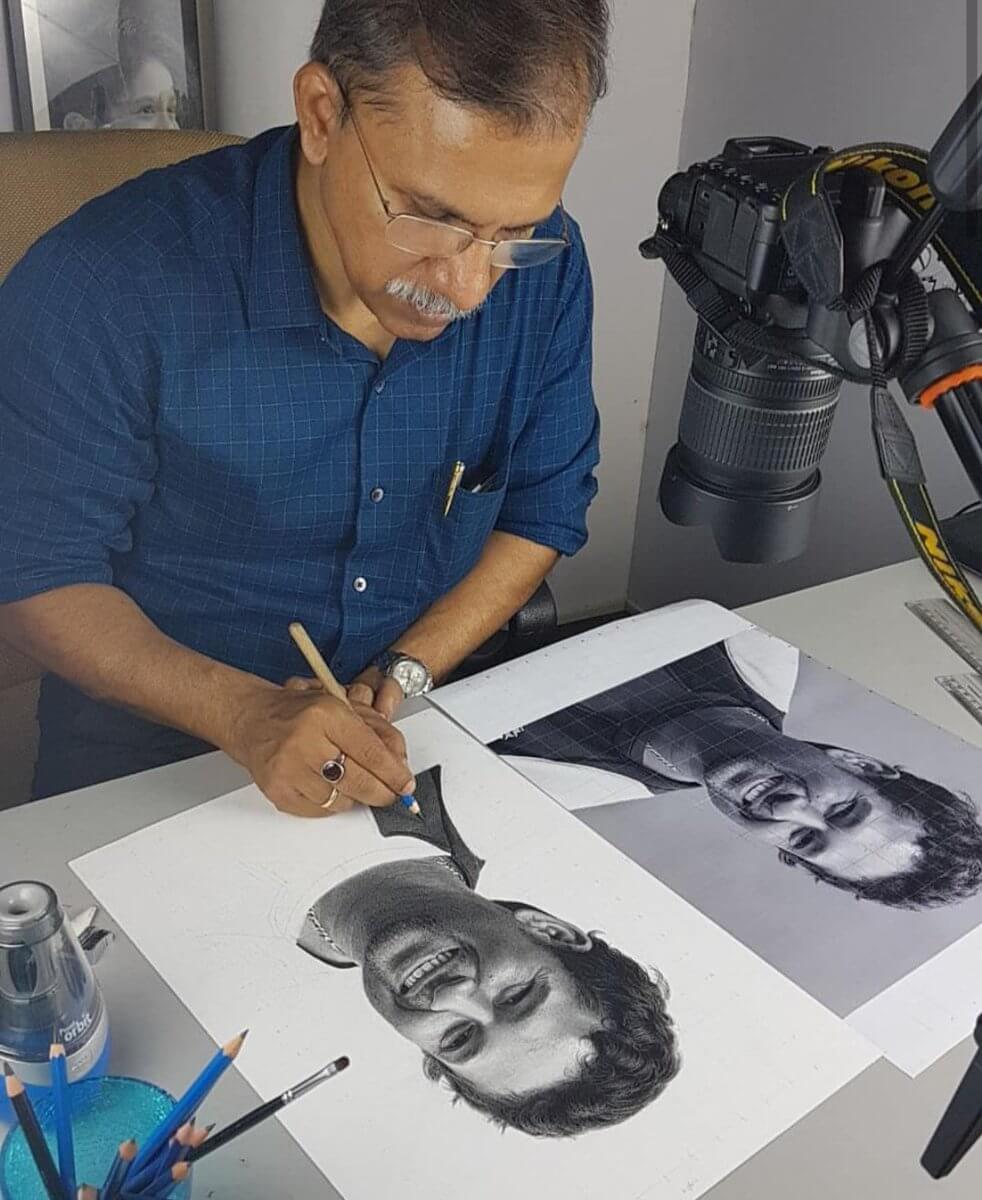 Komal Thoria- The Student
Following in the footsteps of her mentor, Mr Sadashiv Sawant, Komal Thoria has created her own identity in the realm of Handmade portrait artists. She has worked and assisted Sadashiv Sawant in many projects and strives to be an educator like him. Like her mentor, Komal thoria's portraits have a play of light and shadow. 
Her handmade charcoal and graphite portraits are masterpiece examples of hyperrealism. She is an artist who has evolved beautifully over the years; from charging just 250 rs for a portrait, today, she can charge 15,000 and upwards for a single piece of her art.
Koushik Mondal- Master of the Ballpoint
Koushik Mondal is a brilliant and self-trained handmade portrait artist who steps away from the world of fine arts and creates accurate and realistic portraits in his style.  
His choice of medium is the ballpoint pen. For him, the tip of the pen is merely an extension of himself. Though his portraits are not photo-realistic, they will make you look twice. 
He uses different coloured pens to create beautiful intricacies, highlights and shadows in his art. He uses techniques like stippling and cross-hatching to create ballpoint pen hyper-realistic art. His unique style and ability to emote through just a few colours of the Ballpoint technique make him stand out.
Ajay Rathod- Master of Photo Realism
In his own words, Ajay Rathod, an artist from Hyderabad, is someone who creates memories into permanent paintings. His commissioned works of Handmade acrylic portraits and oil painting portraits are sought by people globally.
He is a master of photorealism who specialises in creating outstanding family portraits. His style though traditional is unique to him. Nobody does photo realism quite like him.
His Handmade portraits will make you look twice so much so that many of Stoned Santa clients have questioned if we are simply selling photos printed on a canvas or if his paintings are really handmade
His unique ability enables him to make a combined family portrait by simply referring to different pictures. His art is emotional and sentimental in its essence. He not only captures moments, but he creates them for his clients.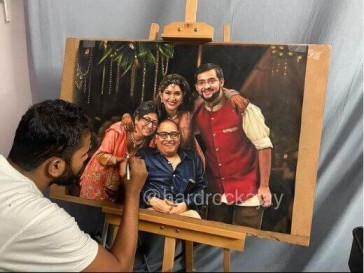 Abhishek Samal- Hyper-realistic Art in Monochrome
Abhishek Samal, an artist from Bhubhaneshwar, has the skill set of a seasoned artist. His forte is creating hyper-realistic Monochromatic portraits. He likes to create Handmade charcoal portraits and graphite portraits of celebrities, superheroes and movie characters. 
A closer look at his art will show us how dedicated he is to the finer details of his handmade sketch portraits. We can see every wrinkle and every emotion on the face of the person in his portraiture. Not only does he create Charcoal portraits from celebrities' photos, but he also creates custom charcoal portraits on commissions.
His talent is in his versatility, apart from the incredible charcoal portraits, he has been working on storyboarding, and character design and has  done hundreds of digital artworks for several corporate clients, since 2019, when he joined our team at Stoned Santa.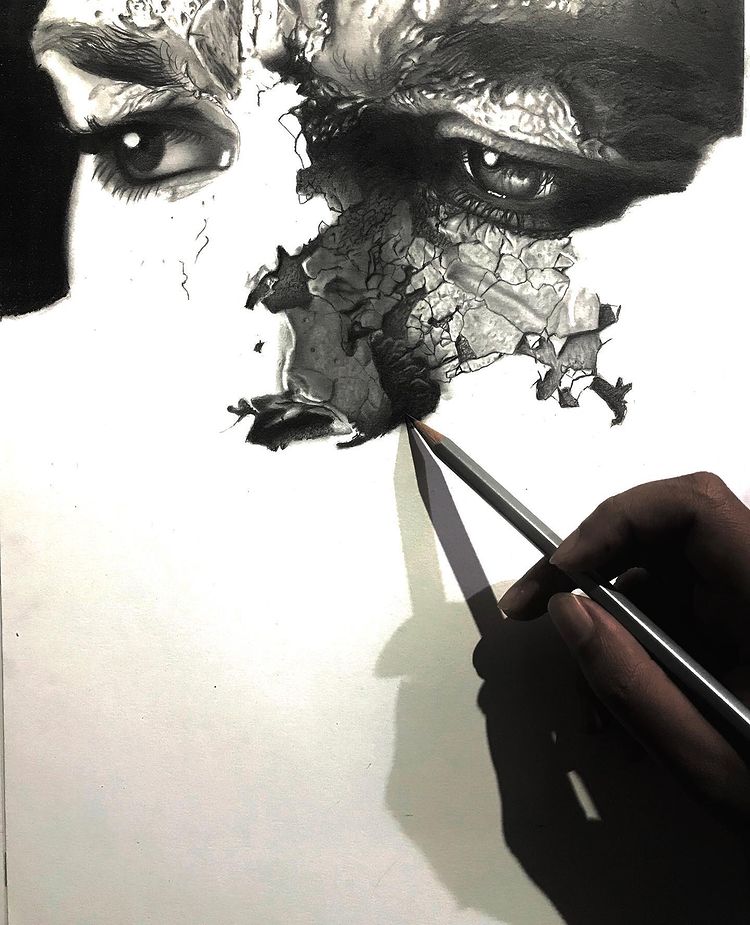 Sushmit Koshore- Micro and Intricate Artist
Sushmit Kishore, an artist from Delhi, is a portrait artist like no other. He has created a new niche for his unique style of Handmade portrait art. Sushmit is a miniature artist who creates tiny Handmade graphite portraits of real people.
Though his portraits are tiny, they are full of incredibly fine and minute details. 
Not only has he mastered the art of small things, but he has also created a utility to his unique sensibility. He turns his miniature graphite portrait into pendants and lockets to make them into memorabilia or a perfect gift.
P.S. Rathour- The Master of the Watercolour
Master of Handmade watercolour portraits and also an educator. P.S. Rathour is an artist who can control the flow of his brush. His paintings are both contemporary and hyper-realistic. His use of watercolours to create art is impeccable. The colours mix into each other seamlessly and effortlessly. His Watercolour portrait paintings bring a sense of calm and serenity to the eyes of the bystander.
 His brushwork is soft, and his paintings are in layers. He creates commissioned handmade portraits, fan art and portraits of celebrities. There is a unique subtlety in his art that makes him different from everyone else.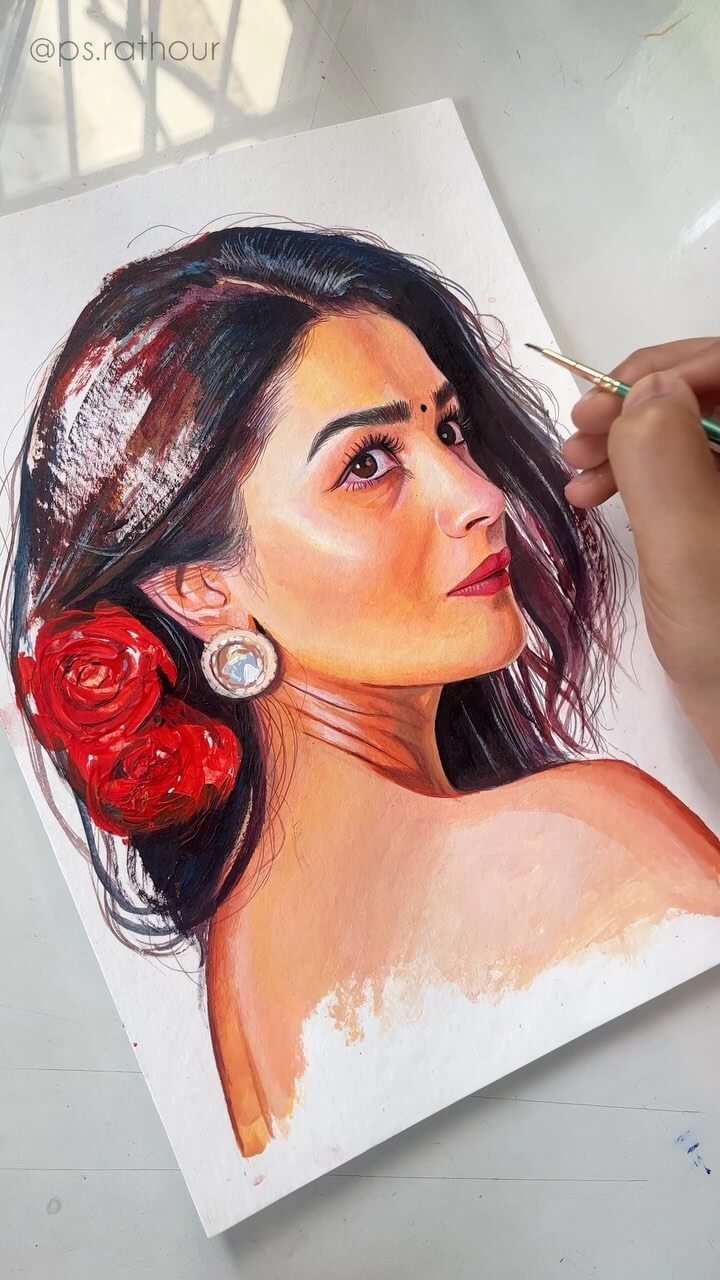 Siddhant- Shades of Black and White
Siddhant, popularly known as Siddhant Artworks, has a following of 108 thousand followers on Instagram and 123 thousand subscribers on Youtube. He is also an official brand influencer for Brusto and has been working with Stoned Santa for a few years now.
He is a Charcoal and graphite portrait artist specialising in Photorealism and Hyperrealism. His portraits stand apart because of his flawless pencil execution of the human figure. His artwork shows that he understands and empathises with his portrait's muse. He uses techniques like cross-hatching, smooth shading, and scribbling to bring out the softness of the human figure.
Shruti Kulkarni- The Queen of Portraits
A civil engineer turned artist from Pune, Shruti Kulkarni is a self-taught artist and a master of handmade oil painting portraits. Her oil paintings use vibrant colours to tell the story behind her portraits. Her custom oil paintings on canvas are a great example of realism. 
She started her journey as a freelance oil portrait artist in the year 2015 and has not looked back since then. For her, art is a form of expression and let out for her emotions. She has not only mastered the art of detailed oil painting portraits but has also mastered the art of self-portraits.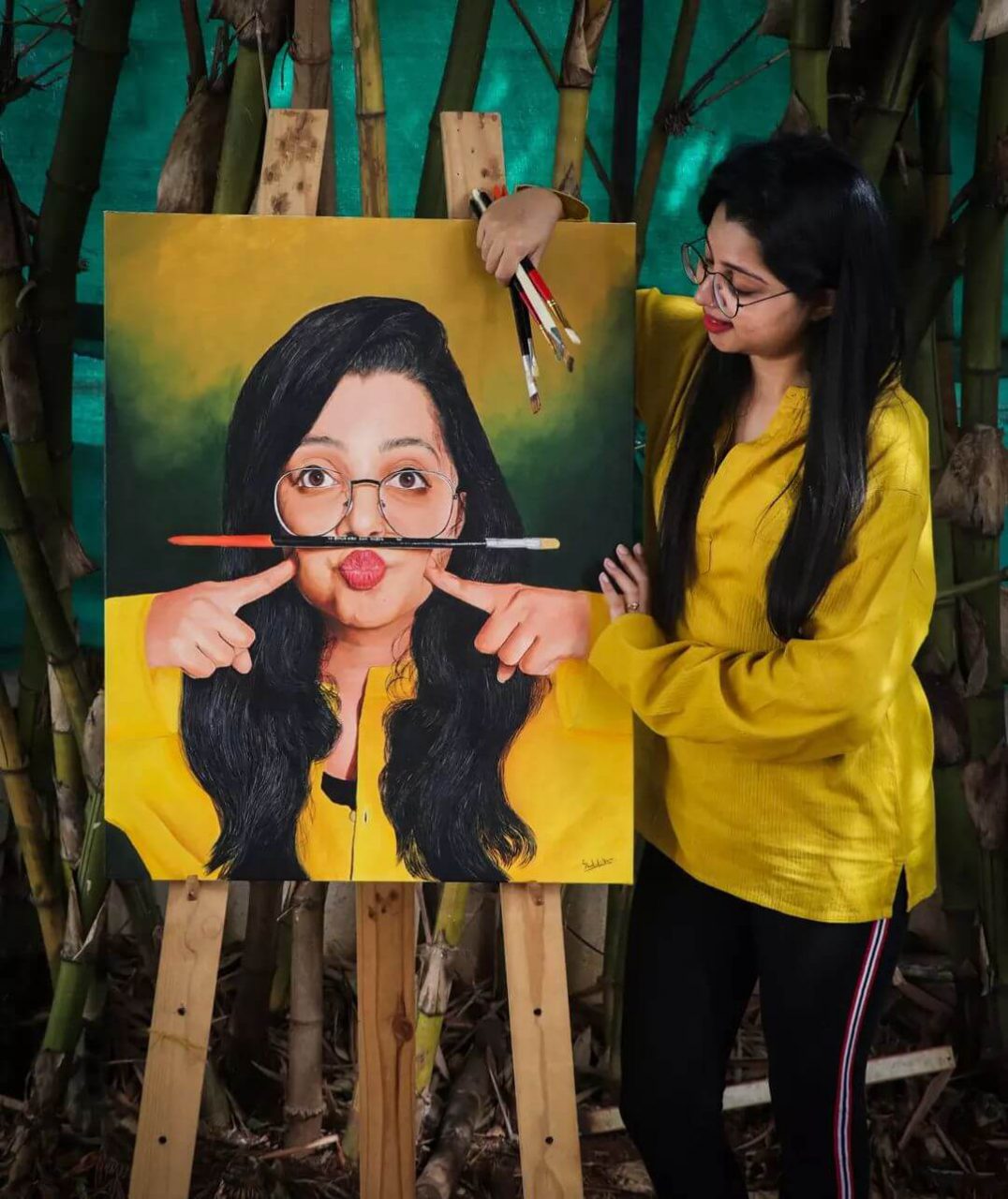 Sandesh Porlekar- The artist for the Women
Sandesh Porlekar is a self-taught artist who hails from Mumbai, Maharashtra. Sandesh primarily uses pencils or charcoals to create hyper-realistic portraits. His portraits display the delicateness and femininity of a woman's figures. He draws women in all their beauty and strength. He uses the technique of shading and smooth shading in his works and plays with highlights and shadows to soften or make the portrait stronger.
His unique style makes him stand out, as he can find beauty and softness in the most mundane objects. Women are the main focus of his art and his custom-made Charcoal portraits. One look at his portraits has the capability to answer the viral question, "what is a woman?"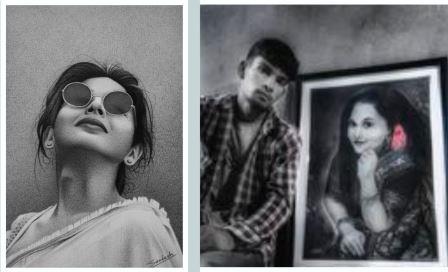 Are you considering obtaining a custom portrait for a friend, colleague or your family?  
 Look no further, Stoned Santa brings to you a wide network of incredibly talented portrait artists in India. We are here to paint your memories and dreams so you can cherish them forever. 
Stoned Santa  has been a quintessential part of the handmade personalised gift, art and decor industry for over 5 years. The artists with Stoned Santa have successfully created over thousands of handmade portraits for weddings gifts, corporate events, home decor and much more and have delivered them on time all over the world.
Through Stoned Santa You may discover various artists proficient and connoisseurs of various art forms who will meet your needs and budget and deliver your handmade portrait order within your time frame. Stoned Santa makes it incredibly simple to find a trustworthy and professional artist for you according to your specifications!
Looking for the perfect gift?
Look no more, our gift experts will get in touch with you and help you with all your requirements.